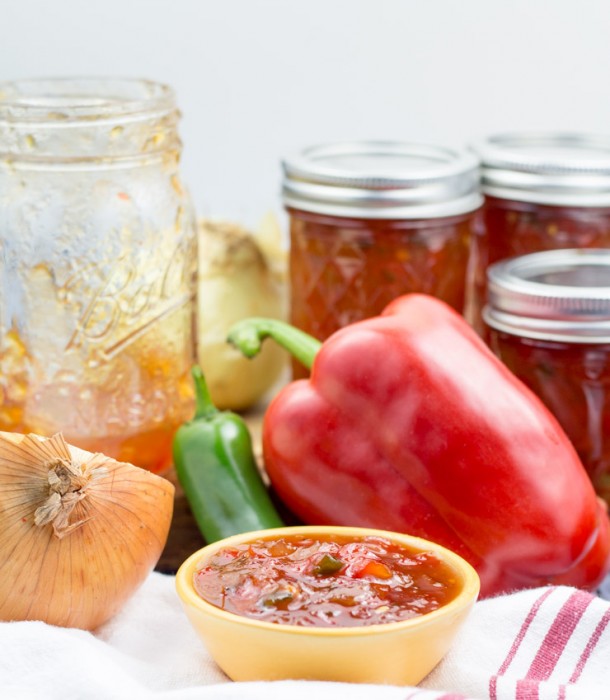 Let's just imagine that it's warm, beautiful summer. Weekends on the lake are my jam. Sun beams, fishing, burgers on the grill, warm swims, evening boat rides. *sigh*
There is this tiny little hole-in-the-wall restaurant near the lake, which I like call home in the summer, that serves what we Southerners call down-home cookin'–  Amazing catfish, unlimited hushpuppies (seriously!), and the most amazing slow-cooked seasoned white beans with a house-made jam-like Sweet Red Pepper Relish on the table. This stuff is just plain addictive. After batches and batches of ehhhh ok results, I finally nailed it.
Generally, we clean and fry our own fish when we are lucky enough to catch a few. If you've never had freshly caught and fried catfish, you are missing out. On those slow days, we jump in the car and travel just a couple miles away to the hush puppy heaven (not the official name, but should be – don't steal. future restaurant idea. ©®™).
I might even try to not catch anything just so we can go… I mean, did you see that I said they have unlimited homemade hush puppies?! *faints*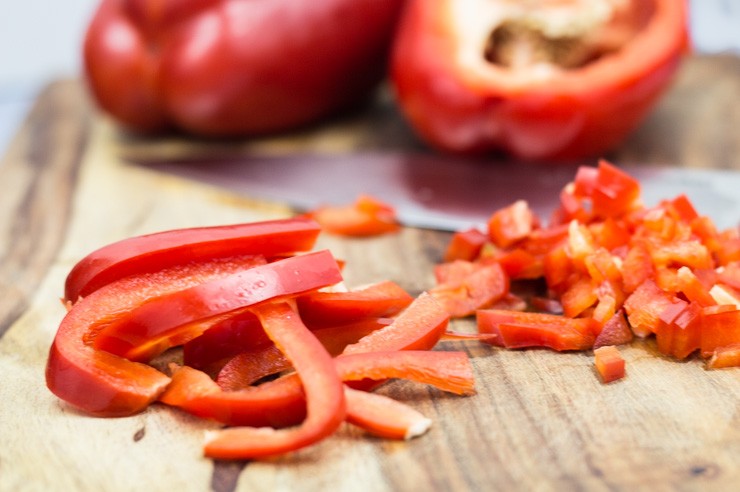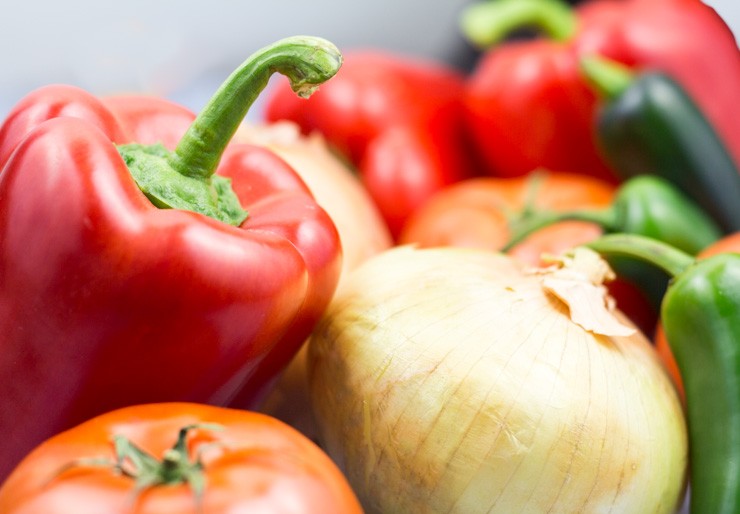 While the hush puppies lure you in, it's the sweet red pepper relish is what keeps you there until you've eaten so much that you just ask for them to pull up a bed and let you nap right there beside the table. You can put this stuff on everything. Everything.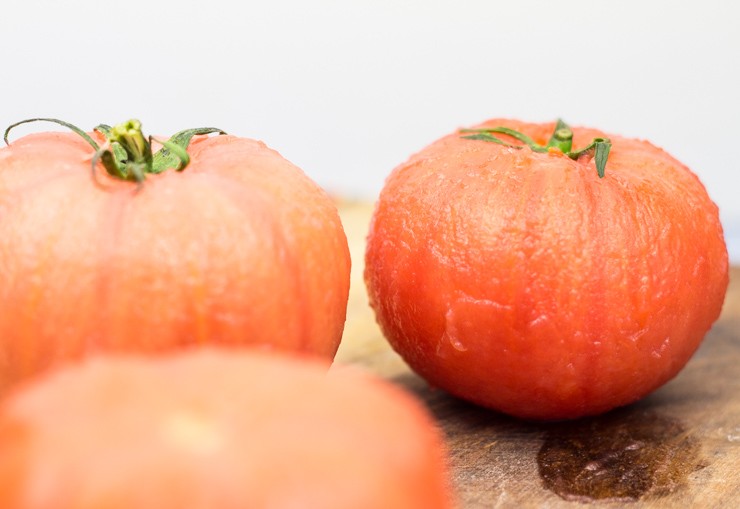 Beans are ok and all, not really something I would typically think about all day at work and come home to make (like doughnuts), but with this relish they are exactly that. I made 6 jars full of this jammin' jelly and half of it may be gone already. Addictive!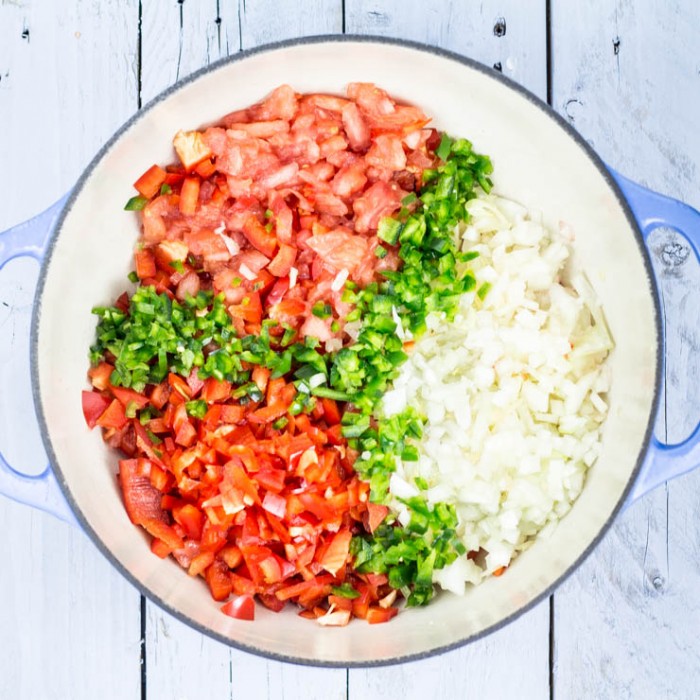 I wish I could say that I picked these veggies myself to make this mix. Since it is currently miserably cold, snowy, rainy, blah January, I just picked these up from a local produce provider. I'm sure this will be even better when the veggies are in season locally. Until then… This works juuuust fine.
You could really play around quite a bit with these ingredients. I used some beautiful red peppers, onions & shallots, tomatoes, and jalapeños for a bit of a kick. The final result isn't spicy at all. You just really need that tiny bit of heat element with all of the sweetness being featured.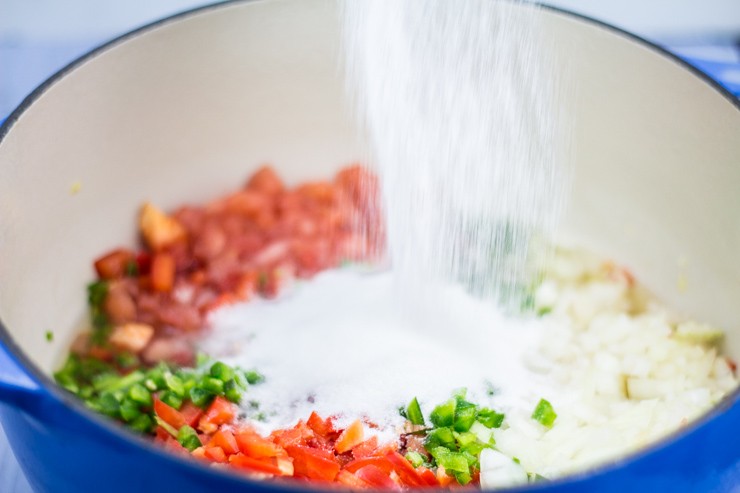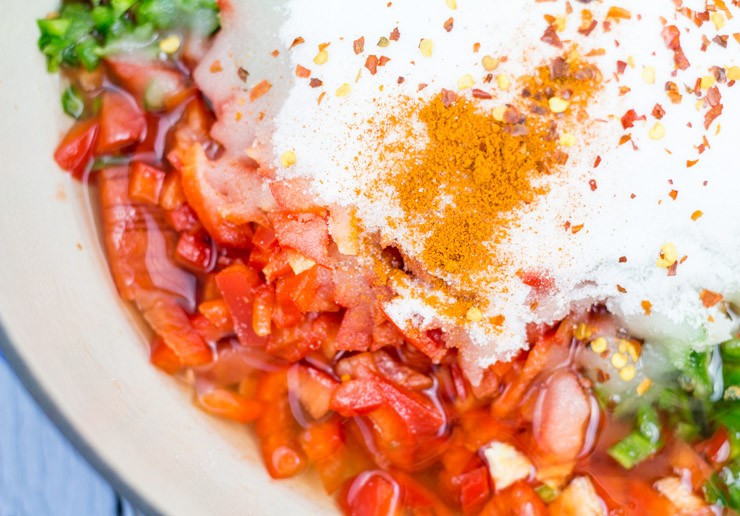 Since we have so many fresh, healthy veggies in the pot, we should probably balance that with a bit of sugar and spice. We all know that that makes everything nice. I'm fairly new to the canning world, but have done a bit of research to find out that all of the sugar is really necessary for a jam-like consistency like this has.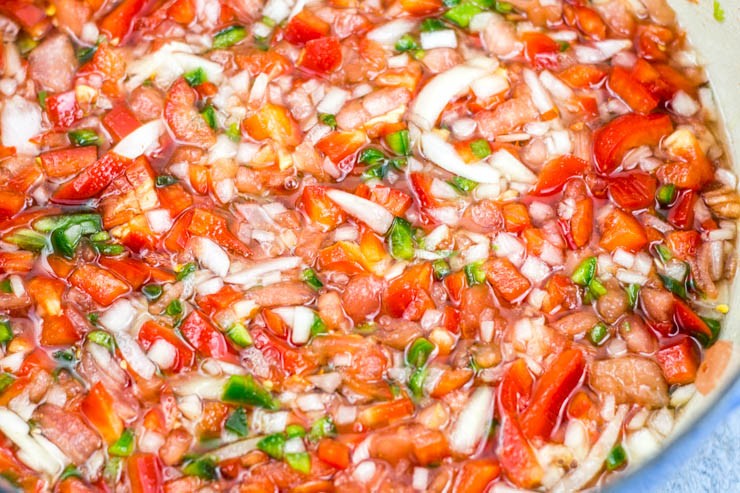 I added a bit of pectin to help bind things, but with as little as these have lasted, could probably have omitted it completely. If you are storing (canning) up for a long winter, gifts, zombie apocalypse, or perhaps your doom's day prep stash, I would throw some in for good measure.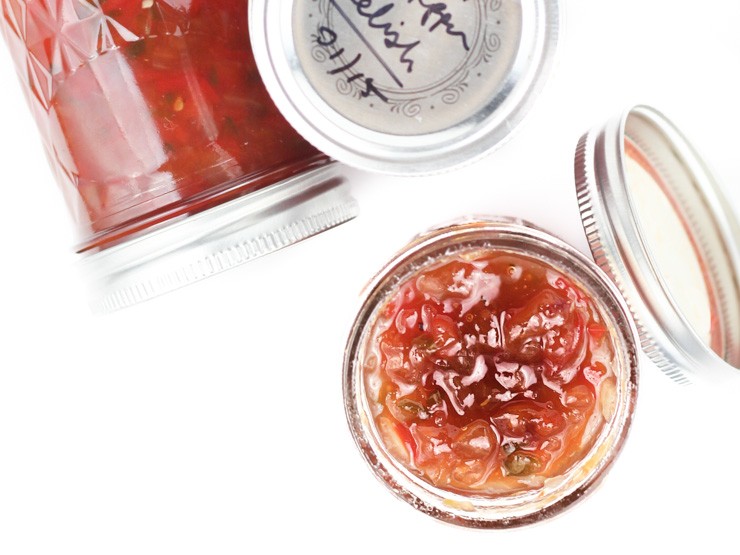 I wish I could more accurately describe how delicious this stuff really is. It ends up being this jam-like consistency, leaving tiny soft bits of all of the different vegetable elements. You get all of these different flavors blended while still experiencing each one individually when you eat it.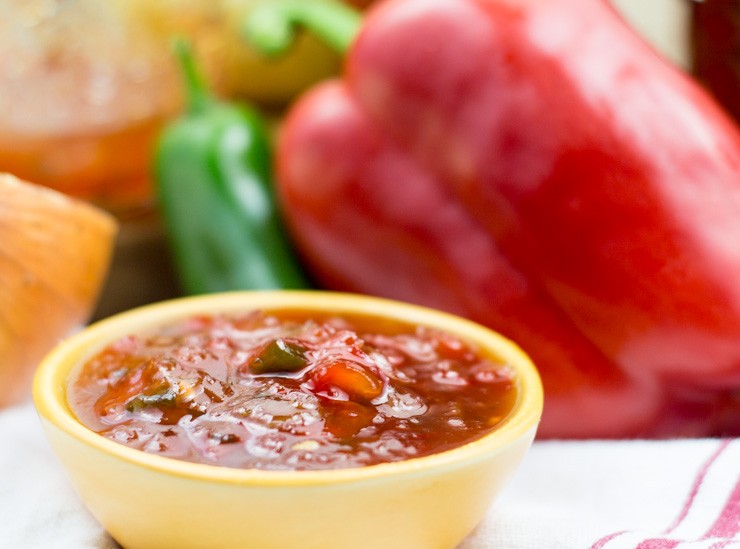 The red pepper and vinegar base is complimented by the sugar perfectly. Yes, your kitchen may smell like a middle-school volcano experiment for the evening. But, the hours that you allow the mixture to simmer away couldn't be better spent. As Julia says, "Nothing is too much trouble if it turns out the way it should."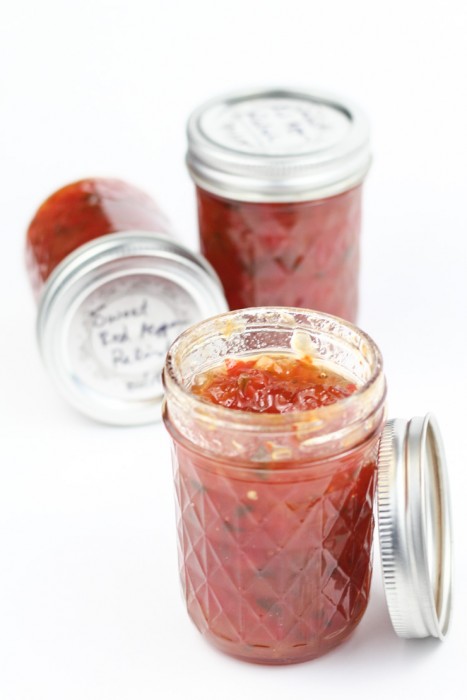 The possibilities of things to put this on are endless. Crackers, toast, beans, bread, chicken, burgers (sooo good with a soft, creamy cheese)…
Sweet, deep complex flavors that you can enjoy all year long. Or at least if you make enough.
With daydreams of summer– Enjoy, y'all!
Sweet Red Pepper Relish
Homemade Sweet Red Pepper Relish -- A sweetened red pepper, onion and tomato jam-like relish. Perfect sweet condiment to top burgers, bagels or crackers with cream cheese, in white beans (my favorite!), etc. Deliciously simple. Easy to can and keep year-round. From SouthernFATTY.com
Ingredients
1 tablespoon olive oil
4 cups red pepper, diced & seeded
3 cups tomatoes, diced & seeded
1 cup yellow or white onion, diced
1 cup shallots, diced
3 jalapeños, diced & seeded
2 cloves garlic, minced finely
¾ cup white vinegar
¾ cup apple cider vinegar
3 cups sugar
1 and ½ tablespoons salt
½ tablespoon cayenne, ground
¼ teaspoon cumin, ground
pinch red pepper flakes (more by preference for heat)
2 tablespoons pectin (somewhat optional, but needed for canning)
Instructions
Start with preparing all of your ingredients.
Peel, dice, seed the tomatoes. Let the diced tomatoes drain in colander for several minutes. You don't want much water in this or it will increase your simmering time and not thicken well.
Dice and seed the peppers and jalapeños. Chop up onions and shallots.
In a large pot (nothing beats a good Dutch oven for this!), heat olive oil over medium to medium-high heat.
Throw in all of the aromatic vegetables (peppers, onions, jalapeños) and sauté for 3-4 minutes.
Add garlic and cook for another minute.
Add in drained tomatoes.
Add remaining ingredients and bring to a boil. Boil for a couple minutes.
Reduce heat to low and cover.
Let simmer, stirring occasionally, until reduced and thickened. This took about 2 hours for me, but will vary depending on the water content.
If canning, aim for a temp of 220 F. You can test to see if it will thicken when cooled and canned by placing a plate in the freezer for a few minutes, dropping a teaspoon of the jam on the cold plate and tilting to see final viscosity.
When ready to stop cooking, add pectin, return to a boil for 1 minute and remove from heat.
Can as usual for long-term storage of gifts. Alternatively, store in refrigerator opened.
Enjoy on toast, burgers, bagels or crackers with cream cheese, in white beans (my favorite!), etc.
Enjoy! -- More on SouthernFATTY.com
Notes
2015 - SouthernFATTY.com
Nutrition Information
Serving size:
1 tablespoon
I've had several people ask what jars I used in these shots. They are Quilted 1/2 Pint Jam Jars by Ball. Check them out HERE.
What's your favorite summertime spot dish? Share below!