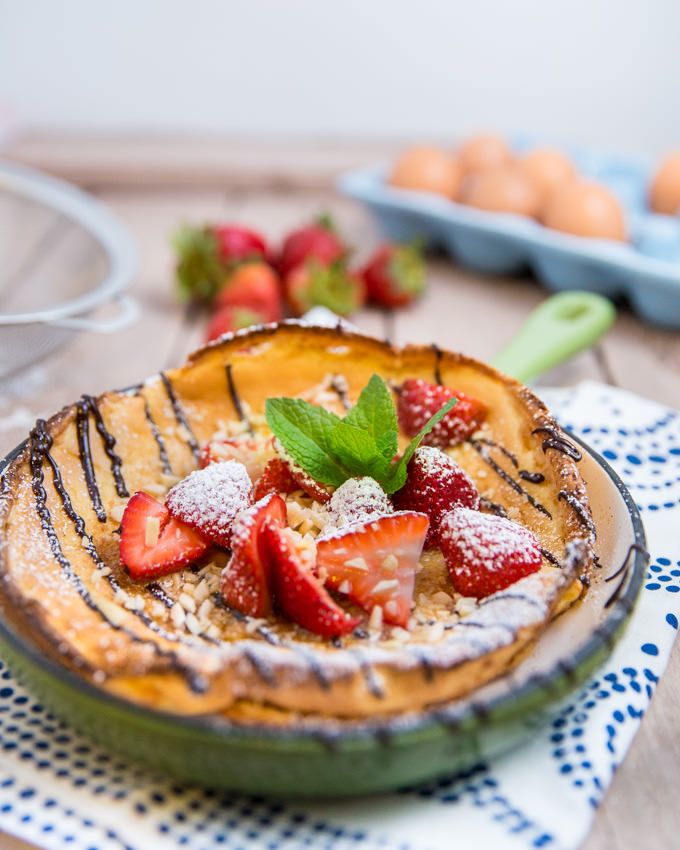 A pancake, a crêpe, and a hot skillet walk into a bar…. I spotted the trio, and ate them all. *dances* — But, seriouly. A Dutch baby is a beautiful thing. That's saying something, since most all babies aren't really much to look at. This is the fat baby with sugar all over its face that people really do mean is beautiful when they say it in passing on the streets.
Full of custard-like flavor and topped with sprinkled baker's cocaine (powdered sugar – don't arrest me). Some fresh local strawberries and toasted almonds. I even threw on a chocolate drizzle, because why the hell not? If you are going to go all in, go all in.
I present the best baby in the beauty pageant — the Strawberry Almond Dutch Baby.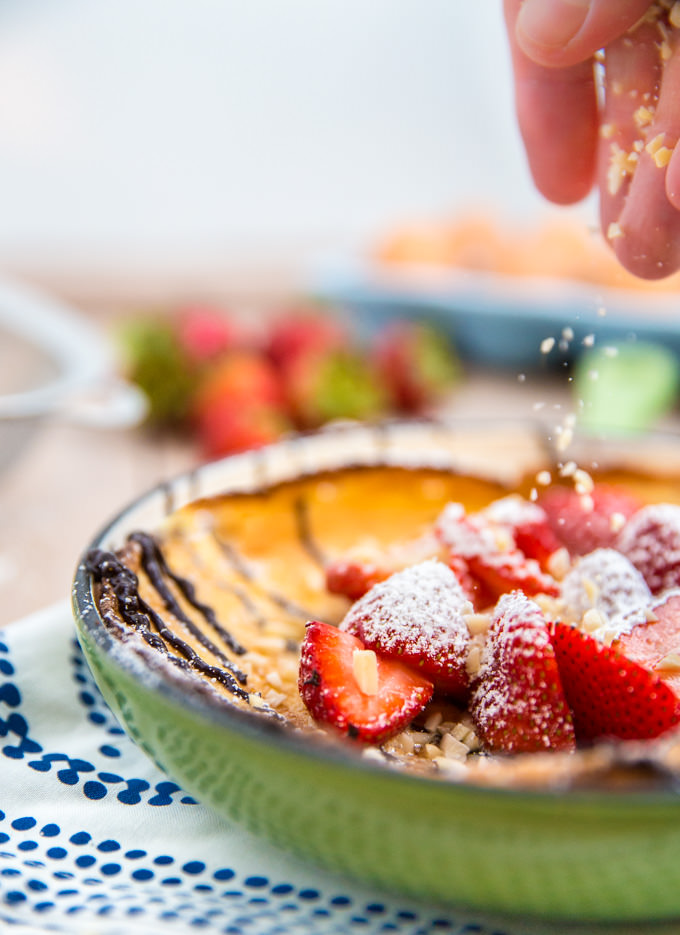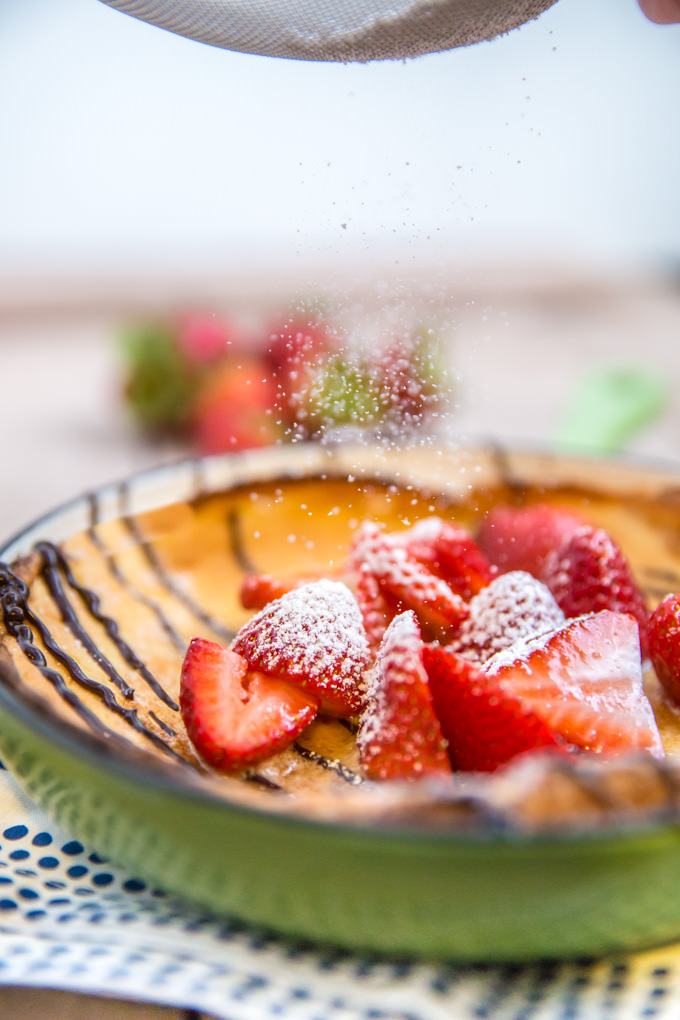 Strawberry Almond Dutch Baby
A classic Dutch Baby pancake topped with roasted almonds, fresh strawberries, plenty of powdered sugar and a chocolate drizzle. By SouthernFATTY.com.
Author:
Phillip Fryman | SouthernFATTY.com
Ingredients
½ cup plus 1 tablespoons (70g) flour, AP
1 teaspoons baking powder
pinch salt
⅔ cup milk
1 teaspoon vanilla bean paste or extract
3 eggs
4 tablespoons butter, unsalted
strawberries, cleaned and sliced
chocolate, melted to drizzle
almond slices or slivers, toasted or dry-roasted
powdered sugar, to finish
Instructions
Pre-heat oven to 415 F.
Whisk together flour, baking powder, and salt in a mixing bowl.
Add milk, vanilla, eggs and combine well. Set aside to rest while preparing pan.
In an oven-safe skillet (I prefer an enamel coated cast iron for this), place butter and heat over medium-high heat until butter starts to bubble.
Swirl butter around pan carefully. You want to be sure the sides are coated to allow the Dutch baby to rise properly.
Immediately pour in batter. I used a 6-7 inch skillet, using only half of the butter and batter for each of two different batches. If using a larger (9-12 inch) skillet, use all of the batter.
Transfer pan straight to oven and bake (leave door closed!) until golden, about 15 minutes.
Note: It's normal for the Dutch baby to fall a bit after it is removed from the oven.
Remove and cool slightly. Top with strawberries, almonds, powdered sugar.
Enjoy! Find more recipes on SouthernFATTY.com.
Is your favorite baby an edible Dutch one?
Tell me what toppings you want to try int he comments below.