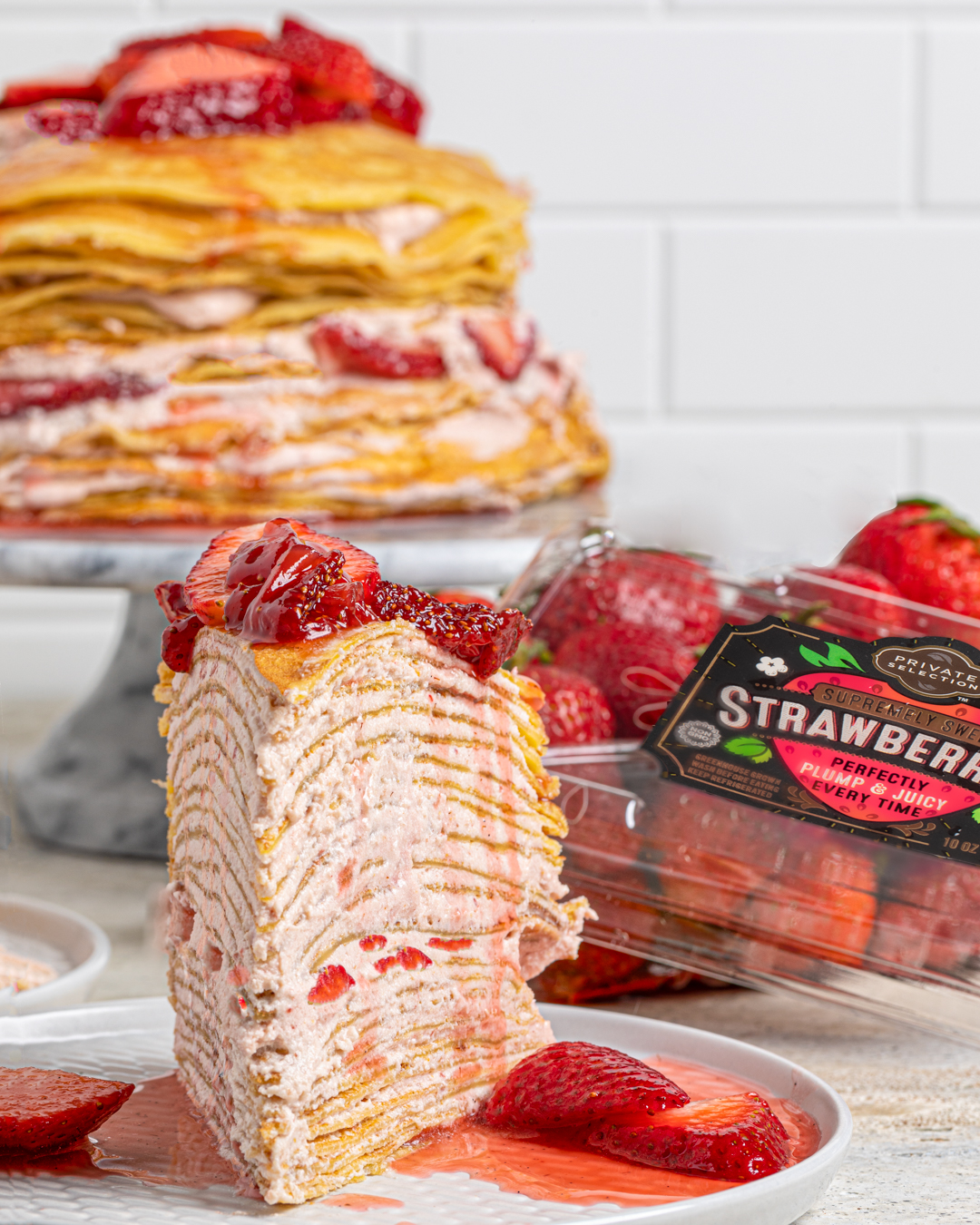 Oh la la! Crêpe cakes are always impressive. Luckily, these stunners look like they took far more effort than they actually do. Using fresh, plump & juicy sweet strawberries from my local Kroger along with my favorite whipped buttercream, this show-stopper centerpiece is the best way to bring in the Spring season.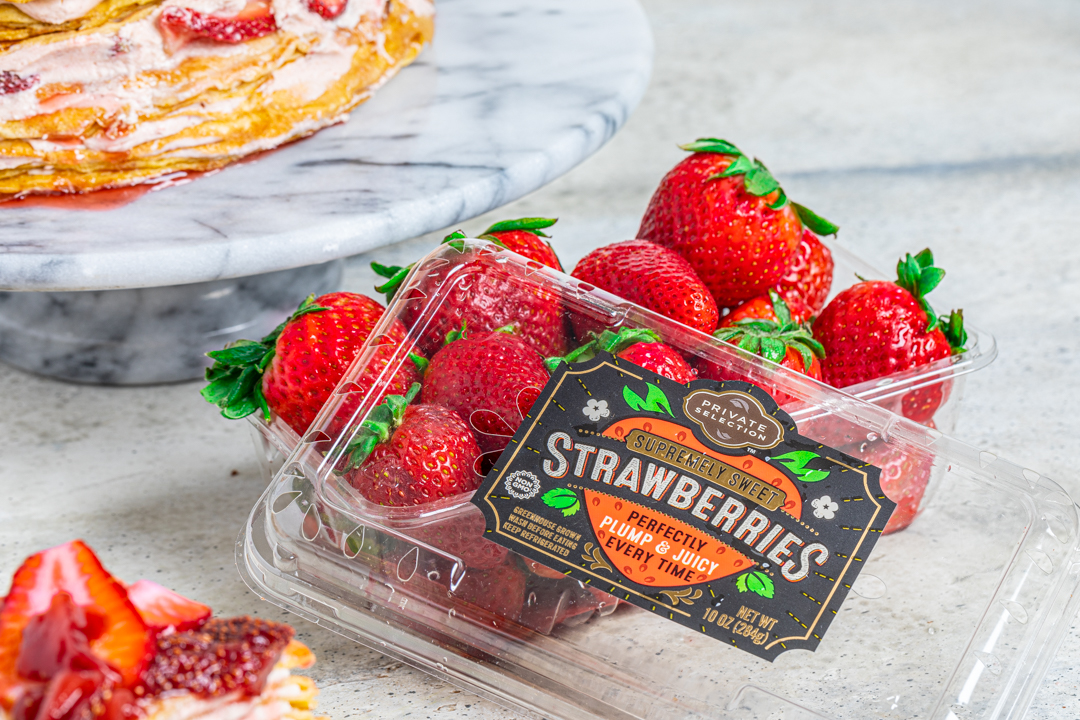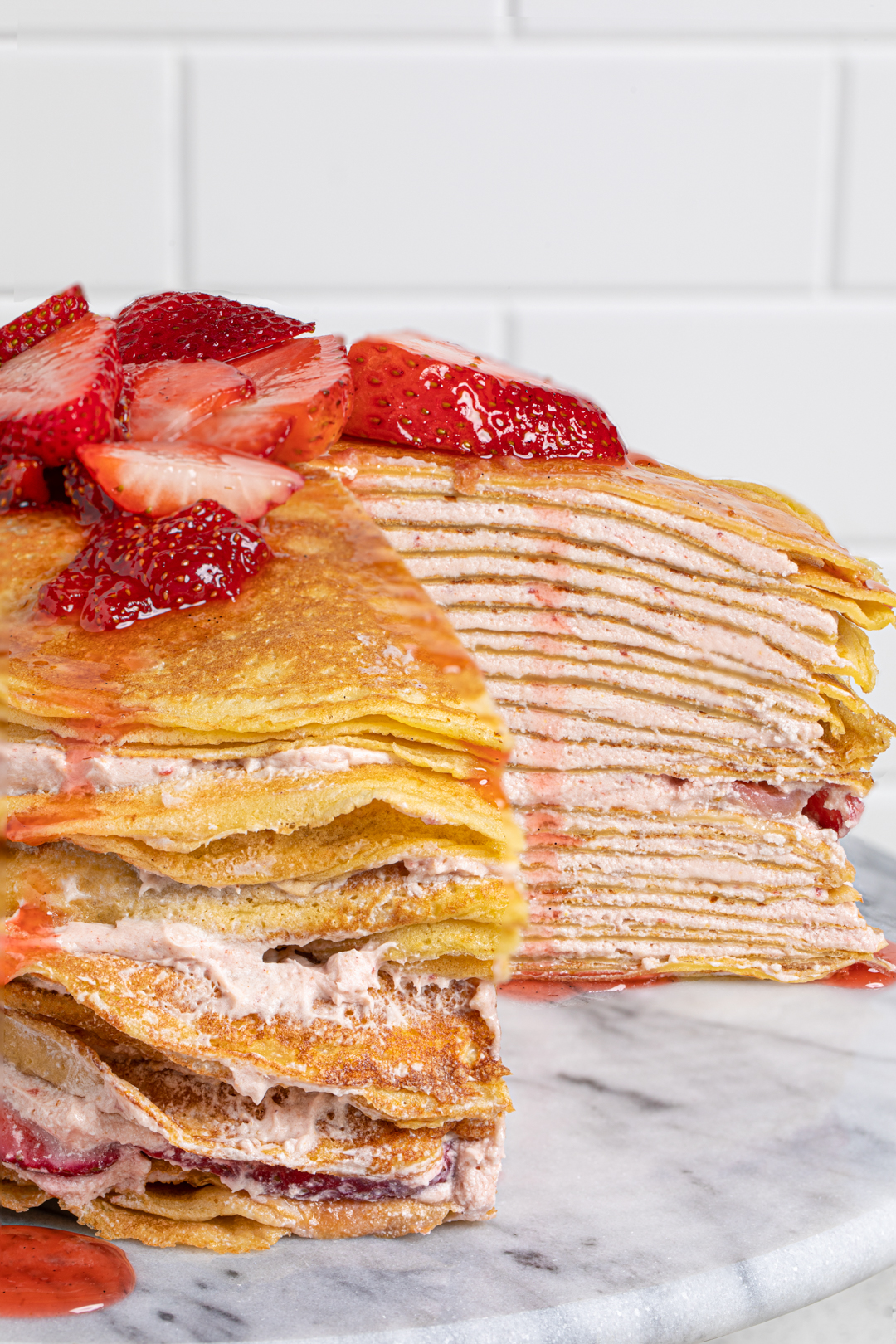 Like I said… This cake, even with as Instagram-perfect as it ends up, is simple, simple, simple. The batter for crêpes is a one bowl recipe. One blender container, really. Best made the day before you want to cook the crepes so that the batter can have some time to settle and release some of the air bubbles you create in the blender, you can whip the layers (two dozen!) up when you have the time.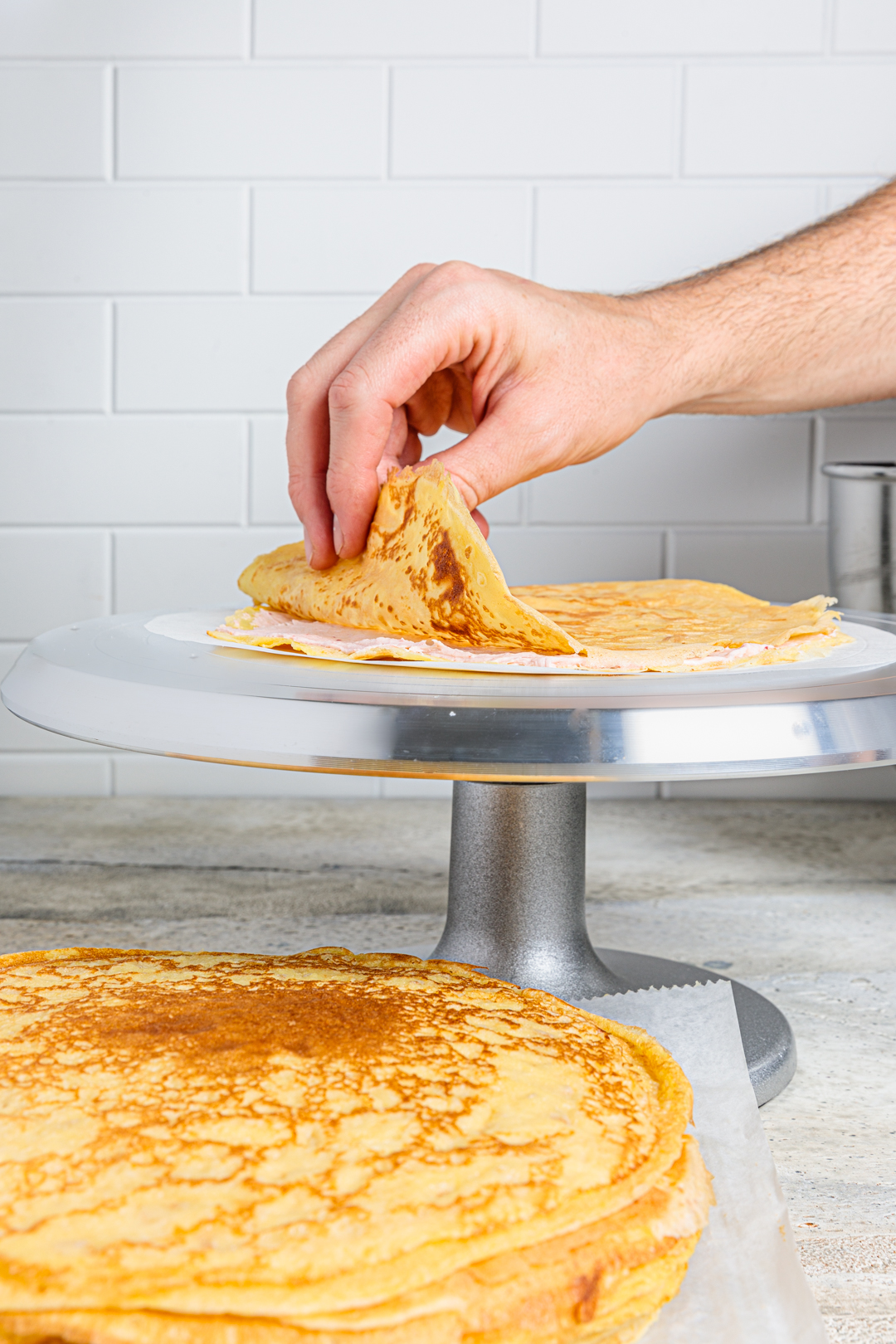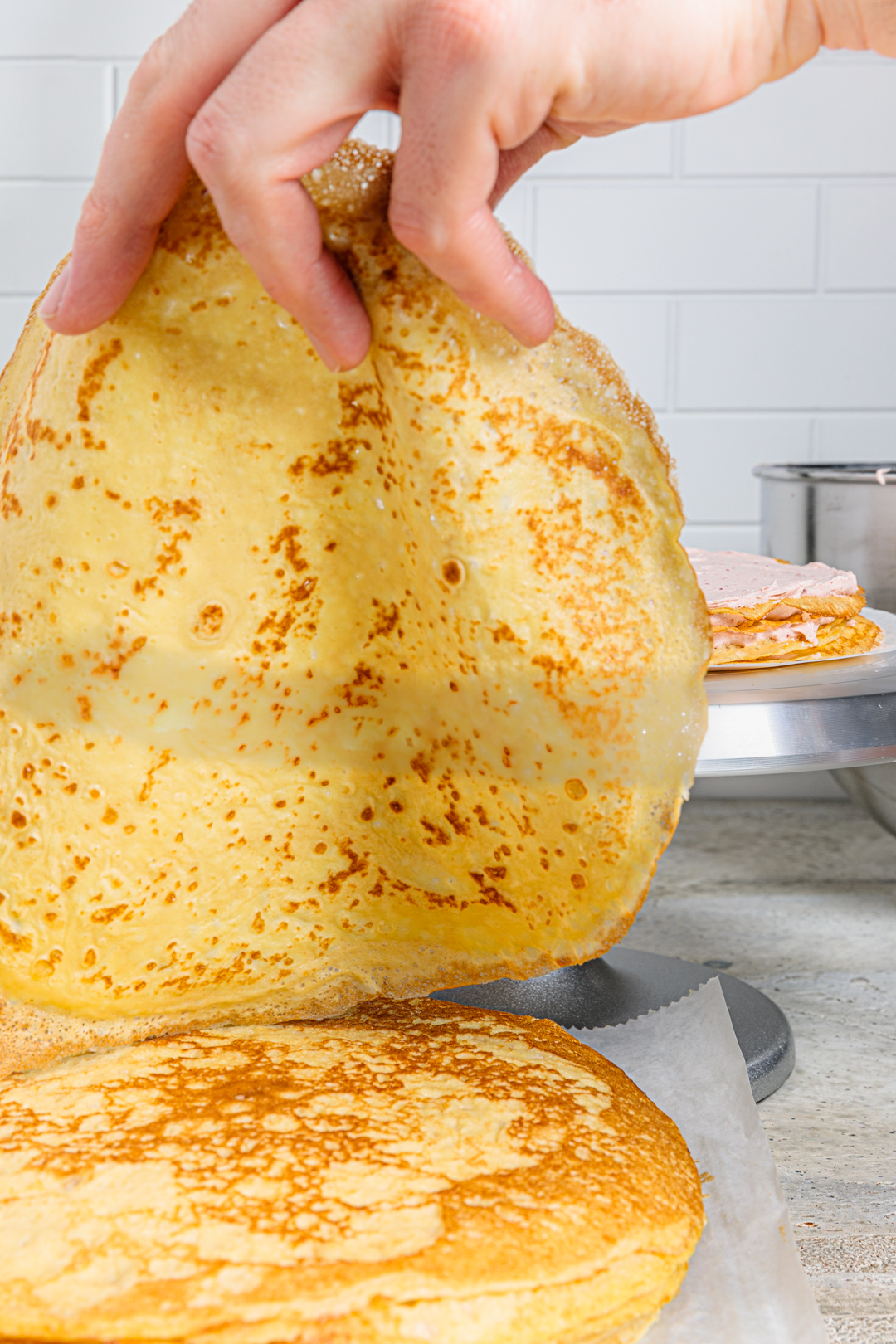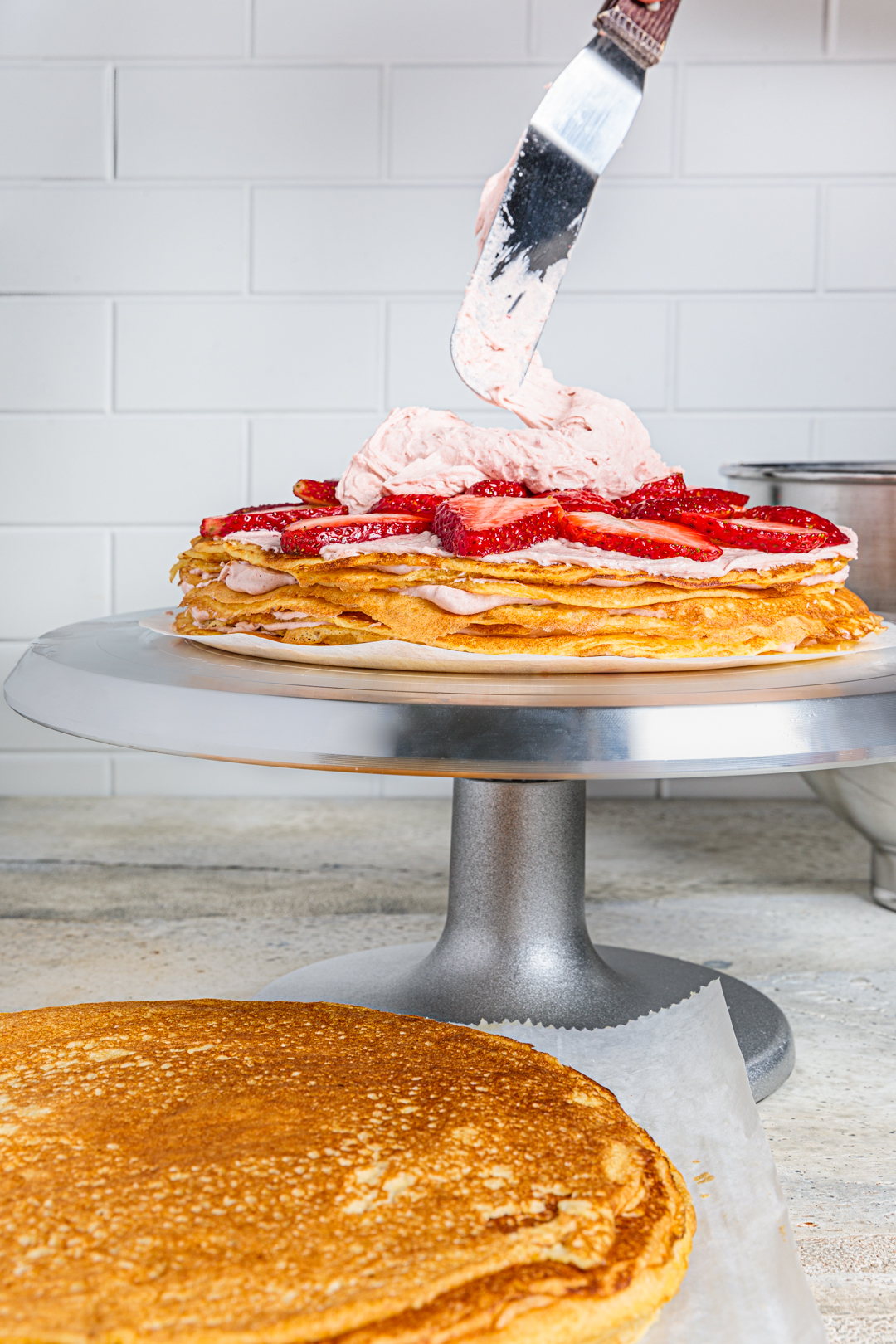 With Spring finally here, not only has it finally been warming up here in Nashville (almost 80 degrees today!). but the fresh produce and fruit season is kicking off. This week, I walked into my local Kroger and was greeted by the brightest, most plump red strawberries from Private Selection. There is something about those vibrant lil berries that just feels like Spring. I grabbed a few and actually forgot what I had gone to the store in the first place for… Turns out that I may have eaten a container before deciding to make the cake so I had to go back for my coffee creamer and an excuse to buy more strawberries. Win, win!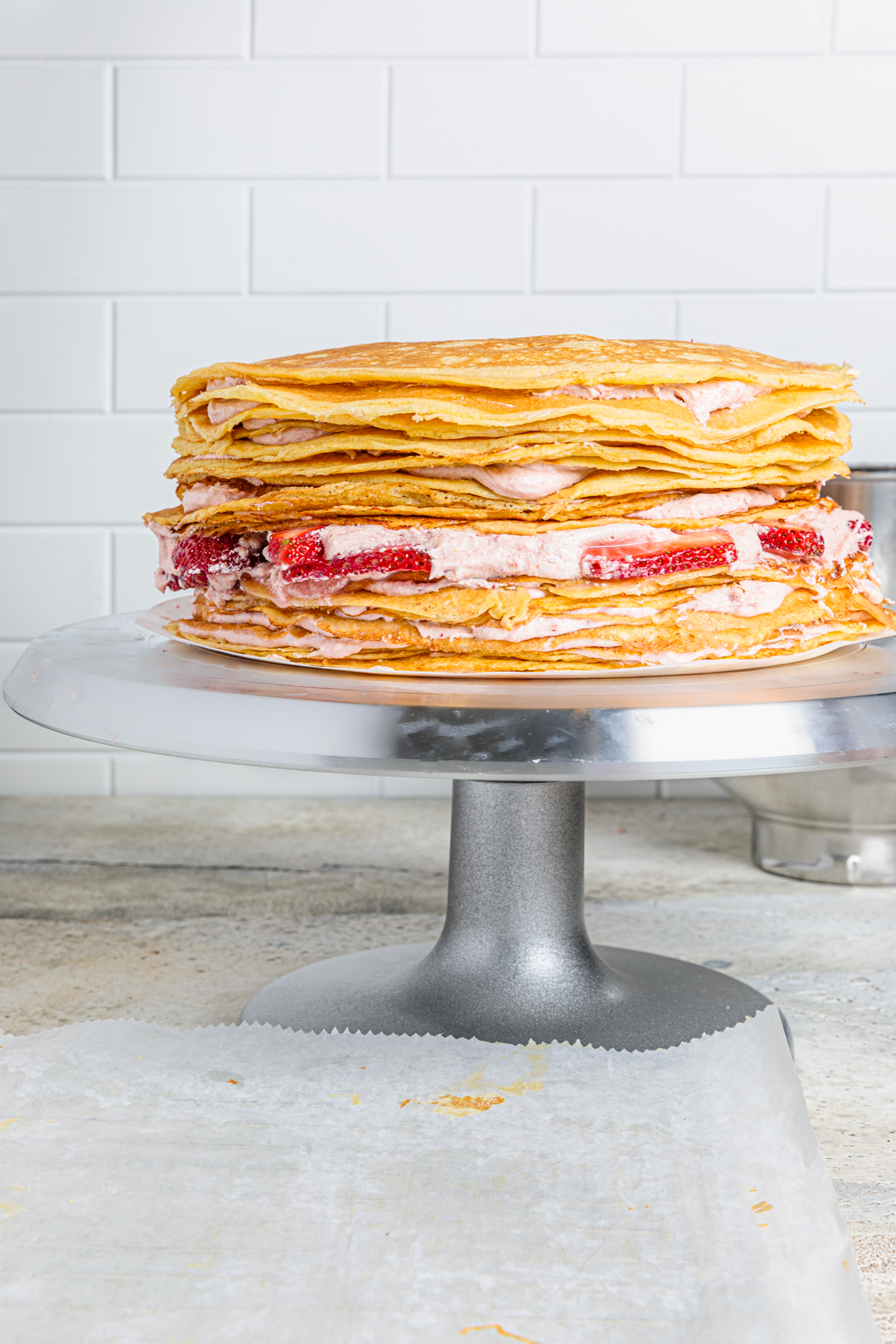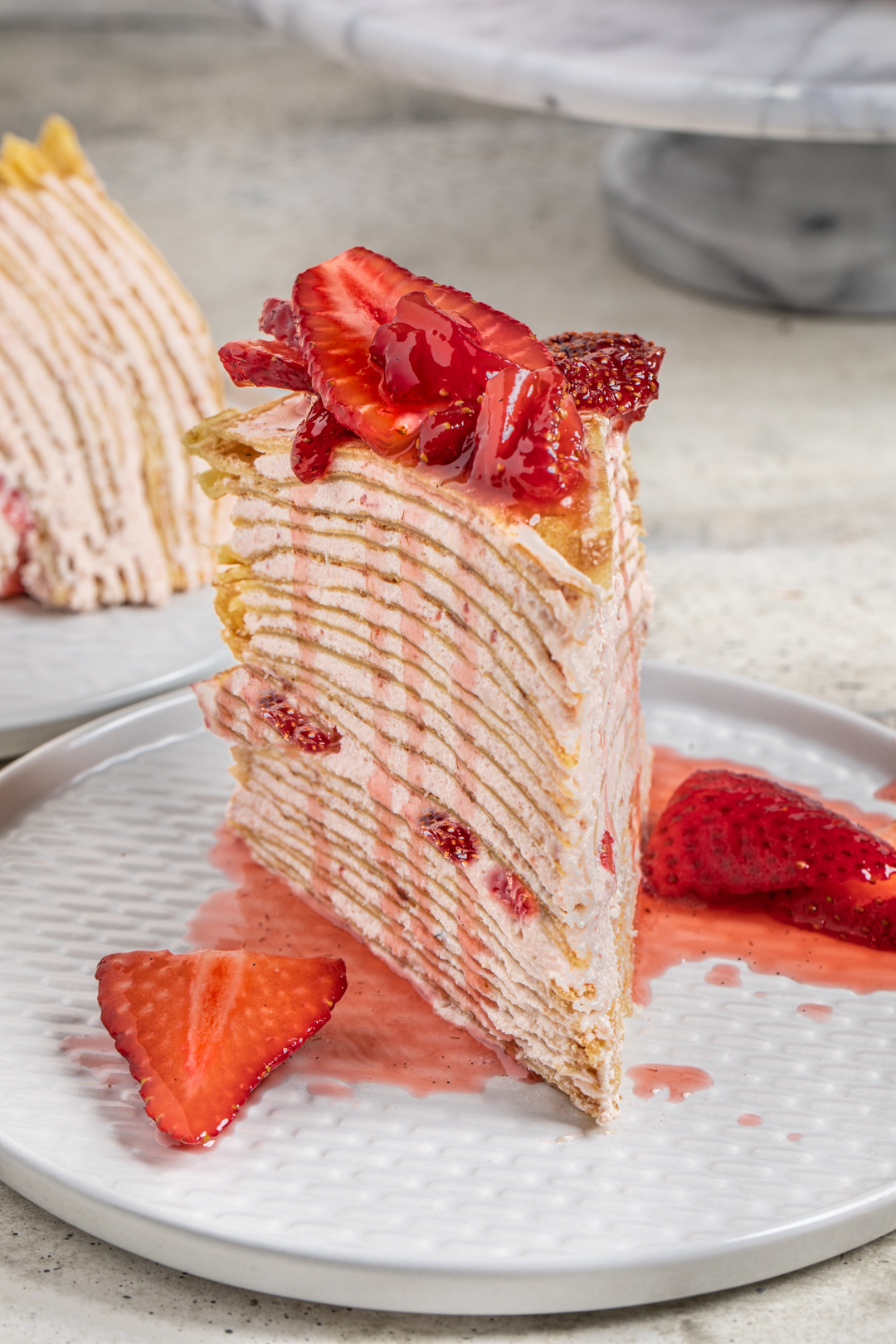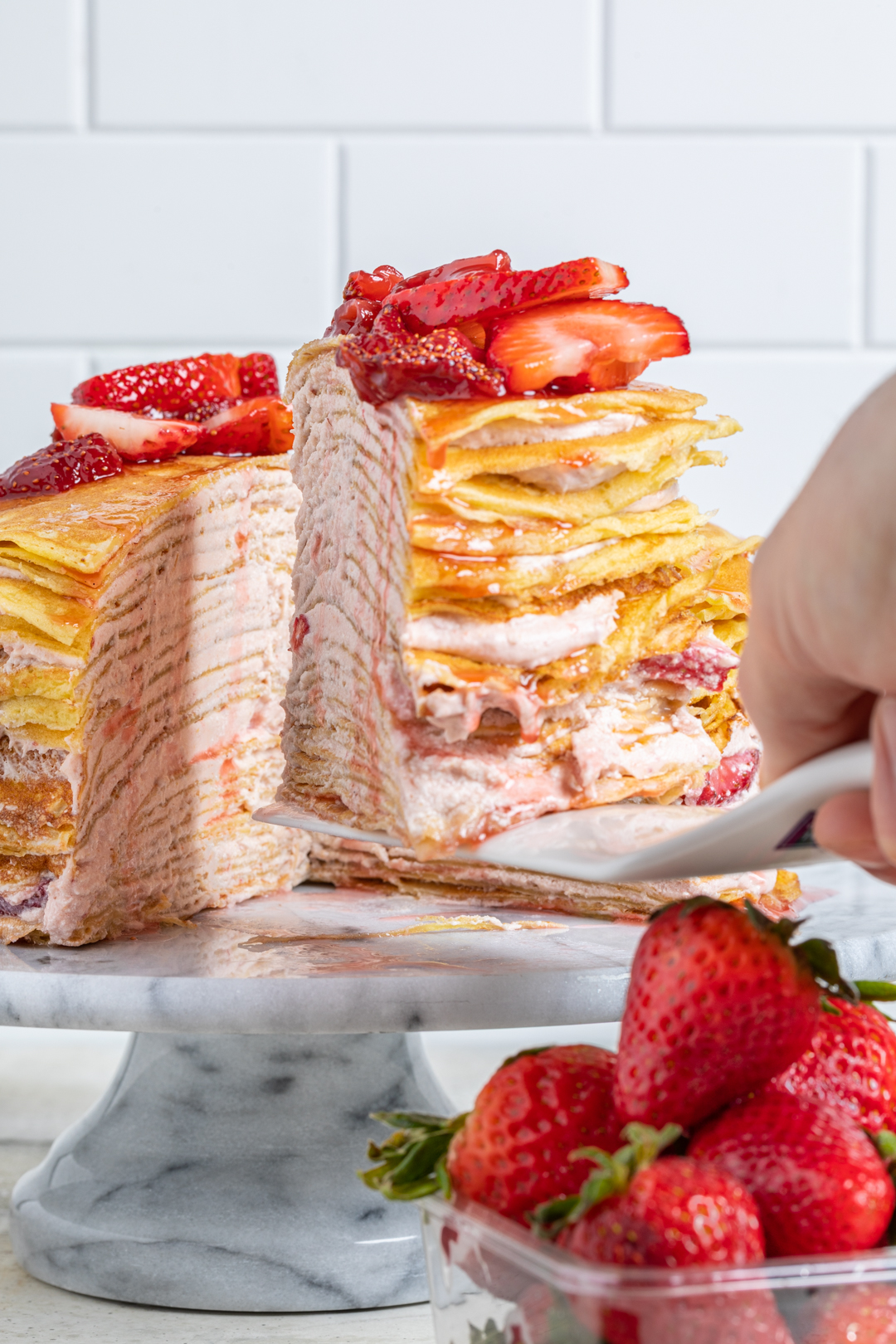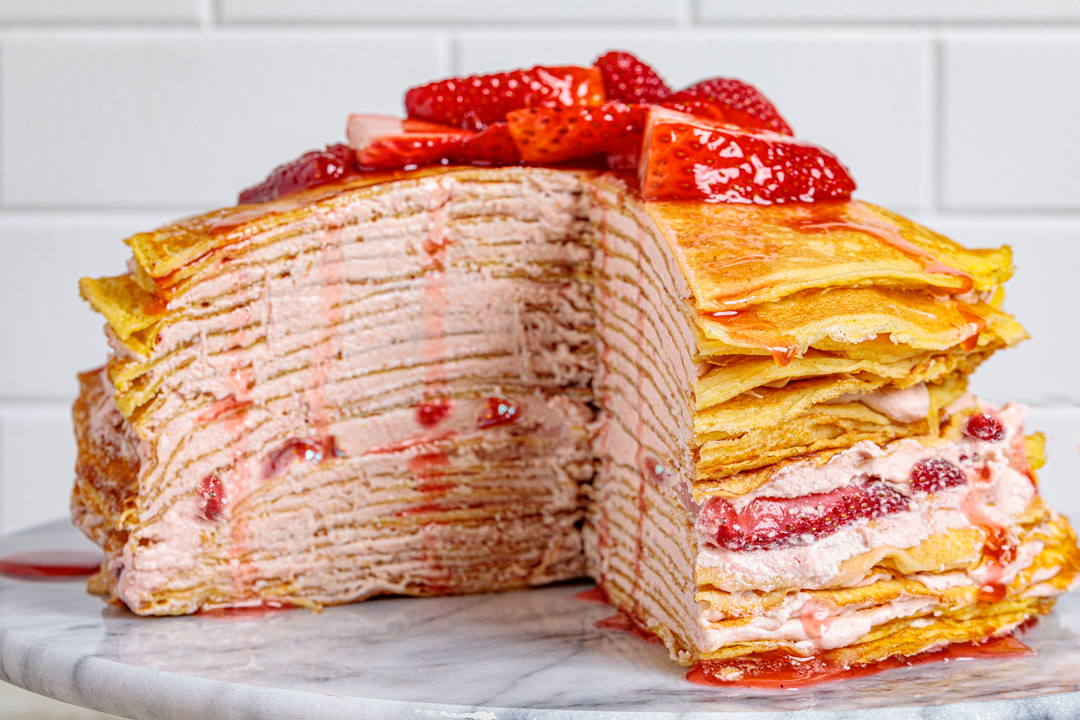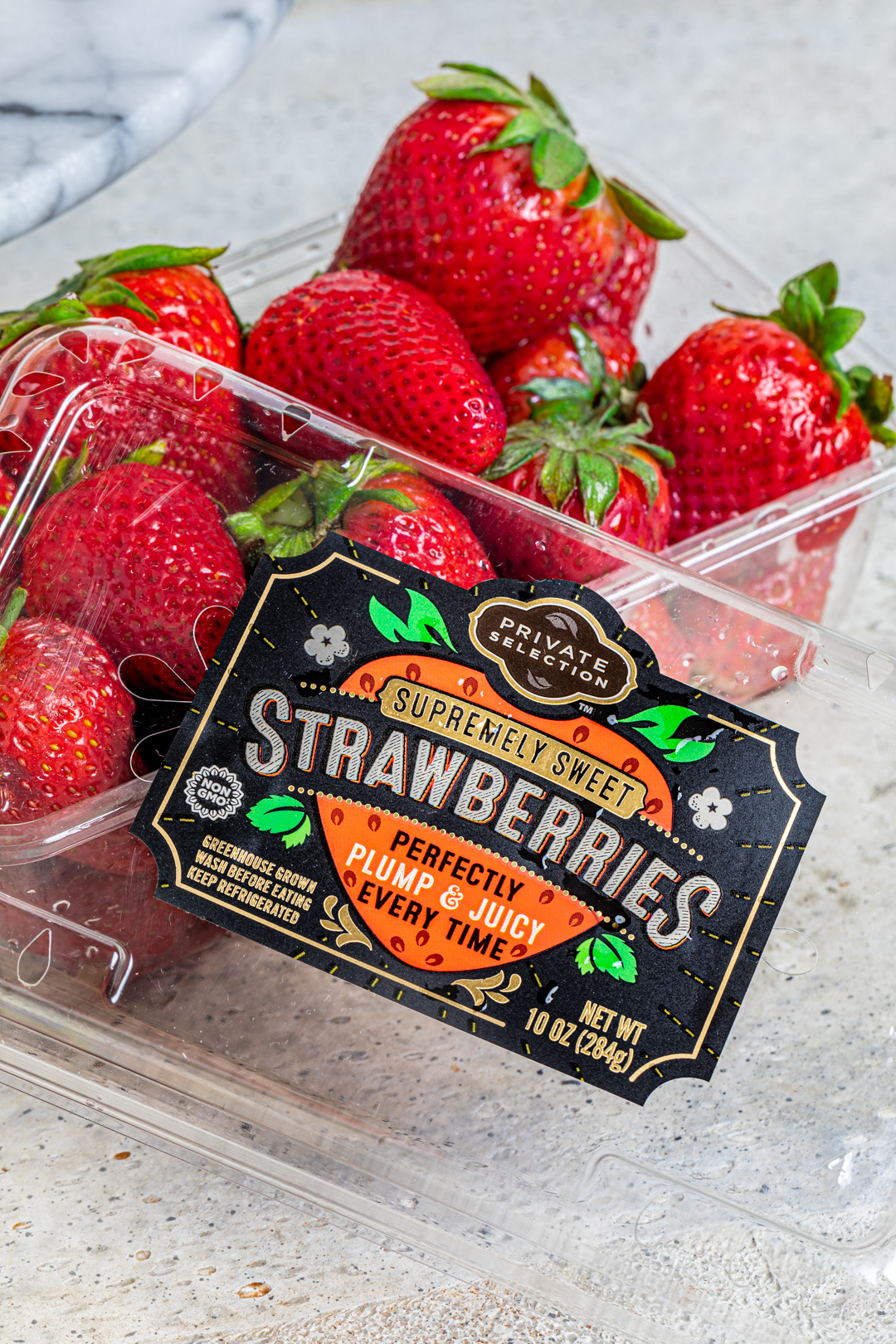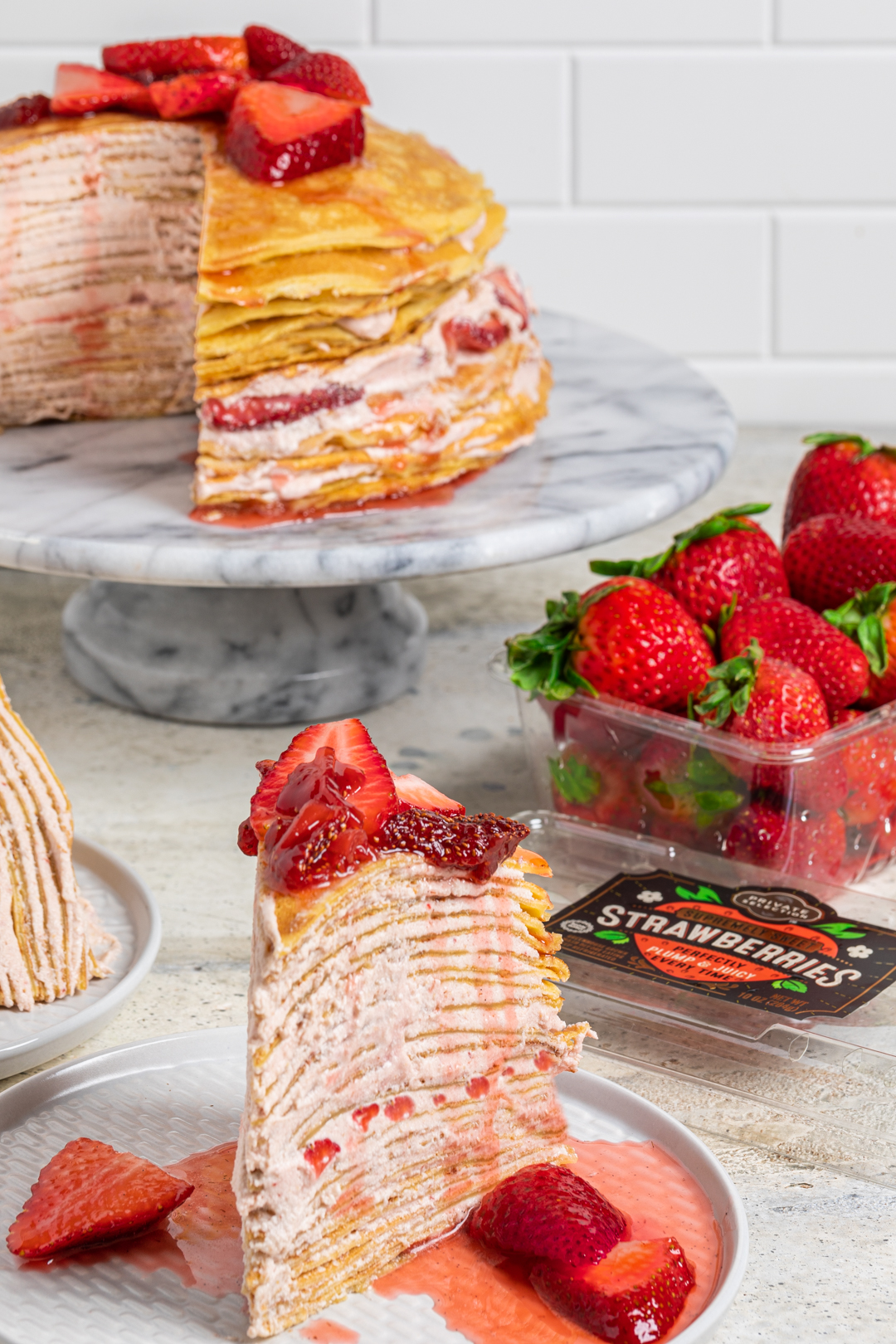 The beautiful thing about making a crepe cake is that you can fill it with nearly anything and it will be a success. Any fresh fruit is a great place to start. My pick of fresh strawberries, whipped buttercream, and more strawberries on top was a winning combination that I will be enjoying all season.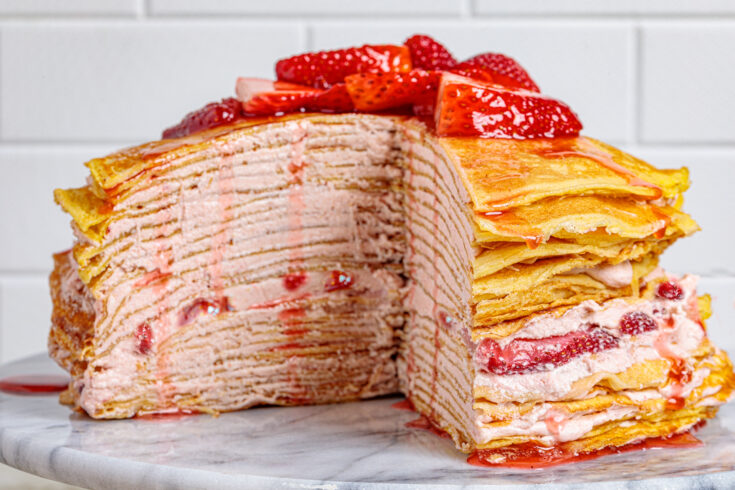 Yield:

12-14 servings
Strawberries & Cream Crêpe Cake
Show-stopping strawberries and cream crêpe cake. Layers of thin French crêpes with strawberry whipped buttercream. Topped with strawberry sauce. Recipe from SouthernFatty.com.
Ingredients
Crêpes
1 1/2 cups (210 g) all-purpose flour
1 tablespoon sugar
1/2 teaspoon salt
6 large (300 grams) eggs
1/2 cup (115 g) unsalted butter, melted and cooled
2 1/2 cups (615 g) whole milk
1 teaspoon vanilla extract or paste
10 oz fresh strawberries, sliced
Whipped Buttercream
1 cup (240 g) whole milk
6 tablespoons (50 g) flour
1 cup (230 g) unsalted butter, room temperature
1 cup (120 g) powdered sugar
1 teaspoon vanilla bean paste or extract
1/4 cup freeze dried strawberry powder
Instructions
Combine all crepe batter ingredients into blender.
Blend well for 2-3 minutes, scraping as needed.
Pour batter to container and place in refridgerator (1-2 hours minimum, overnight preferred).
Prepare buttercream:
Combine flour and milk in saucepan over medium heat. Whisk to combine well.
Whisk constantly until reduced and thick. Look for a paste-like consistency. Stop when you can see the bottom of the pan remain when stirring through mixture, about 3-4 minutes.
Remove and cool.
In mixer, cream butter and powdered sugar for about 5 minutes minutes until light, creamed and fluffy.
Add cooled flour mixture by the spoonful at a time and mix at medium/medium-high speed until mixed thoroughly.
Add vanilla and strawberry powder. Fresh strawberries may be used for a lighter flavor. I recommend cooking them down with some sugar and cooling if you want to use fresh instead.
Be sure to scrape sides to ensure smoothness. Beat very well until smooth.
This can be made in advance and kept sealed in the fridge for up to a week before use. Return to room temperature for easiest piping.
Complete crêpes:
Using an 8" non-stick skillet on medium-low heat, spread 1/4 cup of crepe batter while immediately rotating pan to full coat bottom. This must be done quickly.
When set and bubbles appear (about 30 seconds), carefully flip. I like to use a silicone spatula to help this process. It may take some practice to master this step. Enjoy the failed crepes as a snack.
When golden, remove crepe and place on cooling rack. You can stack the crepes. I recommend offsetting each over the previous to make removing them in layers more simple.
Continue until all crepes are cooked. Allow all to cool before layering.
Finish cake with alternating crepe and buttercream layers.
Top with strawberries that have rested in a bit of (optional) sugar. Enjoy!
Find more recipes on SouthernFatty.com. Tag your bakes on social media with @southernfatty / #southernfatty!
Nutrition Information:
Yield:
12
Serving Size:
1
Amount Per Serving:
Calories:

122
Total Fat:

3g
Saturated Fat:

2g
Trans Fat:

0g
Unsaturated Fat:

1g
Cholesterol:

10mg
Sodium:

137mg
Carbohydrates:

19g
Fiber:

1g
Sugar:

3g
Protein:

4g