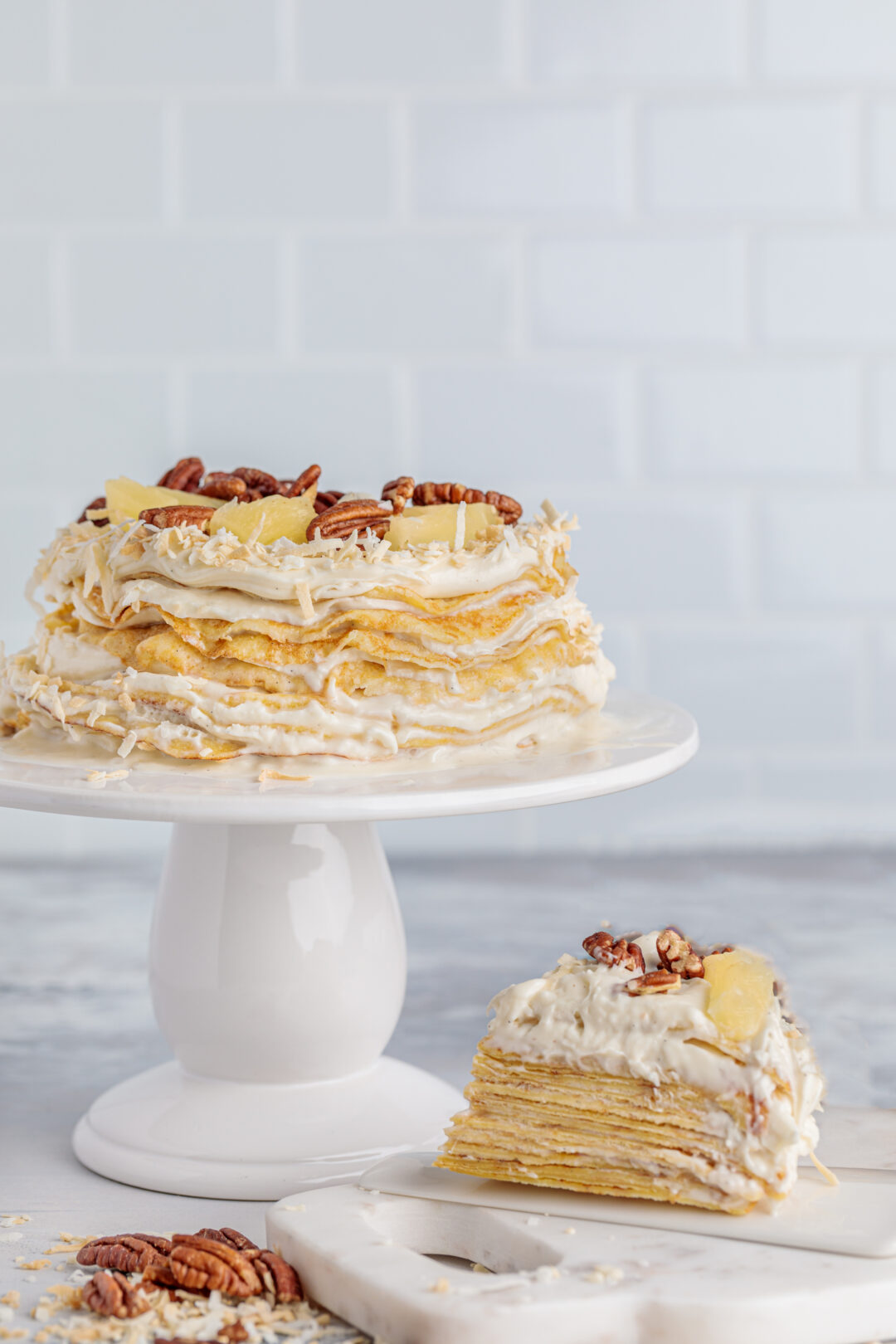 I've been more excited than a 30-something year-old should ever be over a cake for the release of this recipe. When I was testing the last recipe I posted, I was on a crêpe-makin' roll and made a bunch of extras to just play around with some ideas with. After I just ate a handful of them with leftover frosting, I was able to get myself under control enough to start thinking of another crêpe cake to try out.
Hummingbird cake is a southern staple when it comes to the dessert department. It's a unique mix of citrus, pecan, cream cheese frosting and banana. This hummingbird crêpe cake twist on the classic cake takes the bananas from what would normally be the cake layers and moves it into the frosting. Topped with a splash of pineapple, crunchy toasted coconut and pecans, this cake is a stunning showstopper.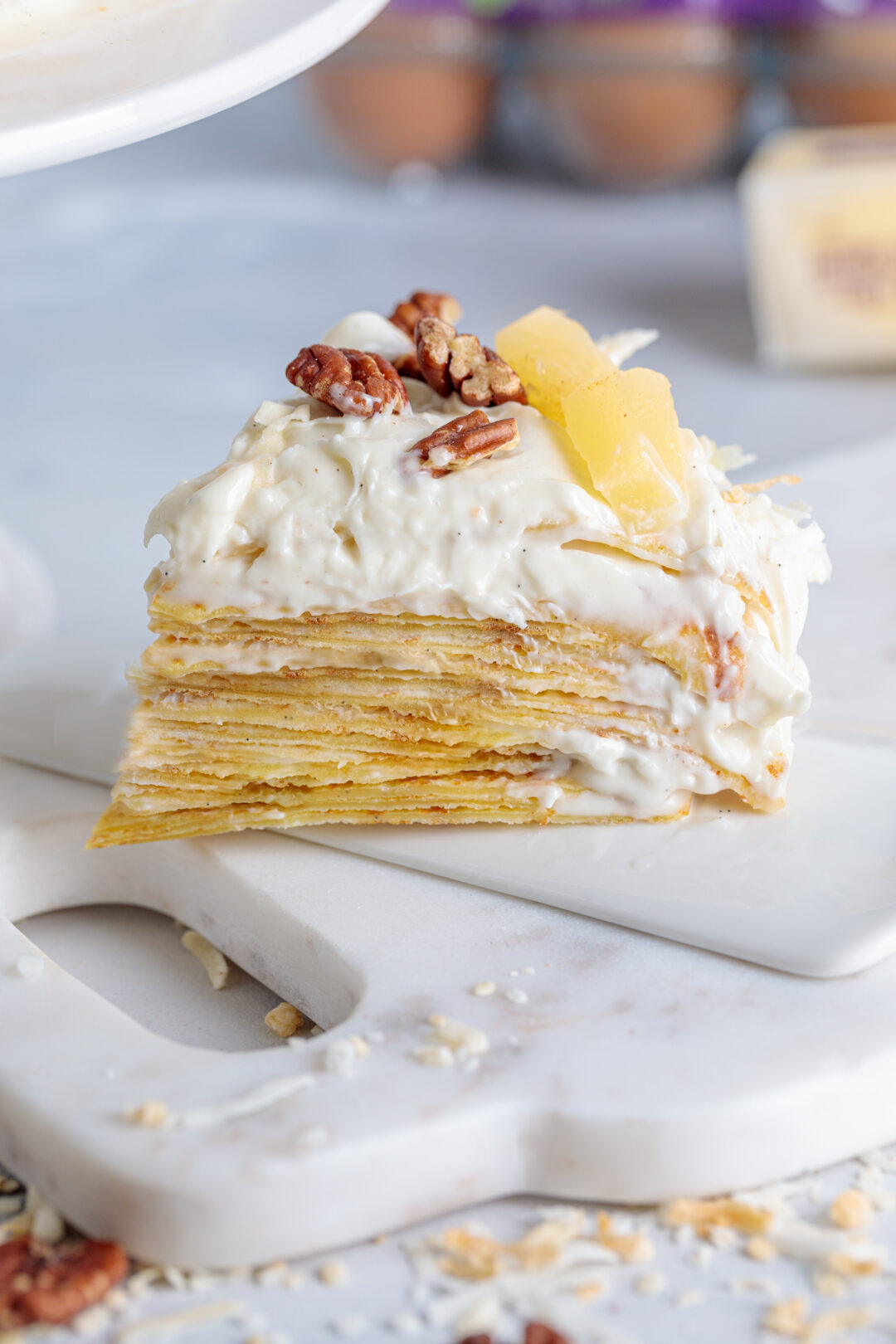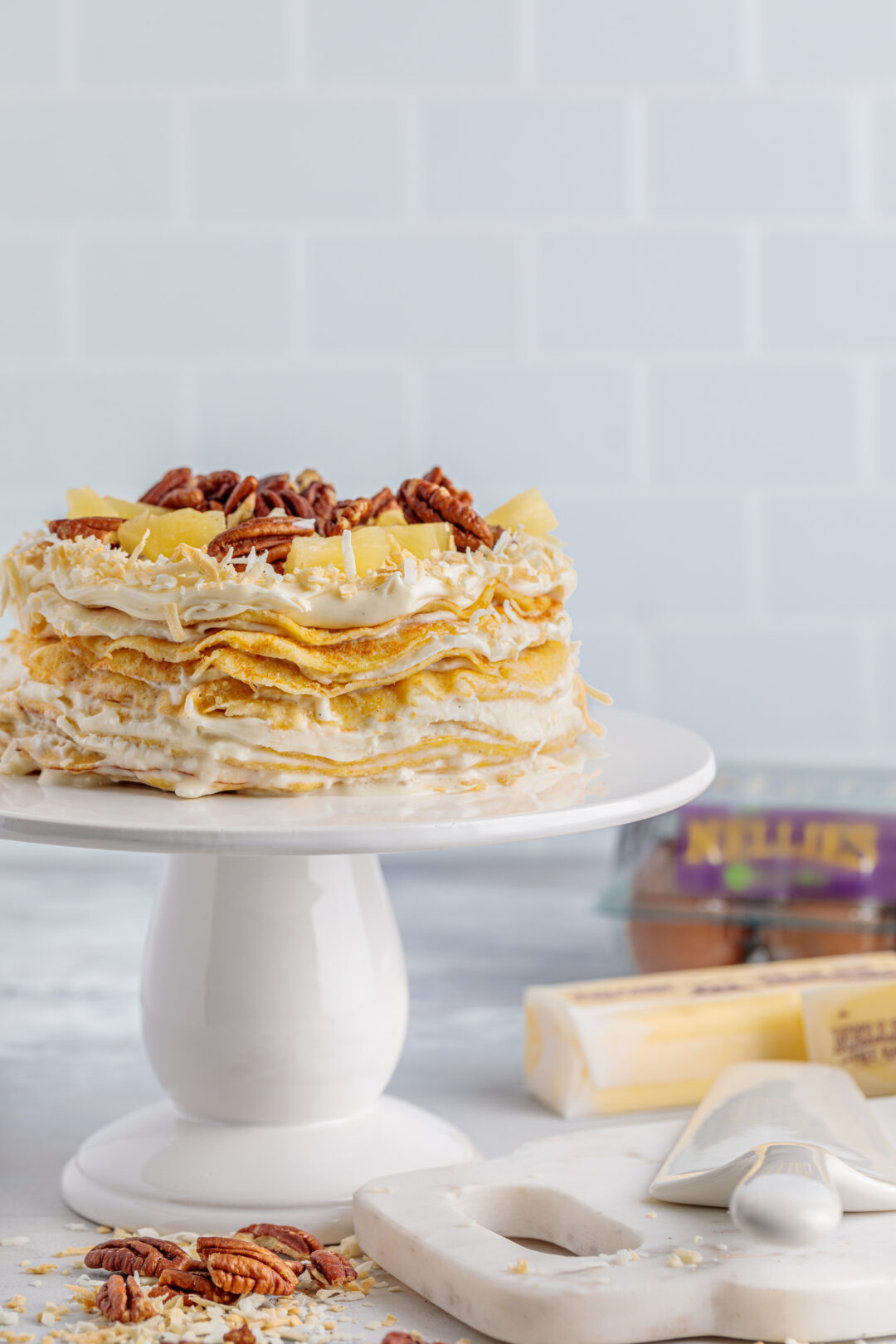 Hummingbird cake is something that I grew around. Pot luck dinners, cookouts, pretty much any event with too many people and a million desserts. Finding out when I was a bit older that it wasn't a cake that some had ever even heard of was a total shocker. What kind of life is it without this cake in it? The mix of the sweet punch of pineapple with rich pecans on cream cheese frosting is heavenly.
Rumor is that the name comes from the Jamaican roots and the cake being sweet enough that a hummingbird would be attracted to it. The cake took off as a southern favorite after it was published in a 70's edition of Southern Living. (I'd love to get my hands on a copy of that original magazine. Found and ordered one online! Isn't the internet wonderful? Stay tuned to see it in the kitchen of my new house.)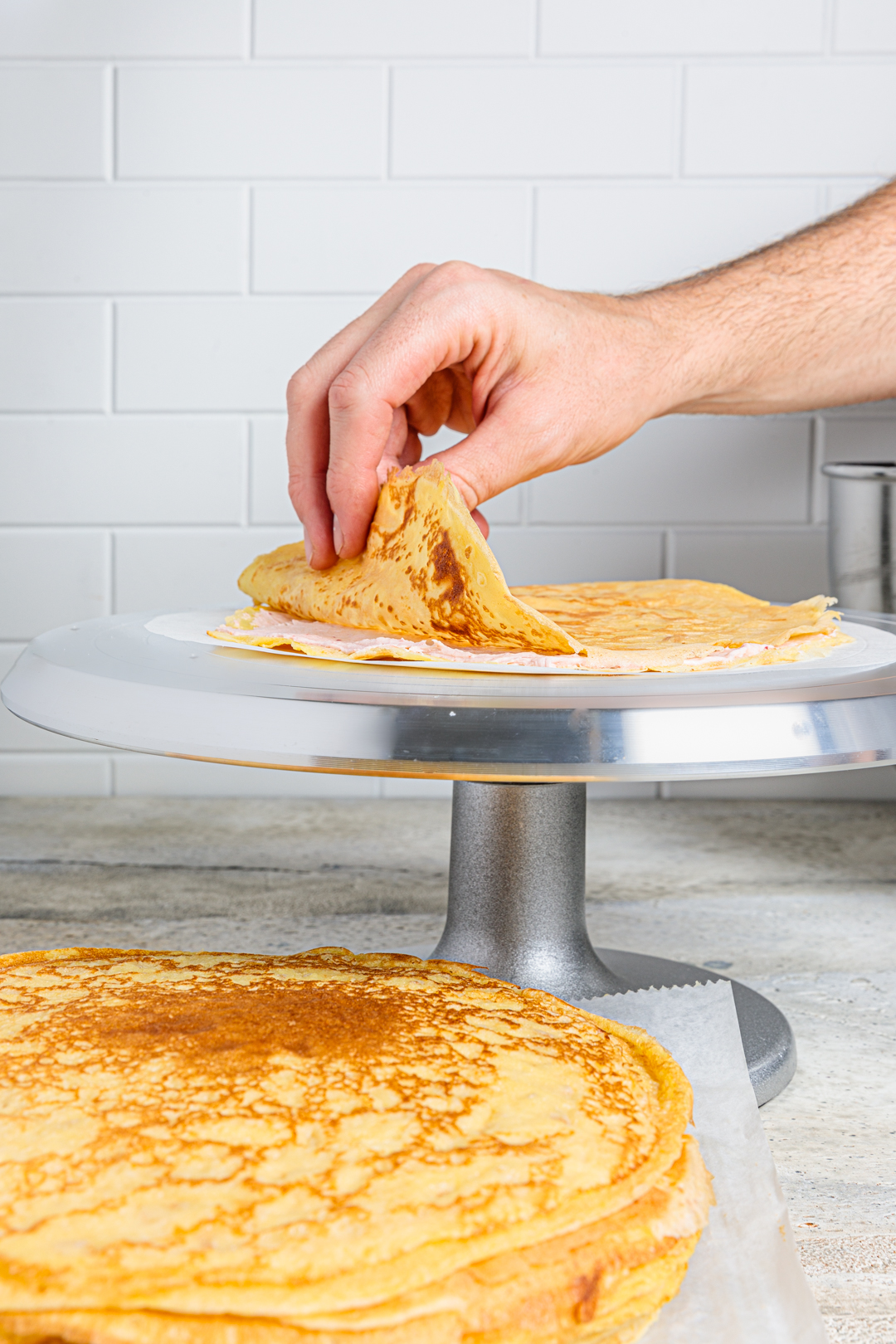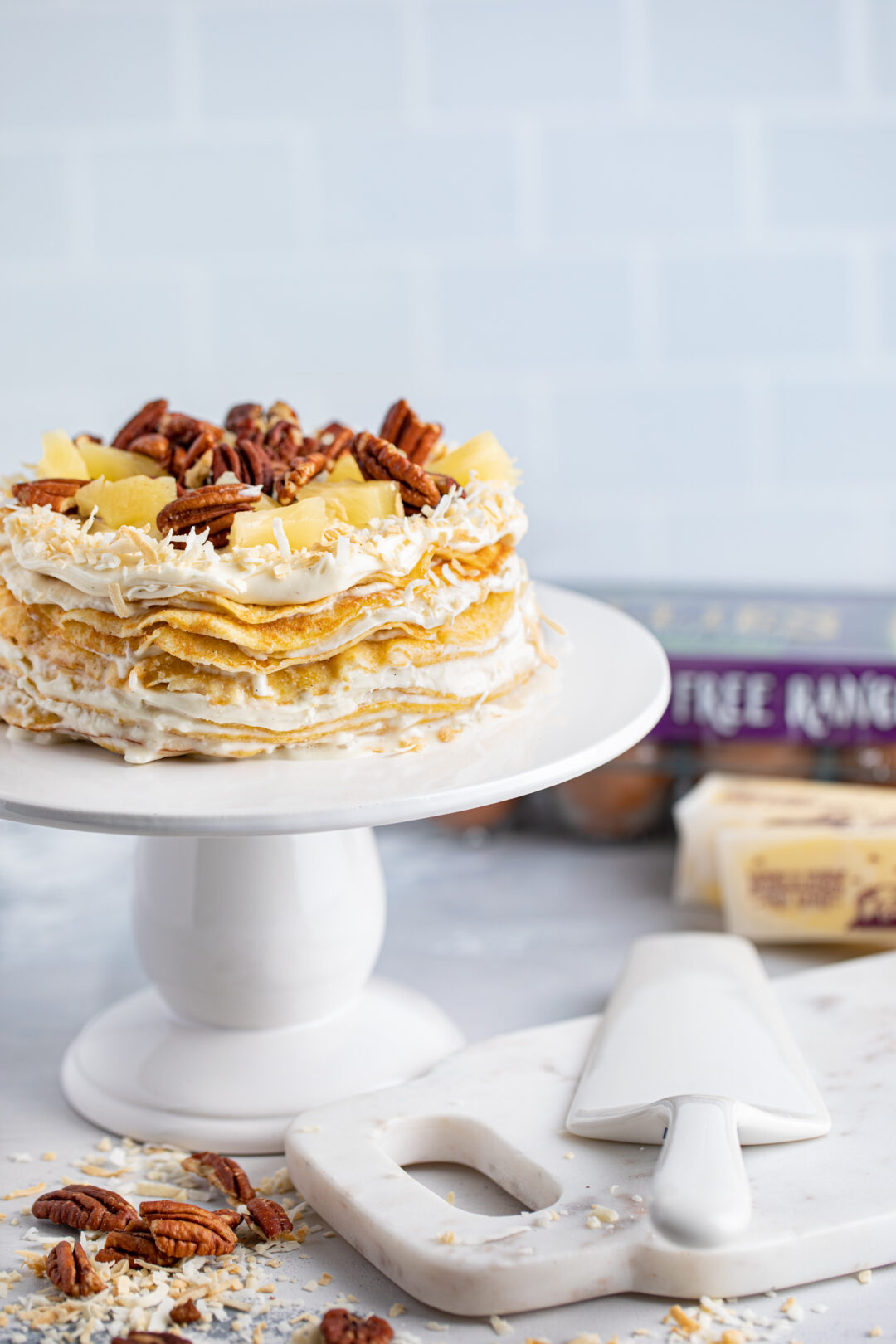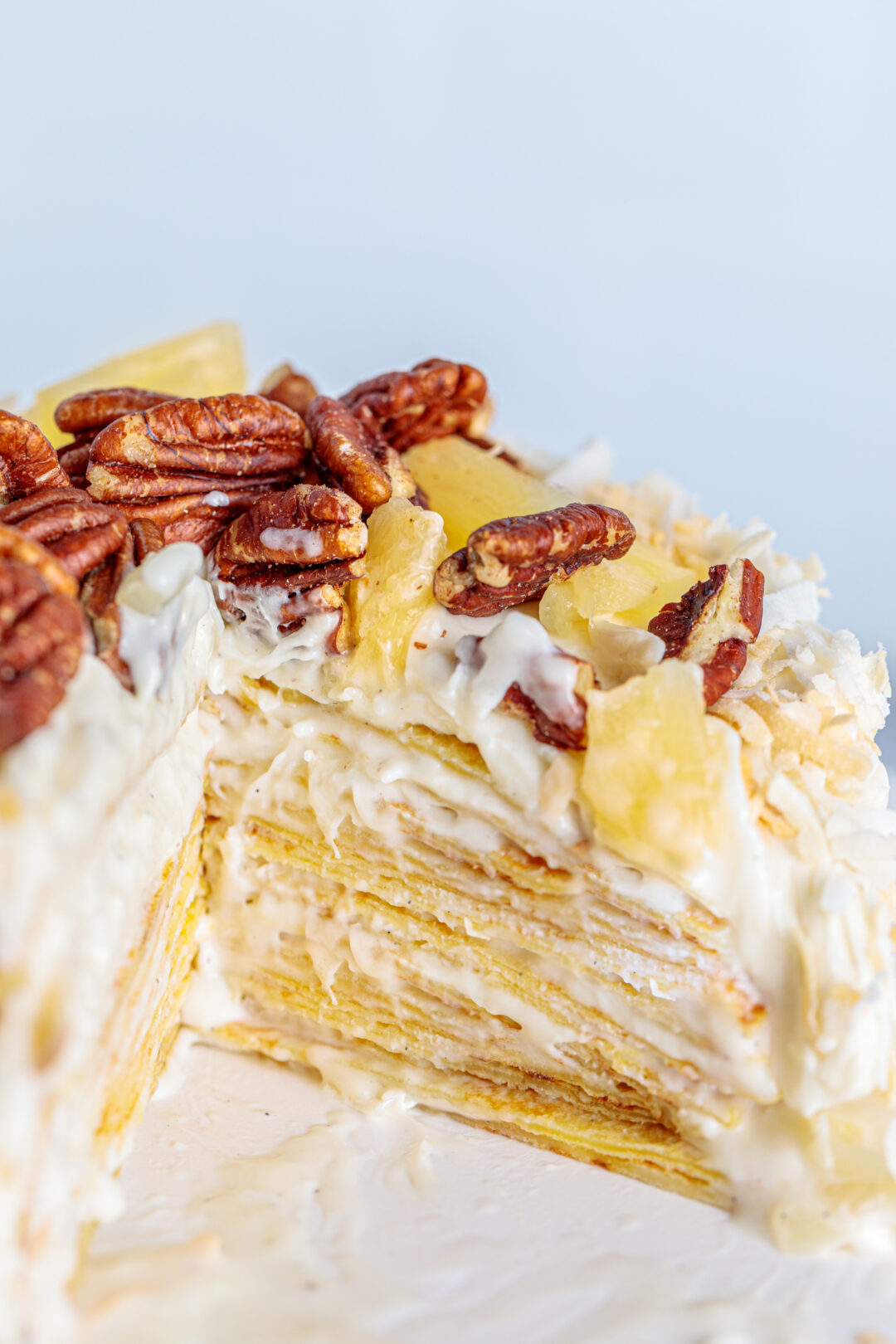 Like I mentioned, I realize that I just posted a crêpe cake recipe (Strawberries and Cream… and it's delicious) as my last post, buuuuut I couldn't help it. My failed attempt at making something to hold onto for a few weeks to post later on was overtaken by my love for the modern twist of nostalgia that this cake has. — Enjoy!
Side note — crêpes freeze extremely well. So while you are in the zone and making one after another, just double up and toss some in the freezer (best between wax paper) and all you will need to do later is fill 'em. Great option for brunch or quick cakes that are both ready in minutes with basically no planning needed.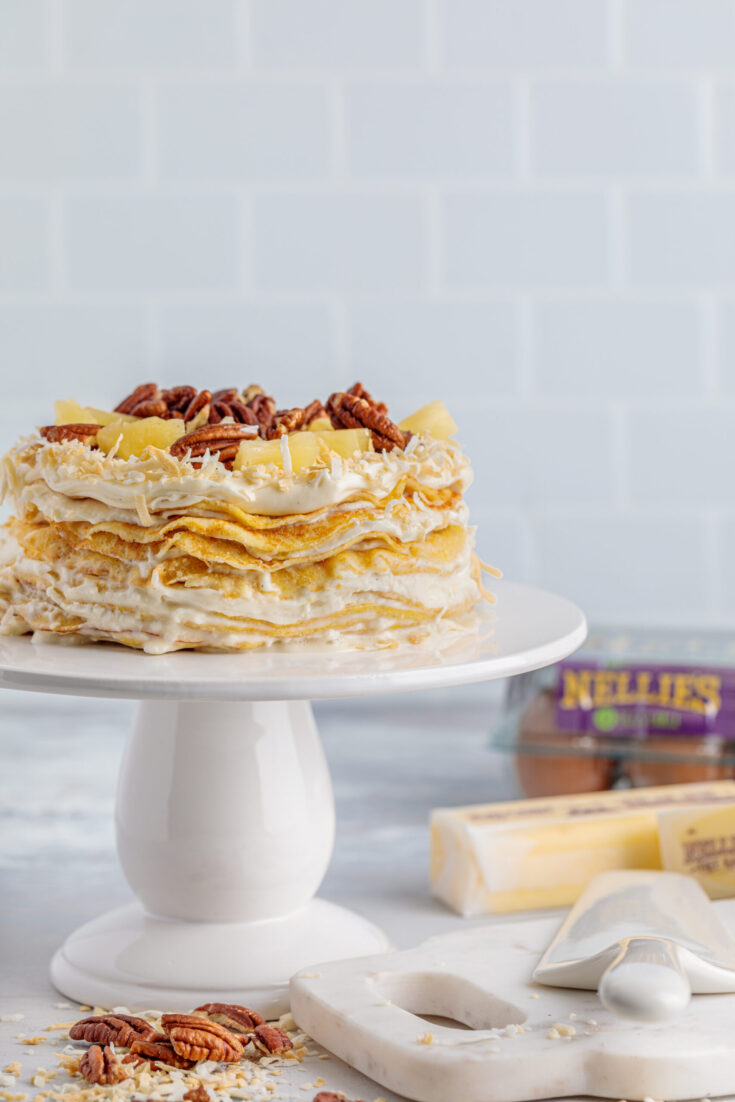 Yield:

12 servings
Hummingbird Crêpe Cake
Total Time:
1 hour
45 minutes
Hummingbird Crêpe Cake recipe with vanilla bean crepes & banana cream cheese buttercream topped with pineapple, pecans, & toasted coconut. From SouthernFatty.com.
Ingredients
Crepes
1 1/2 cups (210 g) all-purpose flour
1 tablespoon sugar
1/2 teaspoon salt
6 large (300 grams) eggs
1/2 cup (115 g) unsalted butter, melted and cooled
2 1/2 cups (615 g) whole milk
1 teaspoon vanilla extract or paste
Frosting
16 ounces (450 g) cream cheese, room temperature
1 cup (200 g) mashed bananas
2 sticks (230 g) unsalted butter, room temperature
1 teaspoon lemon juice, fresh
2 cups confectioners' sugar, sifted
Finishing
1 cup chopped pecans
1 cup crushed pineapple, drained
1/2 cup tosted sweetened coconut flakes
Instructions
Crêpes
Combine all crepe batter ingredients into blender.
Blend well for 2-3 minutes, scraping as needed.
Pour batter to container and place in refridgerator (1 hour+ , overnight preferred).
Using an 8" non-stick skillet on medium-low heat, spread 1/4 cup of crepe batter while immediately rotating pan to full coat bottom. This must be done quickly.
When set and bubbles appear (about 30-60 seconds), carefully flip. I like to use a silicone spatula to help this process. It may take some practice to master this step. Enjoy the failed crepes as a snack.
When golden, remove crepe and place on cooling rack. You can stack the crepes. I recommend offsetting each over the previous slightly to make removing them in layers more simple.
Continue until all crepes are cooked. Allow all to cool before layering.
Layer alternating crêpe and frosting. Top with toasted coconut, pineapple, and pecans.
Frosting
Beat cream cheese with mixer until smooth.
Add mashed banana and beat until smooth. Scrape bowl as needed.
Add butter and lemon juice. Mix at medium speed.
Reduce speed to low and add confectioners' sugar in small batches.
Once all is added, increase speed to medium and whip until smooth, about 3 minutes.
Nutrition Information:
Yield:
12
Serving Size:
1
Amount Per Serving:
Calories:

332
Total Fat:

14g
Saturated Fat:

11g
Trans Fat:

0g
Unsaturated Fat:

7g
Cholesterol:

47mg
Sodium:

38mg
Carbohydrates:

24g
Fiber:

2g
Sugar:

18g
Protein:

9g