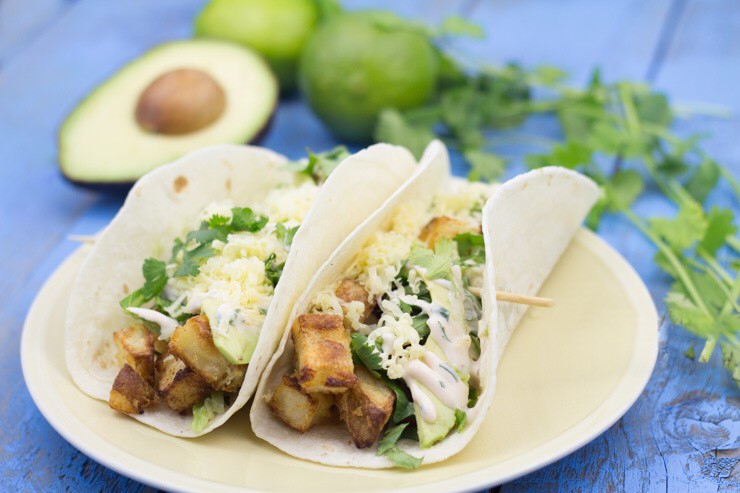 Tacos are a staple in my house on nights when I come home late and don't feel like making anything with much effort. In all honesty, I bet I end up making some taco variation on a weekly basis. Have some extra chicken? Taco it. A bit of ground beef? Taco it. Until now, I had produced mostly tacos with some sort of meat protein as the main ingredient. This has totally broken that cycle–
Spicy Potato Soft Tacos– Crispy, oven-baked & seasoned potatoes with a spicy sriracha lime cilantro sauce.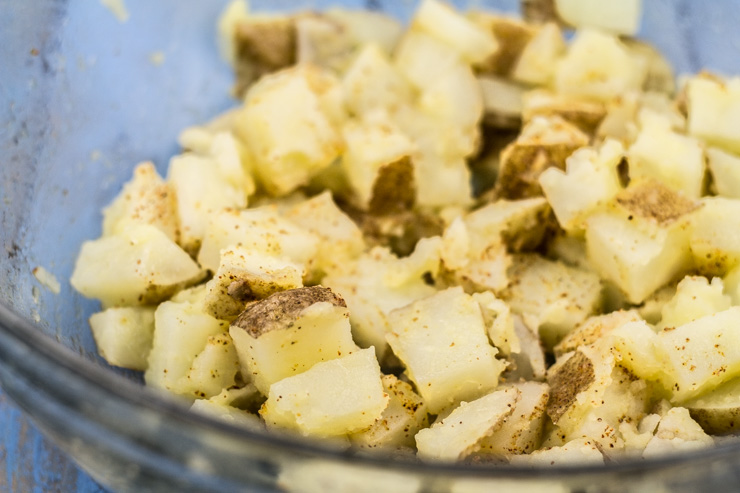 The star of this quick concoction could be debated. It could be the crispy potatoes with a smooth, fluffy interior, or perhaps the spicy sriracha-based cilantro lime sour cream sauce. We might as well go ahead and call it a tie, because they are both absolutely delicious!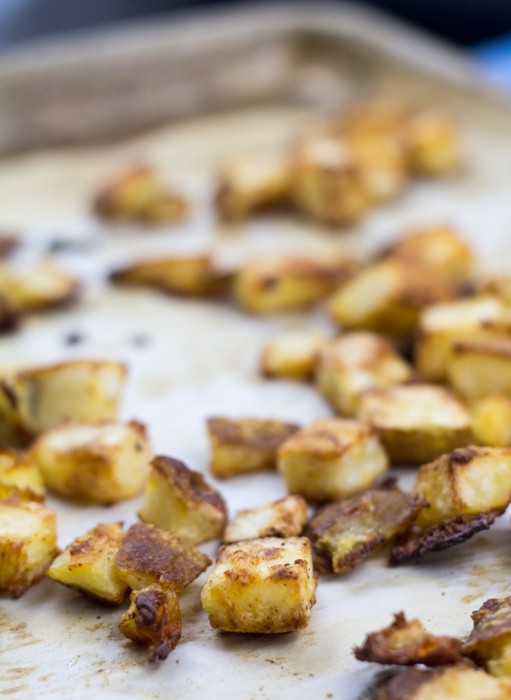 These tacos may sound somewhat familiar if you venture out into such fine dining establishments as I have recently. You know the one… Cardboard-like nachos, belly-aching quesadillas, and these recently added dollar menu jewels. Good ol' T-Bell.
I have been addicted to these simple tacos since their recent addition to the menu. Finding a good homemade recipe to replace them was quickly added to my To Do list.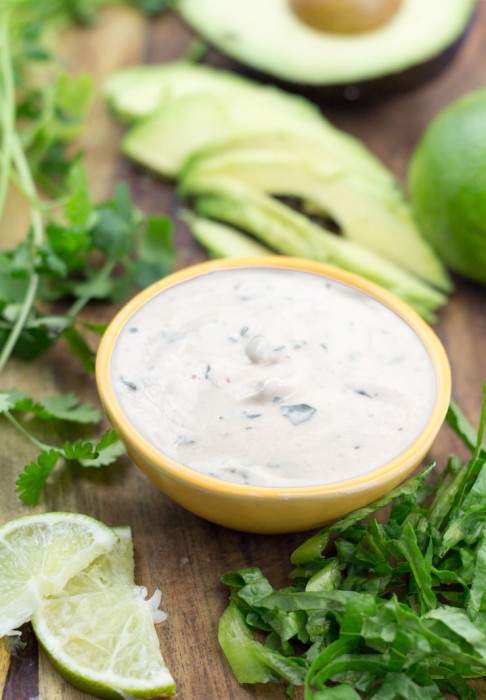 Let's talk about this sauce. This sauce has been my go-to spicy sauce for everything from fish to burgers to tacos. It's incredibly simple and can be blended to add just a tingle or knock your britches off– whatever you prefer. Sour cream, a bit of freshly chopped cilantro, a bite with a splash of lime juice and some spicy, flavorful sriracha.
Check out some of the other recipes that we have used sriracha in while you're at it.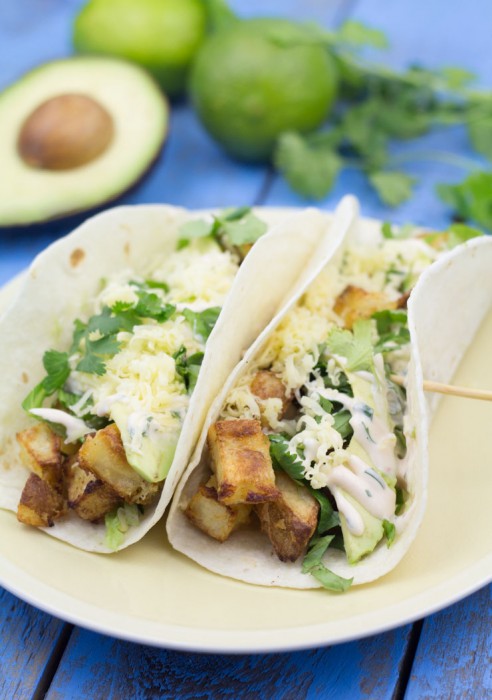 Taco Tuesday is definitely going to make an encore appearance throughout the week with these!
Spicy Potato Soft Tacos
Spicy Potato Soft Tacos -- Crispy, oven-baked potatoes with a spicy cilantro sriracha lime sauce for the perfect homemade soft tacos.
Ingredients
Taco Fillings
1 Russet potato, cubed
1 tablespoon olive oil
salt and pepper, to taste
cajun seasoning, to taste
lettuce, salsa, avocado, cheese by choice
tortillas
Spicy Sauce
½ cup sour cream
1-2 tablespoons sriracha
½ tablespoon cilantro, chopped
½ tablespoon lime juice, freshly squeezed
Instructions
Crispy Potatoes
Preheat oven to 425 F.
Rinse cubed potatoes in cold water several times until water is clear.
In a microwave safe large bowl, place potatoes and cover with water (about an inch over).
Cover with plastic wrap and poke a few holes in the top.
Microwave on high power for about 5 minutes. You want a knife to just pass through when poked. They shouldn't be too soft, though.
Drain water completely.
In a bowl, drizzle olive oil and seasonings on potatoes.
Use a wooden spoon to stir the potatoes. This will create a rough texture that will aid in the crisping. (See the image in the blog post for an example.)
On a paper-lined baking sheet, spread potatoes out in single layer.
Bake for 15 minutes, flip, bake an additional ~10 minutes until golden and crispy.
Sauce
For sauce, combine sour cream, sriracha, lime juice and cilantro. Set aside.
Finish Tacos
In tortilla, add warm, crispy potatoes. Top with toppings and spicy sauce.
Enjoy!
--More on SouthernFATTY.com--
Notes
2014 - SouthernFATTY.com