Spicy Potato Soft Tacos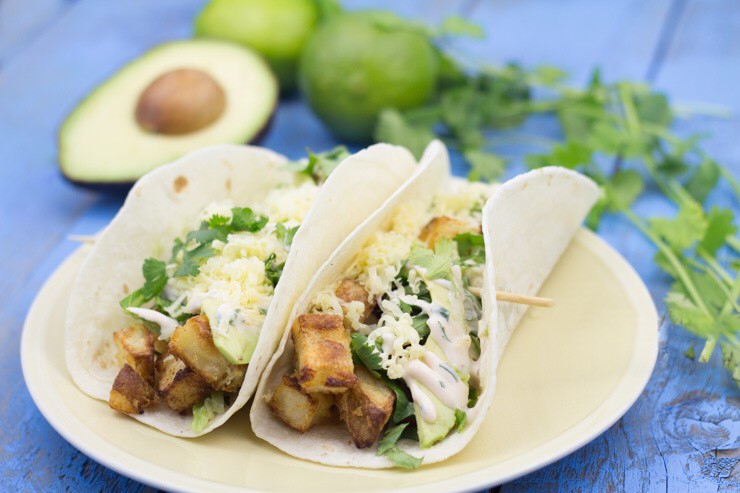 1 Russet potato, cubed
1 tablespoon olive oil
salt and pepper, to taste
cajun seasoning, to taste
lettuce, salsa, avocado, cheese by choice
tortillas
½ cup sour cream
1-2 tablespoons sriracha
½ tablespoon cilantro, chopped
½ tablespoon lime juice, freshly squeezed
Preheat oven to 425 F.
Rinse cubed potatoes in cold water several times until water is clear.
In a microwave safe large bowl, place potatoes and cover with water (about an inch over).
Cover with plastic wrap and poke a few holes in the top.
Microwave on high power for about 5 minutes. You want a knife to just pass through when poked. They shouldn't be too soft, though.
Drain water completely.
In a bowl, drizzle olive oil and seasonings on potatoes.
Use a wooden spoon to stir the potatoes. This will create a rough texture that will aid in the crisping. (See the image in the blog post for an example.)
On a paper-lined baking sheet, spread potatoes out in single layer.
Bake for 15 minutes, flip, bake an additional ~10 minutes until golden and crispy.
For sauce, combine sour cream, sriracha, lime juice and cilantro. Set aside.
In tortilla, add warm, crispy potatoes. Top with toppings and spicy sauce.
Enjoy!
--More on SouthernFATTY.com--