Southern Fried Okra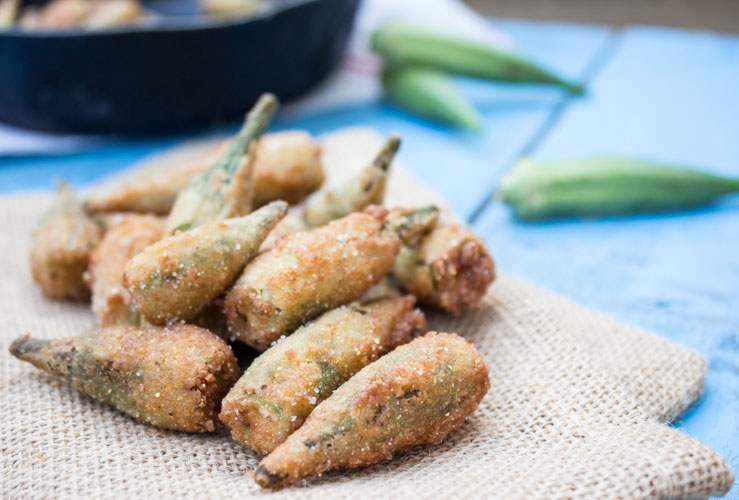 1 lb okra (fresh, whole, local)
⅓ cup cornmeal
⅓ plus ⅓ cup flour, divided
1 teaspoon salt
½ tablespoon powdered sugar
½ teaspoon granulated garlic (or garlic pwd)
½ teaspoon fresh ground pepper
¼ teaspoon cayenne pepper, ground
pinch cumin
½ cup buttermilk
oil, for frying
salt and pepper, to finish
Rinse okra in cold water well. Drain and pat dry completely.
Trim tops of vegetables off.
Heat about ½ inch oil in deep skillet to 350 F.
First bowl, add ⅓ cup flour with a bit of salt and pepper.
In another bowl, place buttermilk.
In a third bowl, combine all remaining dry ingredients well.
Toss okra in first simple flour bowl and toss well.
In small batches, place a handful of okra in buttermilk. Cover well.
Transfer to bowl of dry mix and dredge well. Press this seasoned flour/cornmeal mix into okra.
Remove to rest on a pan for 5-10 minutes. This will help form that beautiful crust.
Fry until golden brown.
Remove to drain on paper towels.
Sprinkle with salt and pepper.
Serve warm and enjoy!
Visit SouthernFATTY.com for more.