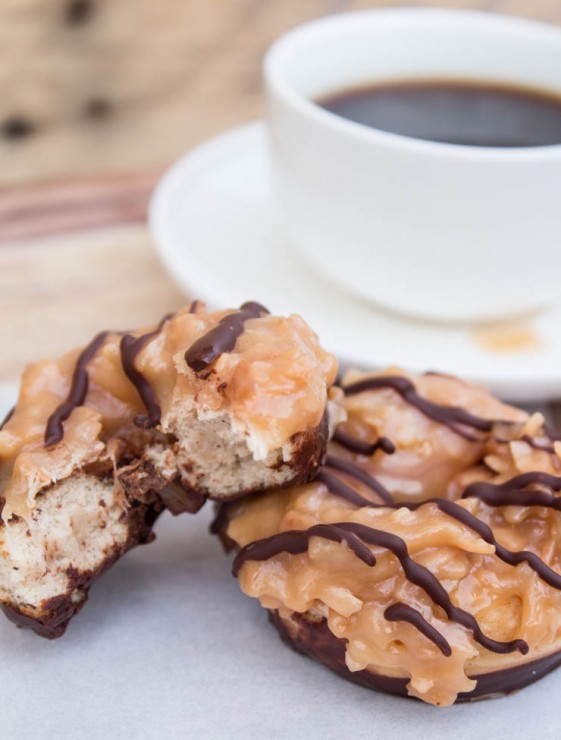 I was in my lab this past week, and someone came in and asked if I wanted to order some…. YES! YES! Of course I want to order some Girl Scout cookies! My heart starting beating rapidly. Most likely somewhat out of sync out of anticipation. I'll take 8. 8 boxes. 2 Thin Mint®, 2 peanut butter whatevers, 2 shortbread. 2 Samoas®. Ok… Let's make it 10. 2 more Samoas®. I mean, they do freeze well! (Thin Mints seem better frozen to me!)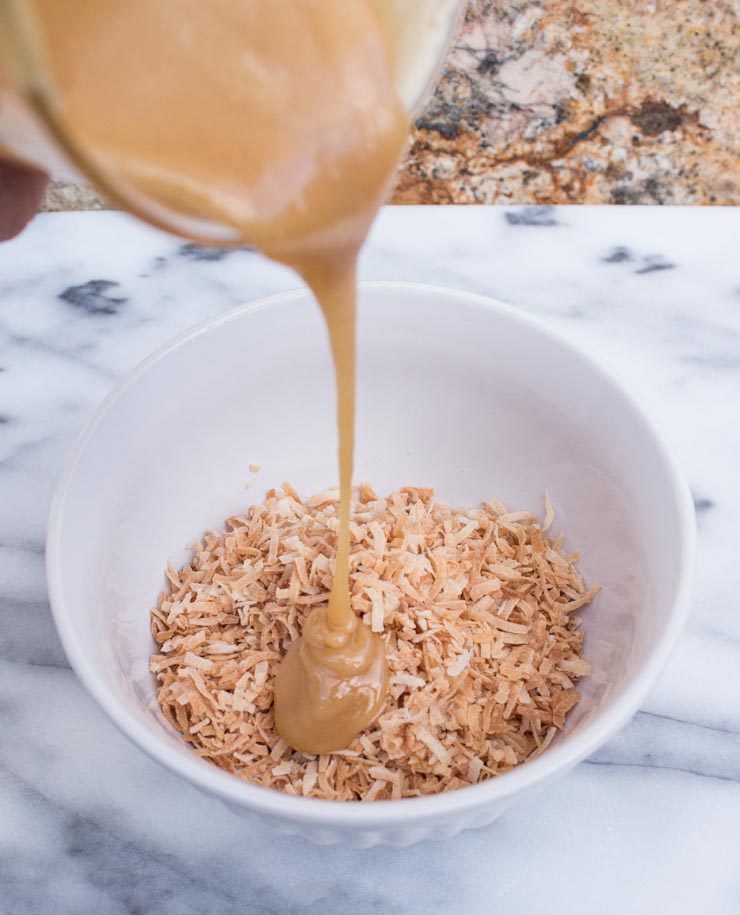 It's really a wonder I have been able to sleep at all after ordering these. These cookies bring back such good memories from… well, all the time. I used to be jealous when I was in Boy Scouts that they got to sell these sweet, enslaving cookies, and I just just trying to pitch some popcorn. Boooooooring. It just wasn't fair. Luckily, my Mom would stock up and I knew exactly where in the deep freezer that she would hide them.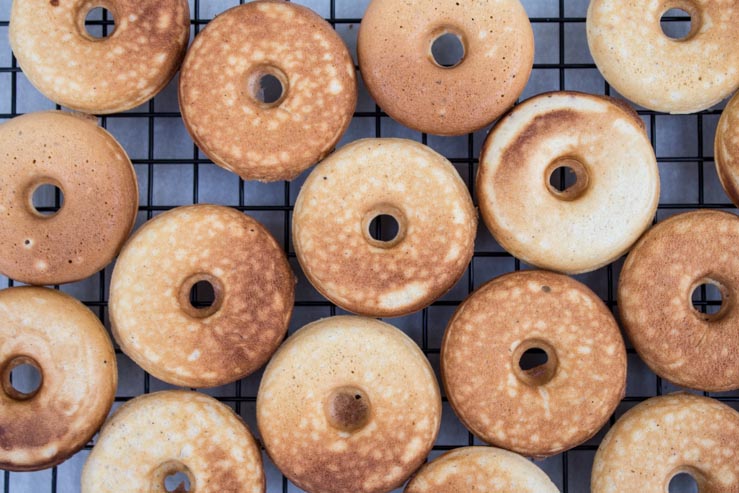 Being one of the few people on earth that doesn't usually care for chocolate (I know… I know…), oddly enough , the Thin Mint cookies are probably my favorites. I'm always a sucker for mint. Second in line are the Samoas. Again, I really don't care for coconut. They must be lacing these things with something. Maybe I should test them in the lab! Maybe…
Since most of the people I am around seem to enjoy the Samoas as their favorite addiction cookie, I decided that I would try to make some homemade warped version of something to hold myself over until the real things arrived. Pairing these cookies with the quaint little Mini Donut Maker that I received for Christmas just seemed natural. Yes, It is just as amazing as it sounds! I also have a mini donut pan that I could have used. They work pretty well, although I prefer the machine because it takes most of the guess-work out as to knowing when they are finished. So much faster too!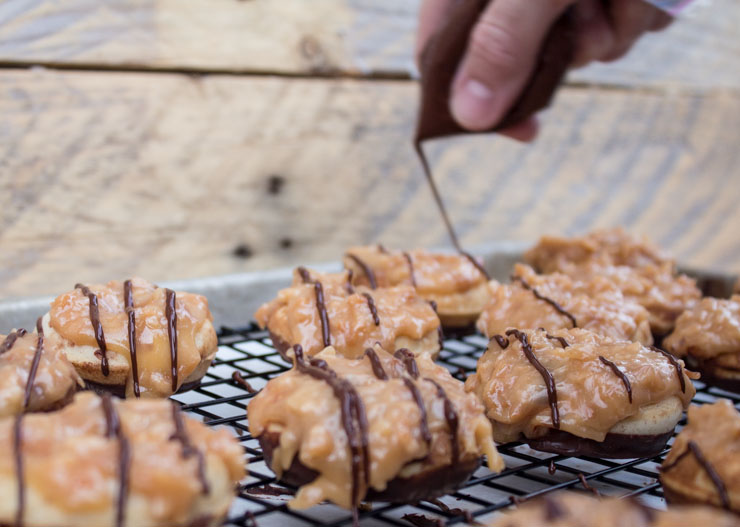 For this recipe, I had initially decided to take the easy road and just melt down some store-bought caramels. It's a weekend. I was lazy. I bought everything that I needed and came home. I then ate most of the caramels that I had bought for the recipe. Oops? I was now forced to either abandon the entire idea or just make my own. Abandon donut-making plans? Pfft. That's funny.
Homemade caramel it is! I will say that I went the easy route and made it in a microwave instead of the conventional stove-top method. Worked like a charm! We'll keep half of the caramel to dip the donuts in before we coat them with the caramel/coconut mixture. I found that this helps it to stick better.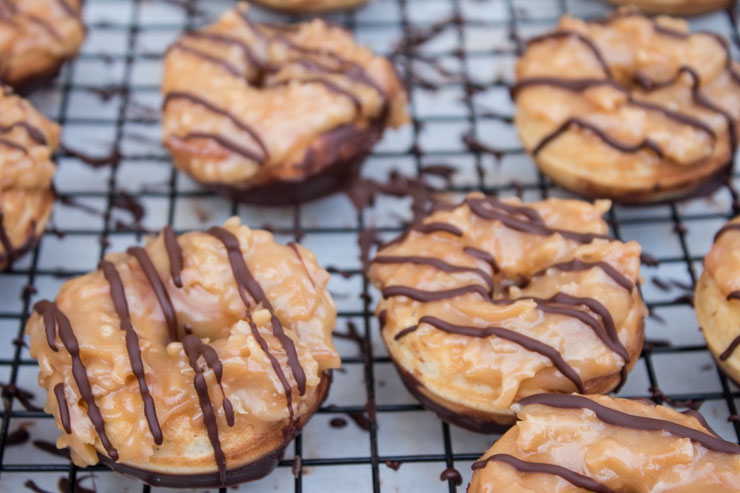 Since you've read this far, here is a bonus! — I had a bit of caramel and caramel/coconut left over after everything was finished. I let it cool a bit on paper, rolled it out when it was cool enough to handle, cut it up with greased kitchen shears and wrapped little pieces in plastic wrap. They're a great little treat!
As for the chocolate bottom coating and drizzle, use whatever is your favorite! Semi-sweet or milk would be my suggestion. Just melt down some extra chocolate chips you have laying around.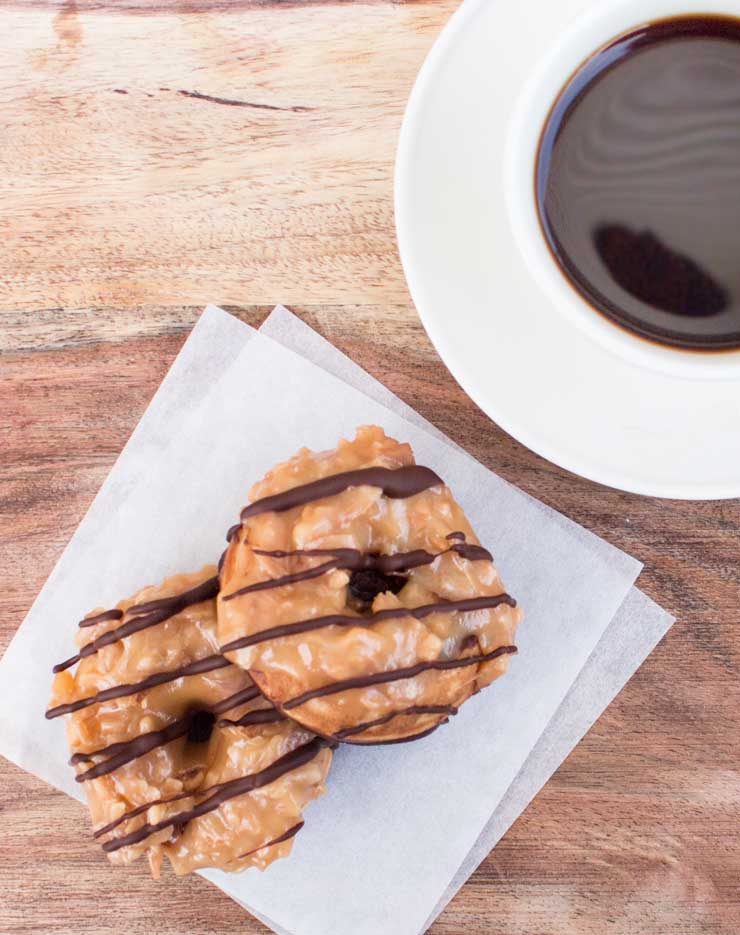 Samoa Mini Doughnuts
Samoa Mini Doughnuts || SouthernFATTY.com
Serves:
24 Mini Doughnuts
Ingredients
Doughnuts
1 cup flour, all-purpose
6 tablespoons sugar
1 teaspoon baking powder
½ teaspoon salt
¼ teaspoon cinnamon
¼ cinnamon nutmeg
6 tablespoons milk
1 tablespoon butter, melted
1 teaspoon vanilla extract
1 egg
Caramel Coconut Glaze
7-10 ounces coconut, flake-style (I used sweetened)
½ cup sugar, white granulated
½ cup light corn syrup
½ cup brown sugar
½ cup sweetened condensed milk
¼ cup butter
Chocolate Base & Drizzle
1 cup chocolate chips (type by personal choice, semi-sweet or milk)
Instructions
Doughnuts
Pre-heat oven to 325 F if using doughnut pan (or heat mini-doughnut maker!)
Combine and sift dry ingredients together well.
Place dry ingredients in mixer.
Mix in milk, egg, vanilla, butter until well-combined.
Pipe mixture into molds and cook until firm. 4-5 minutes in oven or doughnut maker instructions. (Ziplock with corner cut works well)
Glaze / Topping
Toast coconut on paper-lined pan in 350 F oven, stirring often, 4-5 minutes, until golden. Set aside.
Combine all other caramel ingredients into microwave-safe bowl and heat for 6 minutes, stirring every 2 minutes.
Pour half of caramel into bowl. Mix toasted coconut into other half.
When cool enough to handle, dip top of doughnut into caramel and then into caramel/coconut mixture. May need to spoon it on to form.
Cool on baking sheet.
Melt chocolate in microwave, stirring often.
Dip bottom of doughnuts into chocolate. Cool on baking sheet.
Using remaining chocolate in bag, pipe/drizzle across tops of doughnuts.
Allow to cool completely.
Enjoy with friends. Visit us at SouthernFATTY.com and let us know how they were!
Notes
Samoa Mini Doughnuts || SouthernFATTY.com
Samoas/Thin Mints are Registered Trademarks of Girl Scouts of America –
https://www.GirlScouts.org
What is your favorite GS cookie or GS cookie recipe?
Comment below or Tweet us and let us know!