Rice Krispies Treat Macarons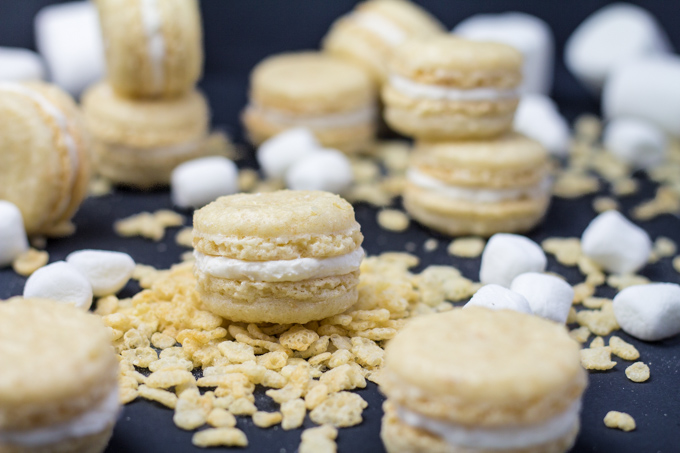 Serves:
12 assembled macarons
50 grams egg whites (2-3 eggs worth), room temperature
15 grams sugar, white granulated
pinch of cream of tartar (optional - helps stability of cookies)
60 grams almond flour
105 grams sugar, powdered
20 grams Rice Krispies cereal
¼ teaspoon pure vanilla extract
56 grams butter (4 tablespoons), unsalted (I prefer European butter for its richness)
56 grams marshmallow fluff/cream
32 grams powdered sugar, sifted well
½ teaspoon vanilla bean extract
5-10 grams (2-3 tablespoons) Rice Krispies, roughly crushed
_Review our Macarons 101: A Beginner's Guide post if you want more details on the how and why's of macaron making.
In a food processor, combine almond flour, powdered sugar and Rice Krispies cereal.
In a very clean mixing bowl with whisk attached, add egg whites and optional cream of tartar.
Mix on medium speed until foamy. Slowly add granulated sugar and continue mixing until stiff peaks form.
Add vanilla extract.
In three batches, fold carefully in almond meal/powdered sugar/Krispies mixture. It is important that you FOLD and NOT MIX. Please visit our Macarons 101: A Beginner's Guide post for detailed instructions on folding, etc.
Fold until a ribbon lays on itself and disappears after about 30 seconds.
Line a sheet pan with parchment paper.
Using our FREE printable macaron piping template from our Macarons 101 post, pipe 1-1.5" macaron shells. Using this template, you can pipe uniformly. That post will also explain exactly how to pipe, if you need some guidance.
Drop the sheet pan on a hard surface a few inches above several times to eliminate any possible bubbles in the piped pastry.
Allow the cookies to rest at room temperate for 30-45 minutes. This step is critical to forming the pieds, or feet, of the macarons.
Pre-heat oven to 285 F.
When oven is ready, transfer baking sheet (be sure you have removed the piping template) to oven to bake.
Bake for 18 minutes. The macarons should not be golden at all. You want them to remain chewy and sot in the center. This time may vary very slightly with various ovens.
Remove and cool completely on sheet pan.
Cream butter in mixer. I prefer to use a BeaterBlade attachment, which scraps the bowl while mixing.
Add marshmallow and continue to beat on medium speed.
Add in powdered sugar in batches and mix well until smooth.
Mix in vanilla and crushed Krispies.
Transfer to piping bag. I prefer to use no tip for this filling. My bag has a ½" opening.
Very carefully remove shells from baking tray, lifting from one side and pulling paper away.
Pipe filling between two shells and enjoy!
Find more recipes on SouthernFATTY.com.
Recipe by
Southern FATTY
at https://www.southernfatty.com/rice-krispies-treat-macarons/