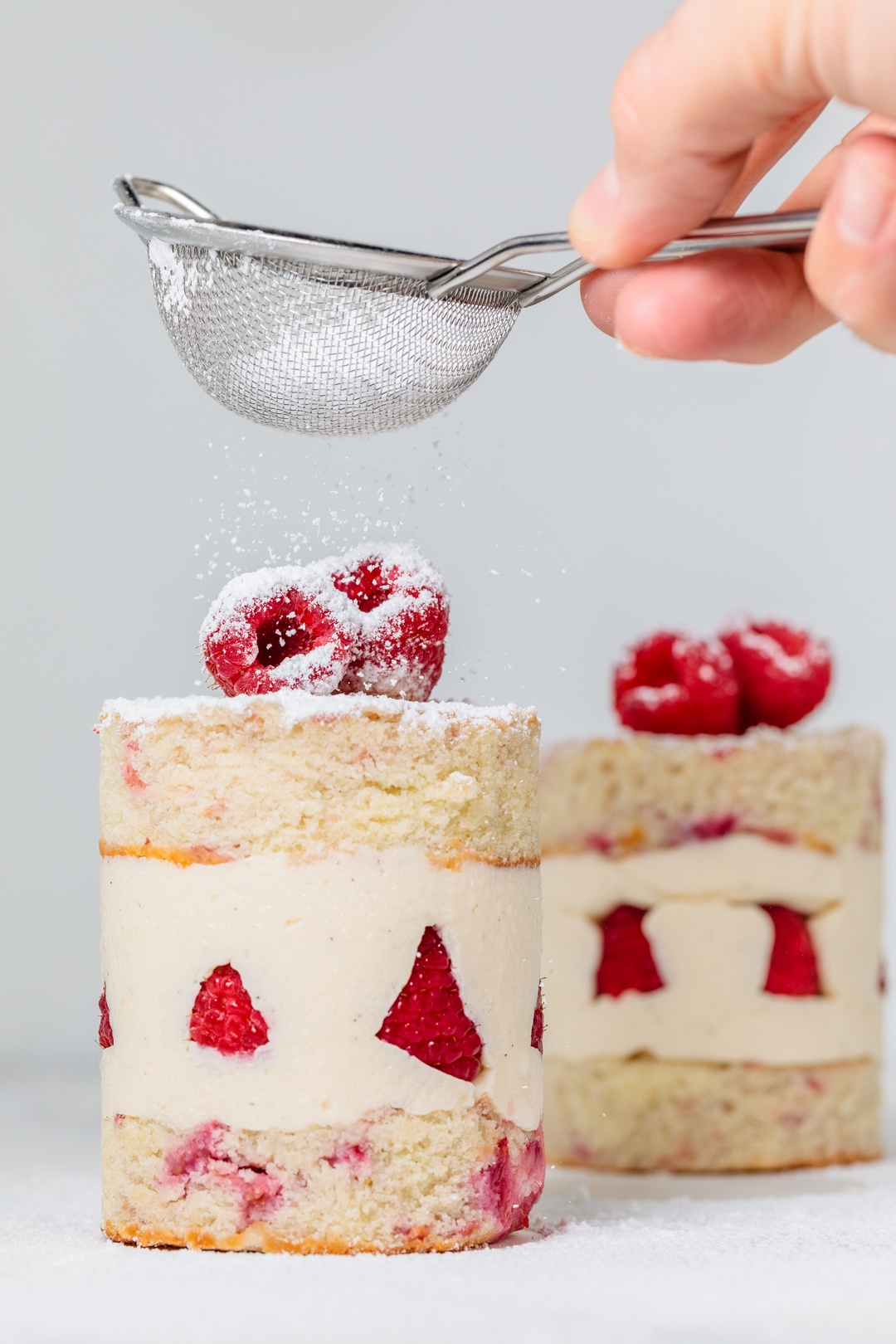 Sometimes in life… you just need some cake. This month has been one of those months for me. Two big trips, lots of photography client deadlines, and a move (more on that later) mixed right in the middle of it all. I wondered if baking a cake would distract me enough to simmer down a bit and ended up eating it in minutes anyway. Craziness aside, this may have made everything worth it in the end.
Chiffon cake, with its super cloudy lightness, combined with a brown butter ermine frosting, all topped with fresh raspberries is simple enough that you don't feel like you are working for it, but has just the right amount of chic to feel like it's still something special.

Based loosely off of my Berry Bourbon Cake, this flavor combination tastes like that moment between summer and fall when you get a little bit of a brisk evening after a bright sunny day. — Don't send hate mail for not passing go and heading straight to jail with skipping summer, but even though I enjoy the beams during the day right now, I always look forward to those evenings when you can get away with the richness of a fire pit. The brown butter is that fire pit to me, I guess. If that makes any sense… (if not, I promise it tastes great anyway).

Brown butter, classically known as beurre noisette, is something that I've used several times before. From savory pasta to cookies, the nuttiness that you get from something as simple as slowly cooking butter until the water evaporates as steam and the milk solids in the butter are toasted lightly leaves your mouth with that little bit of "hmmmmmm…" moment that I love to try to have in desserts. It's a depth of flavor that layers the experience.
Because of this richness, I opted for a cake that I feel like is often forgotten. Chiffon cake, which has a really neat story behind its creation that started in the home of an insurance salesman, is a very light cake made by whipping egg whites and swapping the fat that would often be butter for an oil base. Since oil doesn't hold hands well with eggs, the batter is made separately from the whipped whites and then folded in.
With the right ratio, you are left with a cake that quite literally climbs the walls of the pan to develop its height. It's kind of like the vine of the cake kitchen.
For my instant-gratification from moving boxes while jet-lagged and overheated, I decided to squish a massive layer of the buttercream (which is my FAVORITE recipe by which to make buttercream evahhhhh) between the cake layers. Honestly, there is nothing worse than a bad cake to frosting ratio, right? Problem solved.
This one is sure to sweet swipe all of the craziness of the day away. Enjoy, y'all!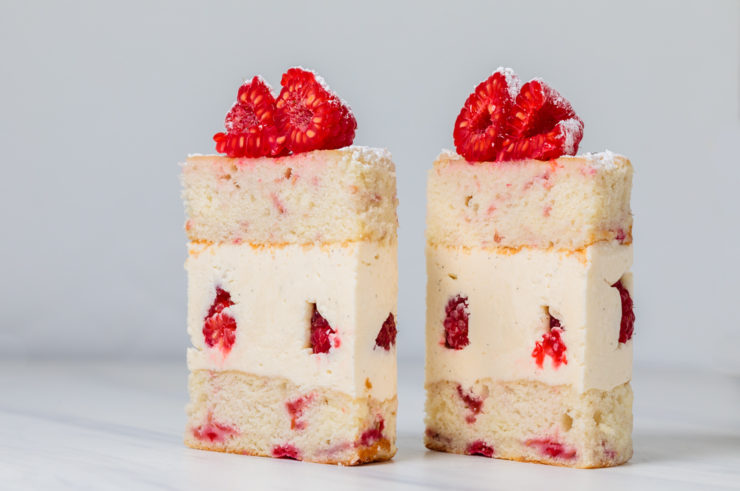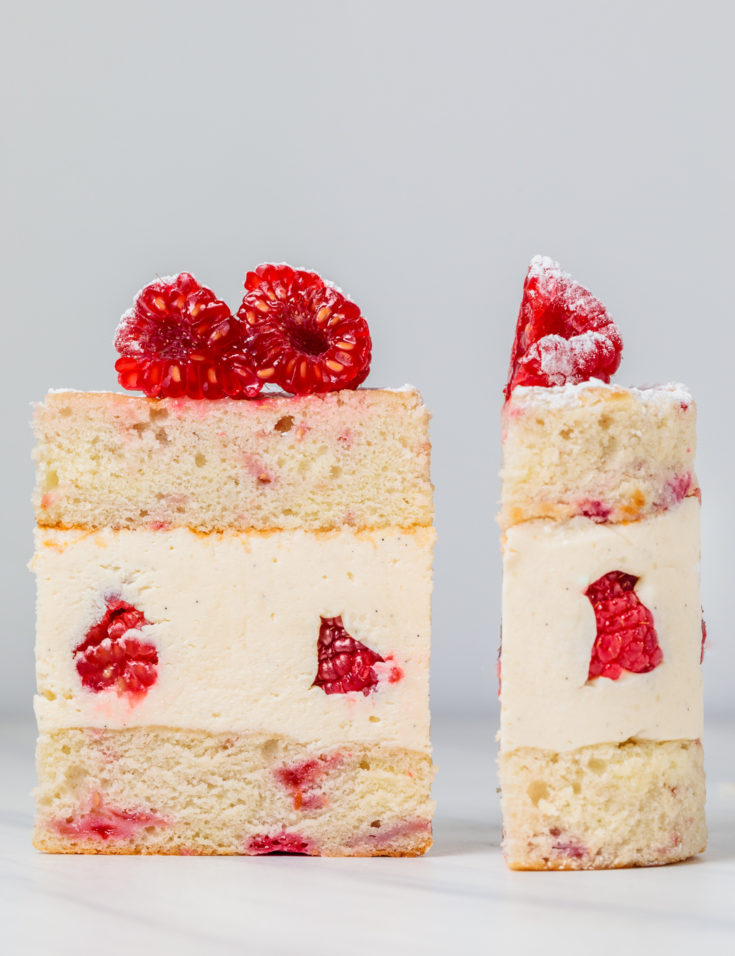 Yield:

12 servings
Raspberry Brown Butter Chiffon Cake
Raspberry and vanilla bean chiffon cake with thick layers of brown butter ermine buttercream frosting. From SouthernFatty.com.
Ingredients
Chiffon Cake
1 3/4 cups flour
1/4 cup cornstarch
1 tablespoon baking powder
1 1/4 cups sugar
1 teaspoon salt
7 eggs, separated
1/4 cup oil, vegetable or olive
3/4 cup yogurt, plain
1 teaspoon vanilla bean paste
1/2 teaspoon cream of tartar
1/2 cup raspberries
Brown Butter
Brown Butter Ermine Buttercream Frosting
1 cup milk
6 tablespoons flour
1 cup brown butter, cooled to room temperature
1/2 cup powdered sugar
1 teaspoon vanilla bean paste
Instructions
Chiffon Cake
Preheat oven to 325 F.
Sift flour, cornstarch, baking powder together.
Whisk in sugar and salt.
Combine egg yolks and oil with yogurt and mix into the dry ingredients until smooth.
In mixer with whisk attached, beat egg whites only with cream of tartar until soft peaks. This means that the whites should bulk on the whisk but the point will fall when held upright.
Gently but fully fold the egg whites into the batter.
Pour batter into dry cake pan. Add raspberries into batter if desired. I like to chop them rougly first. -- For pans, ideally a tube or bundt pan, but other pans will work. I baked my mini versions in small, individual-serving ring molds. Apply your preference, but do not prepare pan. No greasing or flour, etc. This batter needs to grab the pan to lift.
Bake until a toothpick comes out clean and is springy to the touch, 45-50 minutes for full-sized pans. This may vary slightly depending on pan type. Cool completely in pan.
Brown Butter
Prepare the brown butter:
Over low heat in a light-colored sauce pan (so you can visualize the color change), melt butter.
Stirring occasionally, heat butter over low to medium-low heat until bubbles start to form.
As bubbles form, stir more often. The butter will start to bubble more vigorously.
You may want to place a splatter guard over the pan.
At around 212 F (you don't need to check this), the butter will be at a full bubble. This is the water in the butter cooking out.
Continue stirring very often to prevent burning. As foam forms, carefully strain it off with a spoon.
Stir the de-foamed butter continuously until the small bits in the bottom of the pan turn amber brown. The butter itself may NOT turn very brown. These bits are the milk fats. Look for the color change there. Be very careful to not burn the milk fat solids.
Once browned, pour into a new bowl and allow to cool completely in fridge. Can be made well ahead of time and stored chilled.
Brown Butter Ermine Buttercream
Combine flour and milk in saucepan over medium heat.
Stir constantly until reduced and thick. Look for a paste-like consistency. Stop when you can see the bottom of the pan remain when pulling a spoon through the mixture.
Remove and cool.
Cream room temperature brown butter and sugar for 3-5 minutes until creamed and fluffy.
Add cooled flour mixture, vanilla, and mix at medium/medium-high speed until mixed thoroughly.
Scrape sides and whip at medium high speed until full whipped.
Finishing
Combine as desired. I prefer a thick buttercream layer between two cake layers and a simple powdered sugar dusting with fresh berries on top.
Share with us! Tag @southernfatty / #southernfatty on social media if you make this and post. We would love to see. -- Enjoy!
Nutrition Information:
Yield:
12
Serving Size:
1
Amount Per Serving:
Calories:

272
Total Fat:

11g
Saturated Fat:

6g
Trans Fat:

1g
Unsaturated Fat:

4g
Cholesterol:

60mg
Sodium:

90mg
Carbohydrates:

14g
Fiber:

1g
Sugar:

16g
Protein:

4g