Anybody that knows anything about Nashville knows that we are known across the world for our famously spicy hot chicken. The story is that is an angry wife decided to whip up her husbands favorite fried chicken recipe with a handful of cayenne pepper to get even with her frustrations. In a burning twist, the husband loved the results and Nashville Hot Chicken was (thankfully!) born. — I've partnered with my pals at Kroger to share my spicy twist on the classic with these Nashville Style Kettle Cooked Hot Chicken Potato Chip breaded mozzarella sticks with a Hatch Chile blue cheese dip.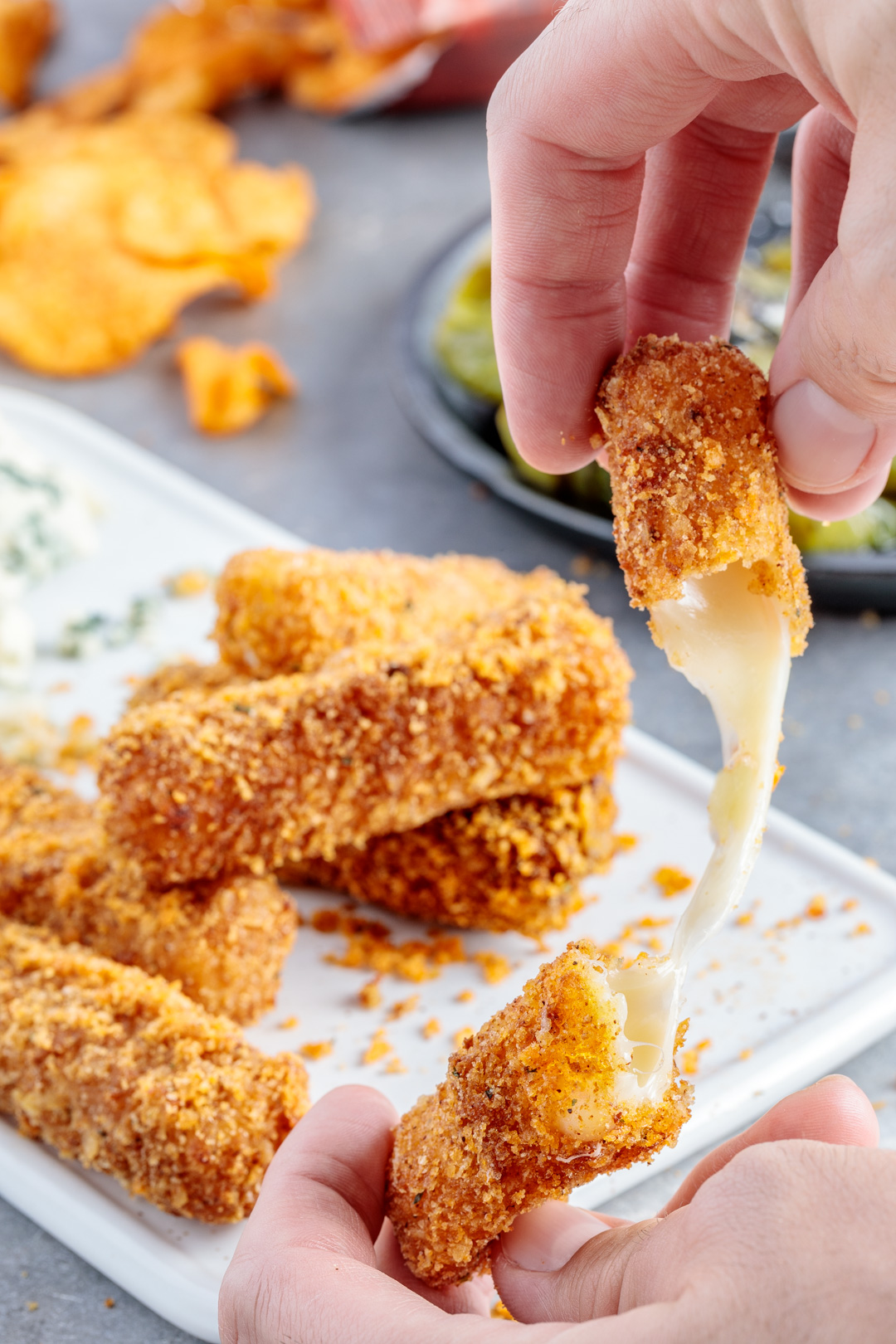 I'm loving the Nashville hot chicken train that everyone has boarded lately. It has been so much fun to see people enjoying the most iconic dish of the city that I live in. If you haven't experienced hot chicken before, you need to. It is definitely an experience. True Nashville-style hot chicken doesn't play around, y'all. It is spicy, spicy, spiiiiiiiccyyyyy. Something about the spiced fried chicken completely elevates the southern classic fare in not only heat, but by adding tons of great flavor.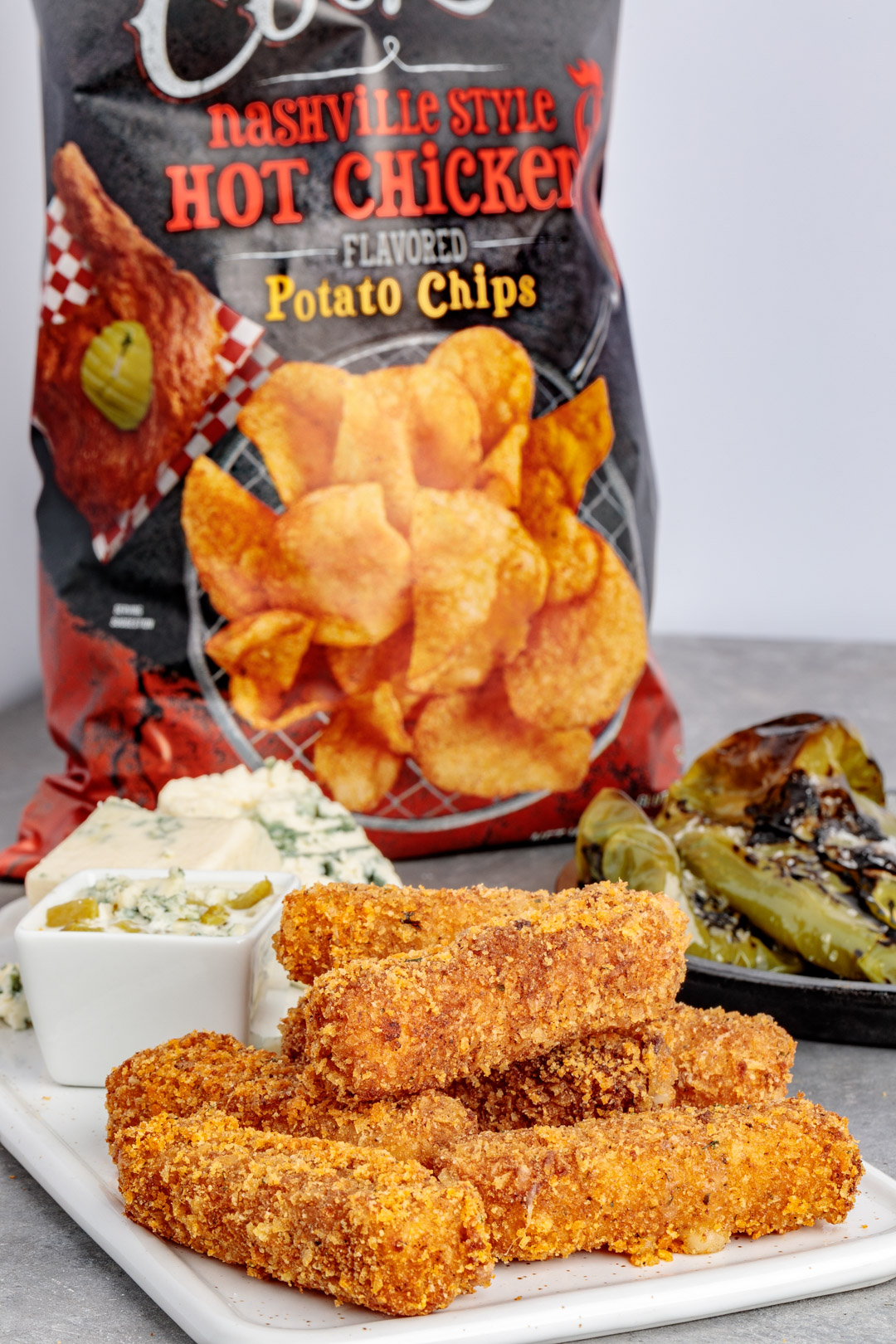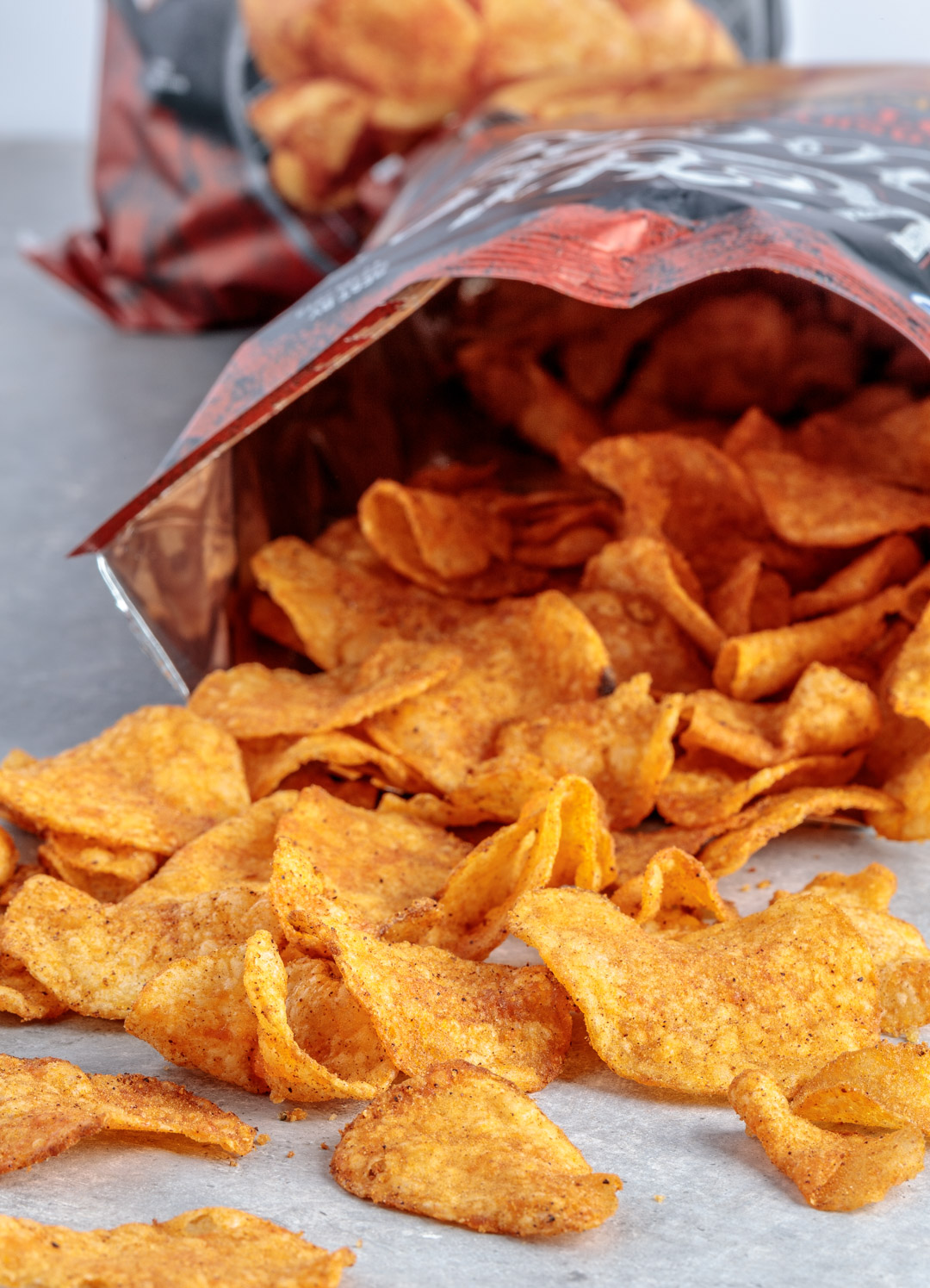 When Kroger recently released their Nashville Style Kettle Cooked Hot Chicken Potato Chips, I immediately grabbed them and busted open the bag on my way home. Some kind of magic happened and these chips taste exactly like fried chicken with the iconic Nashville spice blend. It's pretty amazing how they have managed to bring this bit of what I think is the absolute best city on earth into these snacks. — I'm hooked, y'all.
I love trying to find ways to transform already great snacks into something different, so I started to experiment with how I could use the chips to create something new. I can tell you all that chicken breaded with the chips is sooo good. So is using them crushed on top of mac and cheese…. and broccoli cheese casserole. So many ideas! The winner, though, were these cheese sticks. I've made homemade cheese sticks before. They are dandy and all, but always seem to lack a bit on flavor and seasoning. These chips were the perfect answer.
These chips definitely have a bit of a kick, but don't worry. I've got y'all covered. We're whipping up a super simple, flavor-packed two-ingredient Hatch Chile blue cheese dip to cool things down a bit and balance the heat of the chips.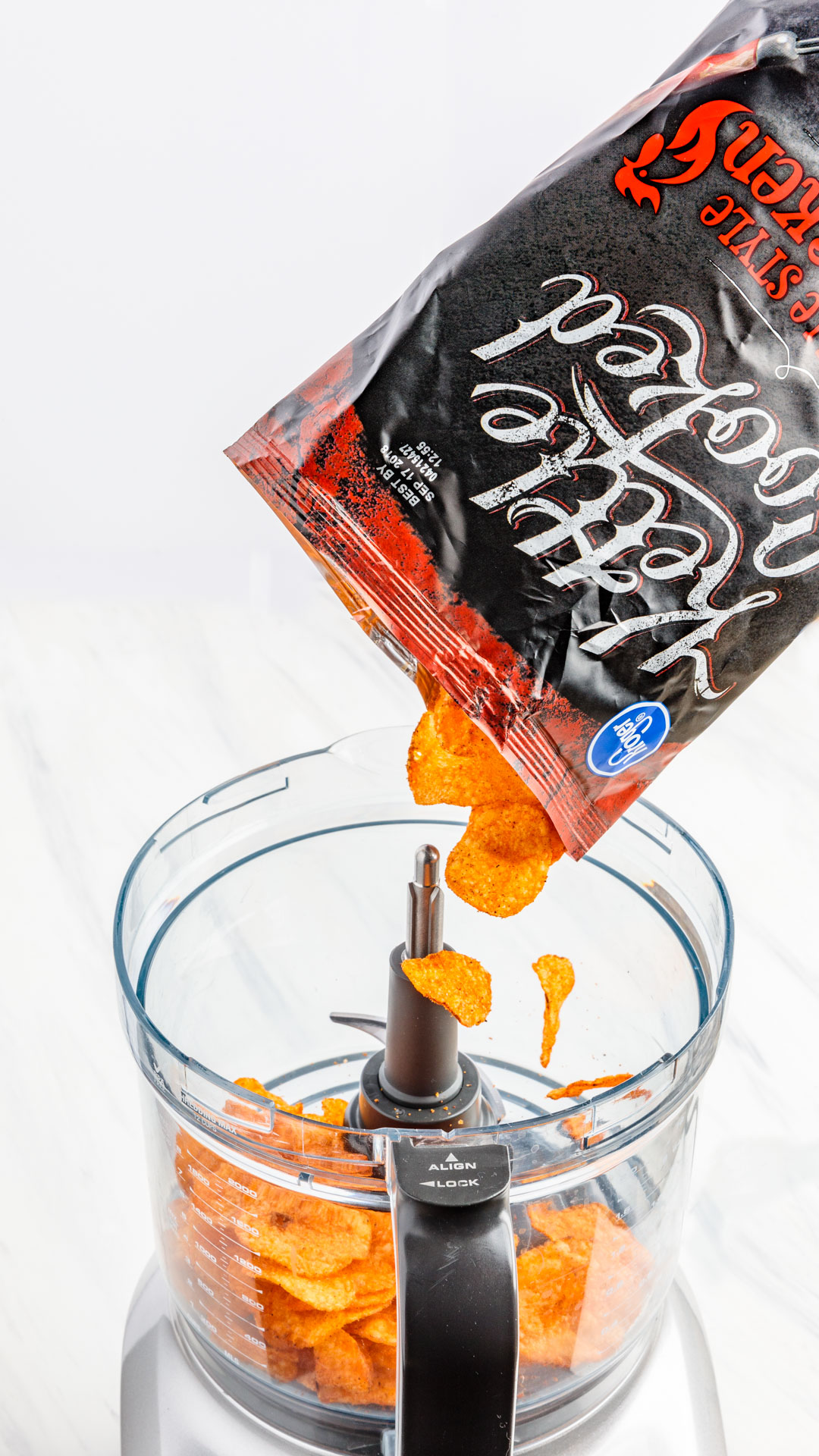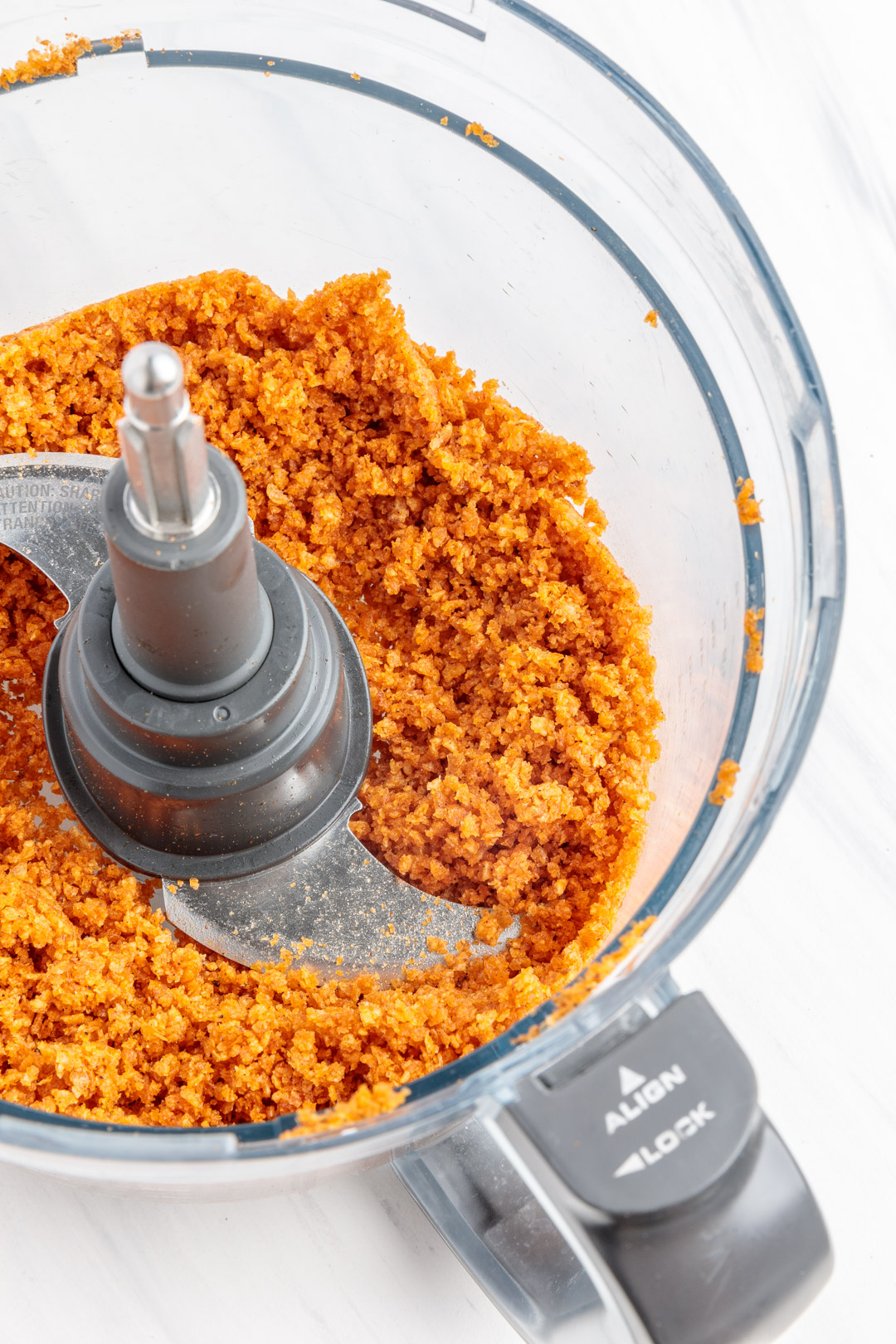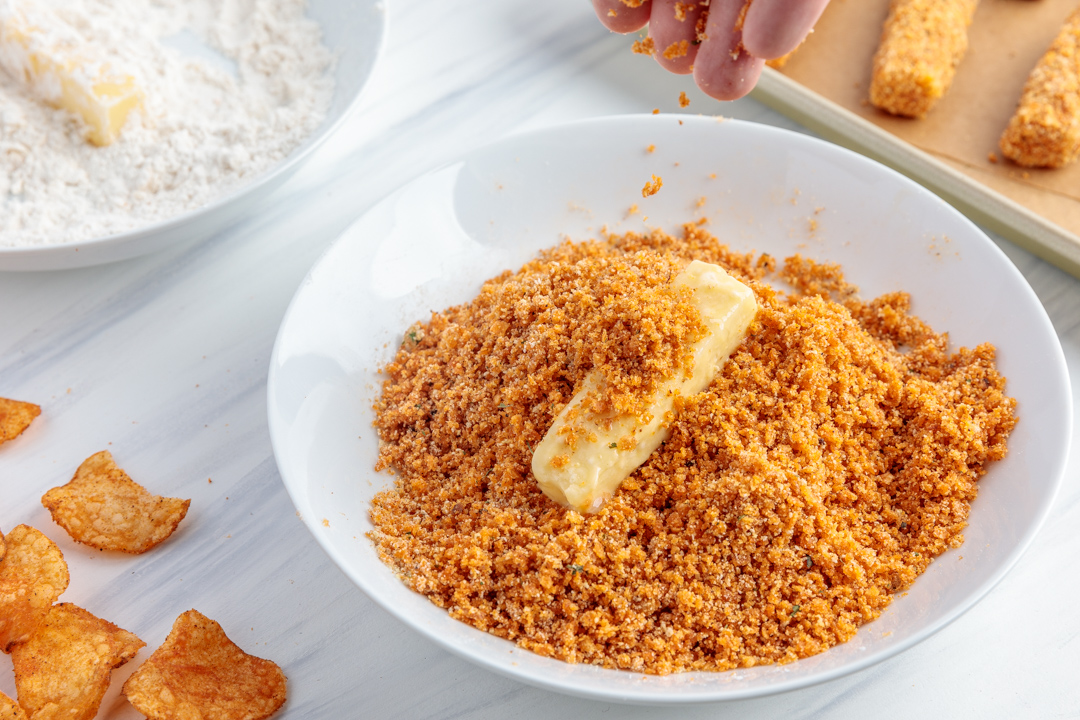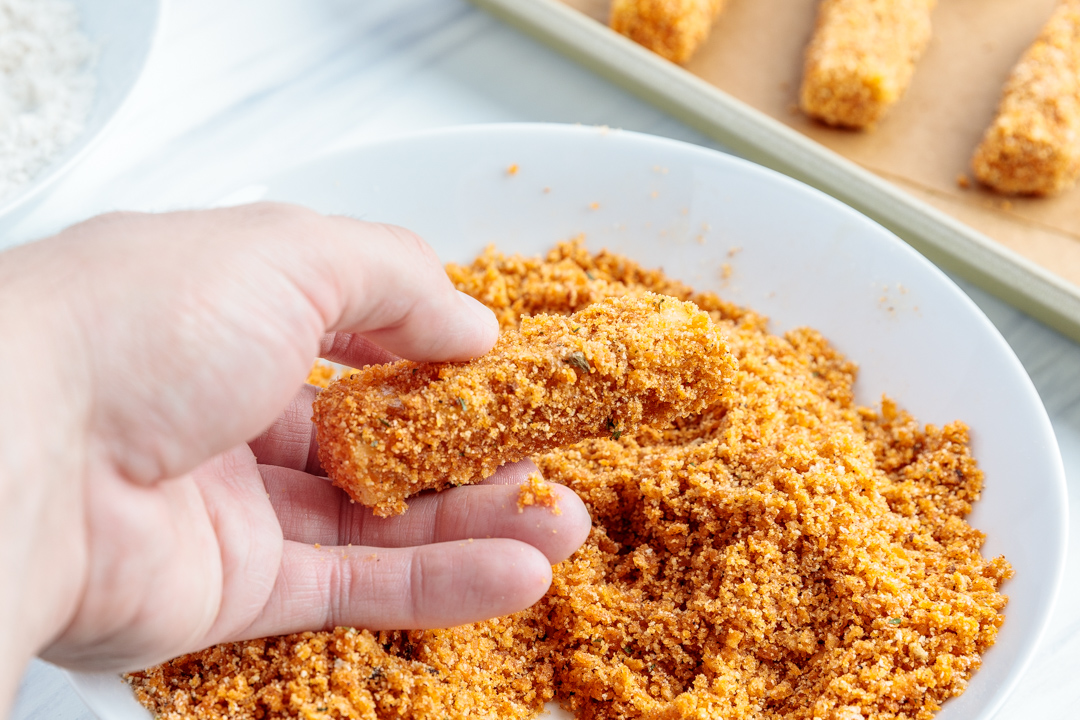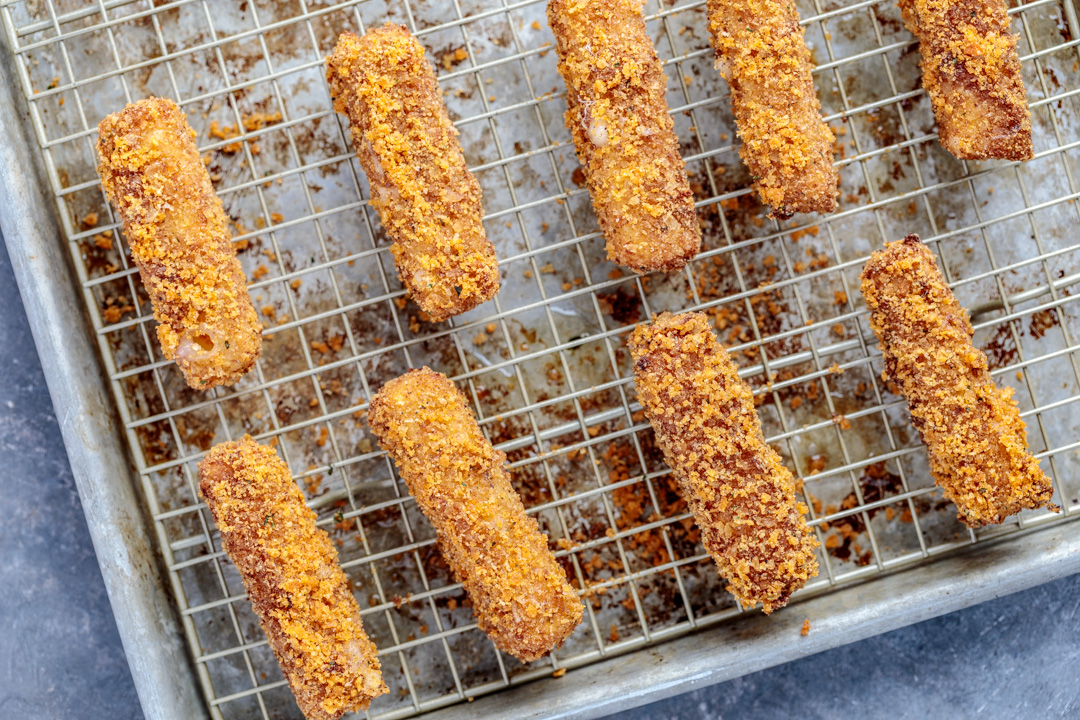 I really wasn't sure how the recipe would turn out. I had fully prepared myself for a lot of testing. Some recipes just end up taking longer than other to develop. I was sooo wrong. These turned out so well on the first try! Obviously, I tested them a few times. Tough job, ya know…. tasting every single batch and all. To get the most flavor bang in the sticks, I decided to use a 50/50 blend of bread crumbs and crushed chips, fry until crispy, and then toss in more of the chips. You get the best crispy shell with that burst of Nashville flavor.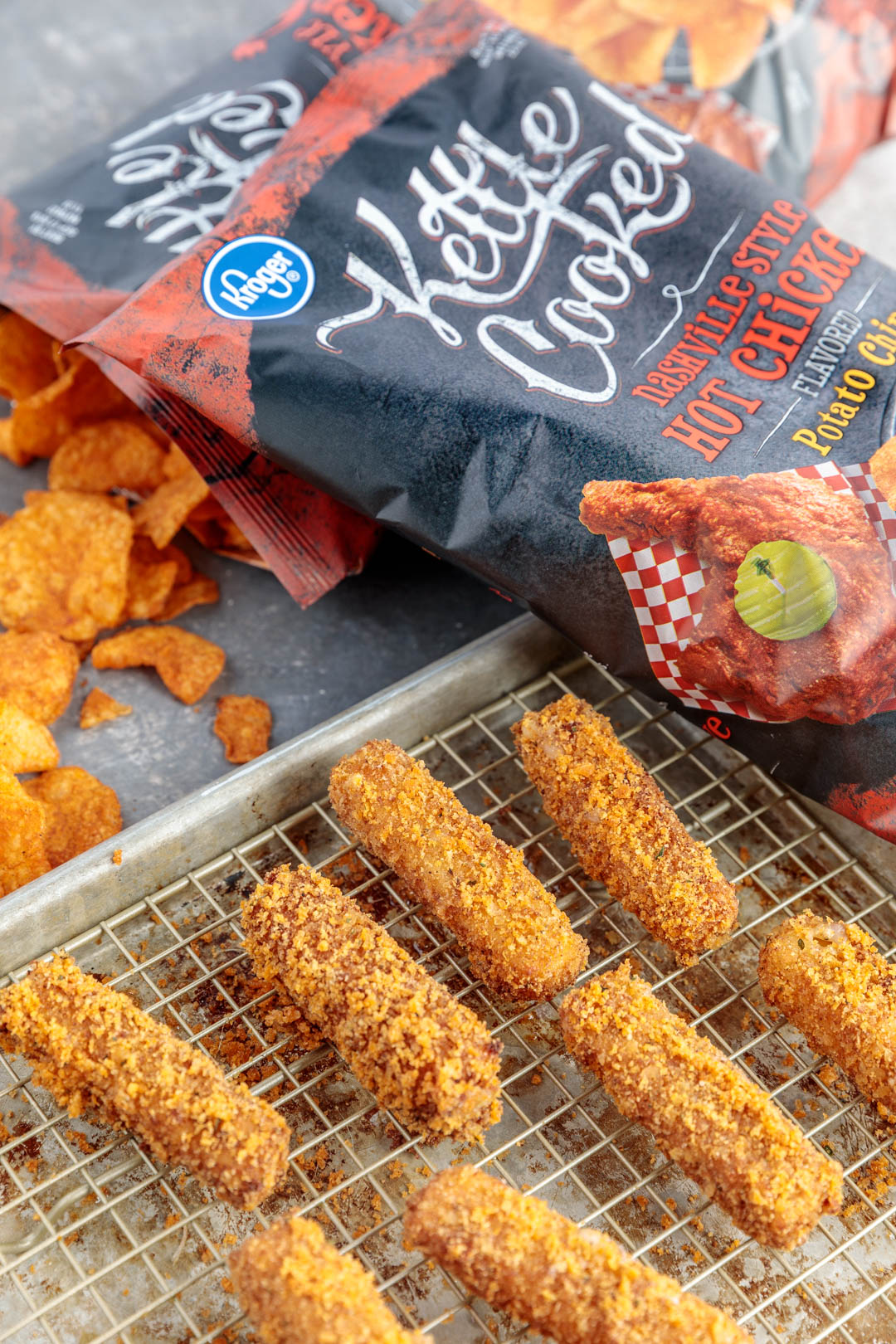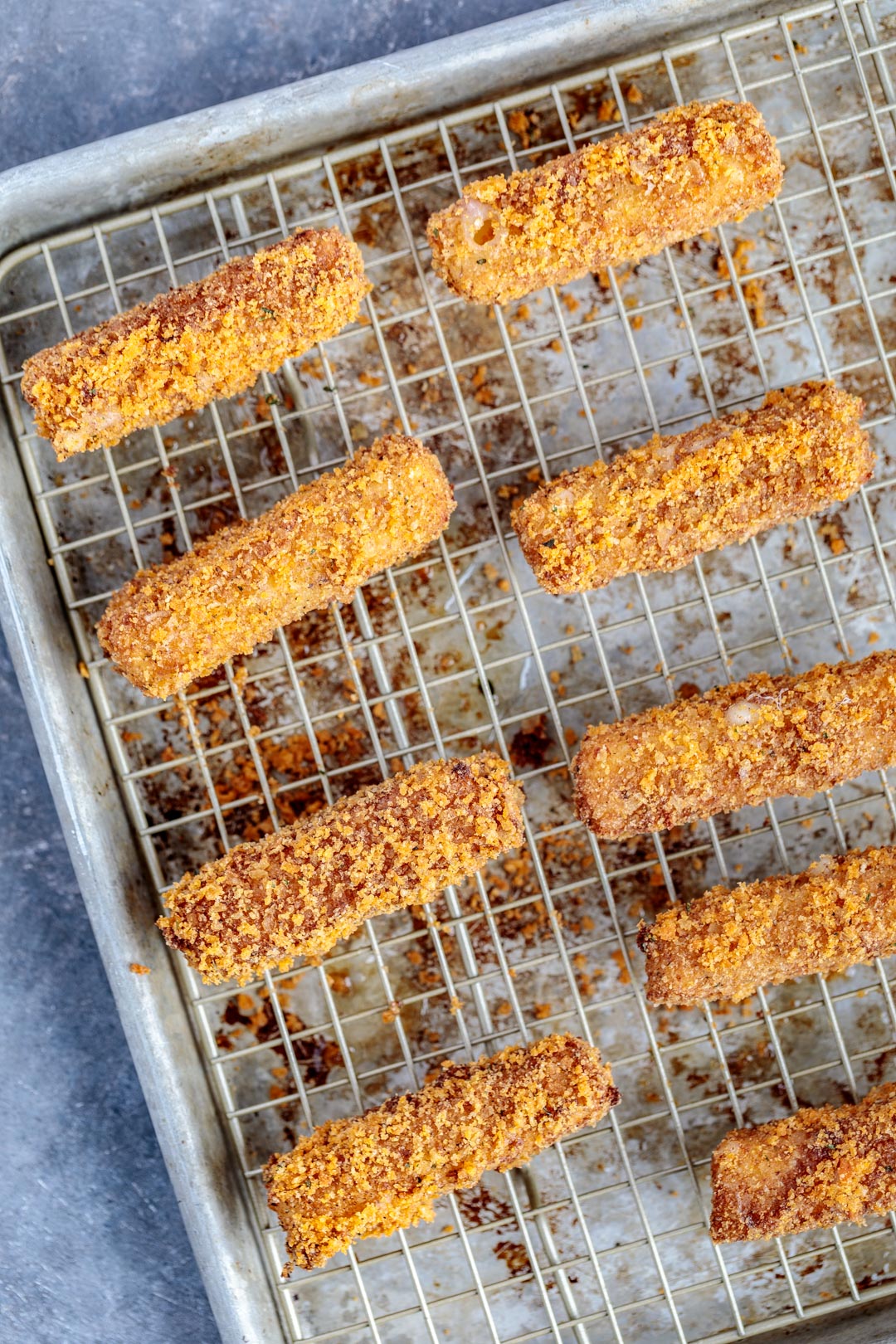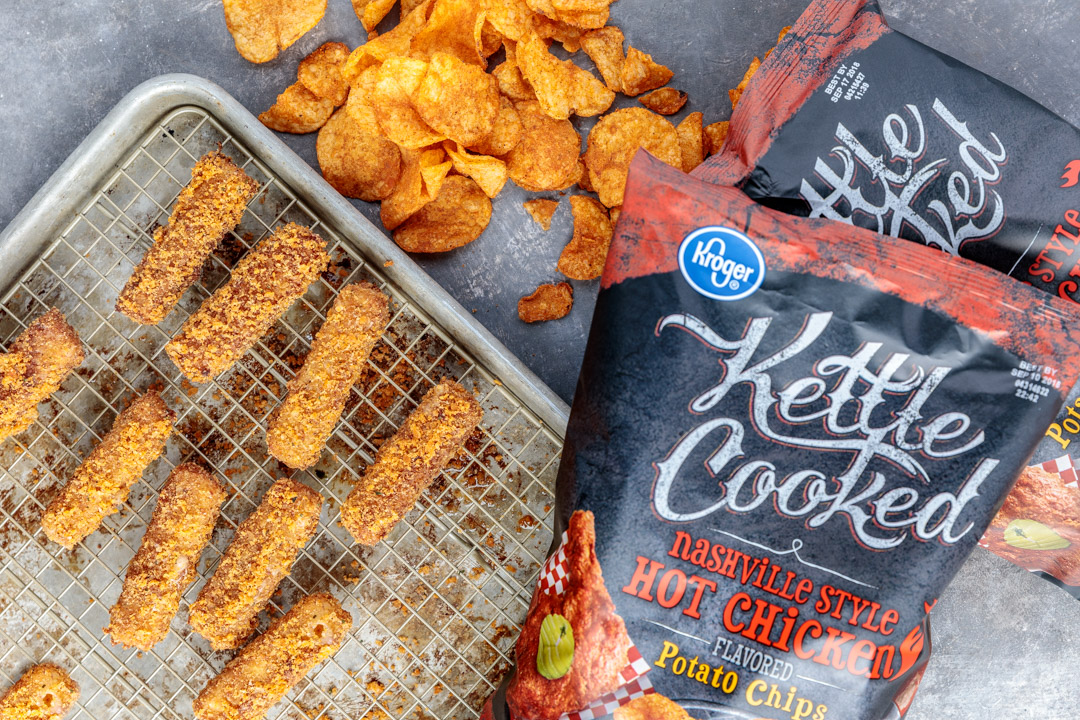 You can't have a good cheese stick in my book without a killer dip. Blue cheese may be the base to this killer stick dip, but Hacth Chiles are absolutely the star. When I found the Hatch Chile destination in the Kroger produce section, I knew exactly what winning combo needed to be made. Hatch Chile Blue Cheese Dip!
Hatch Chile peppers are in season from July until September or October. You've probably had these peppers without even realizing it. They are the ingredient for a good enchilada recipe, prepared by charring and then peeling off the skin. You've probably seen the big roller baskets roasting over an open flame packed full of these gems.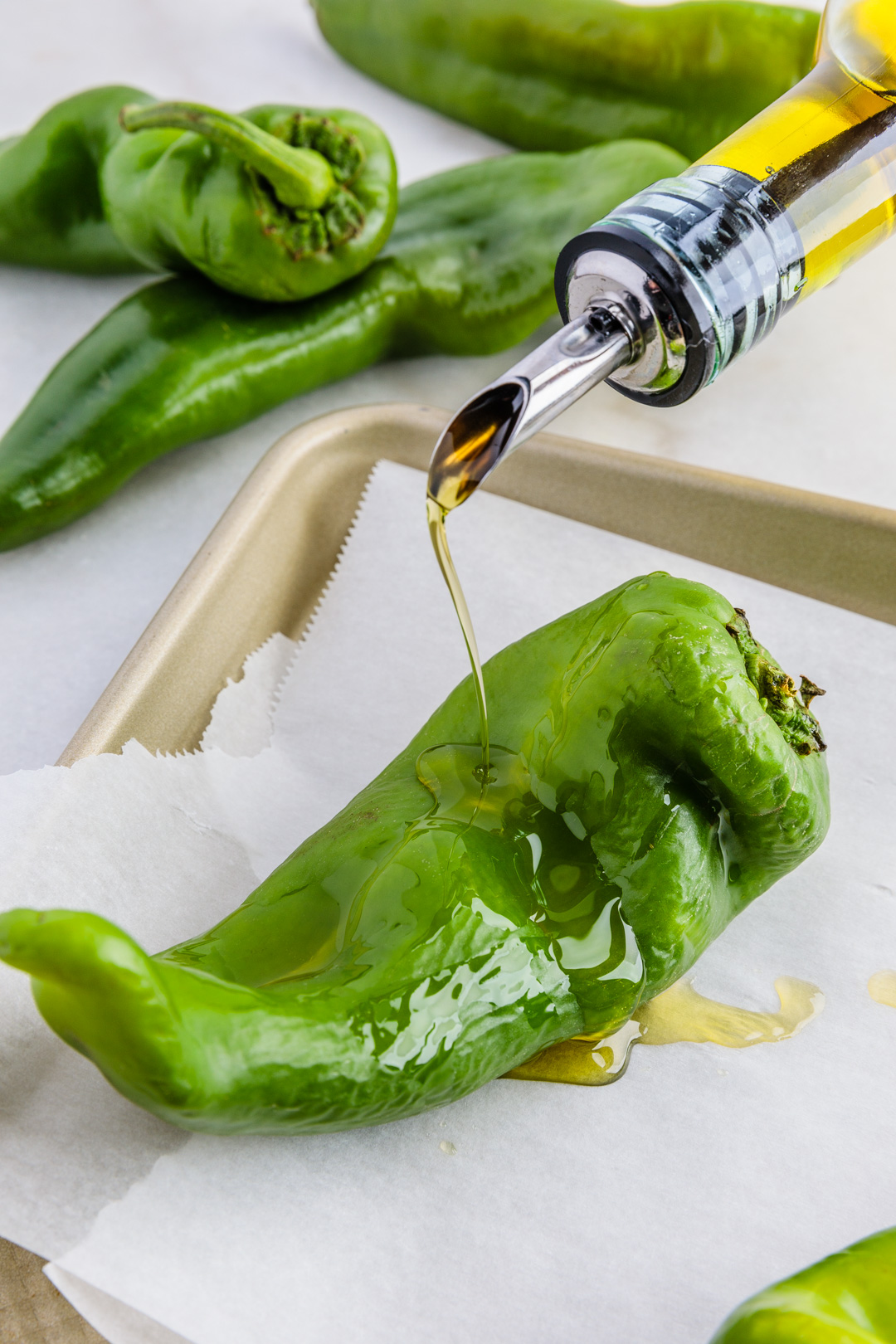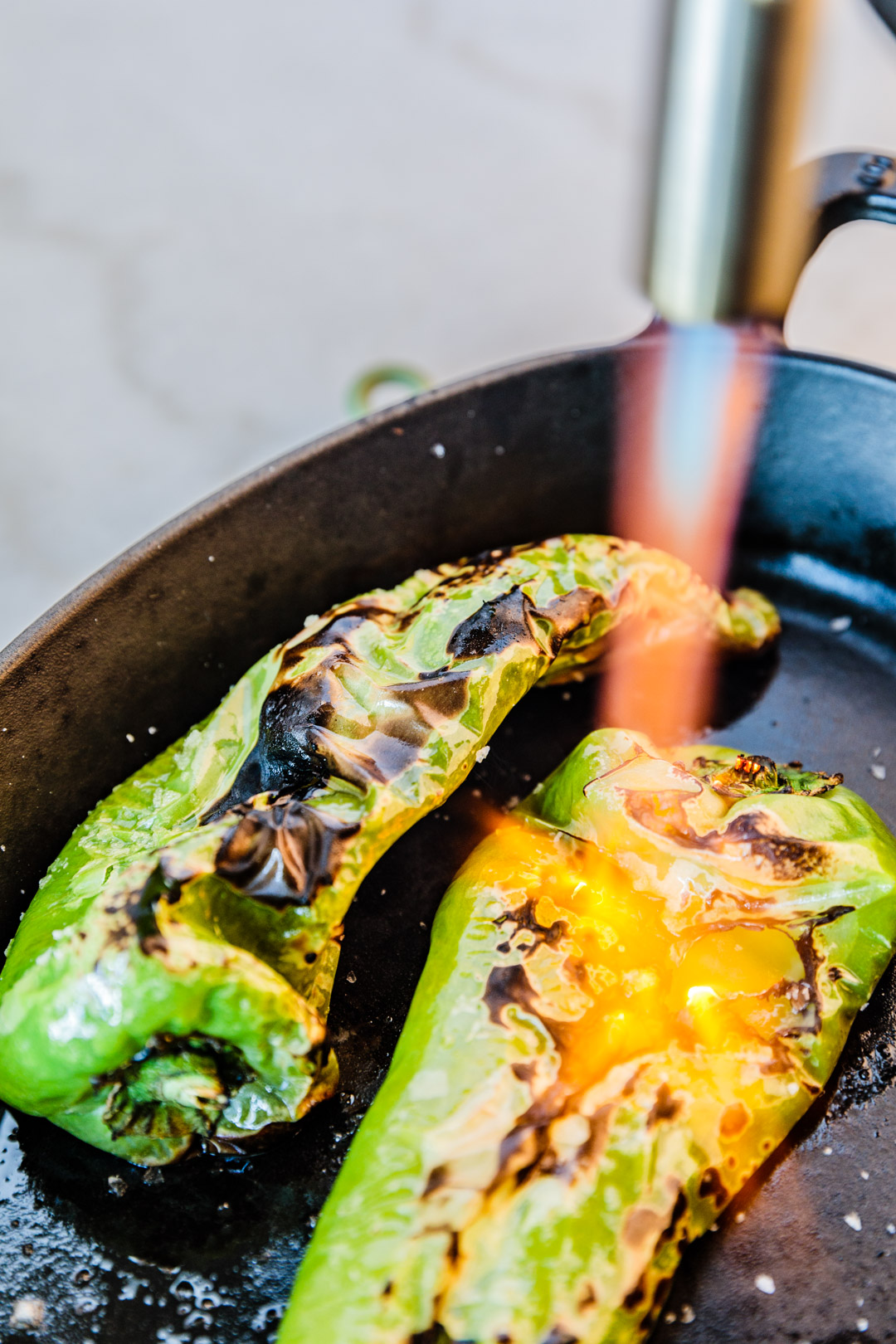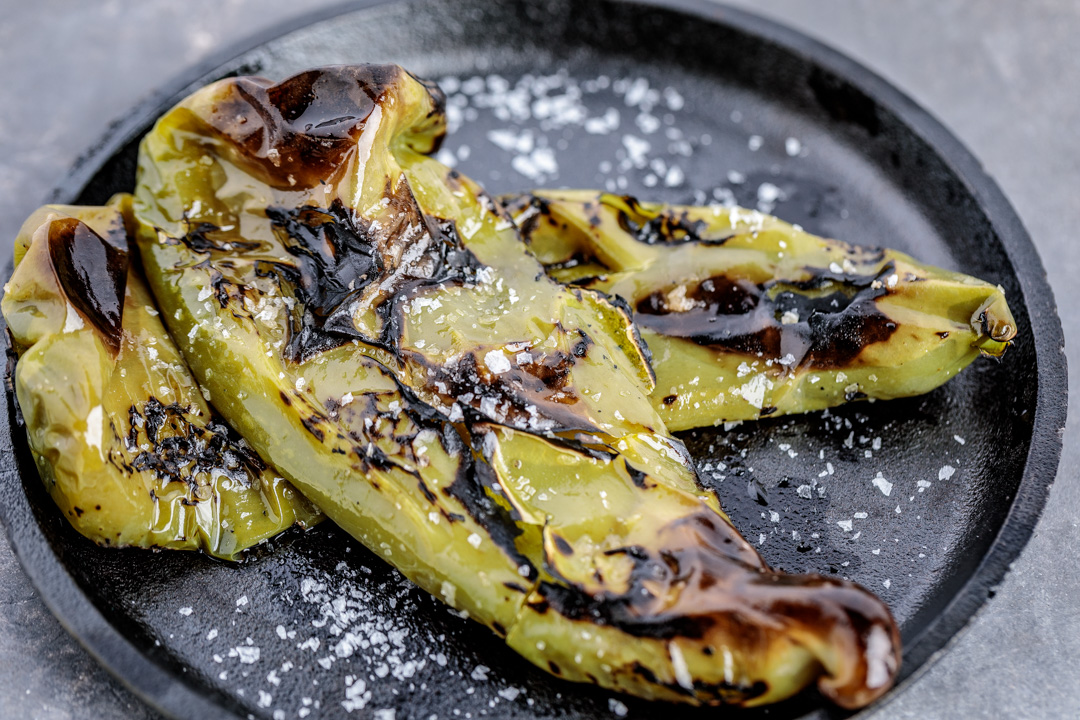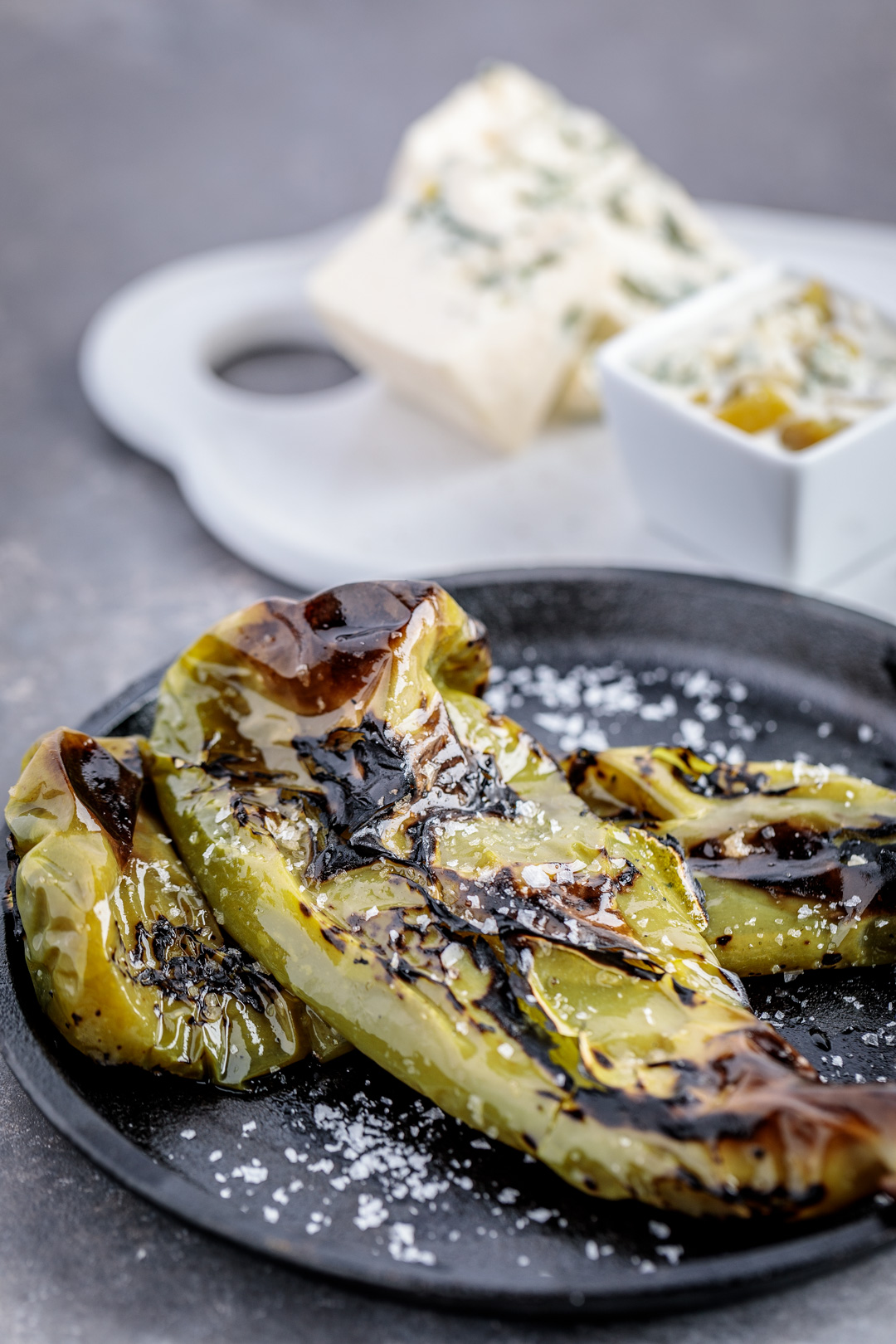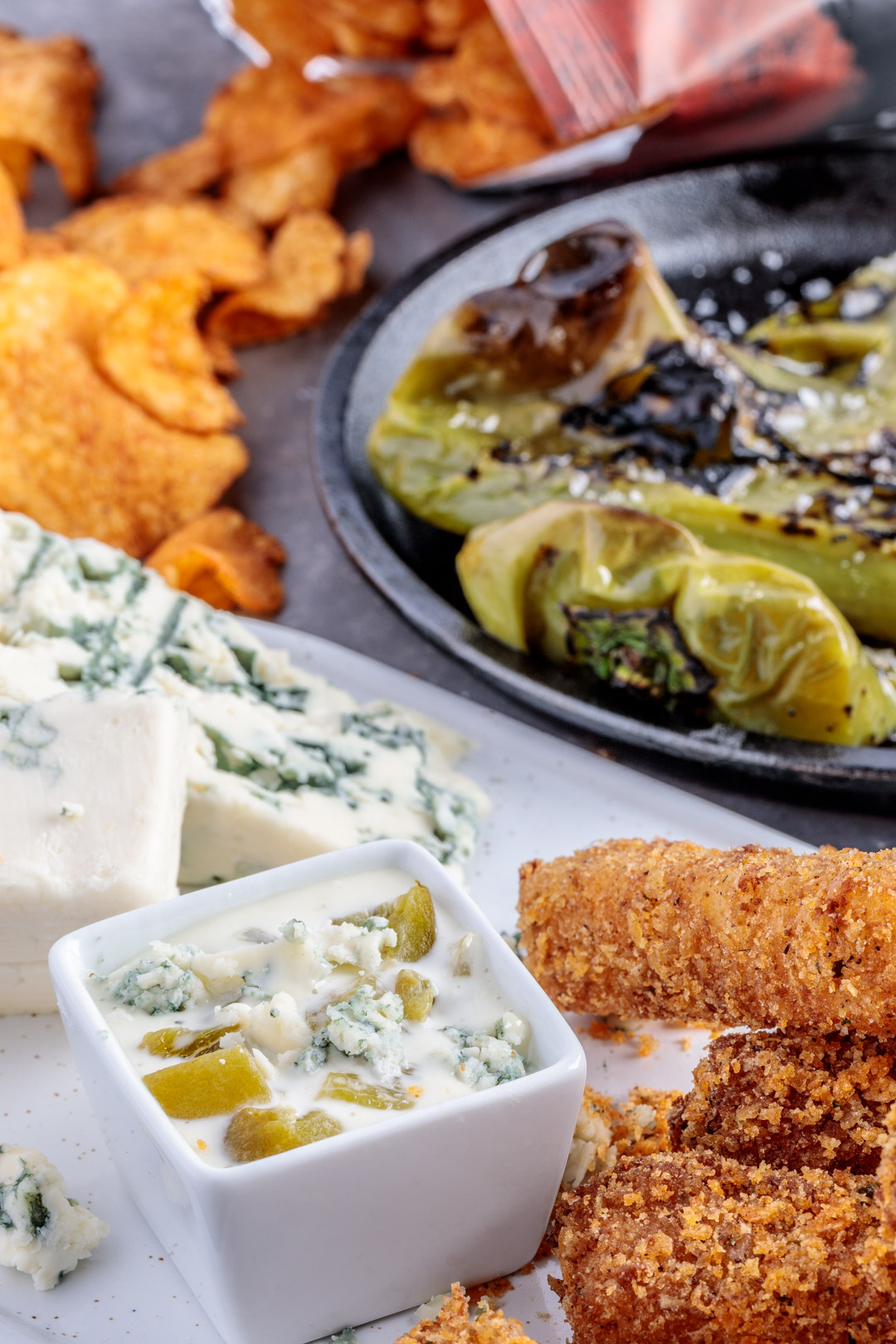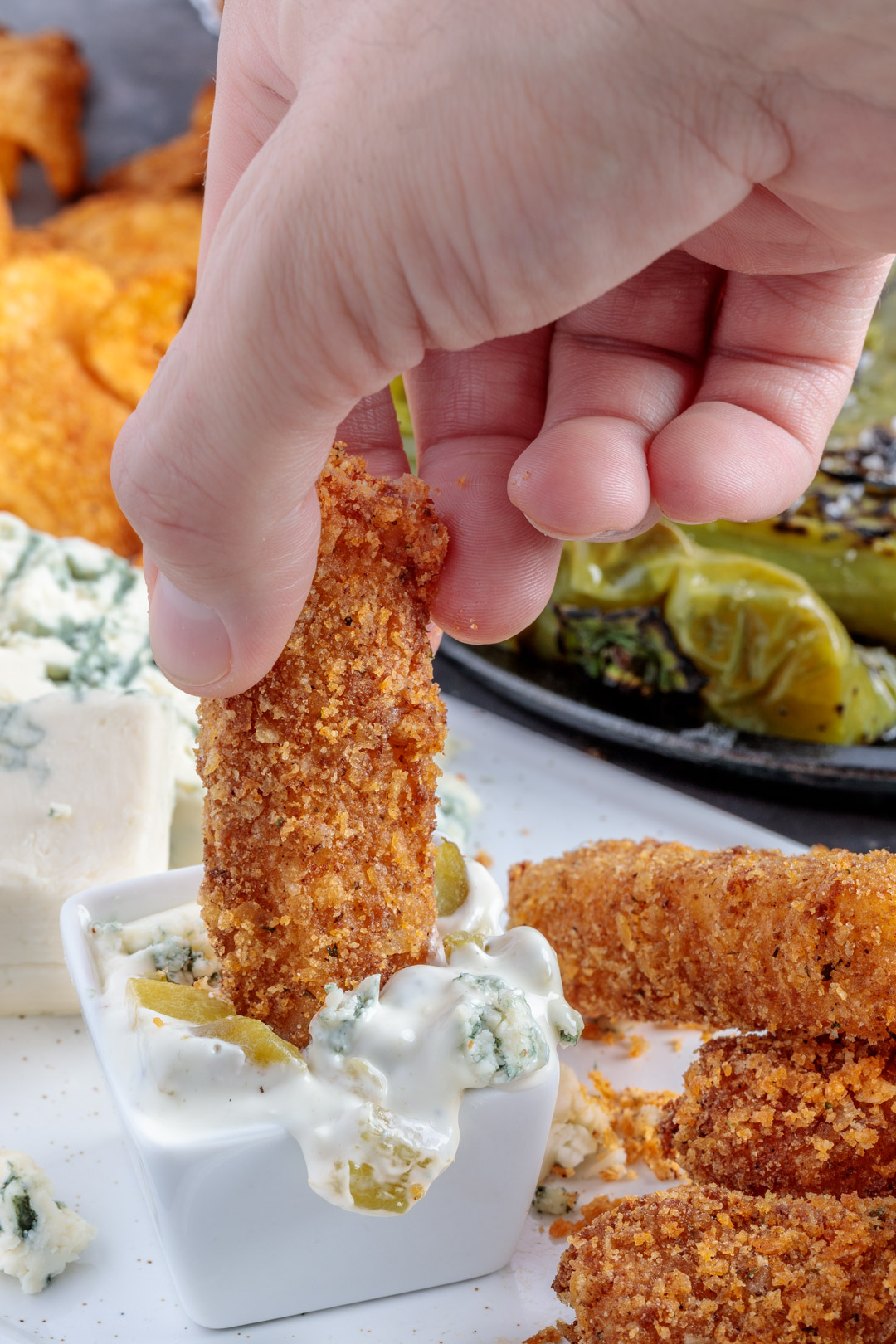 Hatch Chiles are those long green peppers that have a subtly sweet, slightly spicy, crisp flavor with a beautifully smoky finish. You can find these peppers in the produce section at Kroger , and they have even just launched their annual Chilebration, where you can find the peppers until the end of September. Check out front of your local store, too! Stores have been hosting roasting events with recipe samples.
I love to roast a bunch at the same time and just freeze the leftovers to use during the off-season. Canned Hatch Chiles are also available throughout the year and work well. — These rich, roasted peppers made for a killer dip when simply mixed in with blue cheese dip. I'm all for a two-ingredient sidekick.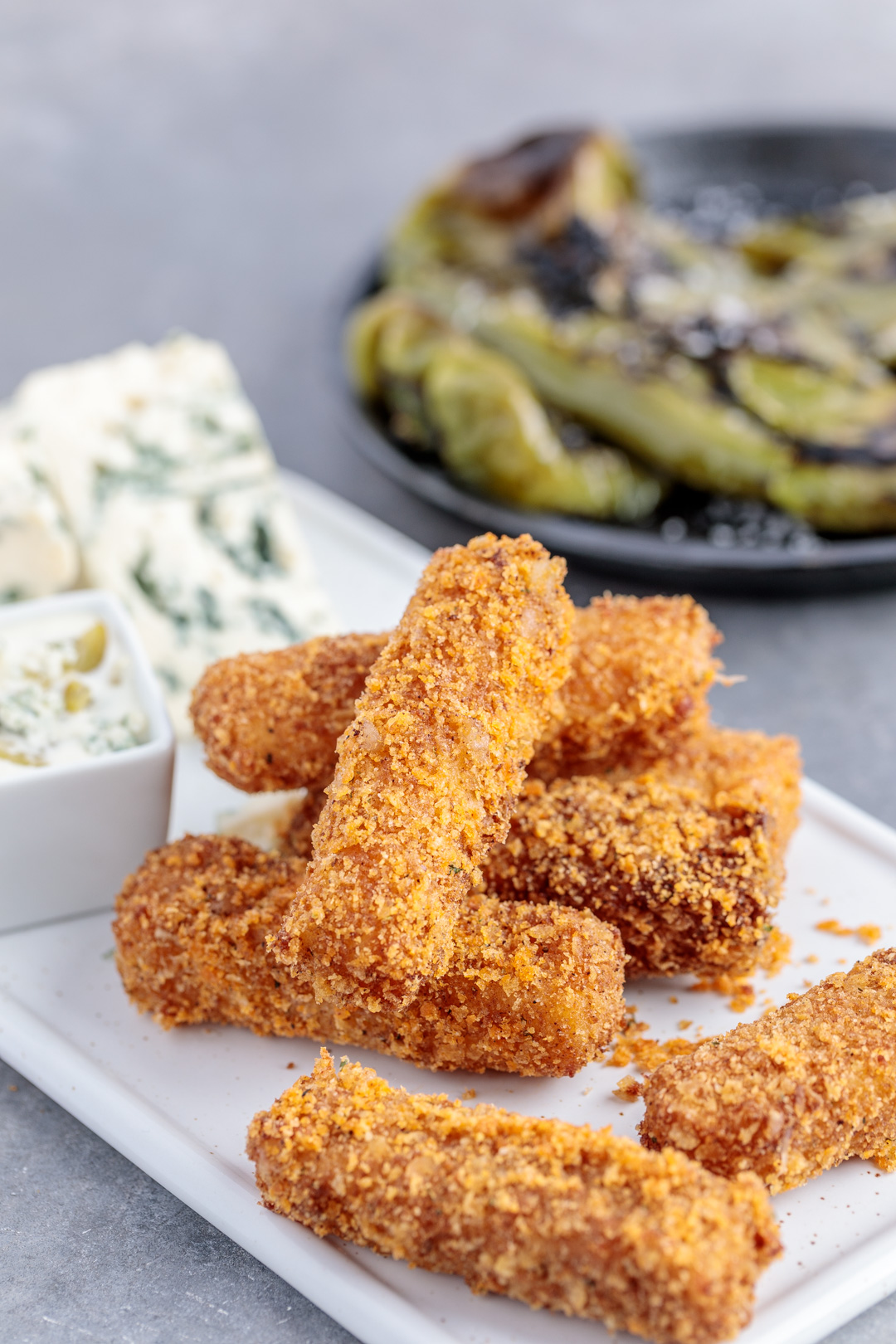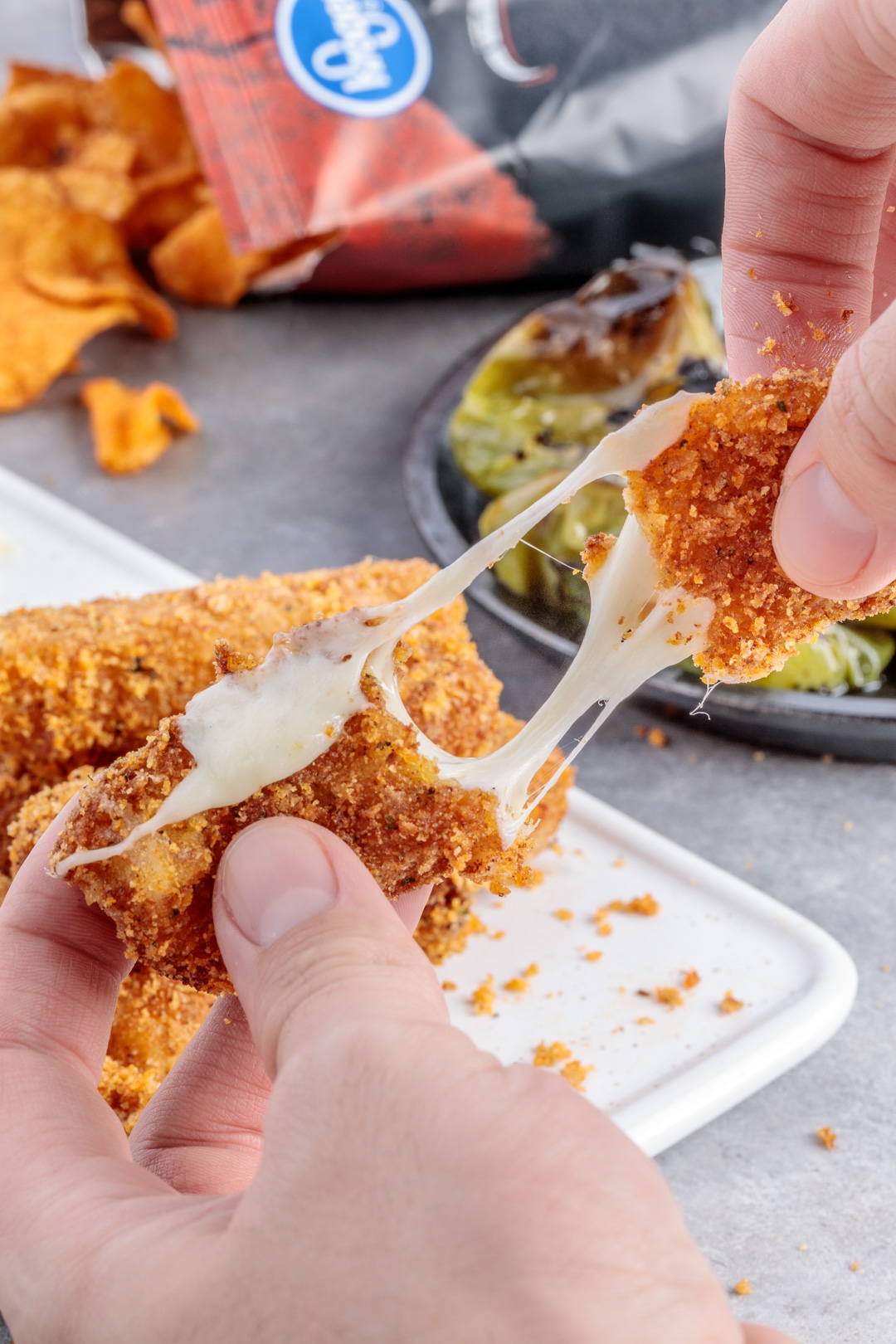 These crispy, gooey bites are so easy to make. I have been making a full recipe or two and then just keep them uncooked in the freezer to pop out and fry whenever I want a couple. Obviously, they are better fried (what isn't?), but you certainly can bake them as well.
The only thing left to do now if for all of you guys to come to visit so you can compare these to the real deal here in Nashville for yourself. Sounds like a good excuse to me for a trip, right? See you soon!

Nashville Hot Mozzarella Sticks + Hatch Chile Blue Cheese Dip
Mozzarella sticks take a Nashville Hot Chicken twist with these spicy, smoky homemade recipe cheese sticks using potato chips with hatch chile blue cheese dip. Recipe from SouthernFatty.com.
Author:
Phillip Fryman | SouthernFATTY.com
Ingredients
Cheese Sticks
1 lb mozzarella cheese, block style
2 eggs
2 tablespoons milk
pinch of salt and pepper
1 bag Kroger Nashville Style Kettle Cooked Hot Chicken Potato Chips
1 cup breadcrumbs, Italian-style
1 cup flour, all-purpose
oil, for frying
Hatch Chile Blue Cheese Dip
1 hatch chile pepper
½ cup blue cheese dip
Instructions
Cheese Sticks
Begin by cutting the block of mozzarella cheese into ¾ inch strips. When ¾ inch thick, cut into 3-inch lengths at ¾ inch thickness.
With the standard block from Kroger, this will leave you with 16 perfect cheese strips.
In a food processor, pulse the bag of Kroger Nashville Style Kettle Cooked Hot Chicken Potato Chips until fine. You can do this by hand if desired. Just be sure the chips are as fine as you can get them.
Reserve about ¾ cup of the crushed chips for finishing the cheese sticks.
Add the breadcrumbs to the chips in a bowl and set aside.
In a separate bowl, add flour with a pinch of salt and pepper.
In a third bowl, beat the eggs with the milk. Set aside.
Setup a workflow. From left to right: cheese, egg/milk, flour, chips. At the end of your workstation, place a sheet pan lined with parchment paper that will fit into your freezer.
Dip the cheese into the egg mixture, followed by the flour (it helps to use one hand for wet, the other for dry bowls).
Return to the egg bowl after the flour, rubbing a bit to ensure that all of the flour is wet with the egg.
Finish in the chip mix, coating completely. You may press the chips into the strips if needed to fully coat.
You should have a well-coated cheese stick now. Place the finished breaded sticks on the prepared baking sheet.
When you have coated them all, move the tray to the freezer. While freezing is optional, it helps with keeping the breading in tact while cooking.
Freeze for at least an hour for best results. I like to leave uncooked sticks in the freezer to cook when desired (move them to a freezer bag once frozen from the sheet pan).
To cook, heat oil to 350 F. Fry until golden, about 3-4 minutes.
(Alternatively, bake at 425 F until golden after lightly spraying with oil, about 12-15 minutes.)
Immediately toss the cooked sticks in the reserved crushed chips for a bit of extra bang.
Cool slightly on a rack and enjoy warm.
Hatch Chile Blue Cheese Dip
Roast hatch chile peppers in oven on top rack with broiler. You want to blister the skin, flip and remove when both sides are blackened.
Cool and peel skin. Remove seeds and chop. Cool.
Mix with blue cheese dip and serve with cheese sticks.
Find more recipes on SouthernFatty.com.
Notes
In partnership with Kroger.
Find the chips at Kroger in the chip aisle. Hatch chile peppers are available in the fresh produce section of Kroger.
Disclosure: This post was made in paid partnership with Kroger. I genuinely enjoy these products and am happy to partner with them to promote them. Thank you for supporting our partners.