Nashville Hot Mozzarella Sticks + Hatch Chile Blue Cheese Dip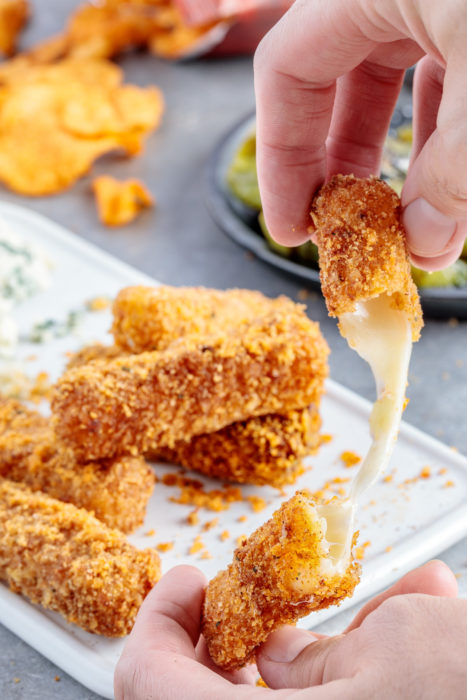 Author:
Phillip Fryman | SouthernFATTY.com
1 lb mozzarella cheese, block style
2 eggs
2 tablespoons milk
pinch of salt and pepper
1 bag Kroger Nashville Style Kettle Cooked Hot Chicken Potato Chips
1 cup breadcrumbs, Italian-style
1 cup flour, all-purpose
oil, for frying
1 hatch chile pepper
½ cup blue cheese dip
Begin by cutting the block of mozzarella cheese into ¾ inch strips. When ¾ inch thick, cut into 3-inch lengths at ¾ inch thickness.
With the standard block from Kroger, this will leave you with 16 perfect cheese strips.
In a food processor, pulse the bag of Kroger Nashville Style Kettle Cooked Hot Chicken Potato Chips until fine. You can do this by hand if desired. Just be sure the chips are as fine as you can get them.
Reserve about ¾ cup of the crushed chips for finishing the cheese sticks.
Add the breadcrumbs to the chips in a bowl and set aside.
In a separate bowl, add flour with a pinch of salt and pepper.
In a third bowl, beat the eggs with the milk. Set aside.
Setup a workflow. From left to right: cheese, egg/milk, flour, chips. At the end of your workstation, place a sheet pan lined with parchment paper that will fit into your freezer.
Dip the cheese into the egg mixture, followed by the flour (it helps to use one hand for wet, the other for dry bowls).
Return to the egg bowl after the flour, rubbing a bit to ensure that all of the flour is wet with the egg.
Finish in the chip mix, coating completely. You may press the chips into the strips if needed to fully coat.
You should have a well-coated cheese stick now. Place the finished breaded sticks on the prepared baking sheet.
When you have coated them all, move the tray to the freezer. While freezing is optional, it helps with keeping the breading in tact while cooking.
Freeze for at least an hour for best results. I like to leave uncooked sticks in the freezer to cook when desired (move them to a freezer bag once frozen from the sheet pan).
To cook, heat oil to 350 F. Fry until golden, about 3-4 minutes.
(Alternatively, bake at 425 F until golden after lightly spraying with oil, about 12-15 minutes.)
Immediately toss the cooked sticks in the reserved crushed chips for a bit of extra bang.
Cool slightly on a rack and enjoy warm.
Roast hatch chile peppers in oven on top rack with broiler. You want to blister the skin, flip and remove when both sides are blackened.
Cool and peel skin. Remove seeds and chop. Cool.
Mix with blue cheese dip and serve with cheese sticks.
Find more recipes on SouthernFatty.com.
In partnership with Kroger.
Recipe by
Southern FATTY
at https://www.southernfatty.com/nashville-hot-mozzarella-sticks/