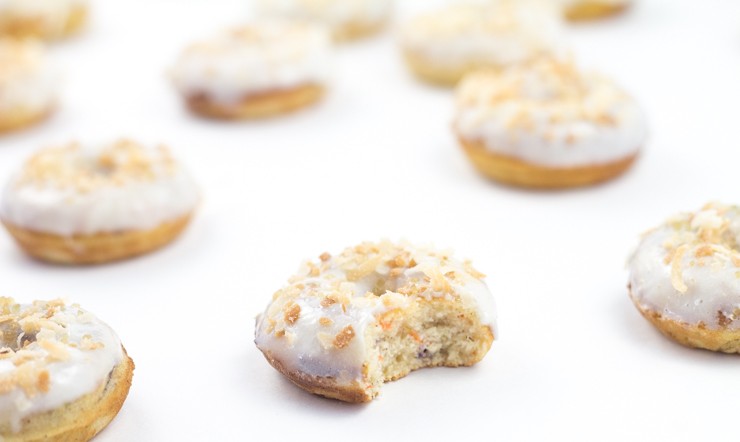 Miniature desserts are just the best. Betchya can't eat just one? Bet you're right! Because, why would you? When they are small it's perfectly acceptable to eat 3… or 4… or 10.
Mini Carrot Cake Doughnuts with Cream Cheese Glaze & Toasted Sweetened Coconut.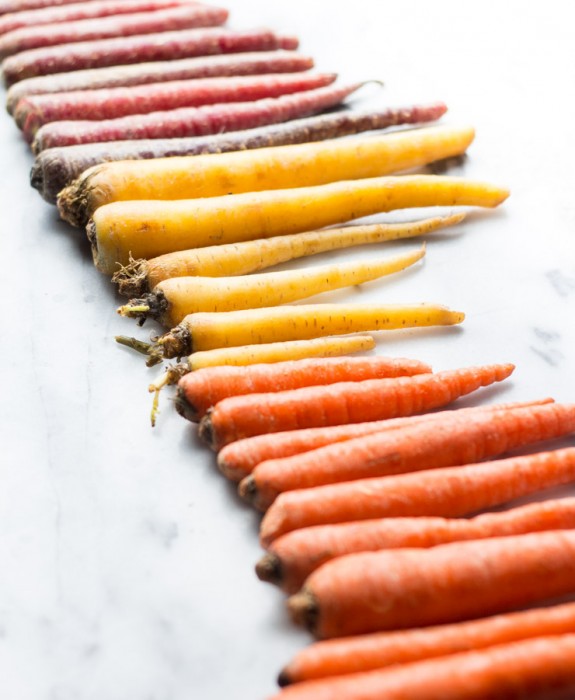 Carrots are an odd vegetable. These Oompa Loompa colored roots are usually tossed into a salad as an afterthought, ground up into oblivion for baby food, or maybe roasted if you are lucky.
I recently ended up with a ton of organic rainbow carrots, and after some research and tasting, was shocked to find that the various colors actually do taste a bit different from one another. I guess I had just assumed that they all tasted like rabbit food, ya know?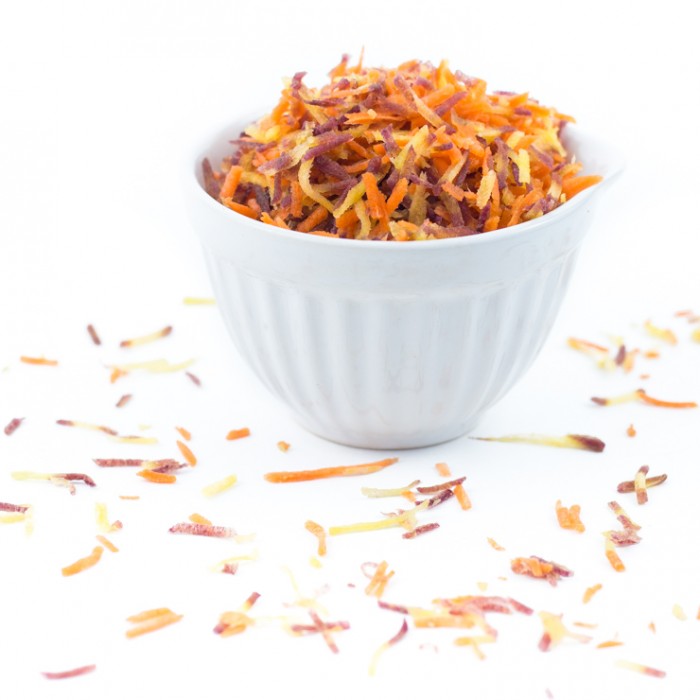 Orange carrots… you know what those taste like. Purple roots have a much sweeter taste, and are generally orange on the inside. It's like an orange carrot with a shiny Members Only jacket on to spruce it up. The yellow, or white carrots, have the sweetest taste with a much less 'earthy' vibe.
Since I'm incredibly indecisive, I just shredded and threw a bit of them all into the mix. Sorta looks like an orange carrot threw a sweet 16 for a yellow carrot and invites the purples to tag along.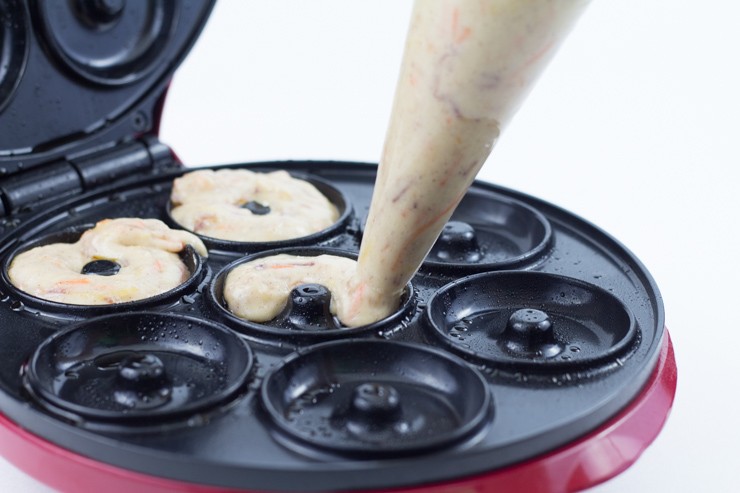 Typically, I'm a fried doughnut fan to the core. That super light interior just isn't reproduced in an oven. BUT… carrot cake just screams for that more dense, cake-like texture. It also gave me a great excuse to pull out my cute little doughnut cooker that I was given a while back (great food lover gift, btw). This is the same super convenient kitchen tool that was used to make the legendary Samoa Mini Doughnuts a while back.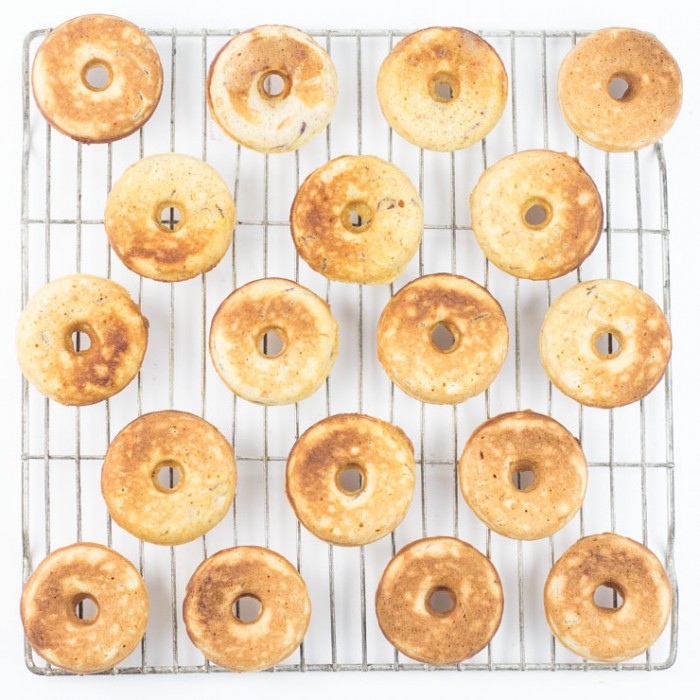 Piped and baked, leaving these to cook before you cover them in vanilla bean cream cheese frosting (obviously) will be one of the hardest things you'll have to do. On their own, they taste like a bite-sized spiced brunch in your hand.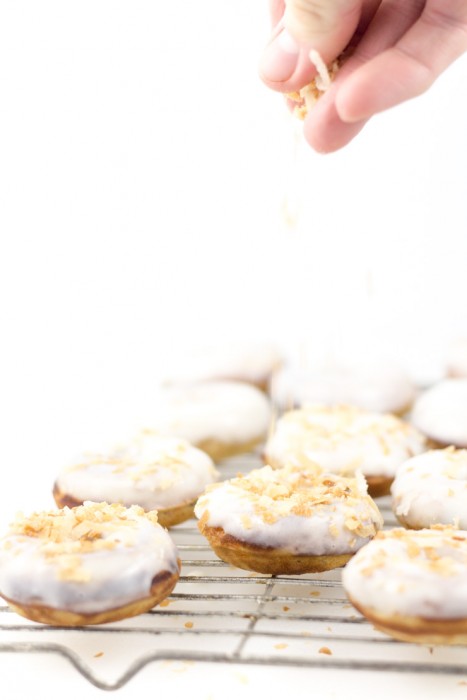 It can't be a carrot cake without a bit of toasted sweetened coconut. Even if you don't normally like coconut-anything, you've gotta just try this homemade toasted topping. It couldn't be any easier, and gives the perfect caramelized crunch that takes the cake to these mini masterpieces.
Who said that eating your veggies couldn't be this deliciously simple?! Getting those 5 servings of vegetables per day has never been easier!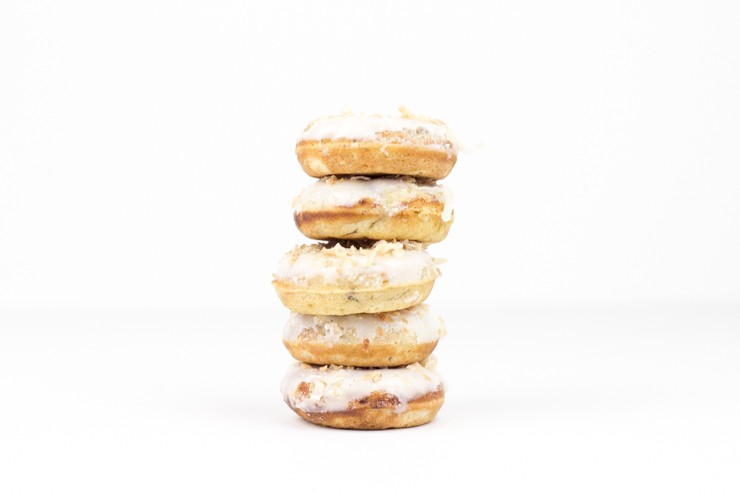 Pour a large coffee for these. You're gonna want to have a moment with these. Probably several moments. It's ok. Remember… They're minis! Have another.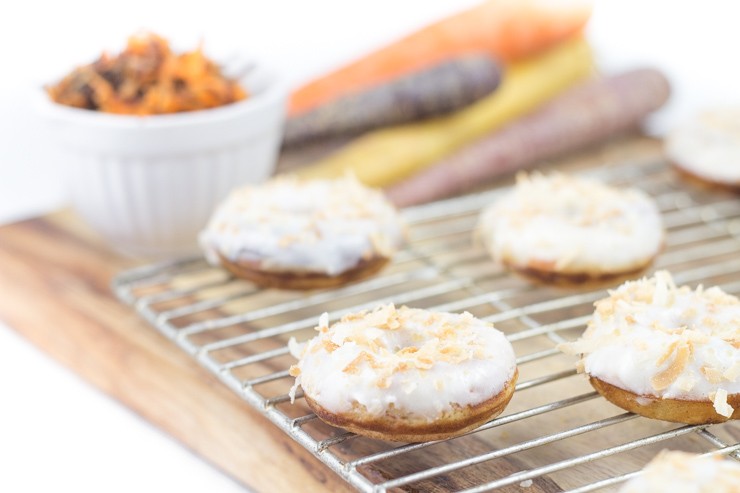 Mini Carrot Cake Doughnuts
Homemade Mini Carrot Cake Doughnuts topped with Cream Cheese Glaze and Toasted Sweetened Coconut by SouthernFATTY.com
Ingredients
Doughnuts
1 cup buttermilk
1 stick (8 tablespoons) butter, melted
3 tablespoons honey
¾ cup sugar
2 eggs, beaten
½ tablespoon vanilla bean paste or extract
1 plus ¾ cup flour, AP
½ cup almond flour (optional - can replace with AP flour if unavailable)
2 teaspoons baking powder
1 teaspoon cinnamon, ground
½ teaspoon salt
½ teaspoon ginger, ground
¼ teaspoon nutmeg
⅛ teaspoon clove, ground
1 cup carrots, shredded (I prefer organic rainbow carrots - adds great color and taste)
Glaze
4 oz cream cheese, room temp/softened
1 plus ½ cup powdered sugar
2-4 tablespoons heavy cream
1 teaspoon vanilla bean paste or extract
toasted sweetened coconut
Instructions
Pre-heat oven to 375 F if using a mini doughnut pan, or doughnut maker if using that nifty gadget.
Combine buttermilk, melted butter (cool a bit first), honey, vanilla, eggs in bowl.
Sift all dry ingredients together well in separate bowl.
Add dry ingredients to the wet ingredients bowl in a few small batches.
Fold in carrots. Mix only until combined.
Fill doughnut pan or doughnut maker molds with batter and cook until golden (4-8 minutes).
Cool on rack.
Combine glaze sugar and cream cheese in mixer with whisk or beater blade (best mixer tool ever!) until very smooth.
Add heavy cream as needed to get a thick but movable texture to glaze. I prefer it to be fairly thick to coat well.
Dip cooled doughnuts in glaze and top with toasted sweetened coconut.
Enjoy!
More on SouthernFATTY.com
Notes
2015 - SouthernFATTY.com
Nutrition Information
Serving size:
1-2 doughnuts