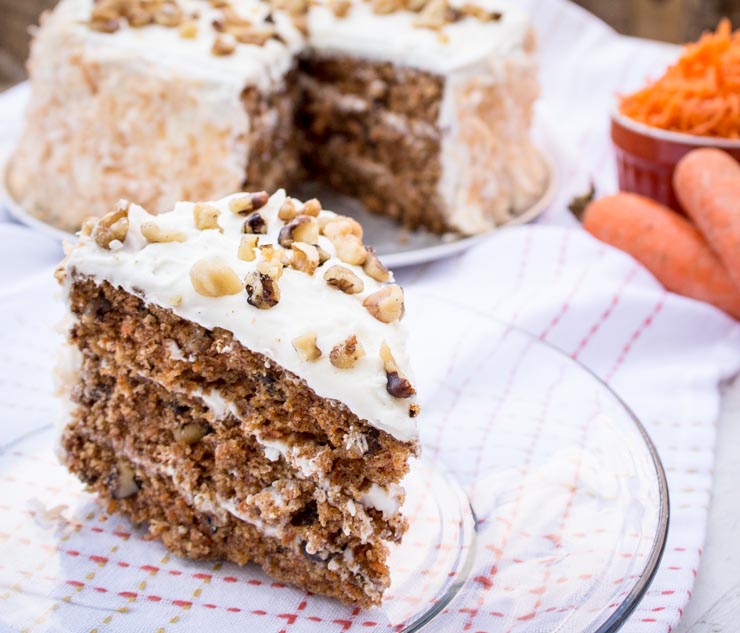 Everyone likes carrot cake. Everyone. If you met someone that says they don't, well, they haven't had it or aren't really your friend. With that said, I hate to admit that I had never attempted to make one myself. I know… the shame!
I've always loved the bit of sweetness in the frosting balanced perfectly with the carrot and spices. Although, to me, it creates a very autumnal experience, there are some mornings when you wake up just wanting to have that exact taste right in front of you. Preferably covered in frosting. Everything is better covered in frosting.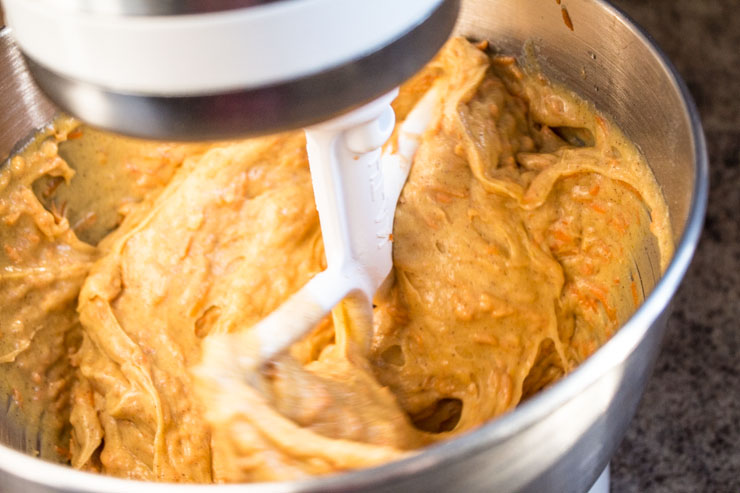 This is a fairly traditional carrot cake. Cinnamon, shredded carrots, sugar… you get the drift. Typically, nuts (walnuts) are added to the cake batter and then used to decorate the as well. While I did this (who doesn't want more walnuts?!), I also decided to add a bit of toasted coconut to the lateral ends of the cake. I have been obsessed with toasted coconut this year.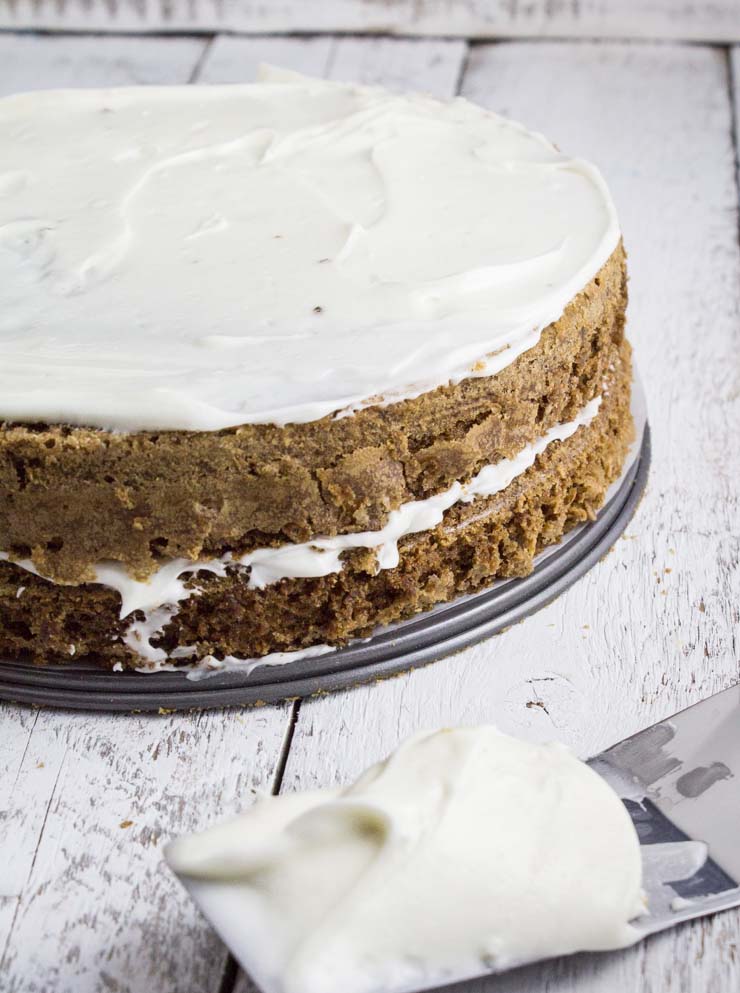 I usually hate coconut. Seriously… hate it. However– something magical happens when you toast it. Almost like an evil step-sister in a Disney movie that finds true love and becomes an eternally-happy, singing bird or something. It's that magical. Oh… and lateral means sides. Typically a medical/anatomical term. Perhaps not the best type of work to use to describe something you will later eat. But… eh. </nerd>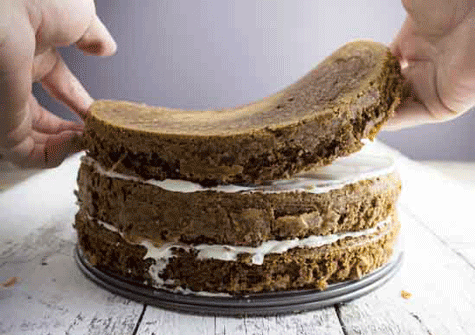 You can't make a proper carrot cake unless it is in layers. I wouldn't trust a single-layer carrot cake. Although, I am sure I would have to give it a thorough taste test. It just wouldn't be right. Sorta like eating school cafeteria pizza without ranch. You get me? I thought so.
A crumb coating is what will save you hours and hours of tears and frustration when baking cakes. It's simply a thin coating of the frosting you will use to coat the cake, cooled (I chill mine for a full hour) and then a clean, pearly white layer is applied over it. It will leave you with a smile and a beautiful cake. Who wouldn't want technically two layers of frosting anyway?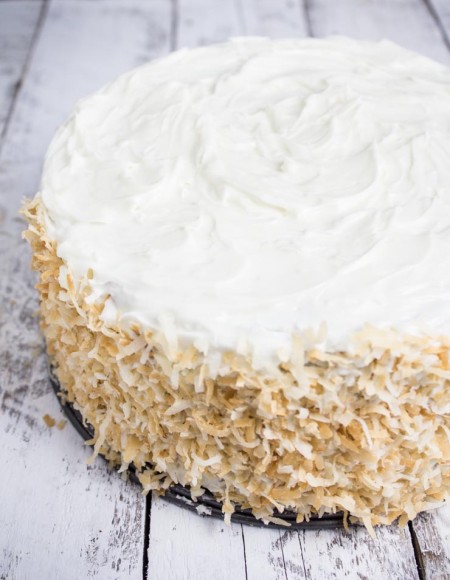 Ice, ice, ice this baby up and decorate it however your little sugar-coated carrot-loving heart desires. Walnuts, coconut, sprinkles… who cares. Baking someone a cake is an act of love. You could probably throw rocks on top and people would still enjoy it.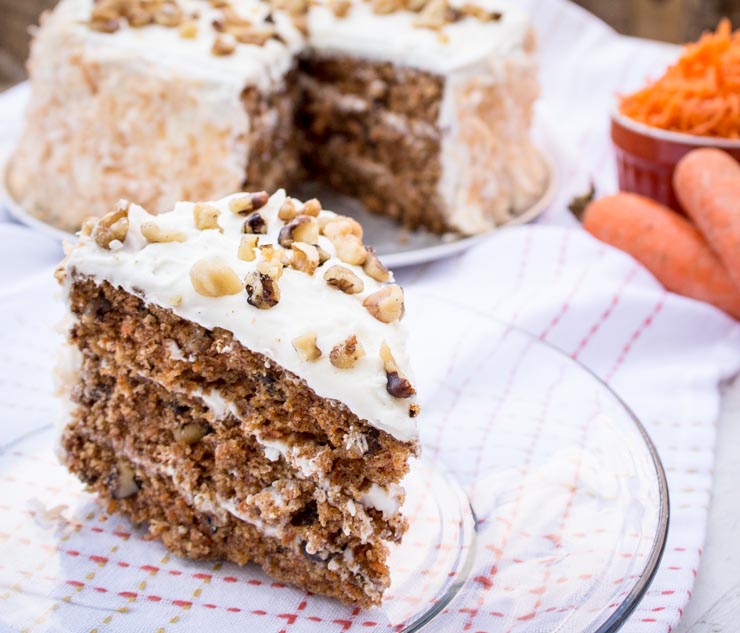 This cake is basically considered a vegetable. One of the most important food groups of the day. Doctor's say that. It must be true. So, enjoy and go share!
Toasted Coconut Carrot Cake
Rich, Homemade Carrot Cake with Cream Cheese Frosting and Toasted Coconut and Walnuts
Ingredients
Carrot Cake
3 cups plus ¼ cup carrots, shredded
2 cups plus ¼ cup sugar
4 eggs, whole
1 and ⅔ cup vegetable oil
2 cups (minus 1 tablespoon) flour, all-purpose
1 tablespoon + 1 teaspoon cornstarch
1 teaspoon salt
2 teaspoons baking soda
¼ teaspoon allspice
¼ teaspoon nutmeg
2 teaspoons plus ½ teaspoon cinnamon
1 cup walnuts, chopped
1 cup toasted sweetened coconut, optional
Cream Cheese Frosting
2 lbs powdered sugar
16 ounces cream cheese, room temp.
6 tablespoons butter, room temp.
1 plus ½ tablespoons vanilla extract (prefer clear vanilla)
sweetened toasted coconut, optional to decorate
walnuts, optional to decorate
Instructions
Pre-heat oven to 310 F.
Combine sugar, oil, eggs, carrots well in mixing bowl.
In another bowl, sift together dry ingredients very well.
Mix wet and dry ingredients together. Add walnuts and coconut.
Pour into three 9-inch round baking pans that have been buttered and well-floured.
Bake cakes for 40-45 minutes, until knife comes out clean.
Cool COMPLETELY in pans before removing.
Frosting
Combine well in mixer.
Assemble and Decorate
Carefully remove cake from pans.
Apply layer of frosting between layers and stack.
Add thin layer (crumb coat) on top and sides of cake.
Chill for 1 hour.
Apply final frosting coat.
Decorate as desired.
Enjoy! Visit SouthernFATTY.com for more.
Notes
2014 - SouthernFATTY.com
What is your favorite veggie-turned-sweet dessert? Let us know below!