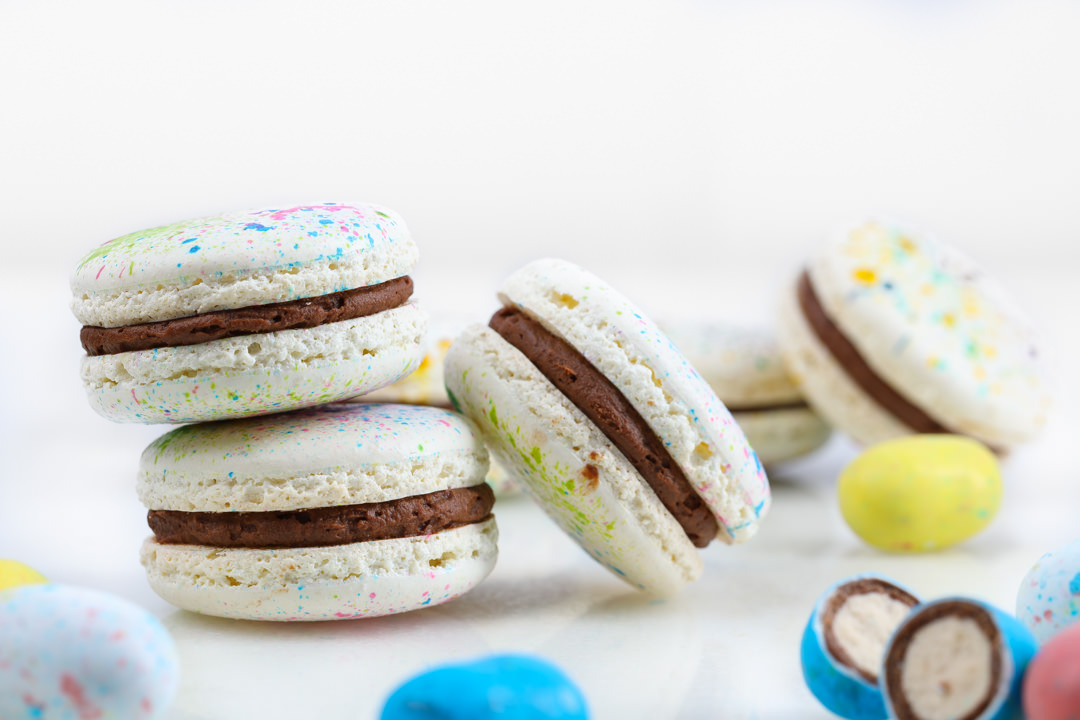 Move over Easter Bunny, I'm taking over the candy gig this year! — The absolute best part of the spring season, other than the actual daylight after noon that we finally get, is the candy. Y'all know what I'm talking about. It's those bags of malted milk candy shell eggs that pull me into the aisles every single week. I grab a bag and tell myself that I will ration them out, but always end up tearing into them immediately (usually in the car before I get home). It's a cycle that somehow manages to happen more often than I care to admit.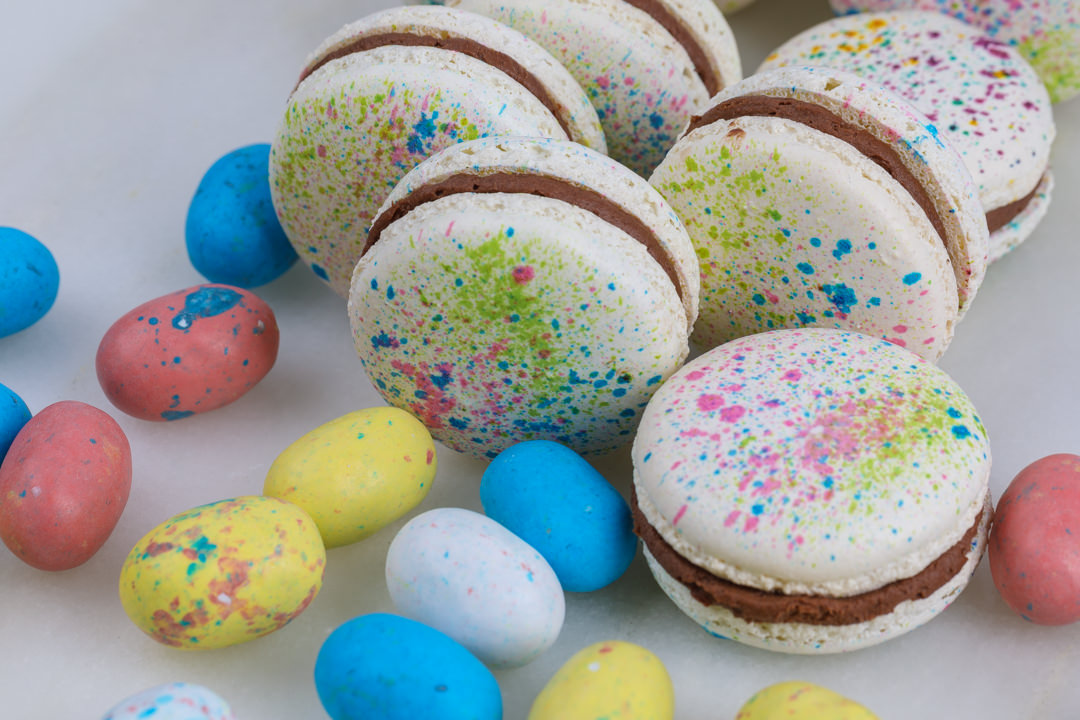 Usually, around this time of year, I am Peep-crazed. I made some pretty stellar Homemade Peeps a couple years back that I usually whip up for a better version of the classic favorite. This year, I decided to fully embrace the Robin Eggs candy and create my own twist on the seasonal favorite. (Did you know that the shape is actually made with some weird vacuum sci-fi contraption and not an egg-shaped mold?! Weird.)
Almond macaron shells, filled with an incredibly decadent whipped malted milk chocolate ganache. I guess when they stores stop carrying the Easter candy, I'll have a backup recipe to ensure that my blood sugar stays high enough to not go into a candy crush downfall while I wait for the next year.
My Macarons 101 post is now the most popular on the blog, with some really amazing comments and reader experiences shared every day on social media and in the comments. It includes a FREE printable piping template that you can slide right under your parchment paper and keep using over and over. That's my secret to getting a perfect size every time. Be sure to leave a comment if you try it out. It's awesome to see everyone give the daunting macarons a try and be successful.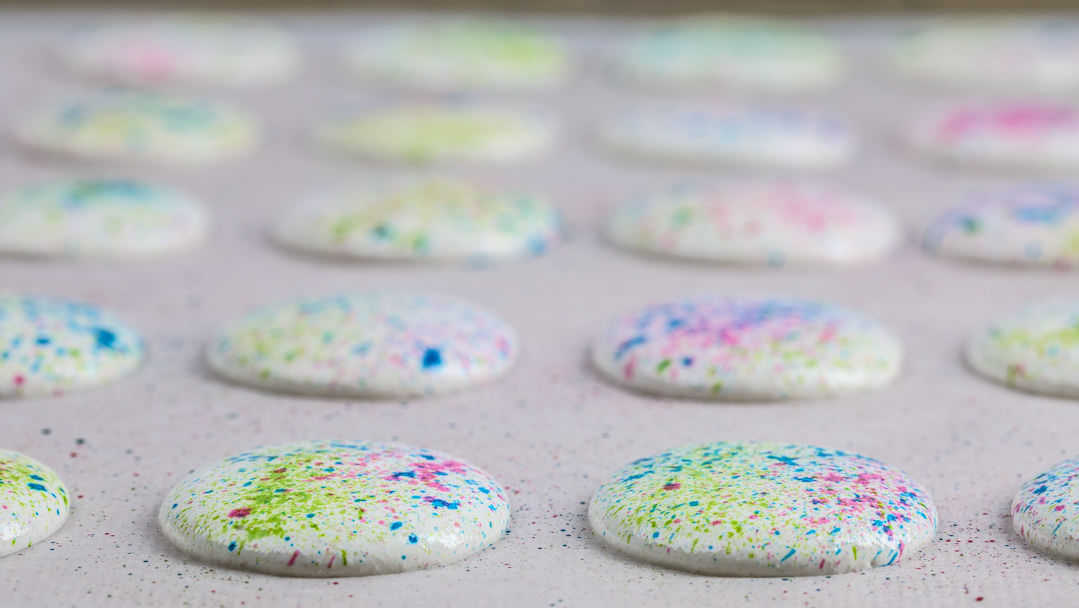 The macarons that I usually make are based on the traditional French method. French macarons are often a bit more tricky than the Italian meringue macarons that I made for this recipe, with everything relying on the technique and mixing methods. I find Italian macarons, that incorporates a hot sugar syrup, to be more stable and less tricky to make. The downside is that the shell texture just isn't quite the wow factor that I expect from a wonderful mac. Italian meringue leaves you with a bit more matte finish, often less-defined feet, cookies. Neither are bad, it's just a matter of preference and how comfortable you are with the methods for each.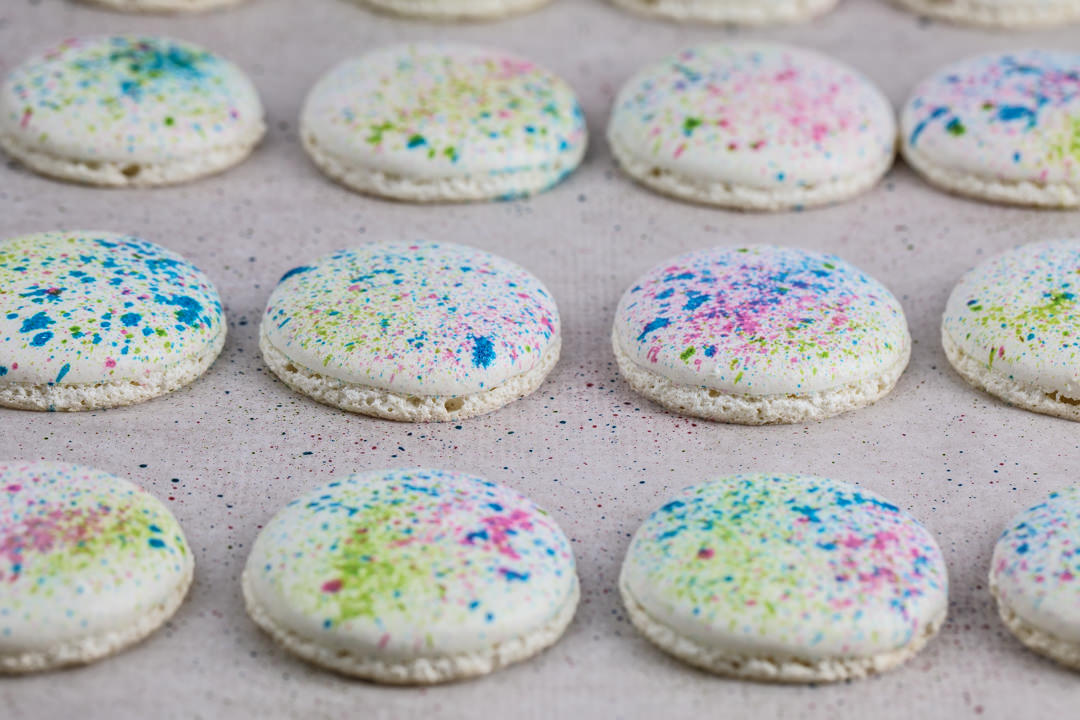 When I was trying to figure out how to mimic the malted milk candy eggs, I noticed that the shells aren't really all that glossy. They have a distinct crisp outer candy shell that I think is perfectly paired with Italian meringue macarons. A bit of food coloring, vodka (not all for me… to dilute the food coloring with as well), and a paintbrush, and you are left with that iconic spotted pastel finish. Rarely do recipes that I develop work out the first time, but this one was an immediate first place winner.
I toyed around with including some ground candies into the macarons themselves, but decided against it. You already get that crisp outer shell with a standard almond flour macarons cookie. I decided to focus on the filling.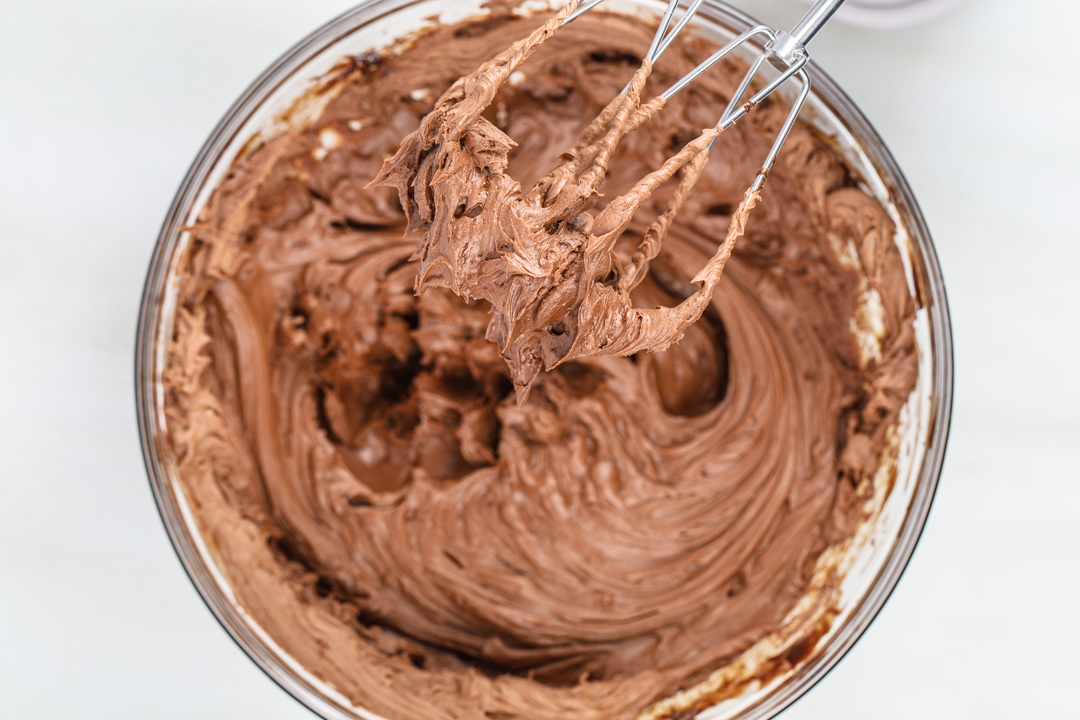 Buttercream is my usual go-to for filling macs. It's rich and can pack a ton of flavor, but for this recipe round, I went with an incredibly simple ganache. If I'm completely honest… I was lazy. I decided to try these last night (for real…), and was tired when I started, and even more tired when I was almost finished. This is the life of an early-30s-year-old with two obnoxiously loud cats that keep him up at night.
Ganache is simple, simple, simple. It's a chocolate to cream ratio system, and never fails me. This is all based on weight. If you don't have a kitchen scale, I can't recommend grabbing one enough. It will change your baking life. I recommend THIS ONE ($50) as my favorite, or THIS $10 ONE if you want to spend a bit less.
For thick glazing, I use a 1:1 chocolate to cream ratio
For pourable glazes, 1:2 chocolate to cream ratio
For pipable ganache, 2:1 chocolate to cream ratio.

This is what I picked for this recipe.
Since you can't possibly have a ganache filling for a malted milk macaron without the malt, I made the decision to mix malt powder into the ganache process. Malt is notorious for being difficult to dissolve in some circumstances, but will easily dissolve in fats. Since ganache is made with cream, we have a super simple way to incorporate it into our filling without worrying about it being clumpy or grainy.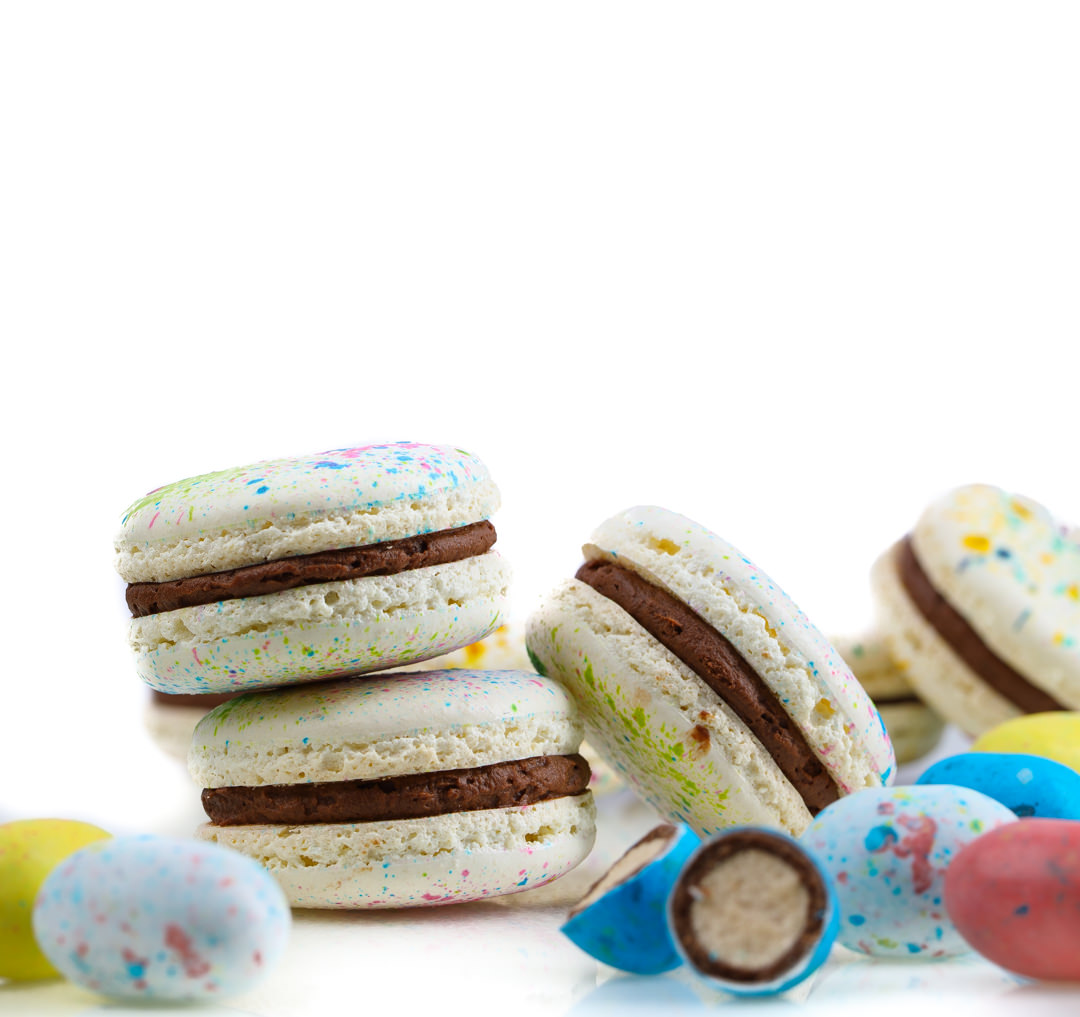 Just add in a bunch of malted milk powder (click here to find the one I use) to the cream and heat it until it just reaches a slight boil. You'll pour this over the chocolate pieces. That is seriously all you have to do. We are that much closer to crawling into bed after making some midnight macs, y'all. The ganache was the right choice.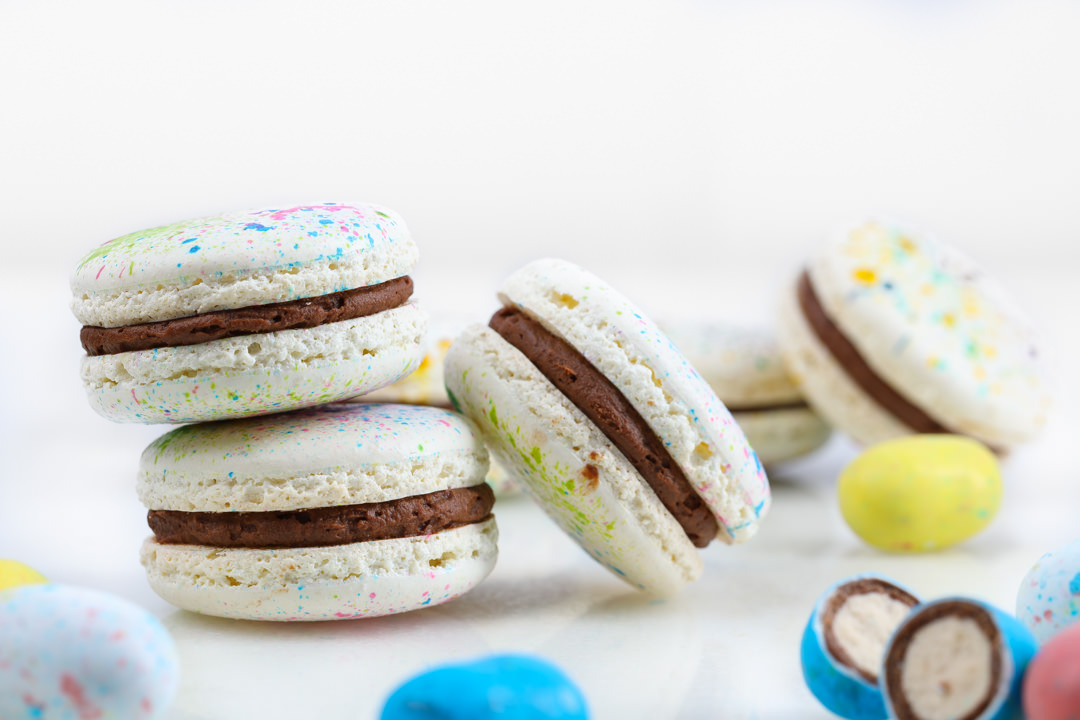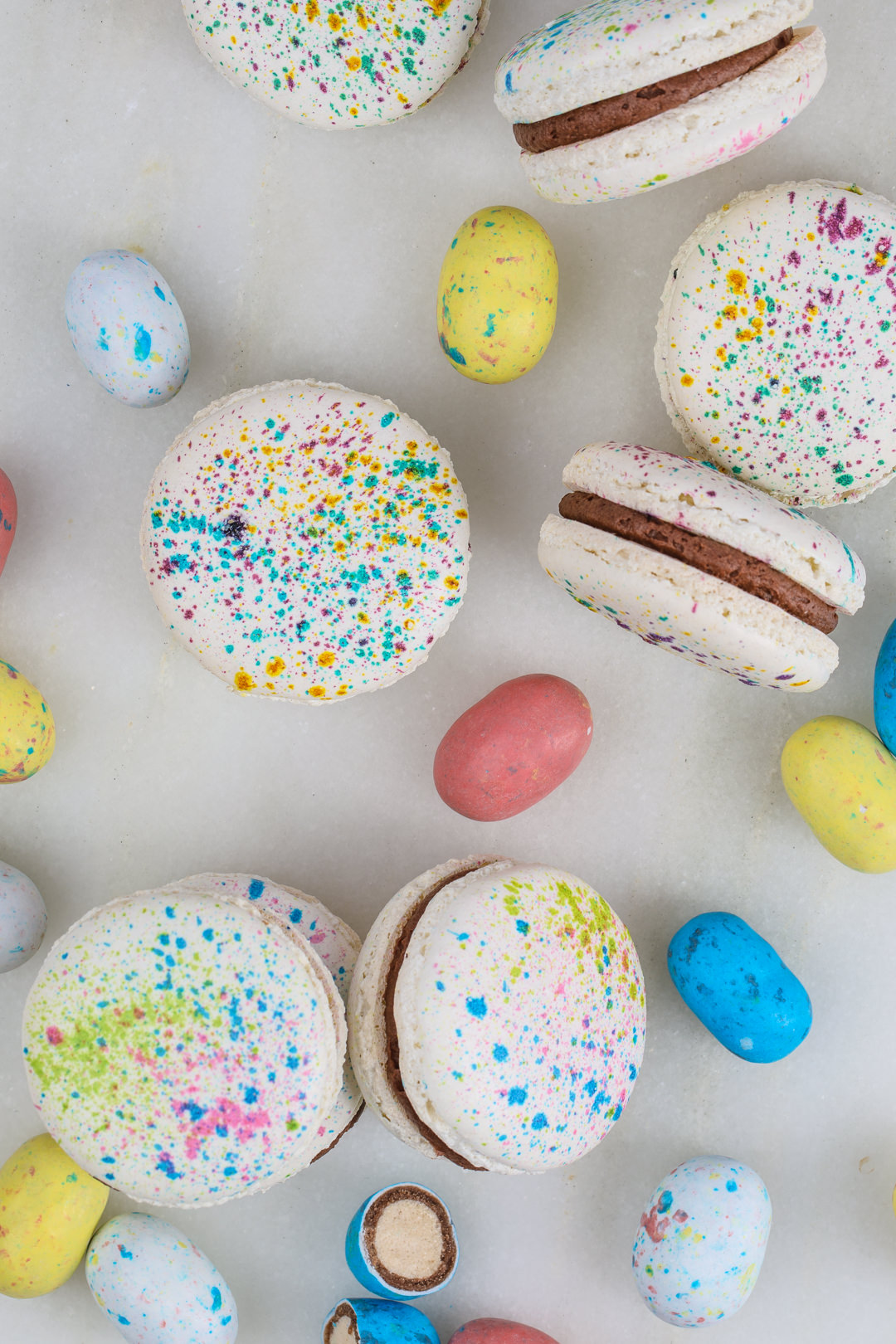 Once your cookies are baked and cooled, you can freeze them as shells, or go ahead and fill them. I've had amazing success with filling macarons, lining them up in a row and then freezing them. I would almost argue that they are better after they have been frozen, honestly.
Happy Spring! Be sure to share what you made with me on social media by tagging @southernfatty and #southernfatty. I would love to see and say hey.

Malted Milk Chocolate Macarons (Robin Egg Macarons)
Almond classic macarons, filled with malted milk chocolate whipped ganache filling, decorated with splashes of pastel edible paint. Just like the classic Robin Egg Easter candies! From SouthernFatty.com.
Author:
Phillip Fryman | SouthernFATTY.com
Ingredients
White Macaron Cookies
200 g (1¾ C) almond flour, blanched, sifted
220 g (1¾ C) confectioner's sugar, sifted
160 g (1/2 cup + 2 tablespoons) egg whites, room temperature, NO yolk
1 teaspoon sugar, granulated
120 g (1/2 cup) water
225 g (1 cup) sugar, granulated
10 g titanium dioxide, optional (if you want truly white macarons, this is great. Find it HERE.)
½ tablespoon warm water, optional for titanium dioxide
gel food coloring (I recommend THESE) + a splash of vodka + paint brush, for decorating
Malted Milk Chocolate Pipeable Ganache
1 cup heavy cream
⅔ cup malted milk powder (I recommend THIS one.)
2 cups milk chocolate, chips or chopped evenly into small pieces
Instructions
Before starting, note that the recipe is given in preference to grams. This is important, and I STRONGLY suggest grabbing a kitchen scale for your baking.
Before starting, feel free to check out our Macarons 101 post. Although these are made using the Italian, not French, method, many of the suggestions on baking the cookies in that post with be helpful.
Macaron Cookies
If you are going to use titanium dioxide (a food-safe, naturally-occurring pigment) to create a great white base, mix the powder with the warm water and set aside for 30 minutes. Stir again and set aside. If you do not use this, your macarons may have a bit of a tan tint from the almond flour.
Sift the almond flour and confectioner's sugar together. Discard large clumps not sifted.
Add about 75 grams of the egg whites to the center of this almond flour mixture, add the titanium dioxide if using, and stir until combined. It will be very thick.
Don't worry about how you mix this first step. Just incorporate it all well and set aside.
The next steps require a bit of attention to timing. Please read the steps carefully and be observant.
Place the rest of the egg whites and the teaspoon of sugar in a mixer bowl with a whisk attachment (or use a hand mixer).
Leave the whites to sit while you set up the sugar to cook.
Add the cup of granulated sugar and water to a small saucepan over medium-high heat.
Place a candy thermometer in the pan and leave undisturbed. Do not mix the sugar.
When the sugar reaches 200 degrees F, start whipping the egg whites on medium speed.
You want the whites to reach soft peaks (limp tip when whisk is inverted) when the sugar is reaching 248 degrees F.
If the whites reach soft peaks before the sugar is ready, simply turn them to the lowest mixer setting until ready.
Once the sugar syrup is at 248 F, remove it from the heat and take it to the mixer with the whites.
On medium speed, pour the sugar syrup into the mixer just where the whites meet the bowl edge in a steady stream. Be VERY careful, as this hot syrup WILL burn.
You want to aim for the whites more than the bowl so it doesn't leave you with clumps of sugar.
Once all of the syrup is added, turn mixer to medium-high (6-7 on KitchenAid) until glossy, firm peaks can develop in the meringue. This will take about 5 minutes.
The meringue should be room temperature when ready.
Transfer about ⅓ of the meringue to the almond flour. Mix very well with a spatula to combine. Don't worry about over-mixing here.
Once combined, add another batch of the meringue to the flour batter. Fold this in gently, but scrape the spatula on the sides of the bowl as needed to deflate slightly. Italian meringue is more forgiving than the French method.
Add the remaining meringue and fold in.
You should mix until you can pass the same tests that our Macarons 101 post share. Figure 8, etc.
Please refer to that post for more details.
Transfer to piping bag and pipe 1.5" macarons onto parchment. I use a ½" piping tip and 16" piping bag, but you can use any size that suits you. The Macarons 101 post has a free printable piping template that is very helpful to place under the parchment while piping.
Take the baking tray and drop flat on the counter to remove excess air and to allow the batter to evenly smooth out. I do this 3-4 times per tray of piped macarons.
To color, mix a few drops of the food coloring gel with a half teaspoon or so of vodka. Do not use water.
Using a paintbrush, flick the paint onto the shells. Too much coloring may cause the macarons to be more prone to cracking.
Move the macarons to rest at room temperature for at least 30 minutes, preferably 45 minutes. This helps to develop the shell and prevent cracking.
Pre-heat oven to 310 F while they rest.
Bake the macarons one tray at a time for 15 minutes. Do not let them brown, but the top should not move when poked. You may need to experiment with adding or reducing time depending on your oven. I don't recommend baking at a higher temperature. Be sure to check your oven temperature with an oven thermometer for best results.
Let cool completely before removing from parchments paper.
Malted Milk Chocolate Pipeable Ganache
Place chocolate pieces into a large bowl. Set aside.
In a small saucepan, whisk the malted milk powder with the heavy cream.
Over medium heat, warm until it just reaches a boil.
Immediately remove and pour cream over chocolate.
Let sit for 2-3 minutes to warm the chocolate.
Whisk well to combine.
Chill until cool. If you chill too long, you may have to let it sit out, or microwave it for 30 seconds to loosen it for piping.
Whip ganache with mixer or handheld beater and transfer to piping bag.
Pipe ganache onto one macaron and top with second cookie.
Best enjoyed at room temperature.
You may store these in an airtight container refridgerated for 3-4 days, or freeze and bring to room temperature to enjoy later.
For more recipes, visit SouthernFatty.com!
Enjoy!
What macaron twist would you like to see next? Let me know in the comments below!