Malted Milk Chocolate Macarons (Robin Egg Macarons)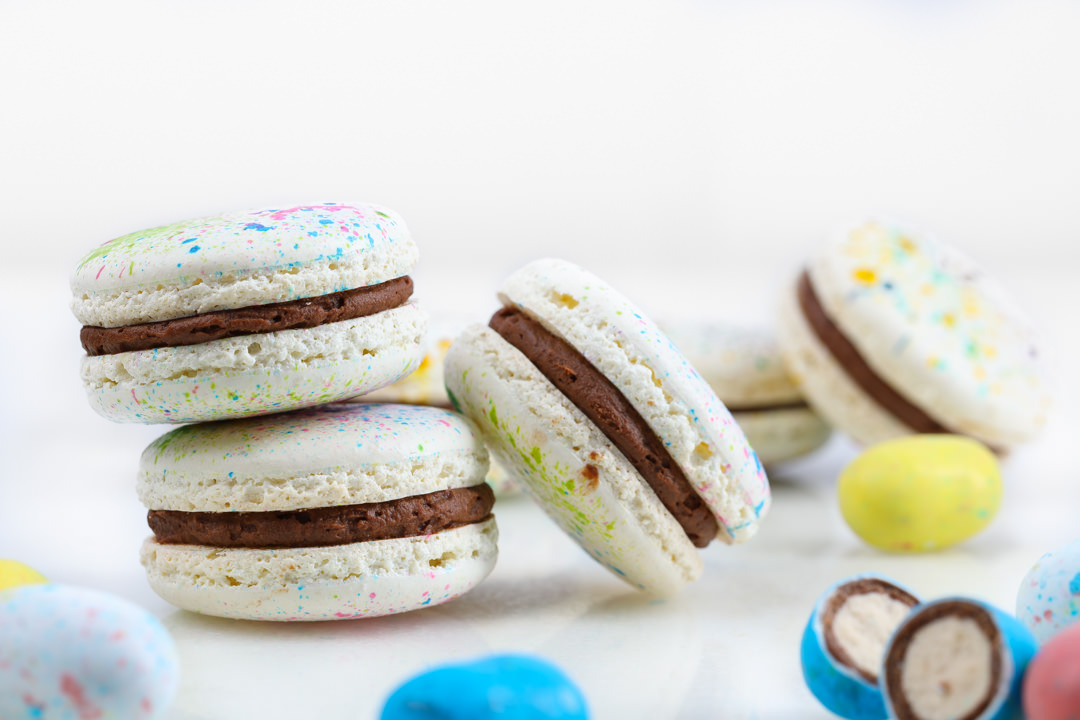 Author:
Phillip Fryman | SouthernFATTY.com
200 g (1¾ C) almond flour, blanched, sifted
220 g (1¾ C) confectioner's sugar, sifted
160 g (1/2 cup + 2 tablespoons) egg whites, room temperature, NO yolk
1 teaspoon sugar, granulated
120 g (1/2 cup) water
225 g (1 cup) sugar, granulated
10 g titanium dioxide, optional (if you want truly white macarons, this is great. Find it HERE.)
½ tablespoon warm water, optional for titanium dioxide
gel food coloring (I recommend THESE) + a splash of vodka + paint brush, for decorating
1 cup heavy cream
⅔ cup malted milk powder (I recommend THIS one.)
2 cups milk chocolate, chips or chopped evenly into small pieces
Before starting, note that the recipe is given in preference to grams. This is important, and I STRONGLY suggest grabbing a kitchen scale for your baking.
Before starting, feel free to check out our Macarons 101 post. Although these are made using the Italian, not French, method, many of the suggestions on baking the cookies in that post with be helpful.
If you are going to use titanium dioxide (a food-safe, naturally-occurring pigment) to create a great white base, mix the powder with the warm water and set aside for 30 minutes. Stir again and set aside. If you do not use this, your macarons may have a bit of a tan tint from the almond flour.
Sift the almond flour and confectioner's sugar together. Discard large clumps not sifted.
Add about 75 grams of the egg whites to the center of this almond flour mixture, add the titanium dioxide if using, and stir until combined. It will be very thick.
Don't worry about how you mix this first step. Just incorporate it all well and set aside.
The next steps require a bit of attention to timing. Please read the steps carefully and be observant.
Place the rest of the egg whites and the teaspoon of sugar in a mixer bowl with a whisk attachment (or use a hand mixer).
Leave the whites to sit while you set up the sugar to cook.
Add the cup of granulated sugar and water to a small saucepan over medium-high heat.
Place a candy thermometer in the pan and leave undisturbed. Do not mix the sugar.
When the sugar reaches 200 degrees F, start whipping the egg whites on medium speed.
You want the whites to reach soft peaks (limp tip when whisk is inverted) when the sugar is reaching 248 degrees F.
If the whites reach soft peaks before the sugar is ready, simply turn them to the lowest mixer setting until ready.
Once the sugar syrup is at 248 F, remove it from the heat and take it to the mixer with the whites.
On medium speed, pour the sugar syrup into the mixer just where the whites meet the bowl edge in a steady stream. Be VERY careful, as this hot syrup WILL burn.
You want to aim for the whites more than the bowl so it doesn't leave you with clumps of sugar.
Once all of the syrup is added, turn mixer to medium-high (6-7 on KitchenAid) until glossy, firm peaks can develop in the meringue. This will take about 5 minutes.
The meringue should be room temperature when ready.
Transfer about ⅓ of the meringue to the almond flour. Mix very well with a spatula to combine. Don't worry about over-mixing here.
Once combined, add another batch of the meringue to the flour batter. Fold this in gently, but scrape the spatula on the sides of the bowl as needed to deflate slightly. Italian meringue is more forgiving than the French method.
Add the remaining meringue and fold in.
You should mix until you can pass the same tests that our Macarons 101 post share. Figure 8, etc.
Please refer to that post for more details.
Transfer to piping bag and pipe 1.5" macarons onto parchment. I use a ½" piping tip and 16" piping bag, but you can use any size that suits you. The Macarons 101 post has a free printable piping template that is very helpful to place under the parchment while piping.
Take the baking tray and drop flat on the counter to remove excess air and to allow the batter to evenly smooth out. I do this 3-4 times per tray of piped macarons.
To color, mix a few drops of the food coloring gel with a half teaspoon or so of vodka. Do not use water.
Using a paintbrush, flick the paint onto the shells. Too much coloring may cause the macarons to be more prone to cracking.
Move the macarons to rest at room temperature for at least 30 minutes, preferably 45 minutes. This helps to develop the shell and prevent cracking.
Pre-heat oven to 310 F while they rest.
Bake the macarons one tray at a time for 15 minutes. Do not let them brown, but the top should not move when poked. You may need to experiment with adding or reducing time depending on your oven. I don't recommend baking at a higher temperature. Be sure to check your oven temperature with an oven thermometer for best results.
Let cool completely before removing from parchments paper.
Place chocolate pieces into a large bowl. Set aside.
In a small saucepan, whisk the malted milk powder with the heavy cream.
Over medium heat, warm until it just reaches a boil.
Immediately remove and pour cream over chocolate.
Let sit for 2-3 minutes to warm the chocolate.
Whisk well to combine.
Chill until cool. If you chill too long, you may have to let it sit out, or microwave it for 30 seconds to loosen it for piping.
Whip ganache with mixer or handheld beater and transfer to piping bag.
Pipe ganache onto one macaron and top with second cookie.
Best enjoyed at room temperature.
You may store these in an airtight container refridgerated for 3-4 days, or freeze and bring to room temperature to enjoy later.
For more recipes, visit SouthernFatty.com!
Enjoy!
Recipe by
Southern FATTY
at https://www.southernfatty.com/malted-milk-chocolate-macarons/