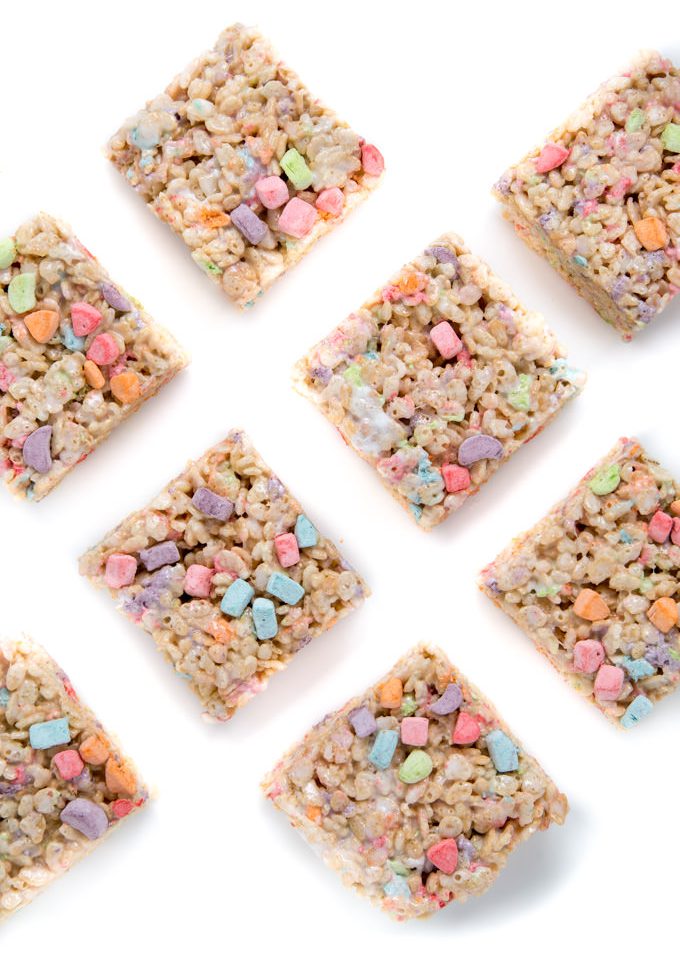 You're always after me Lucky Charms Rice Krispies! — That's right, folks. I've transformed one of our most viewed recipes, the Best Rice Krispies Treats, into a loaded version of the nostalgic favorite handheld sweet.
When life gives you a pound of cereal marshmallows, you have no choice but to toss them in with some marshmallows and call it a day.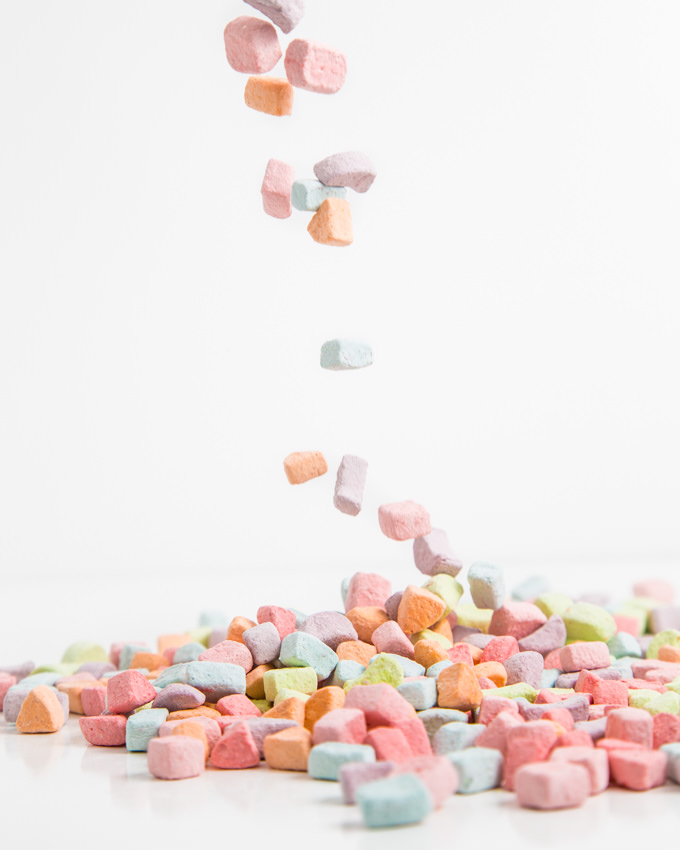 When I found that you could buy an entire pound of those perfect little chewy cereal marshmallows (for less than $10, none the less), I passed out. Kidding… But I most certainly did have a small moment where I wasn't sure what could possibly be better in life than this great news.
You know the ones. They have that super-bright shimmer, oddly dissolvable texture. Nothing like them. Forget coffee. Everyone knows that sugar-packed cereals were actually the best part of waking up.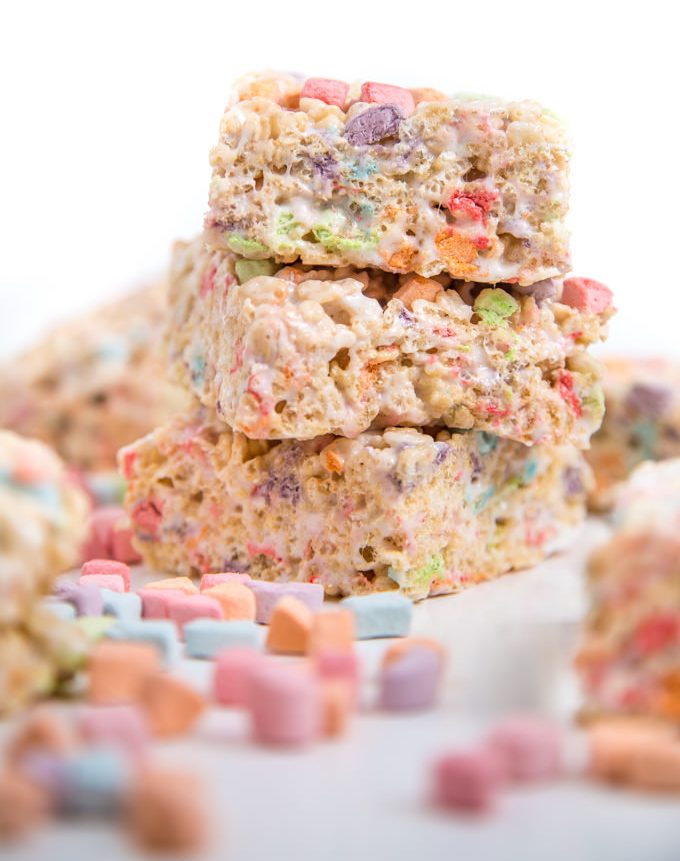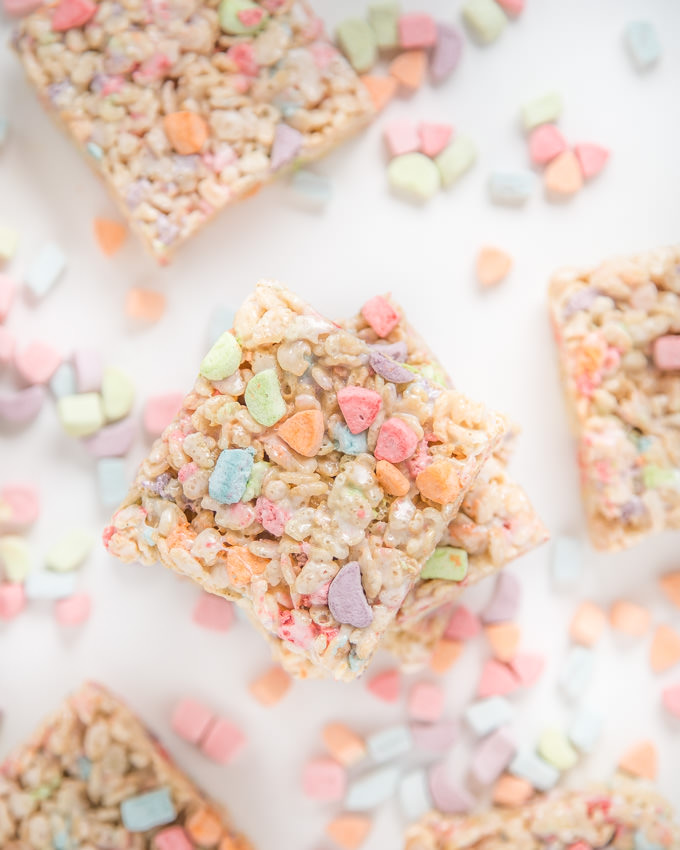 Do y'all even know what a pound of these basically weightless things looks like? It takes a LOT of marshmallows to make up an entire pound. — What weights more? A pound of cereal marshmallows, or a pound of donuts? Forget the election drama. These are the important questions in life.
What else needs to be said, really? It's rice krispies treats, packed with melted butter and marshmallows, tossed with handfuls of cereal marshmallows. This is basically breakfast gold. I'm 100% sure that it counts as breakfast, since it has not only one, but two, types of cereal in it. The marshmallow is basically dairy(ish).
It's cereal in your hand. You're welcome. There's your breakfast.
You can find those delightful cereal marshmallows on Amazon riiiiight HERE.
Lucky Charms Marshmallow Treats
Classic rice krispies treats with a nostalgic twist. Lucky Charms cereal marshmallows are added into the final mix of these gooey treats for a perfect breakfast cereal flashback handheld sweet.
Author:
Phillip Fryman | SouthernFATTY.com
Ingredients
7 tablespoons butter, unsalted (almost 1 stick)
12 cups plus 3 cups mini marshmallows (about (2) 16 oz bags), divided
¼ teaspoon vanilla extract
½ teaspoon salt (optional, but really adds great flavor)
9 cups rice cereal
2 cups cereal marshmallows (you can find them HERE)
Instructions
Spray 9x13 pan with non-stick spray.
In large pot, melt butter over low heat.
Add 12 cups marshmallows. Stir until completely melted.
Mix in vanilla and salt.
Immediately remove from heat and mix in remaining 3 cups marshmallows and rice cereal.
Add cereal marshmallows into final mix.
Press into greased pan an let cool completely at room temperature (at least 30 minutes - best an hour or two).
Enjoy!
More on SouthernFATTY.com
What's your favorite nostalgic cereal that you would like to see transformed into a sweet treat?
Let me know in the comments below!
Lucky Charms are a registered trademark of General Mills. They have not endorsed this post. We just really, really like the stuff.