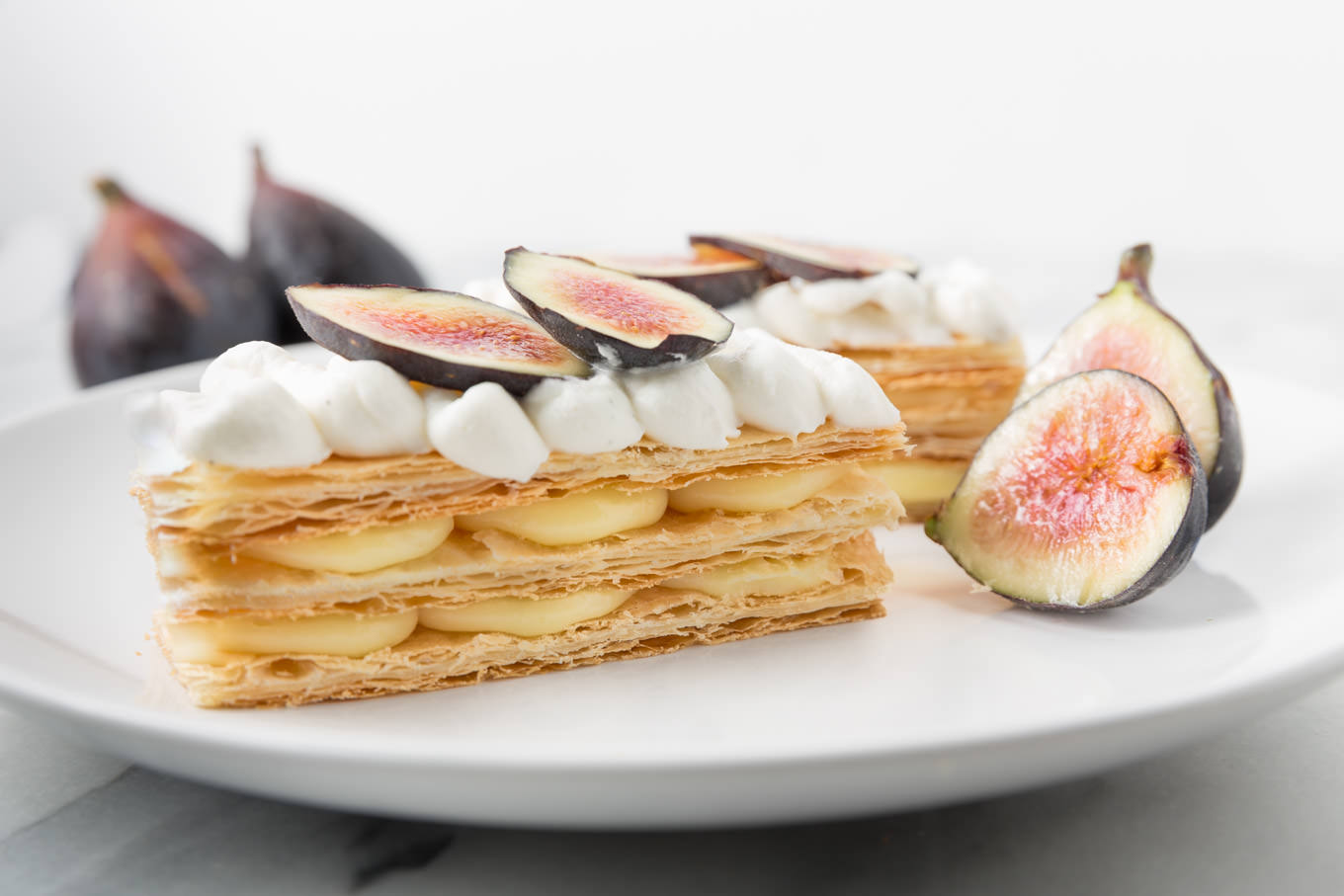 When life gives you figs…. you become obsessed with them and make everything you can possibly think until you can barely bare to look at one again. Since we're in the middle of fig season, I don't feel as badly for flooding your feeds with all of the resulting recipes in the upcoming weeks. While I may never want to see a fig again after this, I'm totally ok with infusing them into nearly every meal that I can for a while.
First up on the list is the most simple of them all. I whipped this up the first night I had my figs, wanting a simple dessert that wouldn't take a ton of effort. It looks complicated, but I promise y'all that it isn't. Fig Mille-Feuille for the win.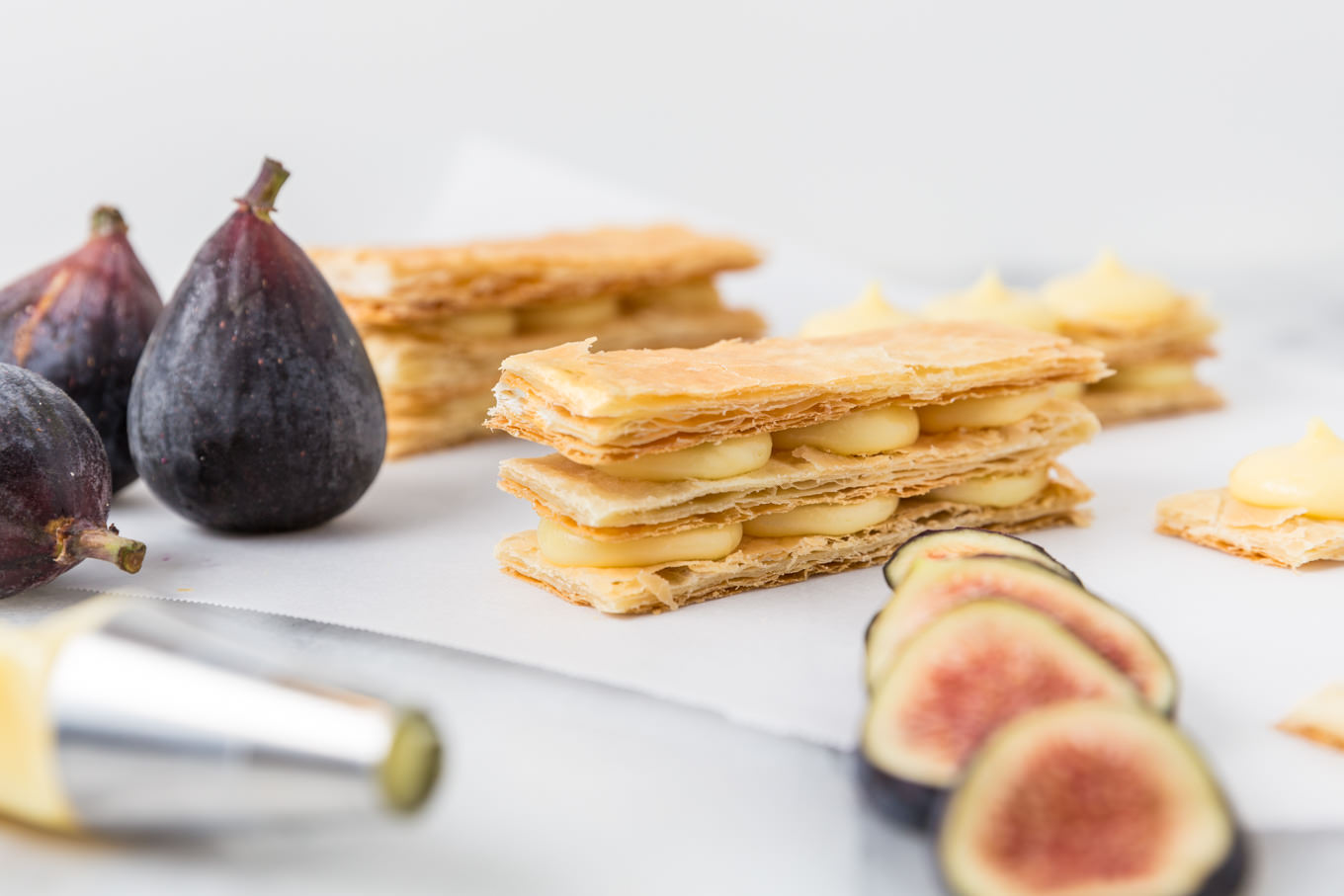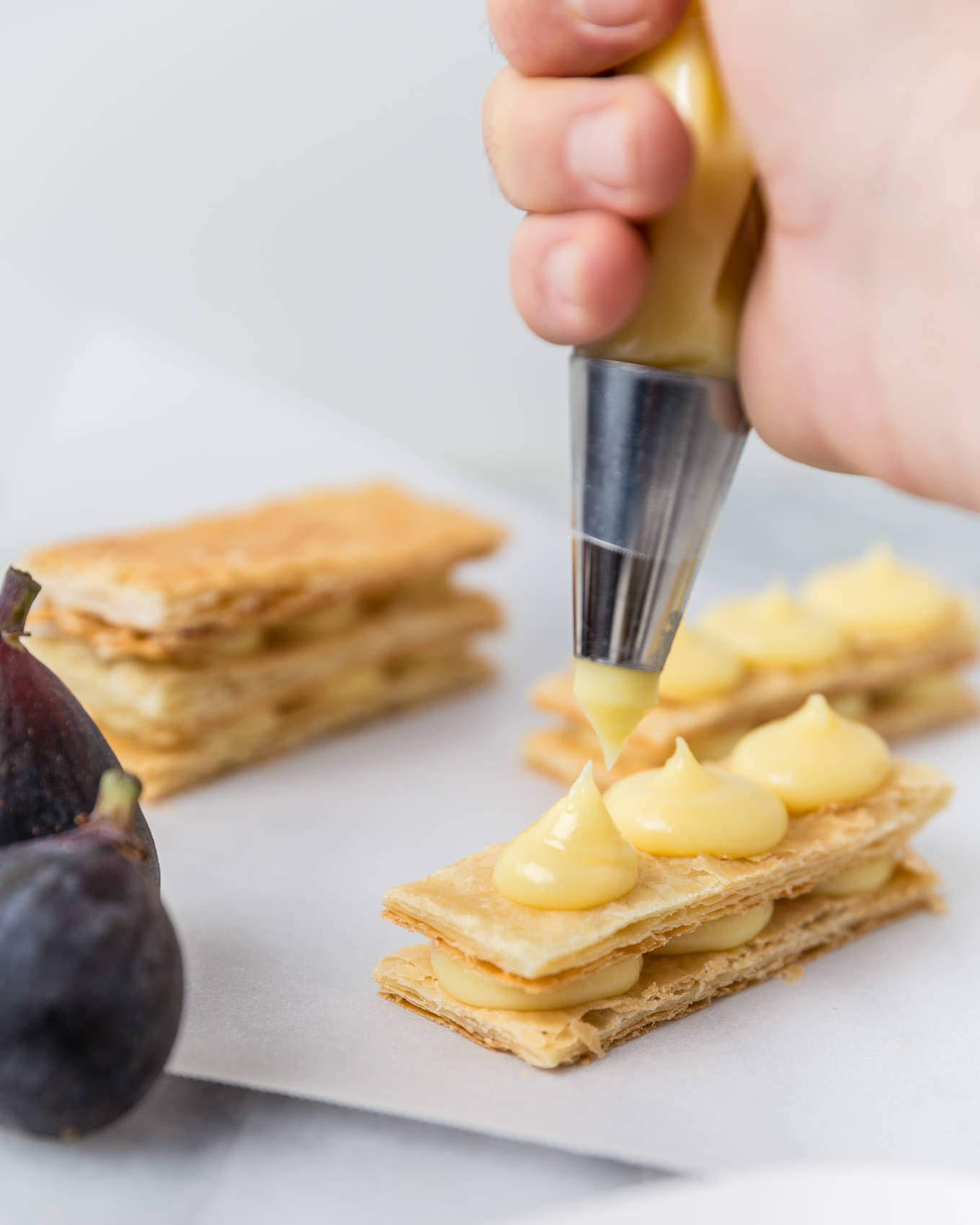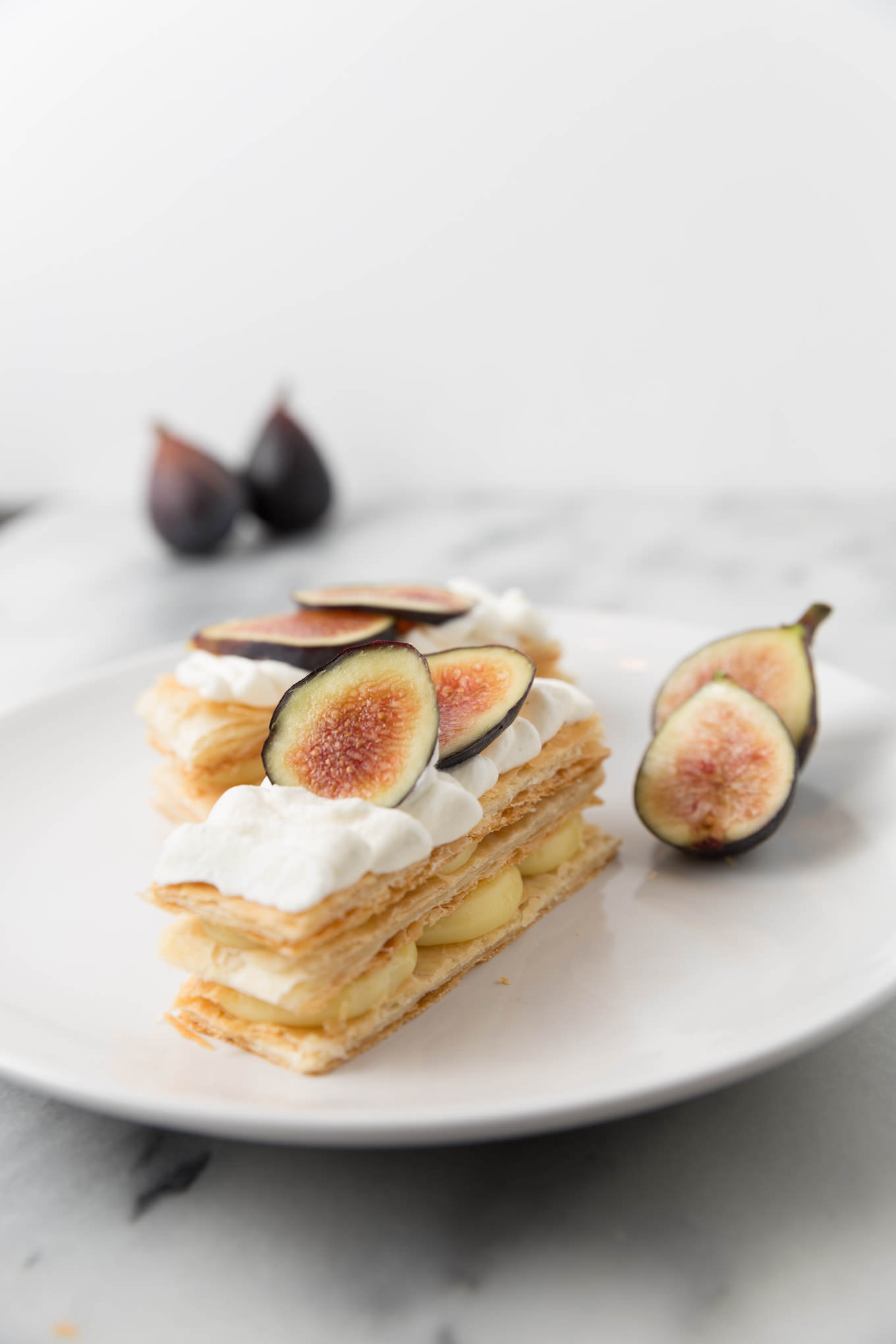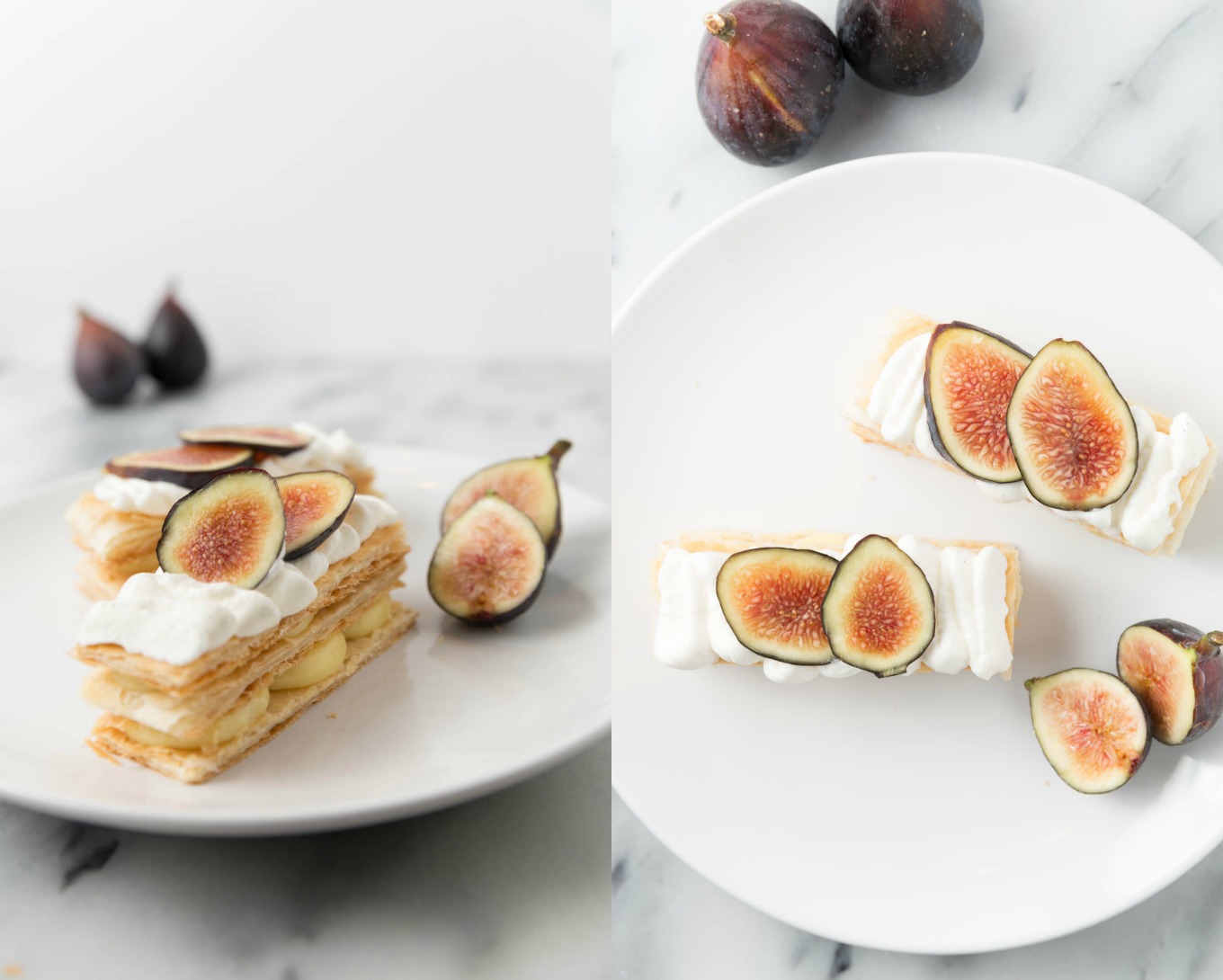 Mille-feuille (millefeuille) translates as a thousand leaves, referring to the layers of puff pastry that are stacked between fillings. You may have heard it called a Napoleon or custard slice as well. Interestingly enough, the common nickname doesn't refer to the 19th-century, but instead to the City of Naples, Italy. These simple sweets were first recorded in writings from the 1600s. If something has lasted that long, it's going to be a winner.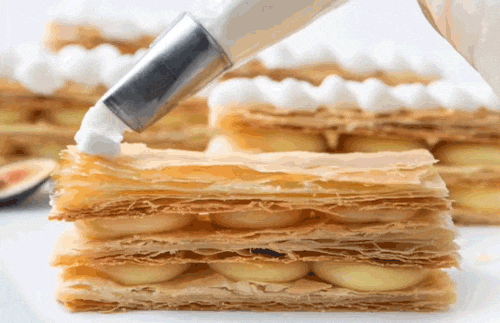 When I was in Paris a couple years back, this was the first pastry that I grabbed. Sure, I immediately followed it with 10 other ones, but this was what I wanted to have before anything else. This is classic French pastry at it most authentic. It's incredibly simple in it's purest form, but just has this amazing delicacy. Buttery layers of laminated pastry, wrapped with pastry and whipped cream. You may commonly see these topped with a poured fondant, but I needed this immediately. I was 5 minutes from a dessert breakdown over here, y'all. Whipped cream takes minutes. Winner, winner, whipped cream for dinner.
For the fig addition, after I ate an embarrassing amount straight from the bowl, I just tossed them into the mix for the pastry cream and added a few on top. No need in making this complicated.
My advice? Make some pastry cream and keep it in the fridge for a rainy day. Or a sunny one. Or an overcast one. Any of those will do.

Fig Mille-Feuille
Classic mille-feuille / Napoleon / custard slice with fig-infused pastry cream, whipped cream, between buttery, flaky puff pastry layers. Topped with fig slices. From SouthernFATTY.com.
Author:
Phillip Fryman | SouthernFATTY.com
Ingredients
Puff Pastry
1 sheet puff pastry (frozen or homemade - find the recipe here)
Fig Pastry Cream
⅔ cup (170ml) whole milk
2 figs
1 star anise
3 tablespoons (35g) sugar
1½ tablespoons cornstarch
2 egg yolks
Whipped Cream
Finishing
Instructions
Chill puff pastry sheet on baking sheet while preparing pastry cream.
Pastry Cream
Cut the figs in half. Smash the fig halves and place into saucepan with milk and star anise over medium heat to a simmer.
Remove from heat and allow to rest to steep for 10 minutes.
Meanwhile, whisk together egg yolks, cornstarch, sugar.
Strain milk mixture. Slowly add milk to egg mixture, whisking constantly while adding.
Return mix to saucepan and place over low heat.
Stir constantly to keep smooth until thickens. Remove to clean bowl and place plastic wrap over, pressing it onto the top of the pastry cream to prevent a film from forming.
Place in fridge to chill.
Puff Pastry
Remove puff pastry. On parchment, roll to 30x25 cm rectangle.
Dock the pastry generously with a fork.
Place an additional sheet of parchment on top of puff and top with an additional sheet pan. and bake in 425 F oven.
Bake for 10 minutes, remove top pan and bake an additional 10 minutes until golden.
Remove to cool.
When completely cool, cut into three 25x10cm rectangles.
Cut each into 10 pieces. You will now have 30 small rectangles.
Whipped Cream
Whip the heavy cream and sugar to just stiff peaks.
Remove pastry cream and fold in half of whipped cream.
Assembly
Place a pastry piece on the bottom, top with pastry cream, another pastry, more cream, pastry, finish with whipped cream and fig slices.
Optionally, sprinkle with powdered sugar,
Enjoy!
Find more on SouthernFATTY.com
Notes
Adapted from BIY, Quadrille Press.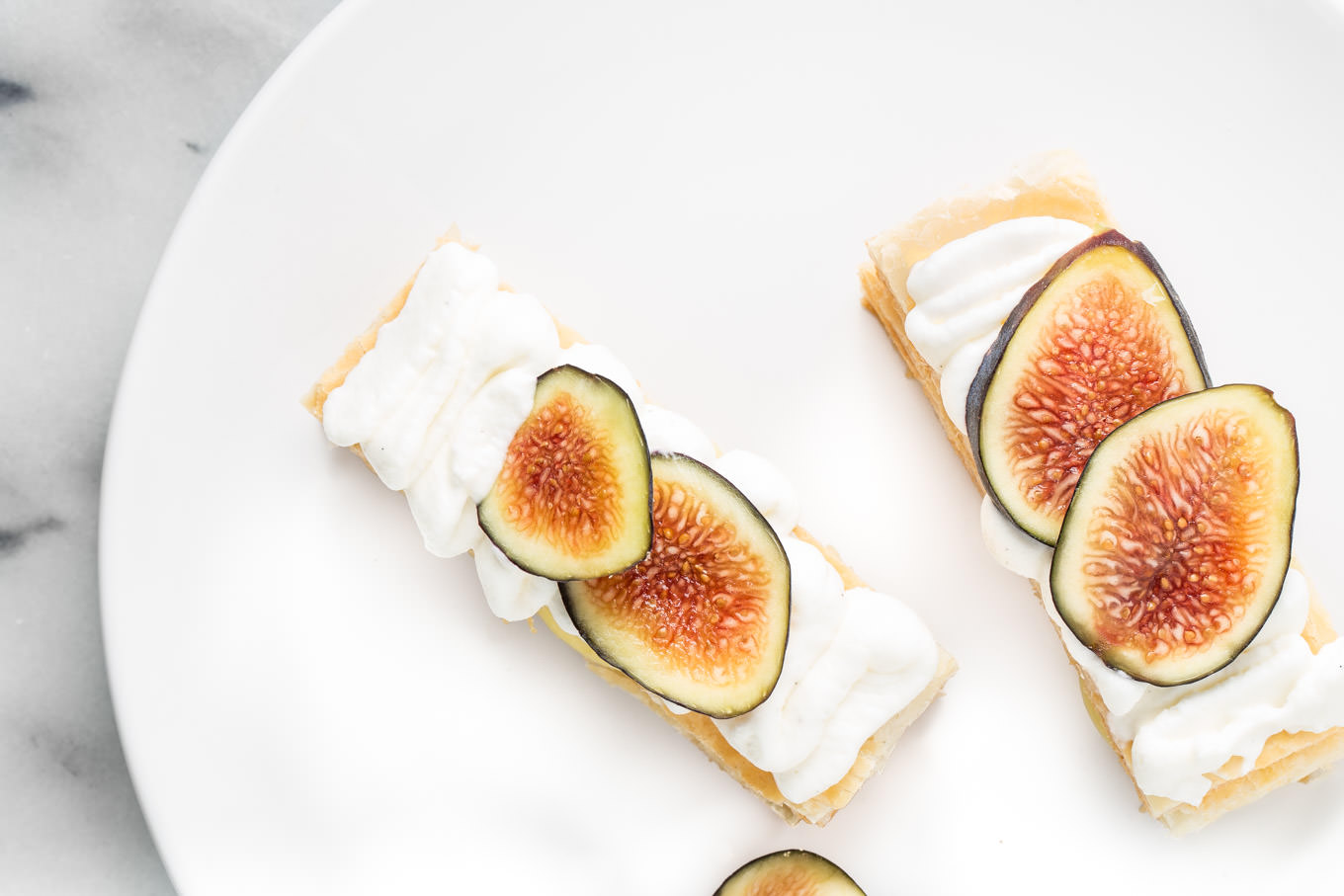 Hop over to our Instagram and let us know
what pastry you would like to see next!