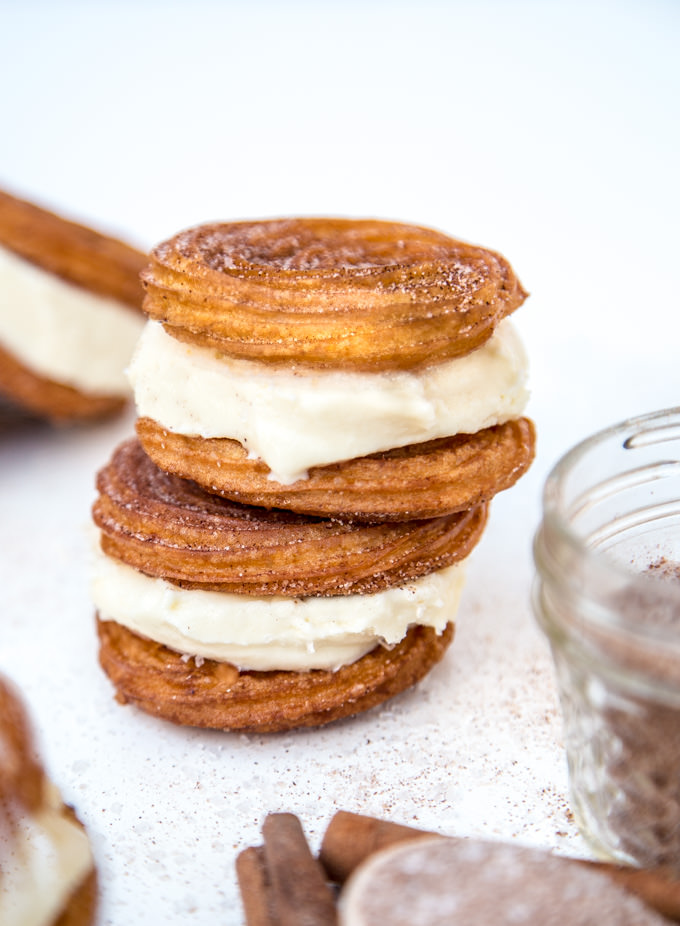 I'm pretty sure that in another life, I was a Mexican street food stand. Tacos, tortas, churros. Any of the road-side favs, really. I recently found an area of Nashville that has the absolute best tiny truck tacos in town. Also, they are like a dollar a piece. A DOLLAR, Y'ALL. Forget the fancy-pants hipster joints popping up everywhere, the shacks are where it's at. Since I couldn't find any freshly fried churros to go along with my hipster-less tacos, I decided to make some myself. What started as a churro makin' Saturday (my next country album name?), became so much more.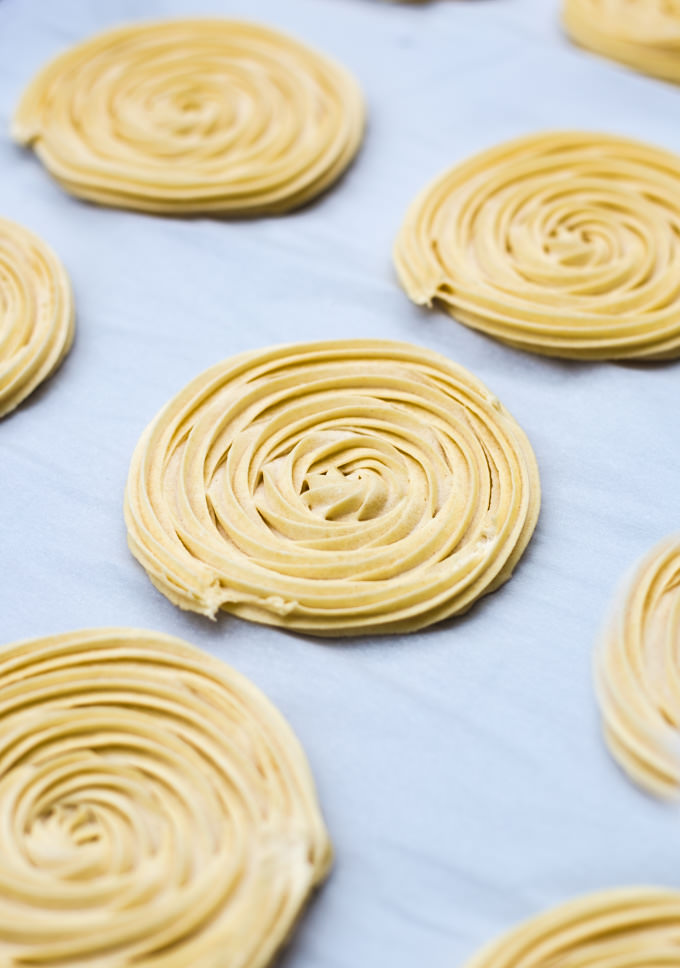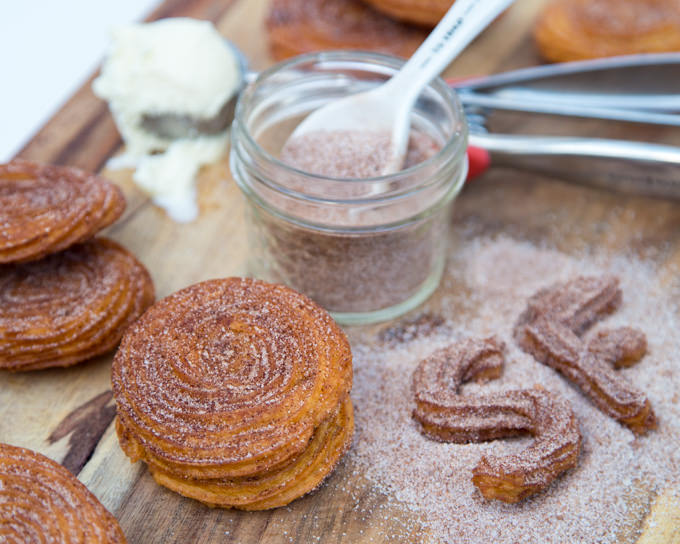 I get a little bored when piping straight lines. Once you've done that a few hundred times (hello, pâte à choux & éclairs), you start venturing into odd shapes. I started by piping the pastry dough straight into the oil like I usually would for churros. Some spirals and what ended up looking like I had been ribbon dancing in the fryer were the results. I took a break, which meant that I pulled a spoon out of the drawer and headed to the freezer to find the ice cream. It hit me. You can just go ahead and call me Churro van Gough. — Ice cream between the churros!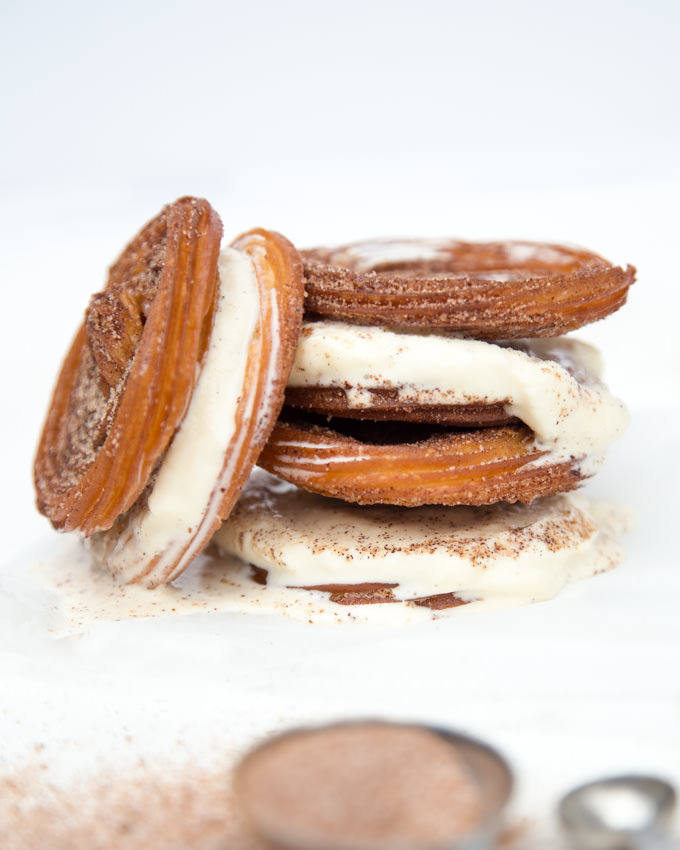 You can definitely make the churro swirls well before you are ready to eat these beauties. Since we are going to freeze the dough before we fry it, just pop them out when you are ready. PS- Even though you'll let the churro cool, they'll melt like a handful of candy in your hands. Just finish them off when you are ready to eat. I find its best to use homemade ice cream or give it a few stirs to soften it up a bit. Put it all together and enjoy!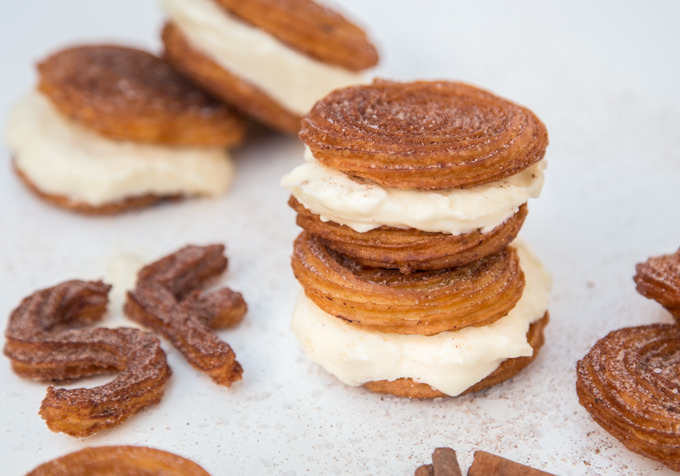 Churro Ice Cream Sandwiches
Crispy soft churro swirl ice cream sandwiches by Southern FATTY.
Author:
Phillip Fryman | SouthernFATTY.com
Ingredients
1 stick (110 g) butter
1 cup (235 ml) water
1 tablespoon (13 g) sugar
¼ teaspoon salt
1 cup (120 g) flour
1 cup (180-200 g) eggs (about 3 large)
1 teaspoon vanilla (I prefer using Nielsen-Massey Mexican Vanilla for this)
cinnamon/sugar mixture
ice cream
Instructions
Start by making the churro base:
Prepare all of the ingredients in advance of starting the recipe. Mise en place!
Add water, butter, sugar, salt to medium sauce pan.
Simmer over medium heat until butter has completely melted and water is steaming.
Right when water reaches its first boil, remove pan from heat and dump all of the flour in at once.
Stir rapidly with a wooden spoon to incorporate flour into wet mix.
Return to medium heat and continue stirring. The dough will form a ball and start to leave a film on the bottom of the pan. Continue stirring.
After cooking for about 2 minutes over the heat, remove and allow to cool slightly for 3-4 minutes.
Transfer dough to mixer with paddle attachment (Beater Blade works wonders for this) in place.
On medium/low speed, add one egg at a time, allowing the mixer to completely incorporate each egg before adding the next. It will start to look like it is separating. Just allow it to continue mixing and it will incorporate. Add the vanilla.
After all of the eggs have been added and the mixture is smooth, stop mixing and transfer to a piping bag fitted with a star tip.
Pipe snug spirals onto a silicone mat (my choice) or parchment paper-lined baking sheet that will fit in your freezer.
You can pipe these pretty close to each other, as you will just remove them to fry to finish them off.
Freeze for at least 30 minutes.
To Finish:
Heat oil (at least 2 inches) to 350 F.
When oil is at temperature, remove churros from freezer and fry until golden, about 2 minutes on each side.
Immediately dredge churros in cinnamon/sugar mixture to completely cover.
Remove to paper-lined try to cool.
When cool, scoop ice cream between and enjoy!
More on SouthernFATTY.com!