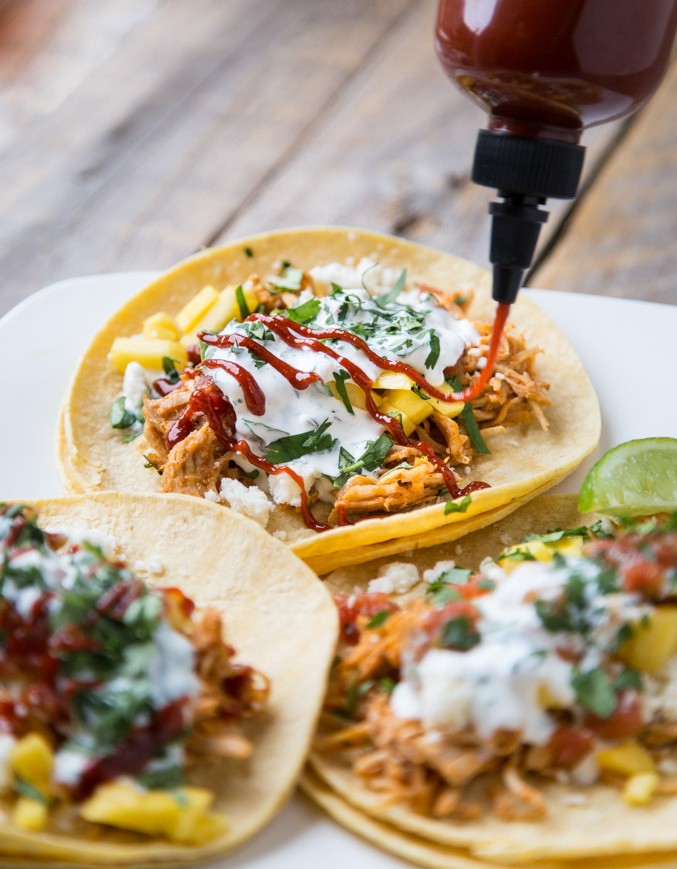 Taco Tuesday… Taco Wednesday… Taco Thursday. Tacos errrrryday! My go-to simple meal when I am too tired (lazy) to put much effort into dinner is to pull out the tortillas. It's ridiculous how quickly you can whip together some delicious tacos and be back on the couch ready to pass out in just minutes. Recently, I've been playing with combining spicy and sweet more often in my test kitchen. These spicy tinga tacos with cool mango topping may just be the very best combo I've found to date.
I have to admit… I do cook all the time at home, but really don't care for all of that jazz when I decide to invite people over. I get super stressed about planning and keeping this warm and that cool and not burning the entire house down and trying to not yell at the guests to get the $@#$! out of my way in MY kitchen… It's just not a pretty sight. At all. (my friends can vouch for every word of this. even the bad ones.)
You may think… "OH! I got invited over to my friend Phillip's place. He's a food blogger and not such a shabby cook. Maybe he'll make me a nice savory soufflé. Maybe Julia's Suprêmes de Volaille aux Champignons. I'm sure he'll end the day with scratch tiramisu."
NOPE. You're gonna get tacos. And by tacos, I mean that I will hand you a plate and point you in the general direction of the kitchen (with the hand that isn't holding my margarita), so that you can build them yourself while I sit and finish taking Instagram pictures of my cats. Don't worry. I did warm the tortillas for you.
The funny thing is that every single time I've done exactly this, it works out like a charm. Everyone can put what they want on and leave what they don't want off, eat as few or as many as they want, and not feel worried about pacing with everyone else's dinner plans. It's casual and so much more inviting.
Invite some pals over while you sit on the couch and have them do all of the work for themselves! — <Julia voice> Bon Appétit, y'all.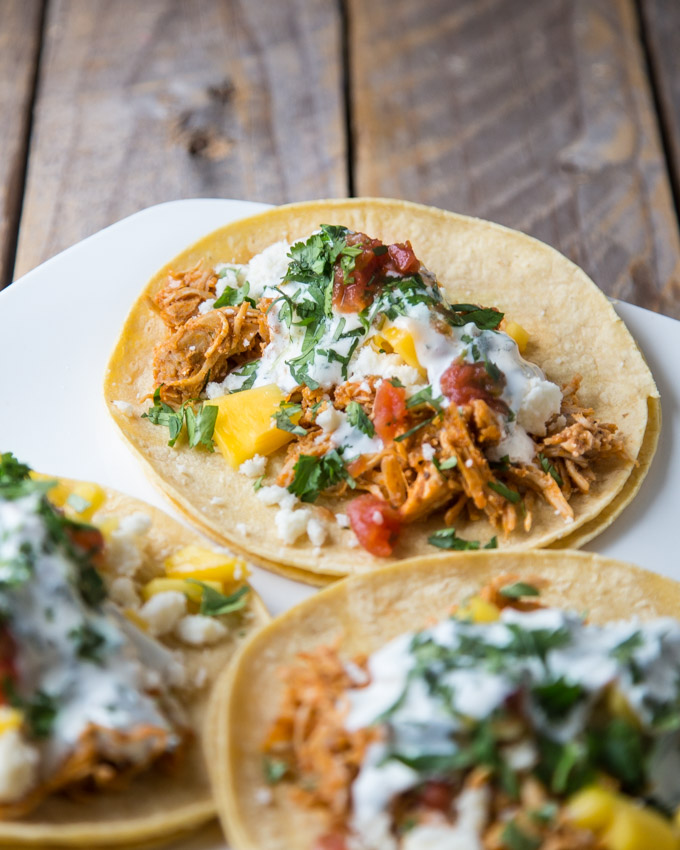 Chicken Tinga Tacos with Mango
Spicy Tinga Chicken Tacos topped with Mango and Cotija
Author:
Phillip Fryman || SouthernFATTY.com
Ingredients
Tinga Chicken
1 lb chicken breast, boneless
2 tablespoons vegetable oil
1 sweet onion, roughly chopped
2 large cloves garlic, roughly chopped
2 tablespoons chipotles in adobo sauce (2 tablespoons sauce +1 of the peppers)
5 Roma tomatoes, seeded and roughly chopped
½ tablespoon oregano
½ teaspoon thyme
1 teaspoon salt
½ teaspoon black pepper
¾ cups chicken broth
Finishing
mango, diced
cotija cheese, crumbled
crema (or sour cream)
corn tortillas
cilantro
pico de gallo
fresh lime juice
Instructions
Boil chicken, remove and shred. Set aside.
Add oil in sauté pan. Sauté onions for 3-4 minutes. Add garlic, tomatoes and cook for another minute or two.
Add chipotle and adobo and seasonings/spices.
Cook until thickened slightly and aromatic, about 5-6 minutes.
Transfer to blender with hot chicken stock.
CAREFULLY blend hot sauce until smooth.
Return to pan over medium-high heat.
Add shredded chicken and cook until thickened.
Double corn tortillas for plating.
Add chicken, top with pico, cilantro, crema, cotija cheese and mango.
Finish with fresh lime juice and enjoy!
More on SouthernFATTY.com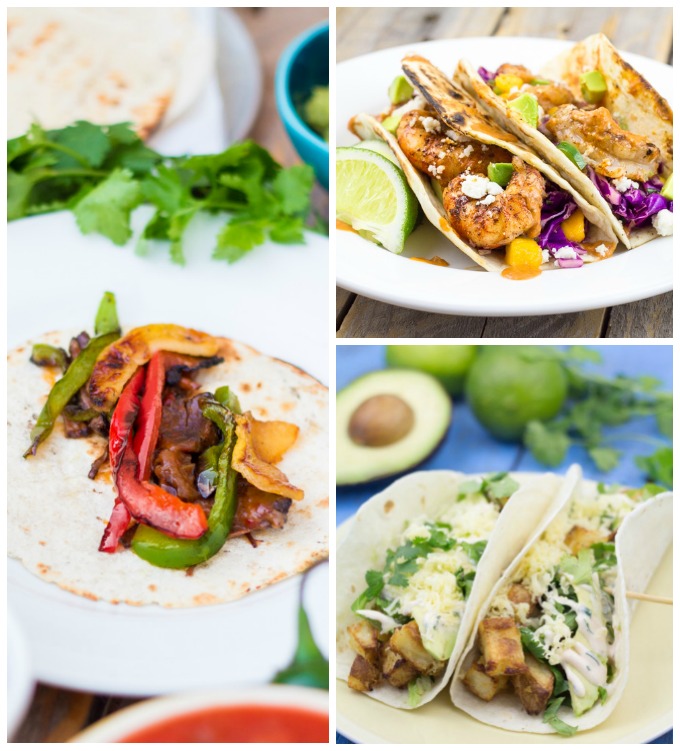 Be sure to check out some of our other taco recipes while you're here!