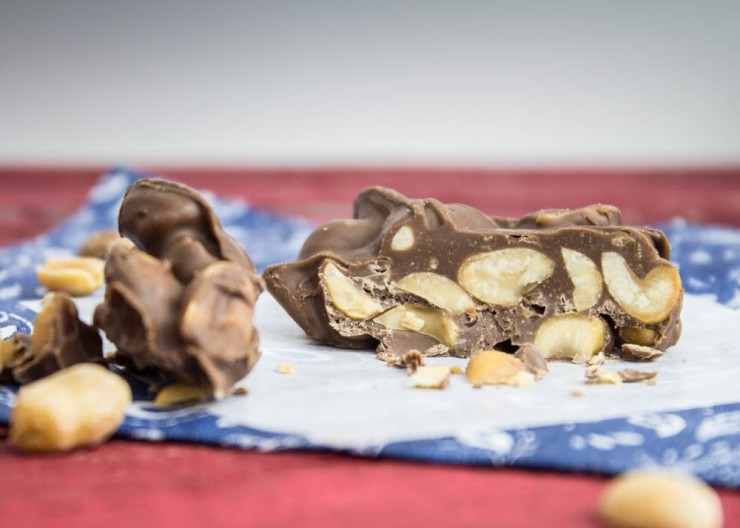 If you need a super quick party treat, this is it! I don't mean super-quick as in 30 minutes. I'm talking 5 minutes. You probably already have everything at home to make them, too. Grab the rest of the bag of milk chocolate chips that you have been snacking on since you last made our lovely cannoli recipe, some peanuts or cashews and you are ready to go!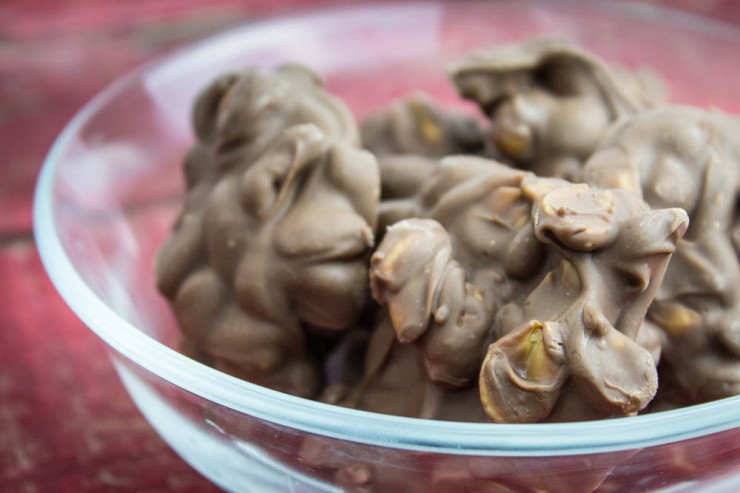 While I have to again admit that I am not much of a chocolate person (I sorta think it tastes like the smell of burned leaves…..), the bit of saltiness that these peanuts gave the chocolate had me enjoying them more than I want to admit. Next time, I think I will try a few different variations. Maybe try to mix some caramel in. Everything is better with caramel, right?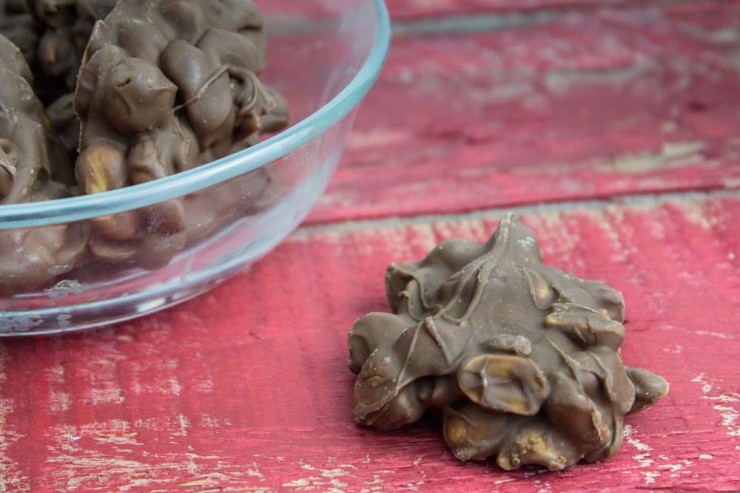 For these, I (sorta) tempered the chocolate. Tempering gives the chocolate a bit of a shine for the finished product. This is normally prevented when you break all of the nice lattice bonds on the chocolate when you heat it. By bringing the chocolate to a certain temperature and letting it cool while mixing in unmelted chocolate, you recreate a nice crystalline matrix that brings back the glimmer of the chocolate. You may be saying… "These don't look all that shiny!". Well… I tempered them slightly. I was rushing a bit, having just made a 4-tier red velvet cake that I possibly had eaten too much of in the process.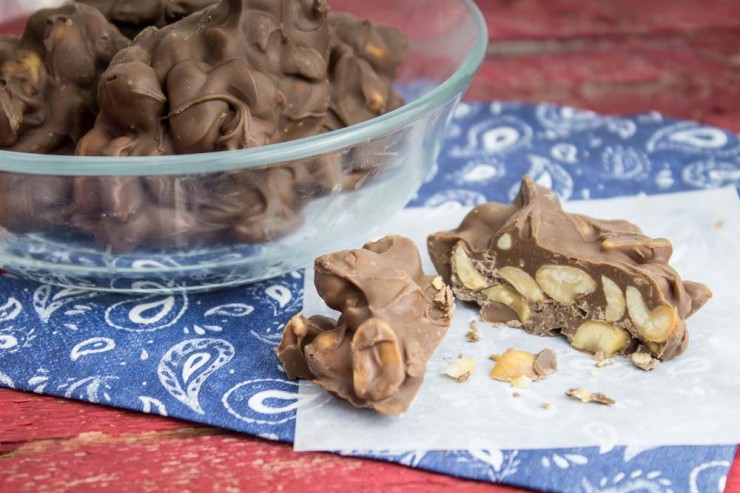 Like I said, the tempering process is completely optional. You can leave it out completely if you just want the mounds of delicious nutty chocolate clusters. It doesn't do anything to change the taste. If you want to give it a go, check out this page for a full tutorial.
Chocolate Peanut Clusters
Simple, quick 5-minute chocolate peanut clusters.
Ingredients
1 package (12 ounces) chocolate chips
4-5 cups nuts of choice (I prefer salted)
Instructions
Prepare baking sheet with paper liner.
In a saucepan (or double boiler), heat about an inch of water until steaming.
Place a heat safe bowl (if not using double boiler) larger than the pan over the steaming saucepan.
Place chocolate chips (only ⅔ of pkg if tempering, keeping other to mix in per linked page instructions above in post) and melt slowly. Stir constantly.
When melted remove from heat and mix in nuts.
Place spoonfuls of mixture on baking sheet and let cool.
Enjoy!
Visit SouthernFATTY.com for more.
What variations of these did you end up making? Pistachio, caramel, …? Let us know!