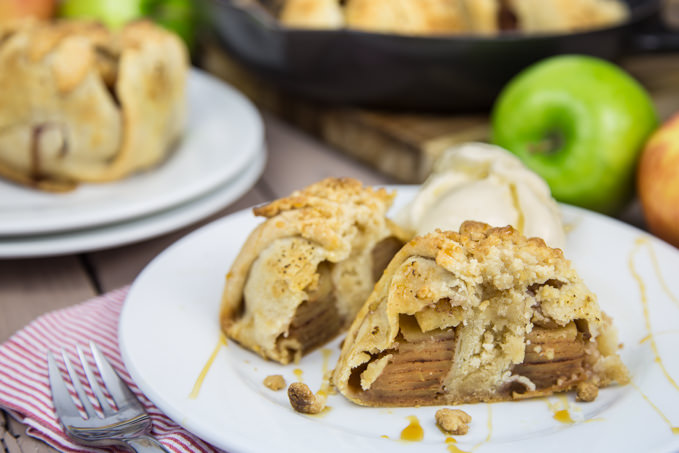 Hot pastry, cold ice cream, warm apples with cinnamon. Y'all know this is where it's at. Instead of the typical apple pie, I decided to make the most out of one of the rare, stuck-at-home snow days in Nashville with a bit of a twist on the classic favorite. Spiraled apples, because obviously that way you can add more cinnamon sugar to the apple, cored to fill with crumbles, wrapped in simple pastry, toped with more crumbles and baked to perfection.
Come at me, miserable winter. I got this.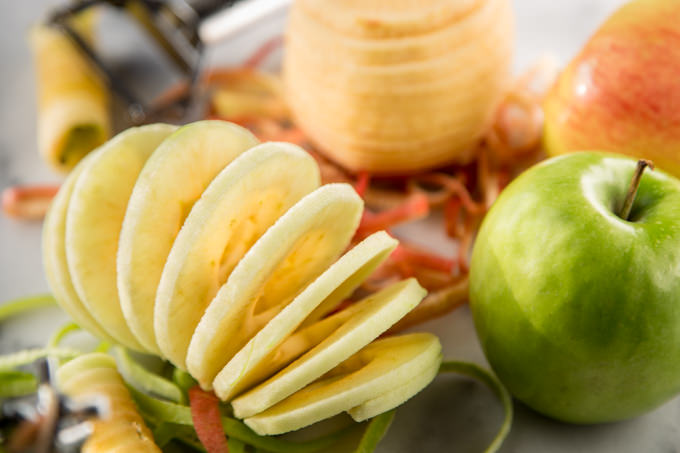 For the past few years, I have found myself at an Apple Festival in Owensboro, KY. Every fall. The annual plan is plain and simple. You arrive early, before everyone else gets there. You wait for the food venders to get their shit together and start serving. Generally, this means that I stand with my arms crossed with a disapproving glare, in hope that they will just open up just a few minutes early to take my money and in return give me a 2k calorie snack. Preferably covered in caramel or whipped cream. To balance things out, there is a pork burger in the mix as well. [Am I needy? Maybe I'm needy…]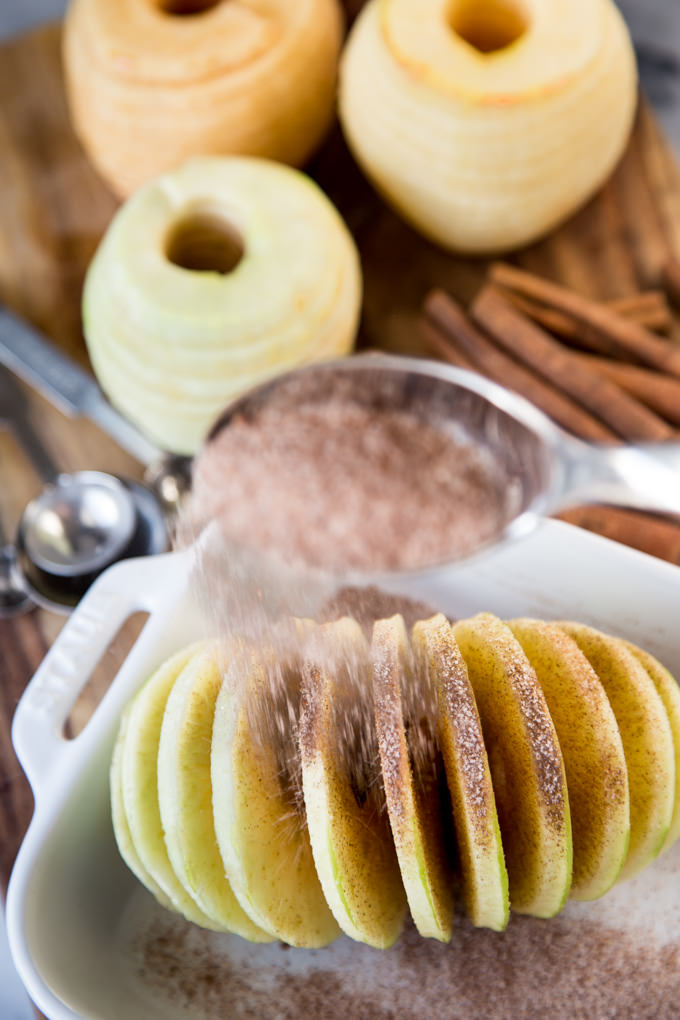 Apple slices with caramel, apple slushies that I can't get enough of (even if it happens to be snowing during Fall — because, Kentucky), caramel apples dipped in nuts, and my all time favorite– apple dumplings. Whole apples wrapped in pastry, served with ice cream and caramel.
For the longest time, I thought these were homemade and fried. They were that good. Sadly, last year I arrived to find boxes of pre-made dumplings being put into little ovens. Maybe I was just memorized by the experience the past few years, maybe they changed up the products to something different (Thanks, Obama). They ended up still being pretty good. I was happy to eat it and feel happily sick afterwards from the sugar-rush. I knew I had to try to recreate them at home.
Thank you snow day! Since Nashville gets ice and snow a couple times a year, which usually melts by noon, the city pretty much came to a standstill last week when we were hit with 8 inches of snow on top of a layer of ice overnight. 70 one day, blizzard the next. After I read through all of the Northerner's tweets and posts about how stupid we all were for being stuck at home, I decided to make this the day that I mastered the dumplings.
I made some with whole apples like I had remembered from the festival. Ehhh. Ok. But that's nothing special. Try again. I pulled out my fancy-schmancy apple cutter thingy. I have zero clue as to what this thing should actually be called. I've had it for a while, but rarely remember to use it. It spiral slices the apples, cores, and peels them all in one swoop. Best $15 I have ever spent. (Other than the dumplings and slushies at the festival last year.)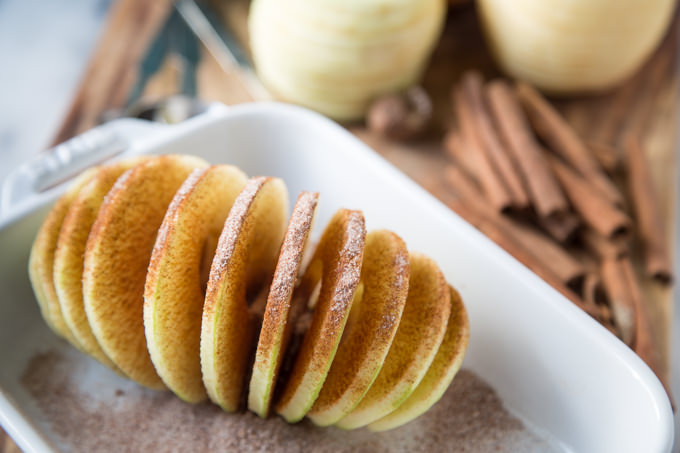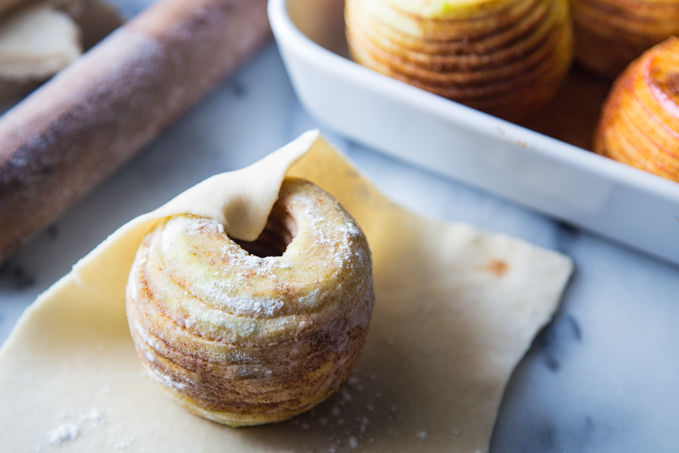 Spiral slicing the apples left me with these really neatly-stacked slices that were still all connected. I knew exactly what this was going to allow me to do. I pulled out the container of cinnamon-sugar, because everyone has a tupperware of that laying around and all, and started to sprinkle pour. Carefully separating the layers allowed me to completely cover the apples. None of that just the outside shit here. All in or nothing! You're going to thank me for this when you cut into this treat and find that the apples are surrounded by caramelized sugar and cinnamon in every. single. bite.
Not only are we layering the cinnamon-sugar, but since we are stuck at home and obviously have nothing better to do (like laundry or something dumb), we're filling the core of the slices with streusel crumble. You know the kind. It's the topping that you pick off of the coffee cake. Stuffed inside, it will turn into a mixed cake-like and crunchy center. A little extra on the top… to help out your muffin tops. Heeeey!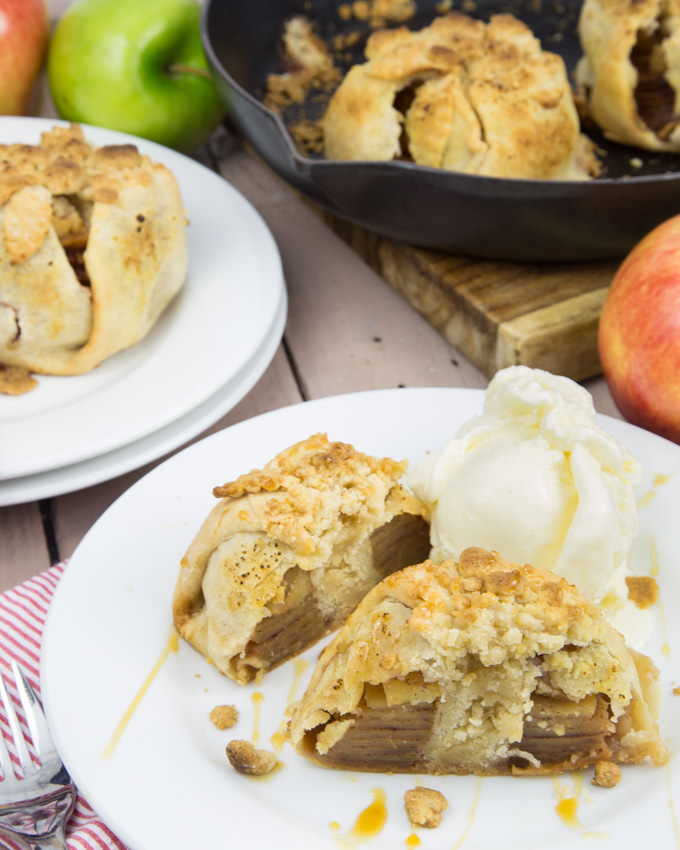 Cover the entire thing in caramel and serve with as much ice cream as you can possibly find. Go ahead and just call into work for the next day. Your "driveway is frozen" and you "live on a hill", or something. You aren't going to feel like working for the rest of the week. Just sit at home and watch Wendy and have yourself a nice fruit breakfast.

Baked Apple Crumble Dumplings
Baked apple dumplings with cinnamon sugar layers, streusel crumble filling and topping, wrapped in a sweet pastry crust.
Author:
Phillip Fryman | SouthernFATTY.com
Ingredients
Crust
1.5 cups flour, AP
1 tablespoon sugar
½ teaspoon salt
½ cup shortening, very cold
3 tablespoon ice water
Apples
4 peeled, cored, spiral sliced apples (I use THIS to cut them easily)
⅔ cup cinnamon-sugar blend, by taste
⅓ cup flour, AP, divided
Streusel Crumble
1 cup flour, AP
½ cup light brown sugar, packed
⅓ cup sugar, white granulated
¼ teaspoon cinnamon
6 tablespoons butter, cut into small pieces
Instructions
Make the pastry crust first:
Whisk the flour, salt, and sugar together.
Add the cold shortening and incorporate with a pastry cutter or quickly by hand until crumbled. Keep cold.
Add water and mix until just combined. Transfer to plastic wrap in a disc and chill for 20-30 minutes.
Apples
While dough is chilling, prepare apples.
Peel, core, and spiral slice apples for best results. I use THIS spiral cutter. I prefer Pink Lady or Honeycrisp apples. Also try Granny Smith for more tart dessert.
Carefully spread layers apart and sprinkle cinnamon-sugar generously into each layer. Sprinkle some of the flour over the apple exterior to allow for moisture retention during baking. Set aside.
Streusel Crumble
Combine all dry ingredients in bowl.
Combine butter with dry ingredients by hand until crumbles form.
Bake and Finish
Pre-heat oven to 350 F.
Bring pastry out of refrigerator. Allow to rest for a couple minutes for easier rolling.
On a floured surface (I prefer a silicone mat on top of a marble pastry board), Divide dough into 4 equal pieces.
Take each piece and roll into a 7.5" x 7.5" square.
Place apple on top, wrapping the corners into the top. Press seams together.
Fill core with crumble. Place more crumble on top.
Brush with melted butter and bake until golden and tender, about 45 minutes. If the tops start to brown too quickly, cover with foil tent.
Enjoy topped with caramel and served with ice cream.
More on SouthernFATTY.com!
Follow along on Instagram for more cats-in-snow pictures!
Oh… and food ones, too.