Chestnut Chocolate Eclairs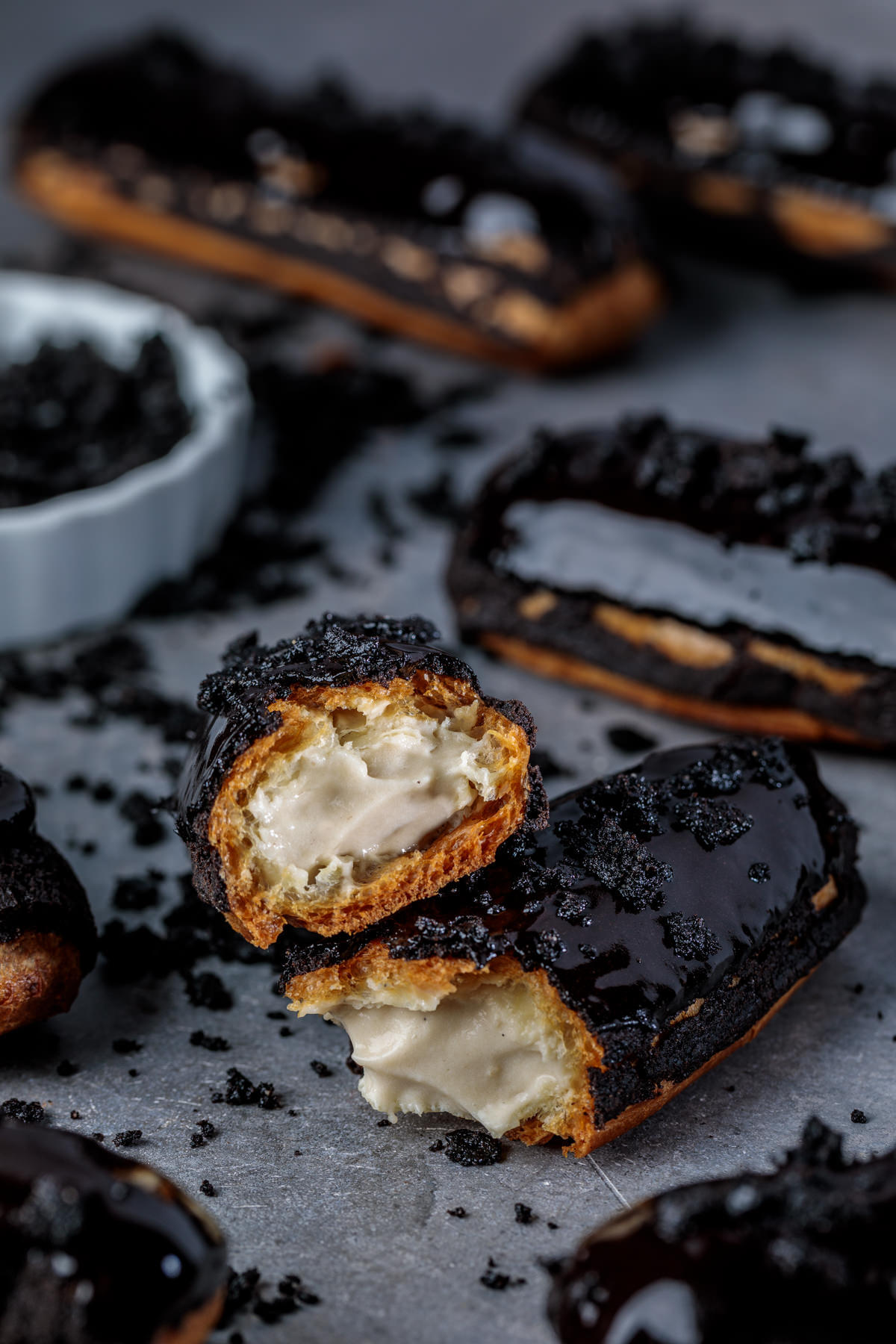 Author:
Phillip Fryman | SouthernFATTY.com
1 recipe choux pastry dough from THIS blog post
500 g milk, whole
50 g chestnut cream (find it here)
3 eggs, whole
70 g sugar, granulated
50 g flour, all-purpose
300 g heavy cream
1 teaspoon vanilla bean paste
¼ teaspoon salt, fine
75 g butter, unsalted, softened
80 g brown sugar, light
80 g flour, all-purpose
20 g Dutch double processed cocoa powder (find it here)
50 g butter unsalted, softened
100 g sugar, granulated
20 g Dutch double processed cocoa powder (find it here)
20 g almond flour
20 g flour, all-purpose
40 g yuzu juice (find it here) (or substitute orange juice)
This recipe may take some time. You can reads ahead and make most of the elements individually before baking the pastry and assembling. -- This recipe requires precision. A kitchen scale will become your best friend. Find one here.
Cream butter and sugar in mixer, about 3-4 minutes.
Add cocoa powder and flour, mixing slowly until fully incorporated.
Wrap as a disc and chill for at least 30 minutes.
Roll out cookie dough between parchment paper to a thin rectangle, about 2mm.
Freeze rolled dough for 15 minutes to aid in cleaner cuts.
Cut 5" x 1½" rectangles from dough. Return cut rectangles to the freezer until ready to bake eclairs.
Mix choux pastry dough from THIS blog post.
Pro tip: If you pipe dough using star tip into long strands you can freeze and then cut them into identically sized 5 inch length pastry. You can make ahead and bake directly from frozen pieces.
Place one 5 inch chocolate cookie craquelin on top of a 5 inch pastry eclair section.
Bake until golden per choux pastry pastry recipe instructions from THIS blog post.
Combine milk and chestnut cream in saucepan over medium heat.
Whisk eggs, sugar, flour in bowl until well-combined.
When milk mixture comes to a boil, remove from heat and add the vanilla bean paste.
Slowly add milk mixture to the egg and flour mix, whisking well.
Return this combined mixture to the saucepan over medium heat to return to boil.
Whisk constantly and cook for 3 minutes once it reaches a gently boil.
Remove from heat and transfer to bowl. Cover and chill.
Using hand mixer or stand mixer, whip whipping cream until stiff peaks.
Fold into cooled pastry cream and return to chill until ready to fill.
Cream butter and sugar in mixer, about 3 minutes.
Add cocoa powder, almond flour, flour. Mix well.
Slowly add the yuzu juice while mixing. Chill the crumb for an hour.
Heat oven to 350 F.
When ready to bake, drop the crunch batter onto a parchment-lined sheet pan in teaspoons, leaving some space around each.
Bake for 10 minutes. The mixture will spread.
Cool completely.
Crush mixture to leave chocolate crunch.
If using leaf gelatin (it is preferred, but powder will also work), soak leaves in cold water for 5 minutes. Squeeze out water. If using powder gelatin, mix in 2-3 tablespoons of cold water.
In saucepan, heat cream and sugar on medium low heat to steaming simmer.
Off of the heat, whisk in cocoa powder and add gelatin, mixing well.
Add chopped chocolate and stir to completely combine.
Ideally, using an immersion blender, blend to smooth. If not, strain well.
Set aside until use. If made ahead, simply chill and then gently rewarm to use.
Fill cooled eclair shells with chestnut cream. I like to use these piping tips.
Dip eclair in chocolate glaze.
Sprinkle chocolate crumble on top before glaze sets.
Enjoy with friends and family!
Find more recipes on SouthernFatty.com.
Tag your bakes with @southernfatty / #southernfatty.
Recipe by
Southern FATTY
at https://www.southernfatty.com/chestnut-chocolate-eclairs/