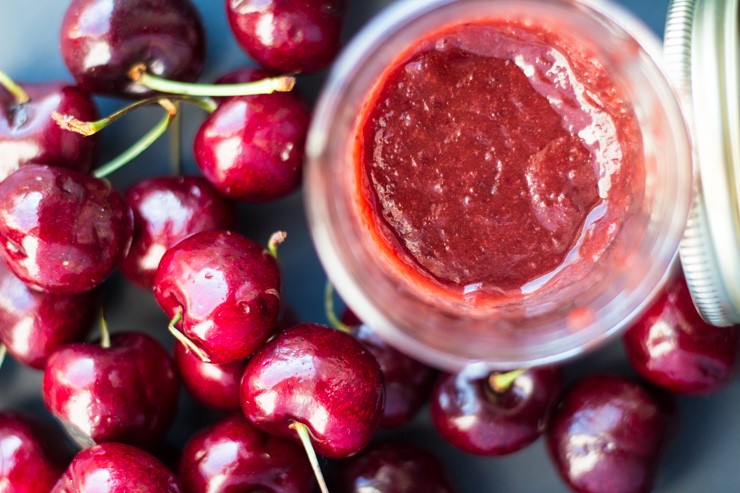 When life gives you cherries….. you make everything that you possibly can out of them!
We've been overrun here in the South with fresh, local cherries. It's nearing the end of their season, so I wanted to get my fix in as much as possible. I had a big pile of cherry pulp leftover after I recently juiced a bunch of these beauties, so making a Homemade Cherry Reduction Sauce seemed like the obvious path.
This is a perfect way to preserve that fresh, cherry flavor all year long. There just isn't a substitute for the real thing. It's great on ice cream, over pork, or if you are anything like me… straight out of the jar.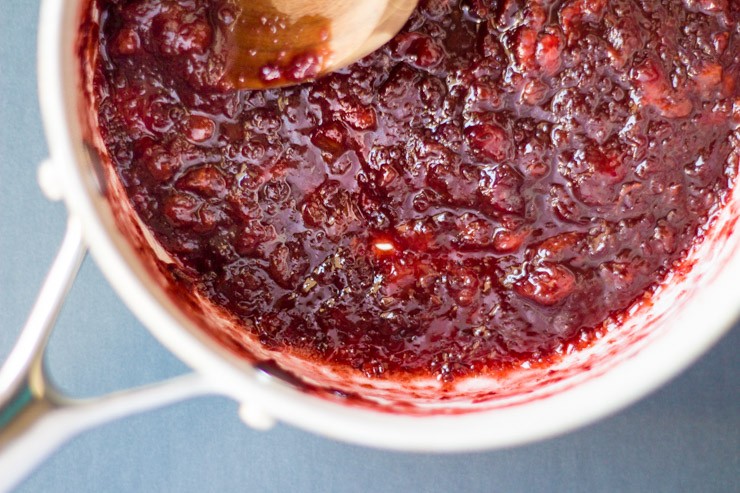 It's pretty amazing how you can turn what you might consider to be leftover from juicing fruits into some absolutely delicious jams or preserves (I suppose that might be why they are called that… who knew?!). This is a bit less jam-like, and more sauce-like. I made this with ice cream in mind. It just so happened that after it was finished, I ended up putting it on everything else. Sweet and savory alike.
Since you are subscribed to our e-mail newsletter *cough, cough*, you'll be the first to see when we put out the recipe for the absolute perfect chilled summer cherry-loaded cocktail soon. After juicing a ton-o-cherries, I had a lot of the pulp left. About 6 inches from the trash bin, I decided that I just couldn't bare tossing them in. I knew I could find a way to extract the flavors that were still holding on in there.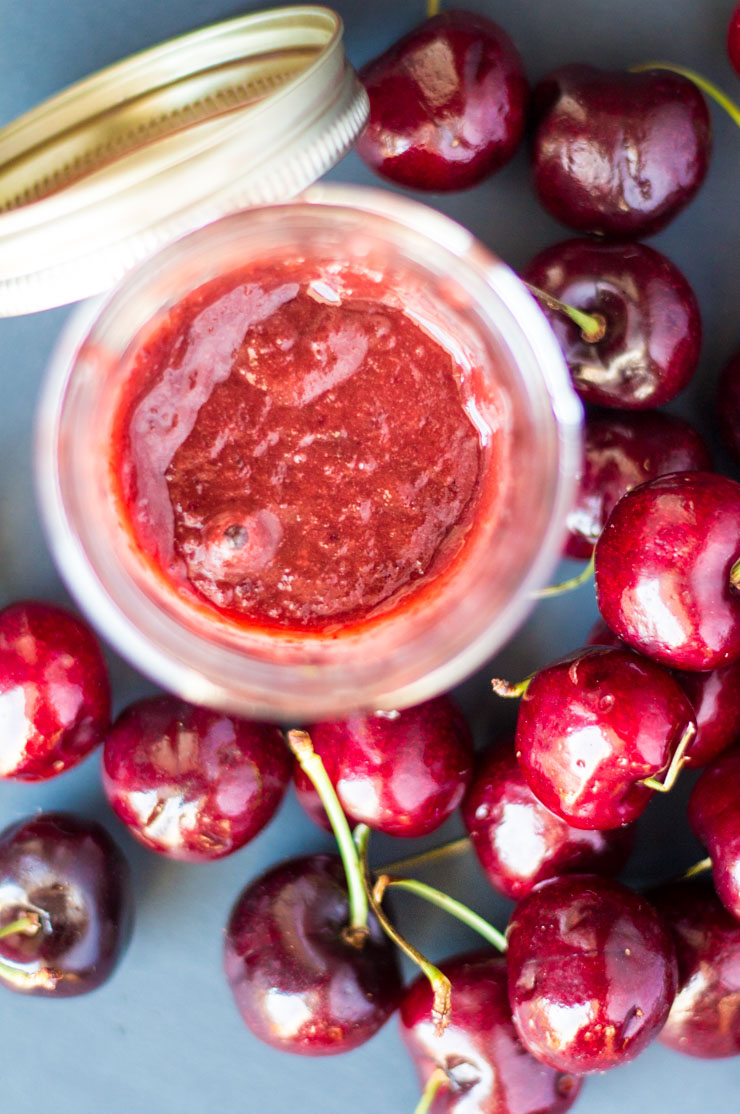 A bit of sugar, water, butta and cornstarch saved my cherry-less fall woes. The butter is the secret to keeping it more of a sauce and less of a jam. Since making this, I've had it on pork tenderloin (!), more ice cream bowls than I care to share with your judging eyes, a few cocktails, and even on a balsamic chicken breast. All were obvious winners.
Now… to go monopolize what cherries may be left around Nashville so I can fill my pantry with this red gold!
Homemade Cherry Reduction Sauce
A super-simple, delicious way to preserve those fresh summer cherries all year long. Homemade cherry reduction sauce. Perfect sauce for ice cream, pork, chicken, etc.
Ingredients
1 cup cherries, fresh, pitted (mine had been juiced already, but you can use them either way)
2 tablespoons sugar
2 tablespoons water
1 tablespoon butter, softened
1 teaspoon cornstarch
Instructions
Combine cornstarch and water and mix well.
Add cherries, sugar, water, butter and cornstarch mixture into saucepan over medium heat.
Bril to a slow boil and reduce to simmer.
Cook for a few minutes to slightly reduce liquid.
Remove and cool.
Enjoy! More on SouthernFATTY.com
Nutrition Information
Fat:
2015 - SouthernFATTY.com
What's your favorite way to preserve summer fruit?