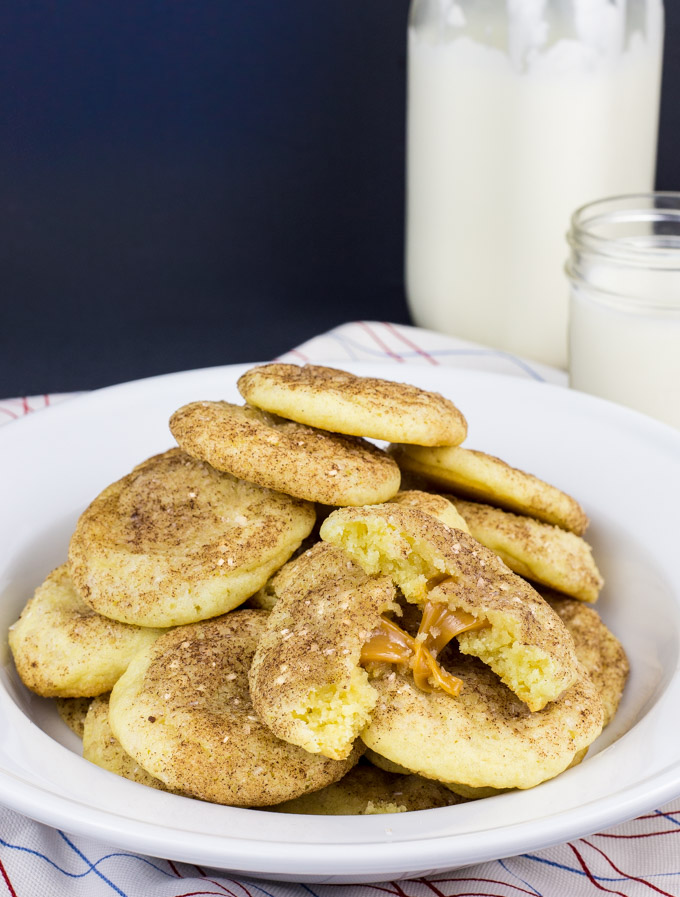 During all of this holiday madness (baking, eating, baking, eating, eating, eating), cookies sometime get a bad wrap. Super-simple, sure. But sometimes they just are under appreciated at the holiday parties. We're going to fix that today.
Caramel Stuffed (you heard me!) Snickerdoodle Cookies for the win.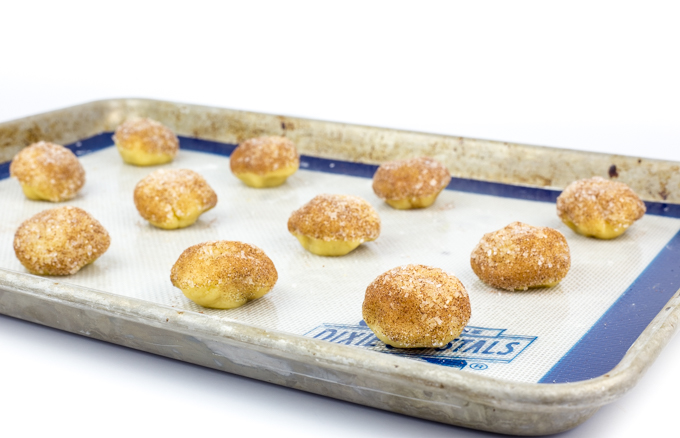 The first time I remember making a basic sugar cookie dough was an absolute disaster. I cooked a lot of random things during college that I was quite proud of, but those were not one of them. I blame finals or something. I remember that they totally turned into piles of butter patties (sounds worse than it was, I think) with chunks (another horrible word) of dough pieces just laying there like they found a shallow public pool to chill in. Just. Horrid.
Luckily for y'all, I've improved upon those baking disaster days and developed the world's best simple snickerdoodle recipe. I know people say everything is the best. These are the best cupcakes you've ever had! This fruitcake is just the absolute best! (said nobody. ever.) I don't think that I use "best" often, but this time it's a go. Save those superlatives for when they really matter, y'all.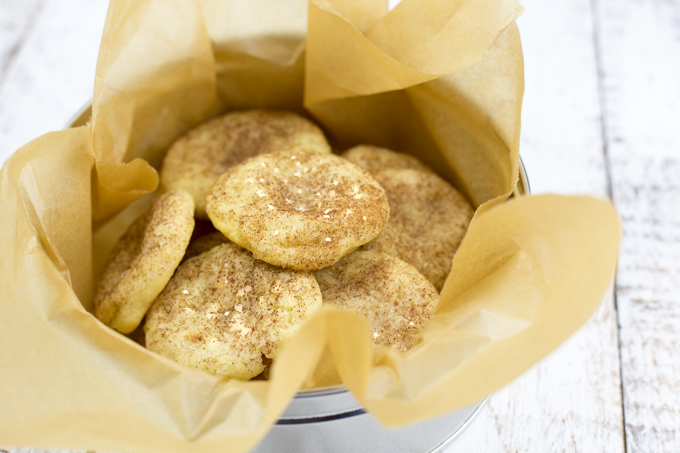 Packed full of butter (actually incorporated properly this time) and simple ingredients, rolled in cinnamon + finishing sugar, because you neeeeeeed that crunch, these are soft and chewy and just everything perfect in a sn'doodle. [Speaking of doodles, I wouldn't mind someone sending me a goldendoodle, please. Be sure to put holes in the box when you mail it.]
I starting planning these out when a friend / fellow local Nashville blogger, Lindsey of Love & Olive Oil, and her bestestest friend Julie from The Little Kitchen hosted their annual charity cookie event, the Food Blogger Cookie Swap. I've participated in this before (with Cornflake Cookies — my ultimate favorite cookie), and it's a great way to share and receive some deeeelicious cookies from fellow blog buddies around the country.
My cookies were shipped over to Erin of Zen & Spice, Stephanie form The Tiptoe Fairy, and Renee of Married and Hungry.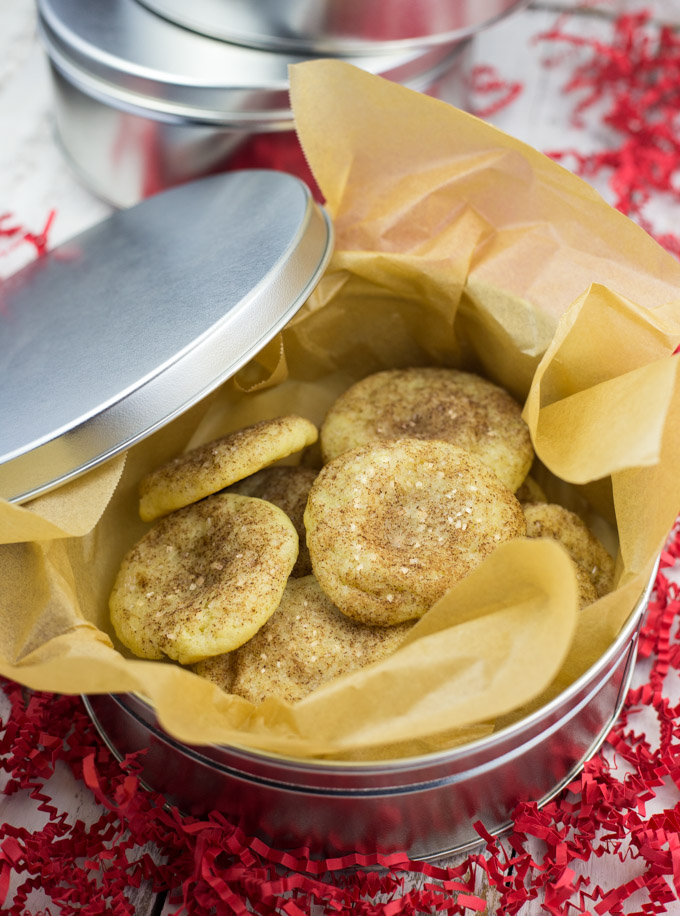 All of the participating blogs donate a little cash money to the Cookies for Kids' Cancer group. A lot of you know, but I work at a local University as a cancer research biologist as my 9-5. I see the need for additional funding in this field on a daily basis in a very personal way. It's great to see something as simple as some cookies and a bit of butter by bloggers to give back a bit during the holiday season.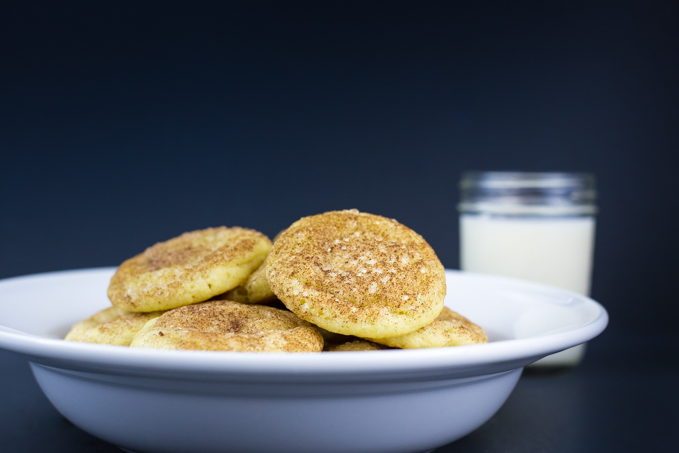 Set a few of these out for Santa. Don't go crazy or anything. Just a couple is all he needs. The rest you're going to want to keep.
I pop these in the microwave for 5-6 seconds and forget about all of the troubles in the world. Everything is perfect when you have a snickerdoodle cookie with creamy caramel in the middle. Everything.
Happy holidays, y'all!
Caramel Stuffed Snickerdoodle Cookies
Classic sugar cookie recipe with a twist. Snickerdoodle cinnamon-sugar topping with a smooth, melted caramel center. More on SouthernFATTY.com!
Ingredients
Sugar Cookie Base
1 cup (230g) butter, softened
1 and ⅔ cup (330g) sugar, white granulated
1 egg
2 cups (250 g) flour, AP
½ teaspoon (11g) salt
½ teaspoon baking powder
⅛ teaspoon nutmeg, freshly ground
1 teaspoon vanilla bean paste or extract
caramels (store-bought or homemade)
Finishing
cinnamon, ground
finishing sugar
Instructions
Pre-heat oven to 350 F / 180 C.
Cream butter in mixer until light.
Add sugar and mix until combined and smooth.
Mix in egg until fully incorporated.
Combine and sift or whisk all dry ingredients.
Add in small batches and mix until fully combined.
Mix in vanilla.
Optionally, chill the dough for better shaped cookies.
Use a small scoop, get a ball of dough (about 20g) and press caramel into center. Roll until smooth.
Press one half of the cookie into the cinnamon/sugar mix well. Cover an entire half of the ball.
Place on prepared pan with bare side down.
Bake until lightly golden around bottoms, about 10 minutes.
Cool and enjoy! - Best enjoyed warm. Heat momentarily for 5-6 seconds in microwave of soften caramel before enjoying cold cookies.
More on SouthernFATTY.com
Notes
2015 - SouthernFATTY.com