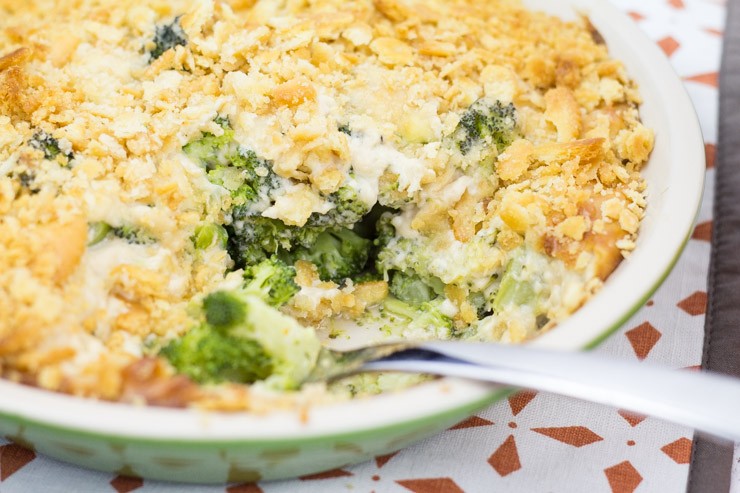 It's freezing outside! Like… don't stick your tongue to the pole kinda freezing.
There is really only one way to solve that: casseroles.
Casseroles are to the South like lettuce and hot yoga is to California. I'm going to show you my favorite simple, cheesy Broccoli Casserole recipe.
Casseroles are incredibly popular around these parts. I'm talking like pretty string wrapped around mason jars of treats kinda popular (#BloggerJoke). Maybe it's because you can throw them together ahead of time and just pop it in the oven when you are ready to have it. Maybe because they almost always freeze incredibly well. Possibly because they feed a million people without much effort. Whatever the reason, they never disappoint. If you asked me what my favorite comfort foods were, several casseroles would be on the top of the list.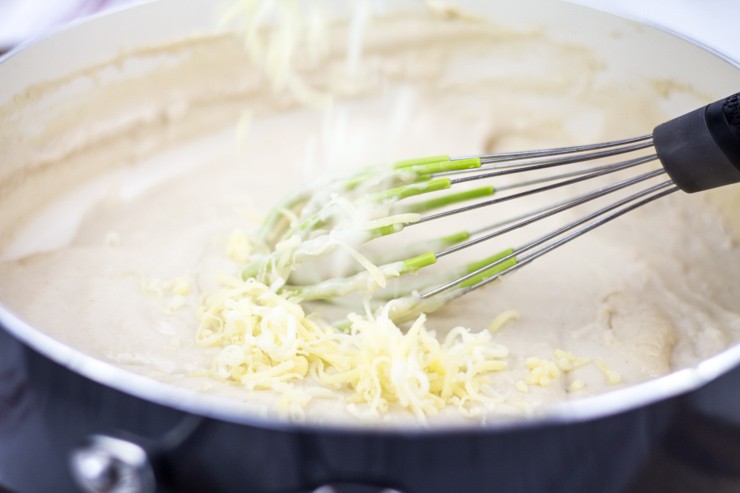 I think a big reason why so many people love a good casserole is that around here, just about every one of them includes an insane amount of Southern gold– cheese. A good ol' roux-based béchamel cheese sauce would make a piece of cardboard taste delicious. Not to mention, they are so incredibly simple to whip up. You probably have everything to make this base sauce already in your pantry.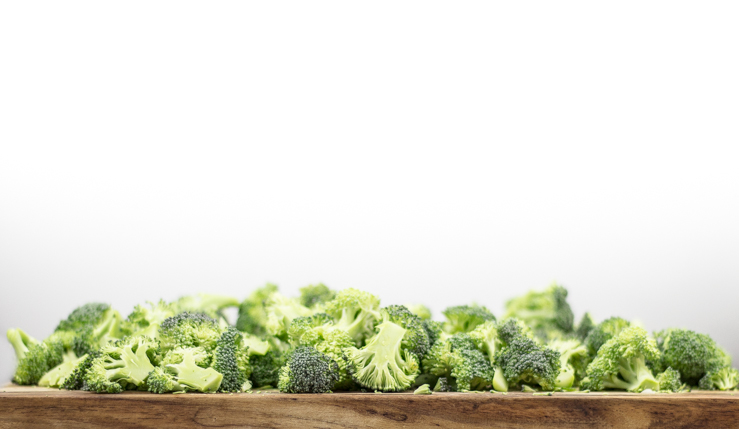 Let's talk veggies. Broccoli is one of those odd things that most people learn to love but grew up hating. Sorta like Brussels sprouts (although, that train never caught up with me… Did you realize they were called Brussels sprouts and not brussel sprouts? Had no idea!). Back to the broc–
I prefer to use fresh, unfrozen broccoli for this casserole. I have found that the frozen variety of these miniature dwarf little trees ('cause that's really what they are) will result in too much water. Who wants to water down that deliciously creamy, smooth cheese sauce?! Nobody. That's who.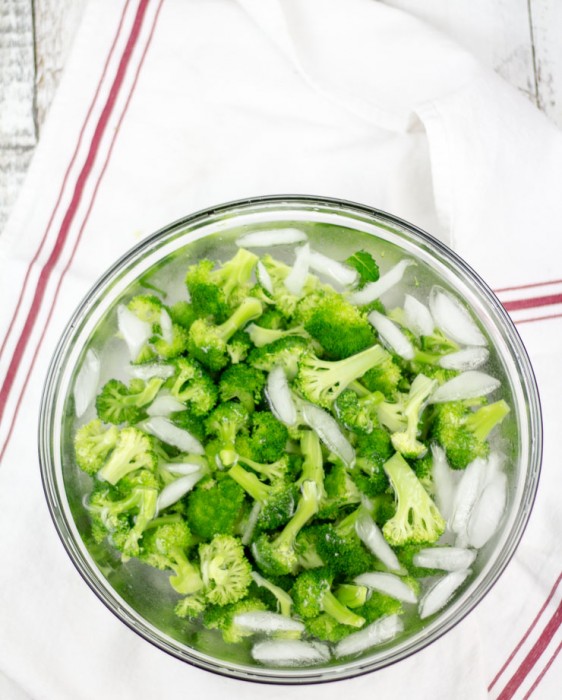 Once you blanch the broccoli, you will want to flash it. After you get your top back down, throwing the veggies into cold water (shocking) will stop the cooking process so you don't end up with a baby food casserole. It also keeps that beautifully vibrant color alive. There's nothing worse than a squishy, textureless casserole. Except maybe for the Kardashians…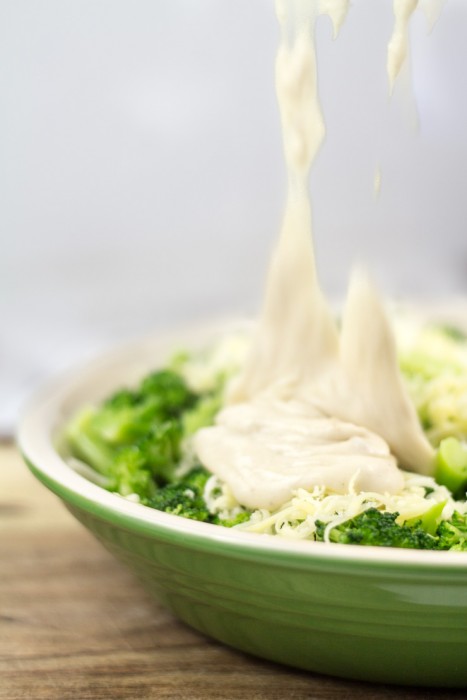 So you've cooked your miniature forrest. You've left enough cheese sauce in the pan from your "taste testing". Time for assembly.
Dump it all together. Now… well. That's it, really. Restrain yourself from eating every single buttery Ritz cracker and move to the topping stage. Do not pass go. Do not collect $200.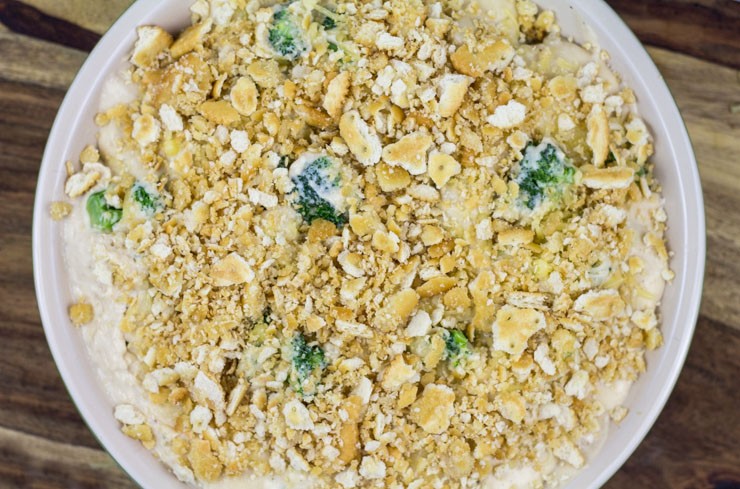 Hot damn! That's what you wanna see, right? Another solid staple of Southern casserole cookin' is that just about every casserole taste a million billion times better with Ritz on top. Buttery, flaky, crunchy texture is a must to balance the creamy, cheesy base. You just can't go without it. You can, however, add more Ritz than you think will possibly fit on top. For good measure, we'll add a bit of butter when we are finished. For color sake, ya know…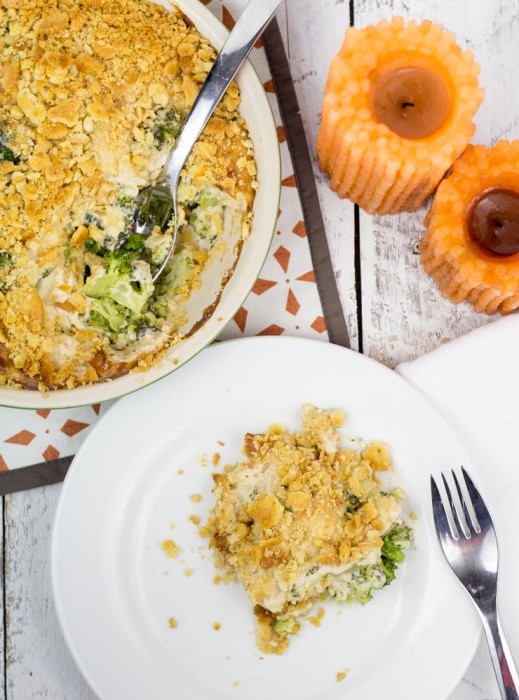 Please. Please. Stop clapping, folks. You too can make this happen at home. *holds up and features casserole with hand wave underneath*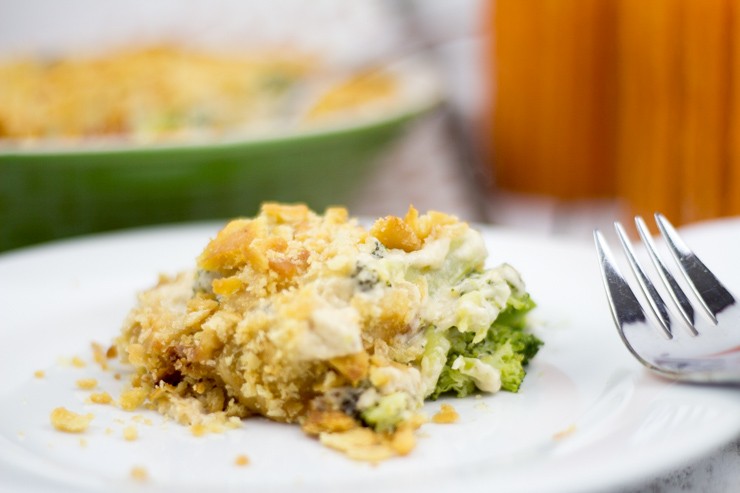 I've made this staple recipe my entire dinner more times than I care to admit. It's just good warm-you-up and make you feel happy kinda comfort food. I suppose it probably isn't as bad for you as I imagine it is. Nothing can be all that bad with vegetables as the main ingredient. At least that's what I'll keep telling myself…
This is a perfect meal to prepare and keep in the freezer for a chilly day or for when that friend that show up without warning pops in the door. That's assuming that you haven't totally demolished it before-hand… Enjoy!
Broccoli Casserole from Scratch
Delicious, homemade from scratch broccoli casserole recipe from SouthernFATTY.com.
Ingredients
5 cups broccoli, florets cut into pieces
4 tablespoons butter + 1 tablespoon butter, both unsalted
½ onion, diced
1 clove garlic, minced
4 tablespoons flour
1 plus ½ cup half & half (or whole milk, alternatively)
½ teaspoon salt
¼ teaspoon black pepper
⅛ teaspoon cayenne pepper (pinch)
1 cup cheddar cheese, shredded
1 cup monterey jack cheese, shredded
½ cup sour cream
2 cups Ritz crackers, crushed
Instructions
Preheat oven to 375 F.
Boil water in large stockpot.
Add broccoli and boil for 3-4 minutes until softened (knife should pass) but still firm.
Immediately remove broccoli, drain, immerse in ice water for a few minutes to stop cooking process and retain color.
Drain well and set aside.
In saucepan, melt 4 tablespoons butter over medium heat.
Cook onions, about 5 minutes until softened. Add garlic and cook for about a minute more.
Mix in flour and whisk constantly. Cook and stir until lightly browned and aromatic.
Slowly add in half & half (or milk), whisking continuously to make sure it combines well.
Add cayenne, salt, pepper.
Cook roux until thick, about 5 minutes. It should easily coat the back of a spoon when ready.
Lower heat to medium-low.
Add half of cheeses and mix until melted.
Mix in sour cream.
Heat to thicken.
In rounded dish (or square casserole dish), add broccoli.
Pour cheese sauce over broccoli. Mix slightly, if necessary.
Top with remaining cheese and crackers. Chop remaining 1 tablespoon of butter and place on crackers.
Bake until golden and bubbly, about 30 minutes.
Enjoy! -- SouthernFATTY.com for more.
Notes
2015 - SouthernFATTY.com
What's your favorite craveable casserole? Comment below!