Broccoli Casserole from Scratch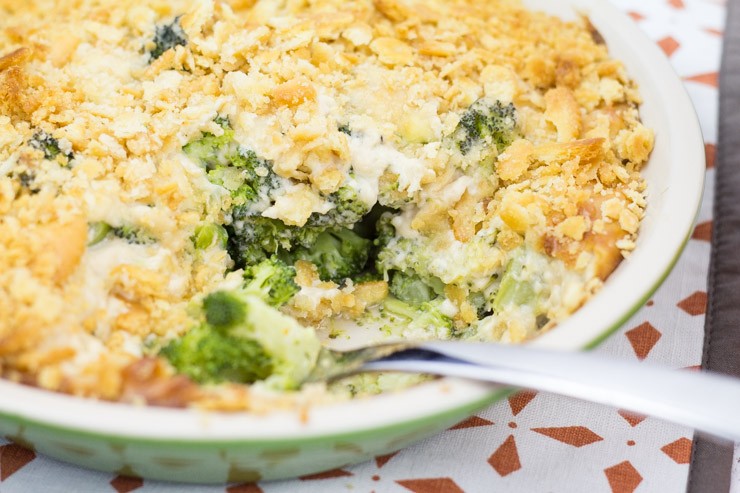 5 cups broccoli, florets cut into pieces
4 tablespoons butter + 1 tablespoon butter, both unsalted
½ onion, diced
1 clove garlic, minced
4 tablespoons flour
1 plus ½ cup half & half (or whole milk, alternatively)
½ teaspoon salt
¼ teaspoon black pepper
⅛ teaspoon cayenne pepper (pinch)
1 cup cheddar cheese, shredded
1 cup monterey jack cheese, shredded
½ cup sour cream
2 cups Ritz crackers, crushed
Preheat oven to 375 F.
Boil water in large stockpot.
Add broccoli and boil for 3-4 minutes until softened (knife should pass) but still firm.
Immediately remove broccoli, drain, immerse in ice water for a few minutes to stop cooking process and retain color.
Drain well and set aside.
In saucepan, melt 4 tablespoons butter over medium heat.
Cook onions, about 5 minutes until softened. Add garlic and cook for about a minute more.
Mix in flour and whisk constantly. Cook and stir until lightly browned and aromatic.
Slowly add in half & half (or milk), whisking continuously to make sure it combines well.
Add cayenne, salt, pepper.
Cook roux until thick, about 5 minutes. It should easily coat the back of a spoon when ready.
Lower heat to medium-low.
Add half of cheeses and mix until melted.
Mix in sour cream.
Heat to thicken.
In rounded dish (or square casserole dish), add broccoli.
Pour cheese sauce over broccoli. Mix slightly, if necessary.
Top with remaining cheese and crackers. Chop remaining 1 tablespoon of butter and place on crackers.
Bake until golden and bubbly, about 30 minutes.
Enjoy! -- SouthernFATTY.com for more.
Recipe by
Southern FATTY
at https://www.southernfatty.com/broccoli-casserole-from-scratch/