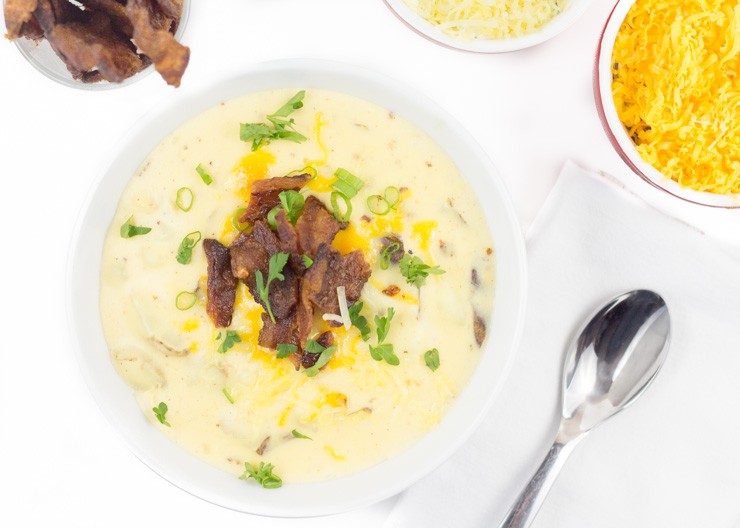 You know those days when you just need to carb up and calm down? Ya. Those days.
This is the answer: Loaded Potato Soup. Creamy, cheesy, bacony (ya. it's a thing.), warm comfort in a bowl that mimics your favorite spud side.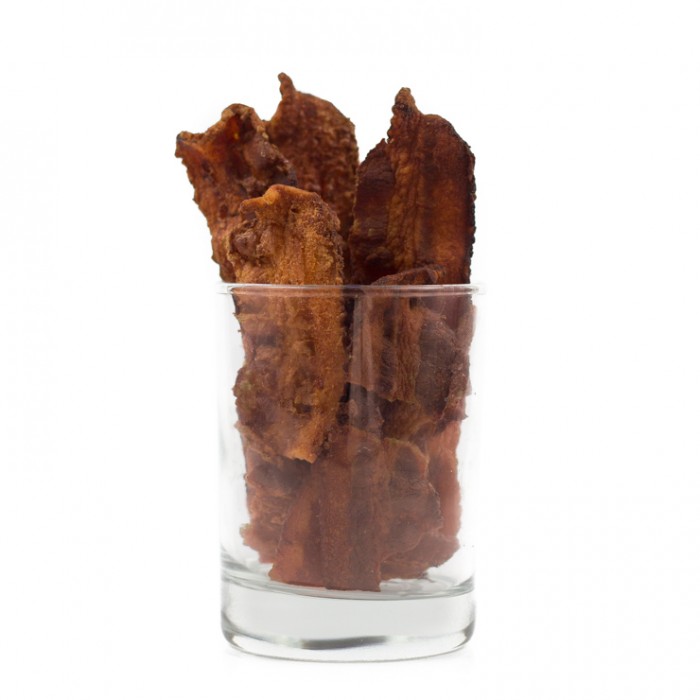 I'm not even going to ramble on about this and that and whatever. At least not before I discuss (read: drool over) this bacon. CRISPY bacon, of course. There is nothing I hate more than a greasy, floppy bacon (except maybe when they place it in an "x" on a burger. HELLO?! It doesn't cover it all that way!). Bacon is meant to be cooked so that every little bit of fat and salty deliciousness is crunchy and perfect.
To get perfect bacon (every. single. time.), I jump to my go-to bacon bakin' technique. Bacon laid on a foil covered sheet pan (with sides) into a cold oven. On at 425 F and wait 20-25 minutes. Remove, drain, obsess over and put on everything.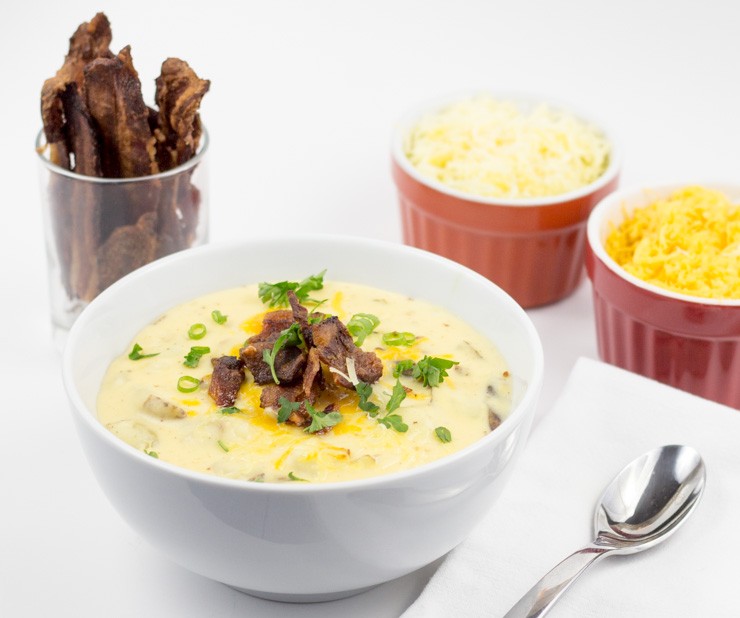 The creamy soup base with the soft potatoes and cheese (!) is the absolute perfect combo for this haaaaarrible winter weather. I make a big pot and just freeze it to reheat when the snow starts falling.
Load up with some cozy comfort soup. You won't regret this one. Enjoy!–
Loaded Potato Soup
Deliciously creamy, homemade loaded potato soup by SouthernFATTY.com.
Ingredients
1 and ½ pounds potatoes (any variety works fine), cubed
3 tablespoons butter
3 tablespoons flour
½ cup shallots, diced
1-2 cloves garlic, minced finely (1-2 teaspoons)
4 cups half and half (whole milk works, but not as well)
½ teaspoon hot sauce (eg: Tobasco)
1 teaspoon jalapeño juice (juice from can of jalapeños)
8 oz Velveeta, softened/melted (microwave for 30 seconds and stir)
1 cup cheddar, shredded, divided into (2) ½ cup portions
½ cup Monterey jack, shredded
salt/pepper/white pepper, to taste
¼ teaspoon garlic powder
bacon, crispy (see blog post for baking details)
chives, to finish
Instructions
Cook potato cubes until cooked through, but still somewhat firm. A knife should pass but not tear the potatoes apart. Boil and drain to cook, or microwave in plastic-wrapped container.
In a large pot (Dutch oven works perfectly), add butter over medium heat.
When melted, add shallots and cook for 3-4 minutes. Add garlic.
Add flour and whisk constantly until light brown, about 3-4 minutes.
Slowly add half and half, still stirring to smooth completely.
Cook for a few minutes to thicken this roux.
Add Velveeta cheese.
Add potatoes to base. Add ½ cup cheddar and Monterey jack.
Mix in hot sauce, jalapeño juice, a bit of salt and pepper (both black and white pepper is best) and garlic powder.
Decrease heat to low/medium-low and simmer until thickened, about 30 minutes.
Serve topped with remaining cheddar cheese, bacon, chives.
Enjoy! More on SouthernFATTY.com.
Notes
2015 - SouthernFATTY.com
What's your favorite winter warm-up recipe? Comment below!