Blackberry Bourbon Cupcakes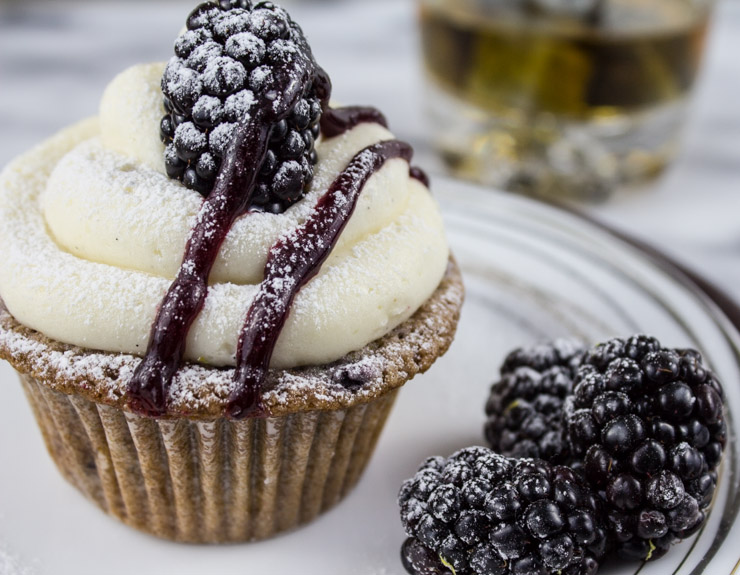 2½ cups cake flour (Easily make by replacing 1 tablespoon per cup of AP flour with cornstarch, sift together several times)
1½ tablespoons baking powder
1 teaspoon salt
1 and ⅓ cups sugar
⅓ cup milk (or buttermilk)
6 eggs, whites only
12 tablespoons butter, unsalted - room temp.
blackberries, 12 ounces
½ to 1 cup sugar, adjust by personal taste
½ lemon, juice and zest
6 tablespoons flour
1 cup milk
1 cup vanilla sugar, fine/caster (granulated sugar in food processor until more fine)_
1 cup butter
1 teaspoon vanilla extract (clear works best) (Use good brand. Like Rodelle)
1 vanilla bean (alternatively add additional 1 teaspoon vanilla extract if omitting bean pulp)
2 tablespoons bourbon or whiskey
If you do not have cake flour, make it! For every 1 cup all-purpose flour, remove one tablespoon flour and replace with one tablespoon cornstarch. Sift together very well, several times.
Preheat oven to 375 F.
Combine dry ingredients: cake flour, salt, baking powder. Sift well and set aside.
Place butter and sugar in mixer. Mix on medium speed for 2-3 minutes until combined and smooth, fluffy.
Mix egg whites and milk in bowl. Whisk until combined. Set aside.
Slowly mixing butter/sugar combination in mixer, add ⅓ of the dry ingredients that were sifted together.
Slowly add milk/egg mixture in 2-3 batches. Ensure mixed well before adding more.
Add remaining dry ingredients and mix until combined. Scrape bowl sides and mix for a few more seconds.
Fold in part of the blackberry glaze (below). I prefer to not mix this very well, leaving patches of puree in mix.
Fill cupcake liners with mixture (halfway).
Bake 15-20 minutes. Check for toothpick to come out clean.
Remove and let cool completely.
Mix blackberries, sugar and lemon juice and zest in small saucepan. Heat over medium heat until berries start to burst. Remove from heat and cool.
Push mixture through strainer/sieve with spatula to remove seeds.
Combine flour and milk in saucepan over medium heat.
Stir constantly until reduced and thick. Look for a paste-like consistency. Stop when you can see the bottom of the pan remain when stirring through mixture.
Remove and cool (ok to refrigerate and stir to speed up).
Cream butter and vanilla sugar 2-3 minutes until creamed and fluffy.
Add flour mixture and mix at medium/medium-high speed until mixed thoroughly. _(Highly recommend the beater blade. It does an amazing job incorporating air and making fluffy frosting.)
Mix in vanilla extract and bourbon/whiskey.
Pipe frosting on cupcakes, decorate with additional blackberry glaze and whole blackberry.
Enjoy! Visit SouthernFATTY.com to tell us how you made them your own!
Blackberry Bourbon Cupcakes | SouthernFATTY.com
Recipe by
Southern FATTY
at https://www.southernfatty.com/blackberry-bourbon-cupcakes/