Baked Apple Crumble Dumplings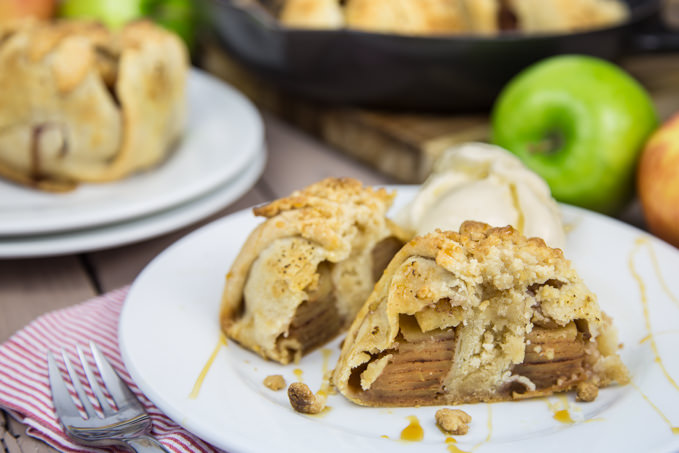 Author:
Phillip Fryman | SouthernFATTY.com
1.5 cups flour, AP
1 tablespoon sugar
½ teaspoon salt
½ cup shortening, very cold
3 tablespoon ice water
4 peeled, cored, spiral sliced apples (I use THIS to cut them easily)
⅔ cup cinnamon-sugar blend, by taste
⅓ cup flour, AP, divided
1 cup flour, AP
½ cup light brown sugar, packed
⅓ cup sugar, white granulated
¼ teaspoon cinnamon
6 tablespoons butter, cut into small pieces
Whisk the flour, salt, and sugar together.
Add the cold shortening and incorporate with a pastry cutter or quickly by hand until crumbled. Keep cold.
Add water and mix until just combined. Transfer to plastic wrap in a disc and chill for 20-30 minutes.
While dough is chilling, prepare apples.
Peel, core, and spiral slice apples for best results. I use THIS spiral cutter. I prefer Pink Lady or Honeycrisp apples. Also try Granny Smith for more tart dessert.
Carefully spread layers apart and sprinkle cinnamon-sugar generously into each layer. Sprinkle some of the flour over the apple exterior to allow for moisture retention during baking. Set aside.
Combine all dry ingredients in bowl.
Combine butter with dry ingredients by hand until crumbles form.
Pre-heat oven to 350 F.
Bring pastry out of refrigerator. Allow to rest for a couple minutes for easier rolling.
On a floured surface (I prefer a silicone mat on top of a marble pastry board), Divide dough into 4 equal pieces.
Take each piece and roll into a 7.5" x 7.5" square.
Place apple on top, wrapping the corners into the top. Press seams together.
Fill core with crumble. Place more crumble on top.
Brush with melted butter and bake until golden and tender, about 45 minutes. If the tops start to brown too quickly, cover with foil tent.
Enjoy topped with caramel and served with ice cream.
More on SouthernFATTY.com!
Recipe by
Southern FATTY
at https://www.southernfatty.com/baked-apple-crumble-dumplings/