Two favorite fall recipes combined into one delicious bite. Crispy brandy snaps, a simple caramel shell, filled with rich apple pie filling. Finished with a dip in cinnamon sugar, this recipe is possibly my new favorite for the season.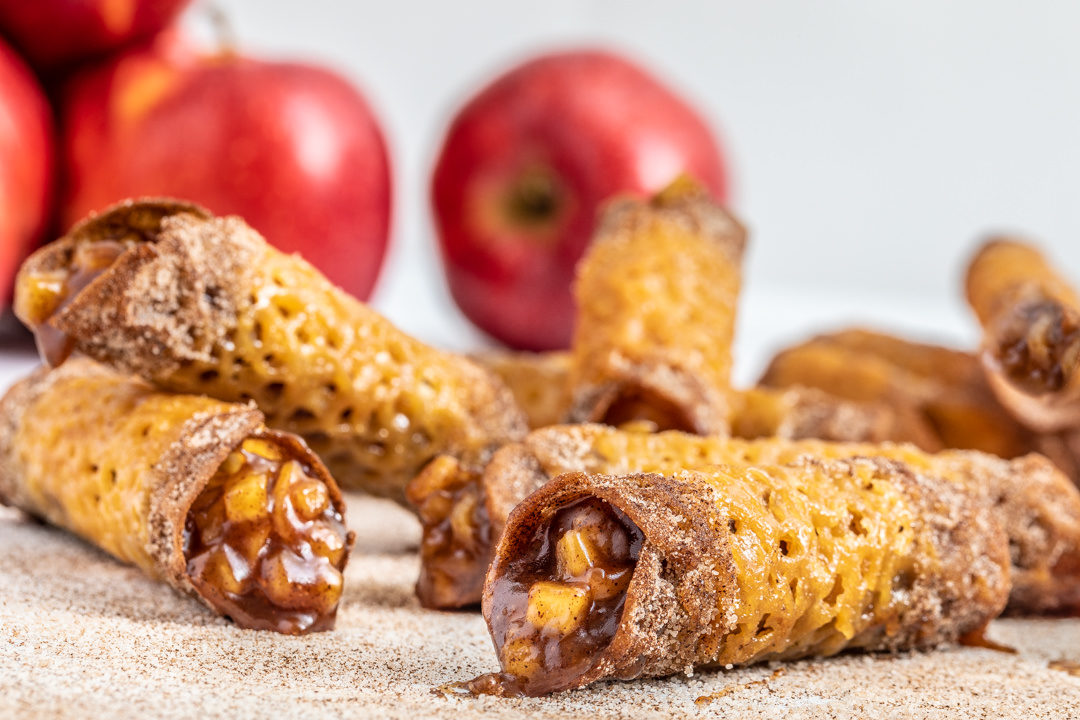 Sometimes you finish baking something and just have to step back for a moment and enjoy how amazing the results are. I can't tell you all how excited I am for this one. — In-season apples from my local Kroger grocery store are the base to a perfectly warm and rich apple pie filling, surrounded by a crispy caramel brandy snap shell. Finished with a dip in cinnamon sugar, this mashup is my new fall fav.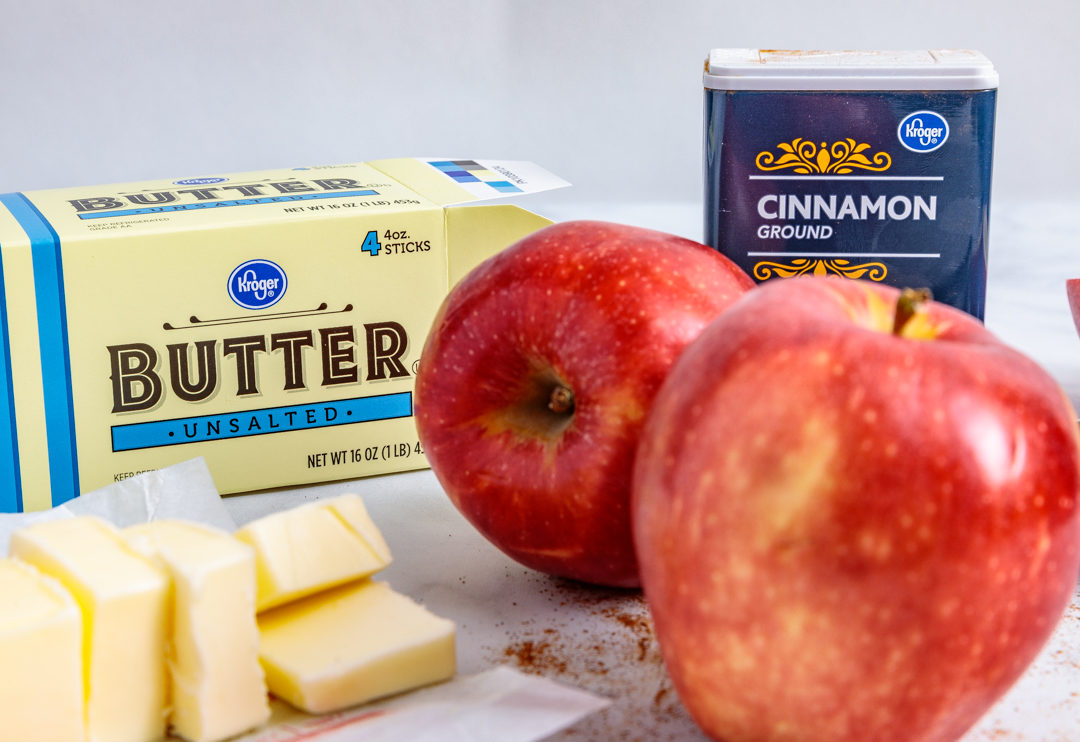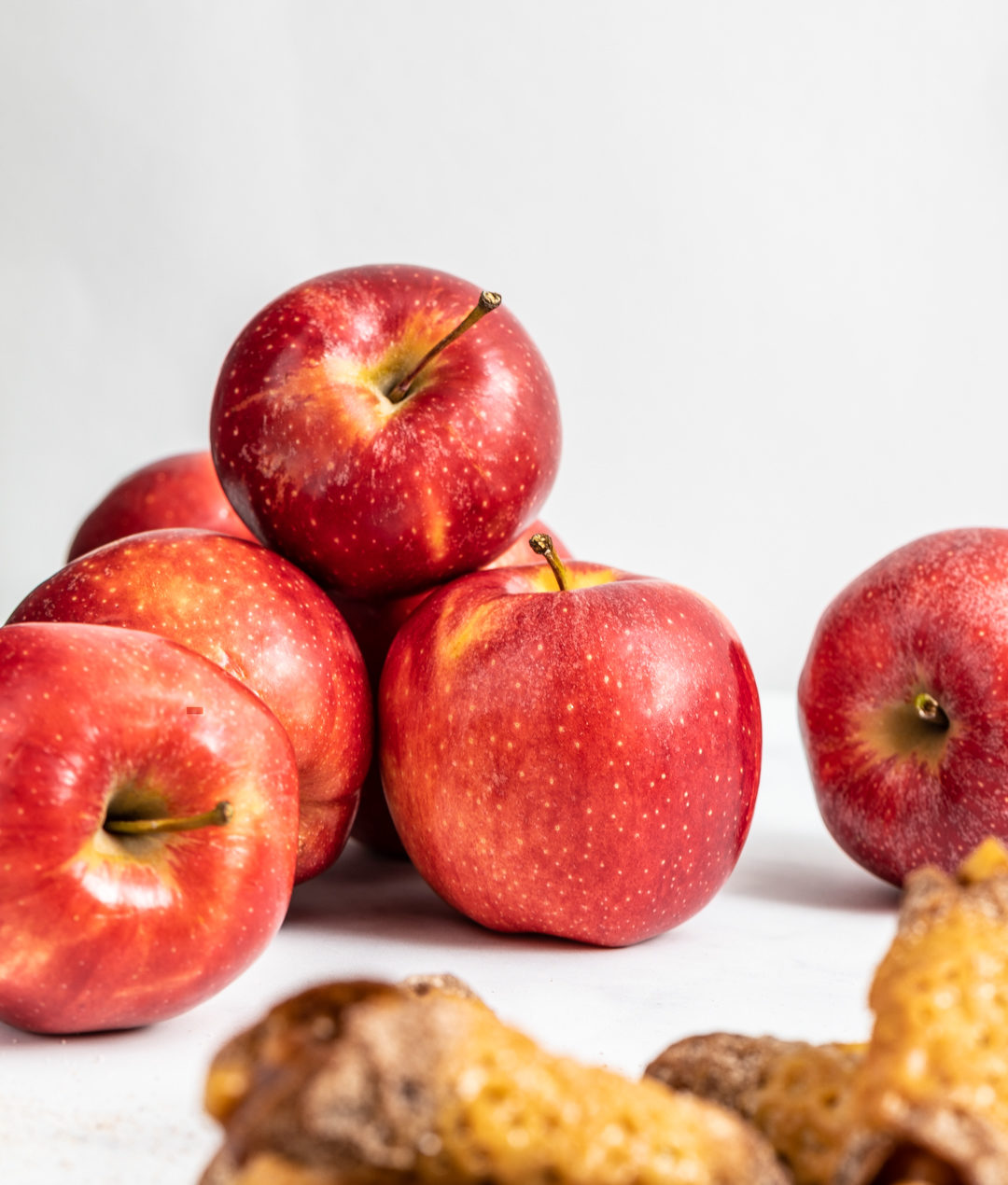 It's a weird thing that happens when you combine the classic flavors of apples, cinnamon, vanilla, nutmeg… Almost always reserved for the cooler seasons, the mix instantly brings you to a place where you can see the leaves changing colors, the breeze getting cooler by the minute, and the nighttime campfires with friends. It's pretty amazing to me that food has such a profound reaction of place and emotion.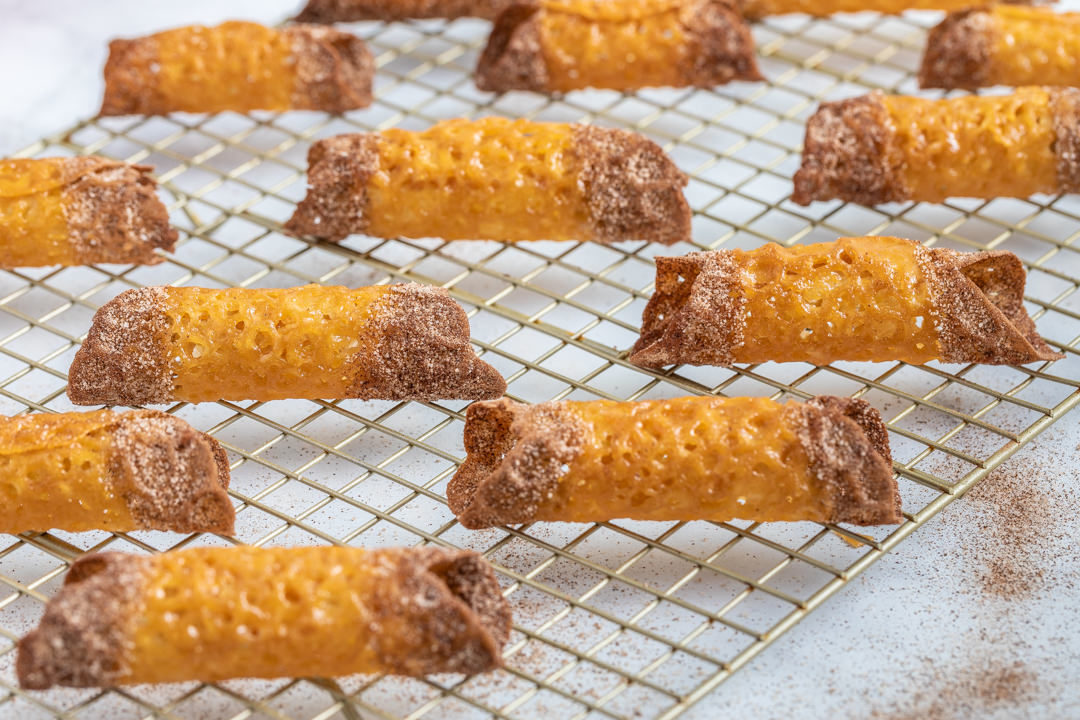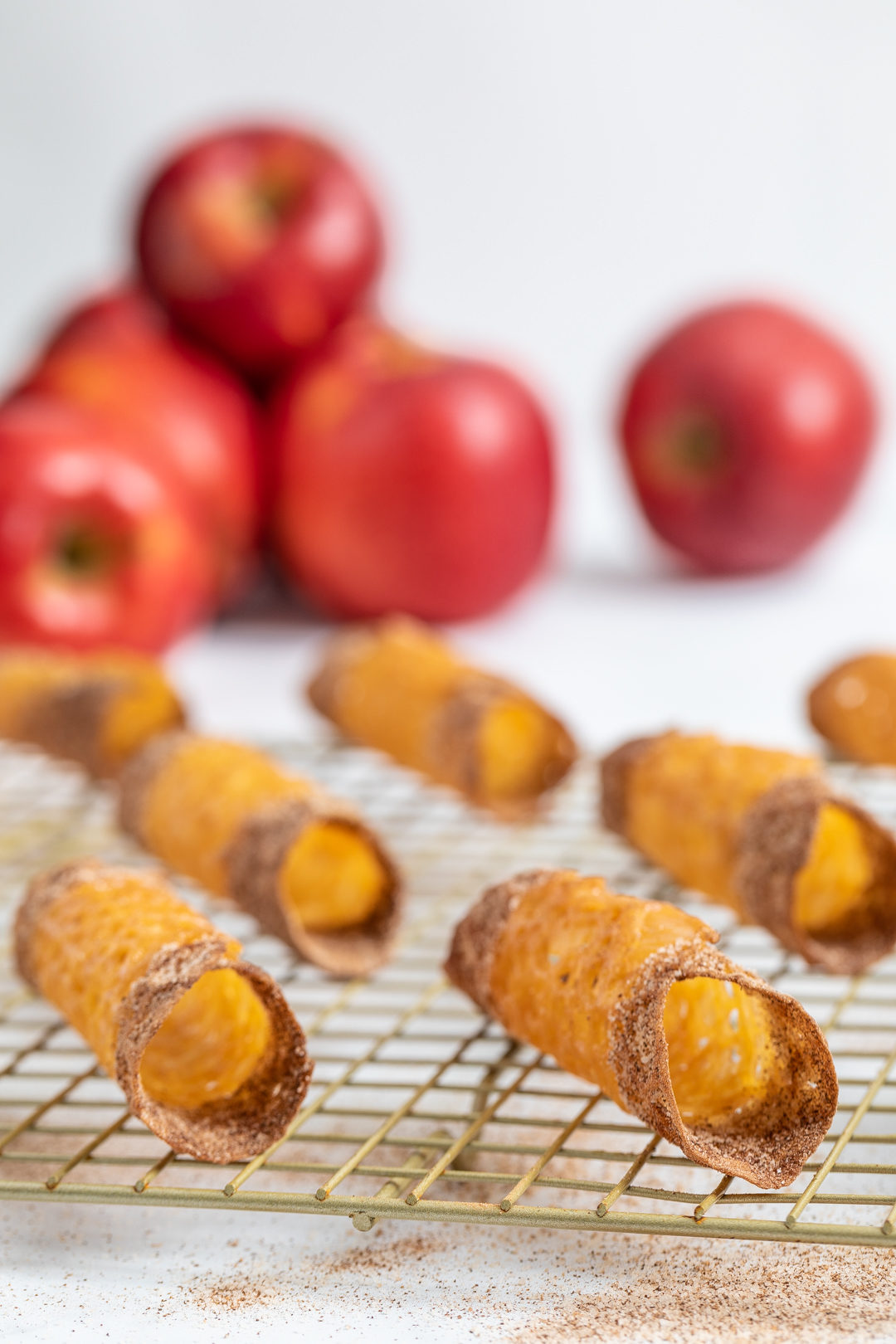 Apple pie, cider, apple candy. Everything apple is where I choose to start my fall baking frenzy. Luckily for us all, Kroger stocks a ton of in-season juicy apples (Gala, Honeycrisp, Sweetango, hellloooo!) that are begging for a bake. When the first day of the season hit (even though it is 95 still here in Nashville), I had to celebrate. I started with a classic Apple Turnover recipe (find that here!), but wanted to really kick things off with something new and different. That's where these beauts came in.
Brandy snaps are a more European find during the holiday months. Basically a spoonful of caramel that is baked on a sheet pan until it spreads out a bit into a beautiful lattice. With some quick hands, the rounds are rolled around a mold or spoon handle, allowed to cool. Think of it like a caramel cannoli. I made some classic brandy snaps last year where you can read a bit about their history before diving into these, if you'd like. They have quickly become one of my all-time favorite fall and winter month bakes.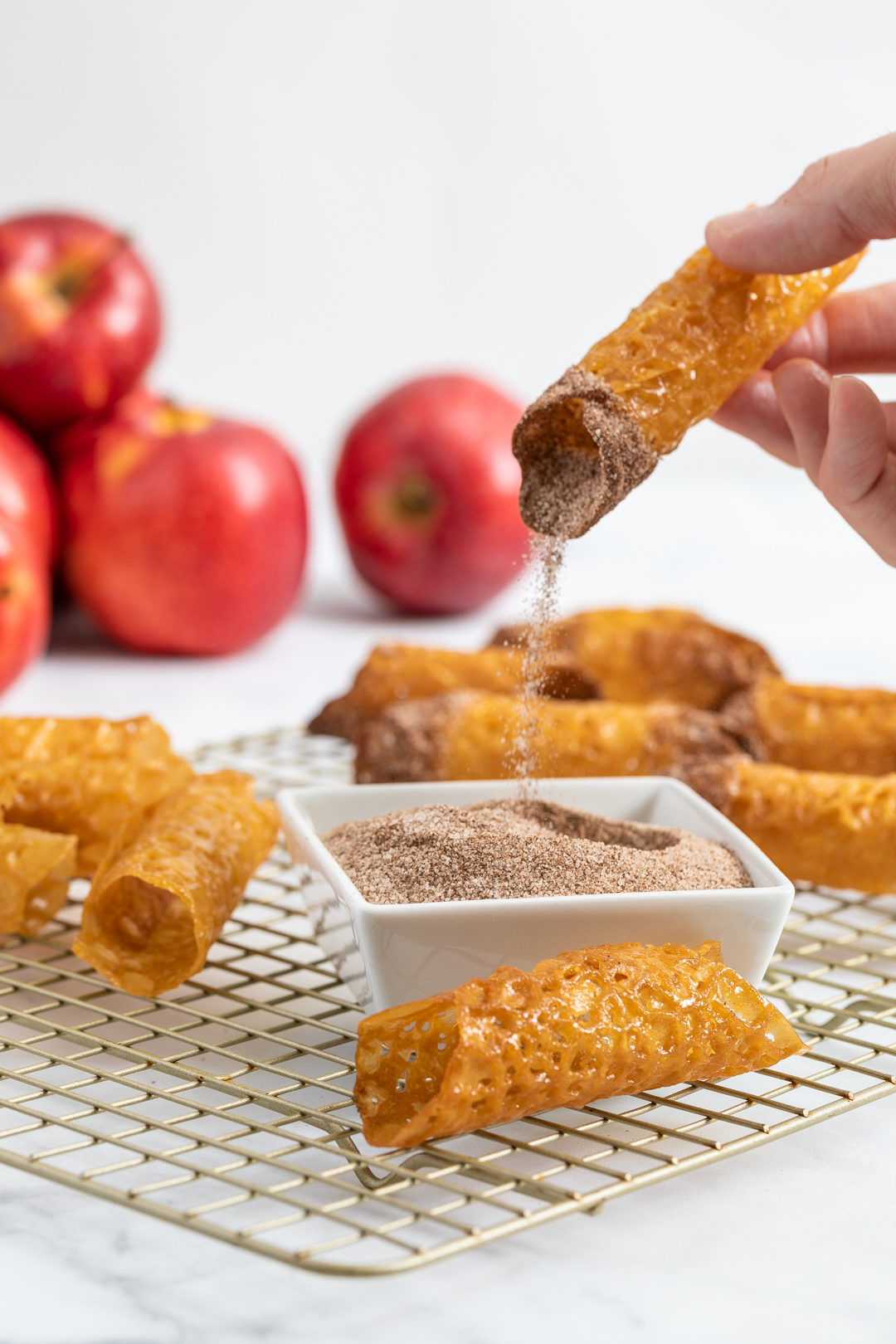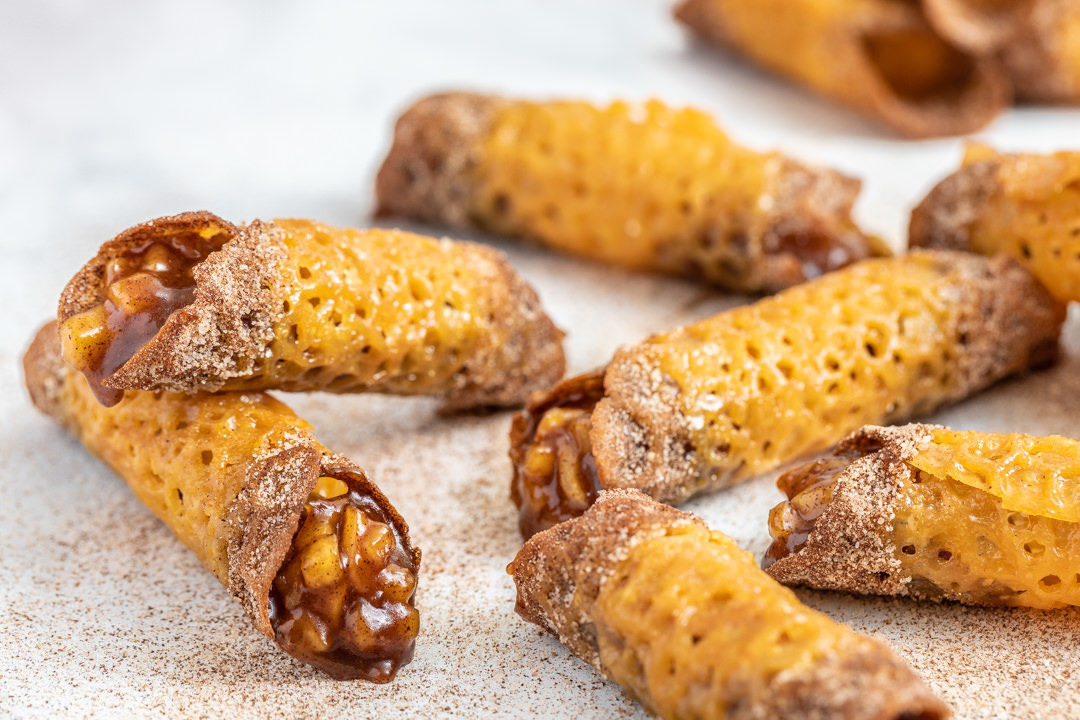 Since apple pie is, well, as American as apple pie, it seemed a perfect mashup for a a twist (or roll, I guess in this case) to celebrate my favorite season.
When I was at Kroger grabbing my ingredients, I noticed an apple that I hadn't baked with before. Sweetango apples are a mix between my favorite baking Honeycrisp apples (that's what I used for the classic apple turnover recipe) and a Minnewashta apple, which ripens earlier than most in early September. Honestly, I may enjoy these as much as I do the Honeycrisp. Theses in-season reds are incredibly crisp and sweet, with the taste of honey and a touch of spice. They were absolutely perect for apple pie filling that highlights the same fall flavors.
Find the fresh, in-season apples
at your local Kroger here.
I couldn't be more excited about all of the fall baking that is headed to my home this year. Invite a bunch of friends over, bob for some apples if you'd like, but I'll be in the kitchen baking them into these sweet treats. — Enjoy, y'all! Happy fall.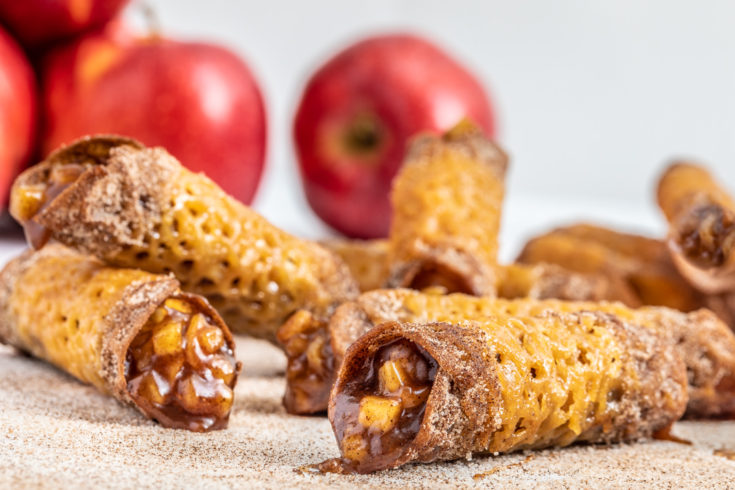 Yield:

12
Apple Pie Brandy Snaps
Crispy golden brandy snaps (caramel cannoli tubes) filled with cinnamon-spiced apple pie filling. Delicious fall and winter recipe from SouthernFatty.com.
Ingredients
Brandy Snaps
5 tablespoons (70 g) butter, unsalted
5 tablesoons (70 g) demerara sugar
3 tablesoons (70 g) golden syrup (find it below)
1/2 cup (70 g) flour, all-purpose
1/2 teaspoon (3 g) lemon juice, fresh
Apple PIe Filling
3 Sweetango apples (find them at Kroger)
2 tablespoons butter, unsalted
1/4 cup brown sugar
1/4 cup white sugar
1/2 teaspoon salt
2 teaspoons cinnamon, ground
1/2 teaspoon vanilla extract
1/4 teaspoon nutmeg, ground
2 1/2 teaspoons cornstarch
1 tablespoon water
Finishing
1/2 cup cinnamon/sugar mix
Instructions
Brandy Snaps
Pre-heat oven to 350F/180C and line baking sheet with parchment or silicone baking mat.
Sift flour and ginger together into a small bowl.
Lightly oil wooden spoon handle and set aside.
In a small saucepan, add butter, sugar, syrup.
Place saucepan over low heat.
Heat until sugar has completely dissolved, stirring and pressing sugar with silicone spatula throughout until there is no grit remaining. This will take about 15 minutes.
Remove from heat, add in sifted flour and ginger mixture and lemon juice. Mix well.
Using a teaspoon, drop the hot mixture onto the prepared baking sheet. Allow for about 4-5 inches between each.
Bake for 12-15 minutes. The mixture will spread and form a lace. Allow to darken to a rich golden color.
Remove and allow to cool on pan for 2-3 minutes.
Carefully use a spatula to slide under each disc, transfer to the oiled spoon handle or metal tube (see below) and carefully wrap, overlapping the ends to form a tube.
Remove to rack to cool.
Repeat as needed for additional sheets of cookies.
Apple Pie Filling
Peel and chop apples in bite-sized pieces. Keep all pieces equal in size for even cooking.
In a medium saucepan, heat butter over medium heat until lightly browned, about 1-2 minutes.
Add chopped apples to butter and cook for a minute.
Add sugars and salt. Cook for 5-10 minutes until apples are softened but still have some texture.
Add cinnamon, nutmeg, vanilla. Cook for an additional minute.
In a small bowl, combine water and cornstarch, mixing well. Add to hot apples.
The sauce will thicken.
Remove from heat after cooking for another 1-2 minutes.
Allow to cool completely. This can be prepared ahead of time, if desired.
Finishing
Dip ends of brandy snaps into cinnamon/sugar mix.
Pipe each brandy snap with cooled apple pie filling.
Enjoy immediately.
Find more recipes on SouthernFatty.com!
Recommended Products
As an Amazon Associate and member of other affiliate programs, I earn from qualifying purchases.
Nutrition Information:
Yield:
12
Serving Size:
1
Amount Per Serving:
Calories:

170
Total Fat:

2g
Saturated Fat:

1g
Trans Fat:

0g
Unsaturated Fat:

1g
Cholesterol:

5mg
Sodium:

109mg
Carbohydrates:

40g
Fiber:

2g
Sugar:

31g
Protein:

0g