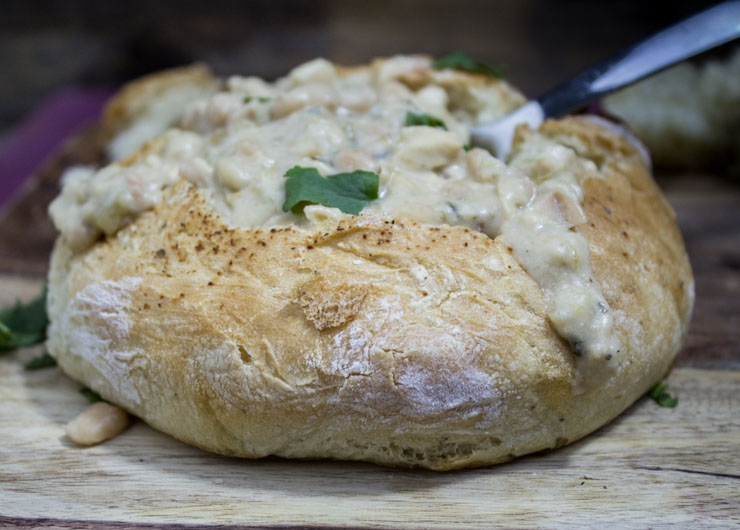 Ohhhh the weather outside is frightful. Atlanta traffic was delightful! What is better to cuddle up inside with than chili? White chili, that's what! Southerners love their butter and cream. Right, Paula? (and BREAD BOWLS!)
Short and sweet– This recipe is just about as easy as it gets. Some cream, chicken, butter, cheese; the staples, ya know. Throw them in a pot and you have dinner!
This is a recipe that was handed down my my mum. I promise you will be craving it every time frost hits the ground!
I decided to perk this up with a few extra carbs (for winter warmth, of course!), so a bread bowl was definitely the way to go for me.
This is the perfect cold weather pick-me-up. Curl up with a warm blanket and some of this creamy chili, and you're set for the night!
White Chili
Ingredients
1-2 lbs chicken, (breast - boiled and cubed)
4 cans white beans, rinsed
2 tablespoons butter
½ cup onion, diced
2 teaspoons garlic powder
1 teaspoon garlic, minced
8 oz green chiles
1 teaspoon oregano
½ teaspoon cumin
½ teaspoon white pepper
3 cups chicken broth
3 cups colby-jack cheese or mont-jack cheese
16 oz sour cream
Instructions
Melt butter in large pot over medium heat.
Sauté onion and garlic for about 2 minutes, until slightly golden.
Add beans and broth, chicken, chiles, spices.
Turn down heat to low/medium-low.
Add cheese, sour cream. Simmer until thickened, about 60-90 minutes.
Share with friends and be sure to visit SouthernFATTY.com and let us know how it was!
Visit SouthernFATTY.com for the bread bowl recipe!
Check out our Bread Bowls post for the recipe.
Did you make your white chili with our bread bowls? What is your favorite cold weather meal?