This post brought to you by Sparkling Ice Essence Of. The content and opinions expressed below are that of Southern FATTY.
While all of y'all are on these diets and whatnot, I'm sitting over here drinkin' my juice. Turns out that when I am stuck at home (because all of my friends are eating kale and spinach and roots and all of that jazz), I end up doing lots and lots of recipe development.
More new bites and brews are always a good thing, especially when it's a new year. I'm not much for resolutions and all, but if I were to nail down something that I wanted to work on improving this year, it would be catching up on turning the massive list of recipe ideas in my phone into reality.
I'm off to a decent start after nailing this new cocktail. Some good ol' thinkin' juice (BOURBON), combined with what I'm pretty sure I was given in a bottle as a baby (sweet tea), makes for the perfect base to this spritzy sipper. A couple other simple additions, topped with some sparkling bubbles, and we are ready to kick into high gear for the year.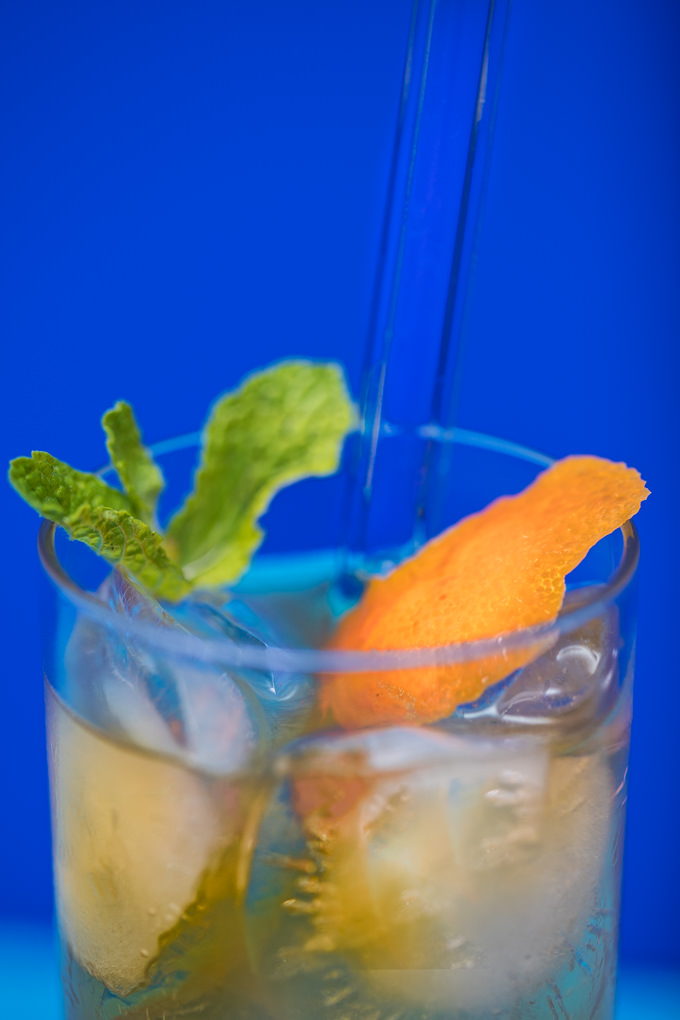 With this new year, I'm going to be making a few changes to the blog. You'll soon(ish) see a new design, more content, and I will be including more of my travel bites into the mix. — I get a lot of questions from all of you lovely readers out there. A lot of you ask about suggestions for where to eat in Nashville, why those finicky macarons didn't work, what I did to grow my Instagram, etc. With all of these emails, I started noticing a trend.
"Hey girl…", "Ms Fatty" (dead serious), "Ma'am". Most people think I am a 25 year old girl that sits at home and bakes cookies all day. Turns out, I'm not. I'm a total nerdy slightly-older-than-25 year old dude that would love to sit at home and bake cookies all day. I have an actual day-job thing. Adulting is hard, so baking and the blog is how I balance my life out a bit. My outlet. That's really how this whole blog thing came to be.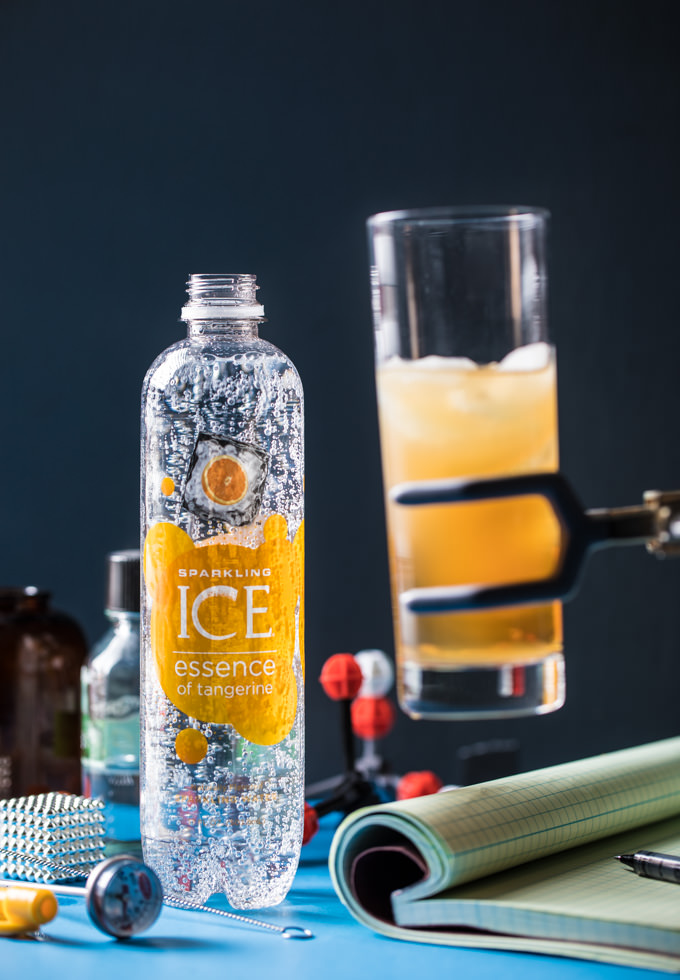 When I'm not at home playing bartender, I'm at work (thinking about playing bartender). I'm a Cancer Research Biologist at a local University here in good ol' Nashville. I'm in my 6th year working in academic research based on studying some super-specific weird details about how breast cancer works.
I think this really explains a lot about why I enjoy baking and mixing drinks so much. It's all quite technical, and every detail matters. There is a ratio to just about every great recipe. A perfect balance of sweet and sassy to every cocktail. Turns out that a scientist can't leave the science behind at work. I definitely bring that side of me into the kitchen.
While I might not normally set up this crazy rig to develop a cocktail (only because I'm a bit lazy… and this stuff is heavy), I can't help but embrace the nerd inside by being a bit giddy about sharing this side of me with y'all. Mixing bourbon and sweet tea with a splash of triple sec, orange biters, and sparkling water is the kind of science that everyone can enjoy.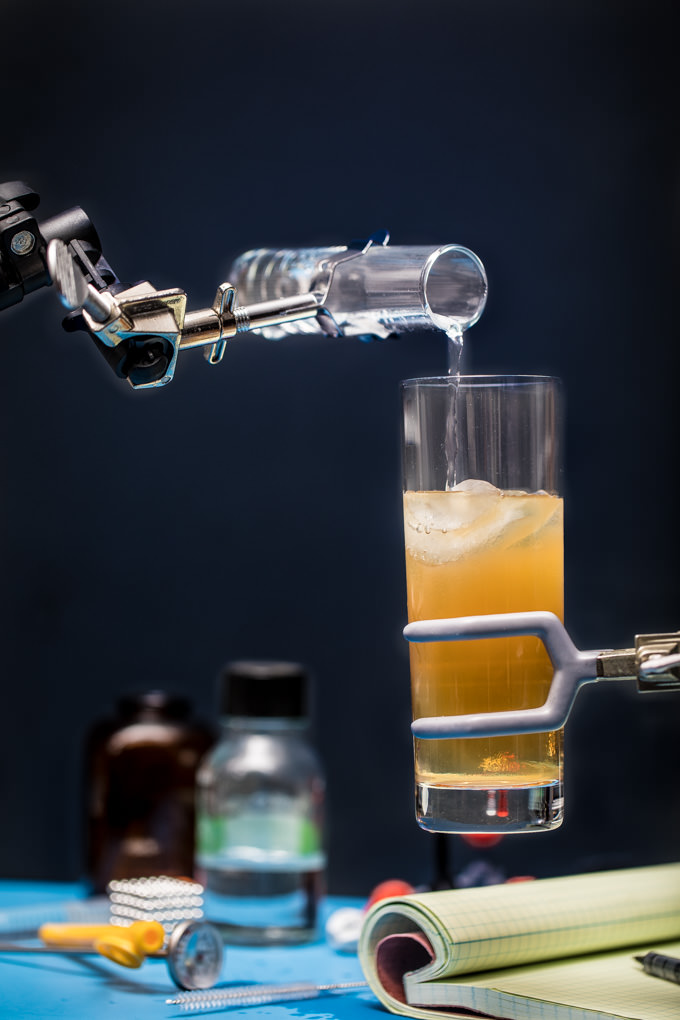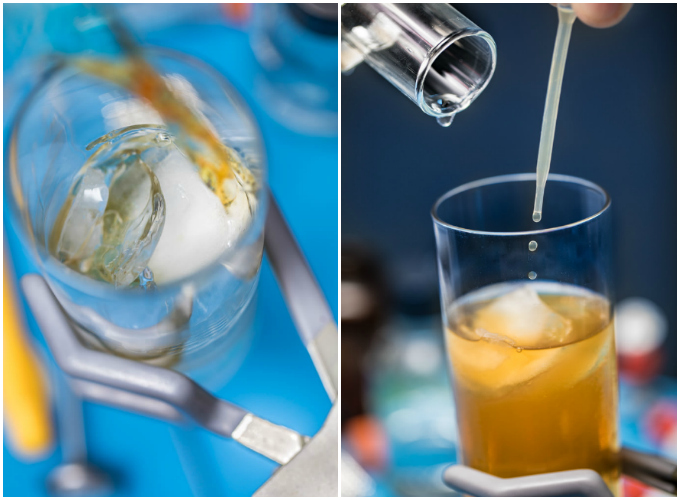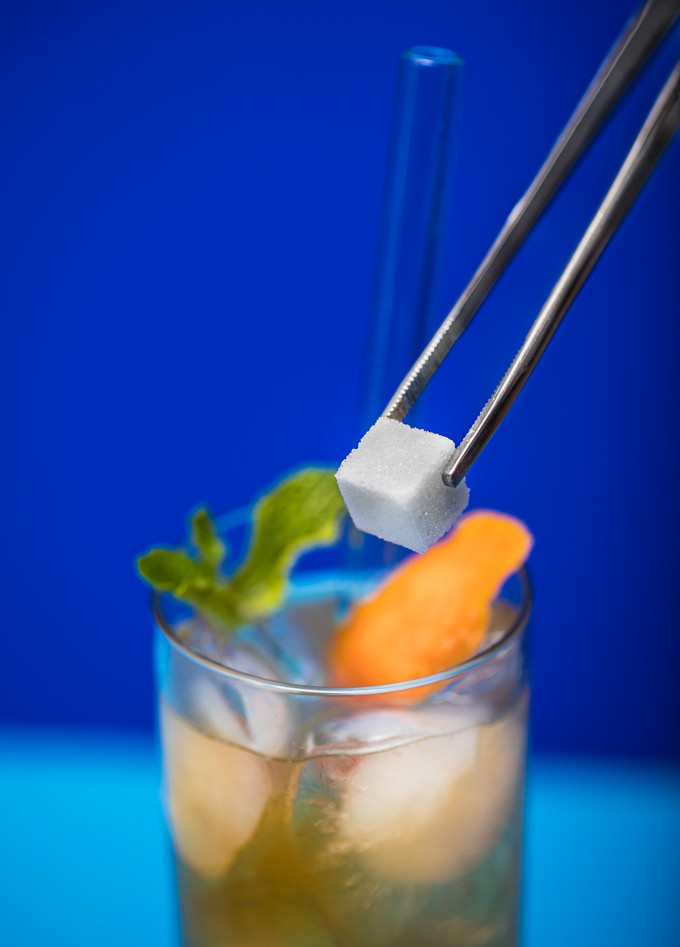 I'm happy to have teamed up with my pals over at Sparkling Ice to develop this cocktail and share a bit about how I keep things exciting in the Fatty kitchen. Sparkling Ice makes a line of Essence Of sparkling waters. I'm one of those people that doesn't handle straight up water very well. It's just so… ehhhh. The Sparkling Ice Essence Of waters have a splash of vibrant flavors carried into your creations by a ton of sparkling little bubbles. It's vibrant, fresh, and is the perfect companion for cocktails. I love it with a bourbon on the rocks. It's also nice to know that what you are including doesn't include a single artificial flavor, color, or calorie.
I decided to try the Essence Of Tangerine with this cocktail to lighten things up a bit and bloom the bourbon a bit. — It totally did. A touch of citrus blended perfectly with the bourbon.
Finished with some tangerine zest, mint, and a perfectly symmetrical sugar cube (because I'm a bit obsessive like that), and this experiment was a success!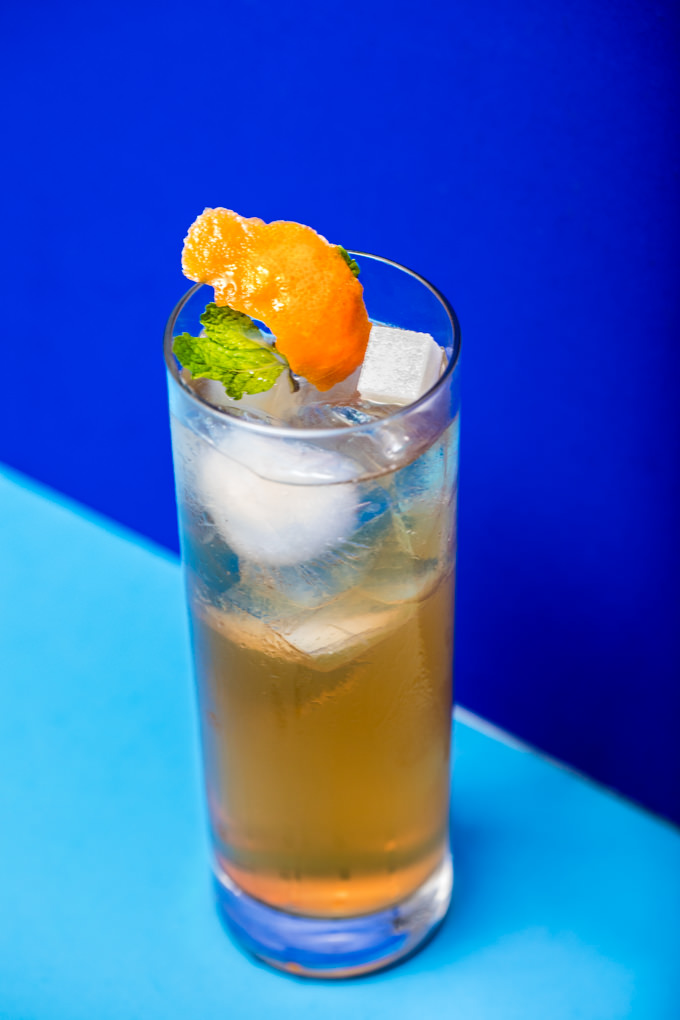 Sparkling Sweet Bourbon Cocktail
A bubbly bourbon cocktail with sweet tea, triple sec, orange bitters, and tangerine sparkling water to top it all off with a fizz. From SouthernFATTY.com.
Author:
Phillip Fryman | SouthernFATTY.com
Ingredients
2 ounces bourbon
4 ounces tea
1 ounce simple syrup (not necessary if using sweet tea)
½ ounce triple sec
2 ounces Sparkling Ice Essence of Tangerine
mint leaf, tangerine zest, sugar cube, to finish
Instructions
Combine everything except Sparkling Ice and bitters into a cocktail shaker.
Fill a highball glass with ice.
Shake, shake, shake. Pour into glass.
Top with Sparkling Ice Essence of Tangerine and a couple drops of bitters.
Finish with mint, zest, and sugar cube.
Enjoy with friends and family.
Find more on SouthernFATTY.com!
What do you all do to keep yourself balanced?
Share below in the comments!
---
Flirt with the flavor of Sparkling Ice Essence Of Tangerine
This post was made in partnership with Sparkling Ice. I'm happy to support brands that I really do enjoy, and appreciate your support of them to keep the lights on here at Southern FATTY.