Classic oatmeal cream pies take a fall boozy twist with whipped pumpkin spice buttercream filling and soft, chewy oatmeal cookies in this recipe.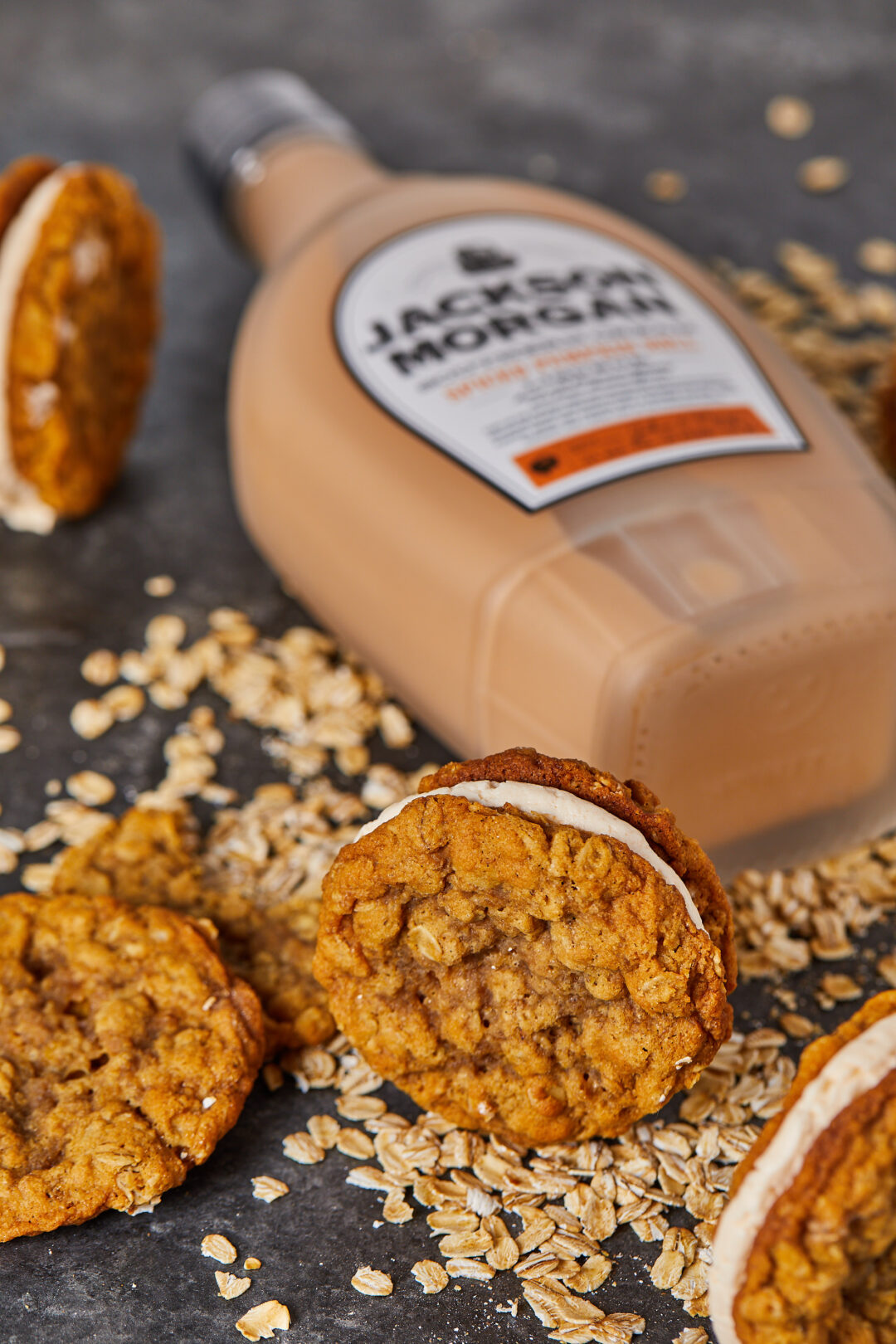 Are you ready to embark on a sweet, creamy, and oh-so-delicious journey through the world of oatmeal cookies? In this post, we're going to delve into the realm of oatmeal cream cookies and show you how to elevate them to a whole new level with the help of Jackson Morgan Spiced Pumpkin Roll Whiskey Cream. Say hello to a flavor explosion that'll take your oatmeal cookie sandwiches to the next level.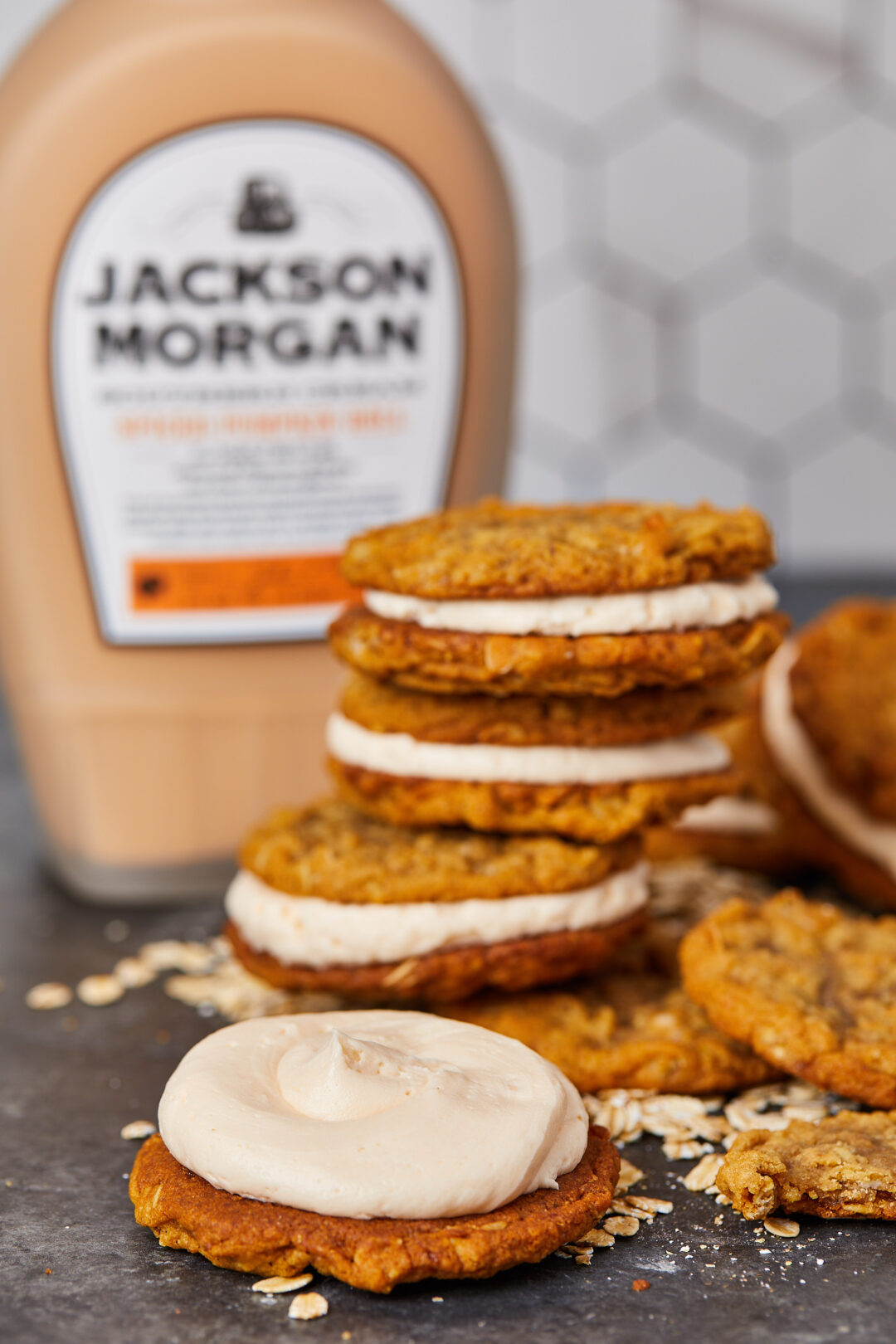 What's the Deal with Oatmeal Cookies?
First things first, let's talk oatmeal cookies. These classics have been a household favorite for generations. But what makes them so special? Is it the wholesome oats that give them a rustic, nutty flavor? Or perhaps it's the way they strike a perfect balance between chewy and crispy?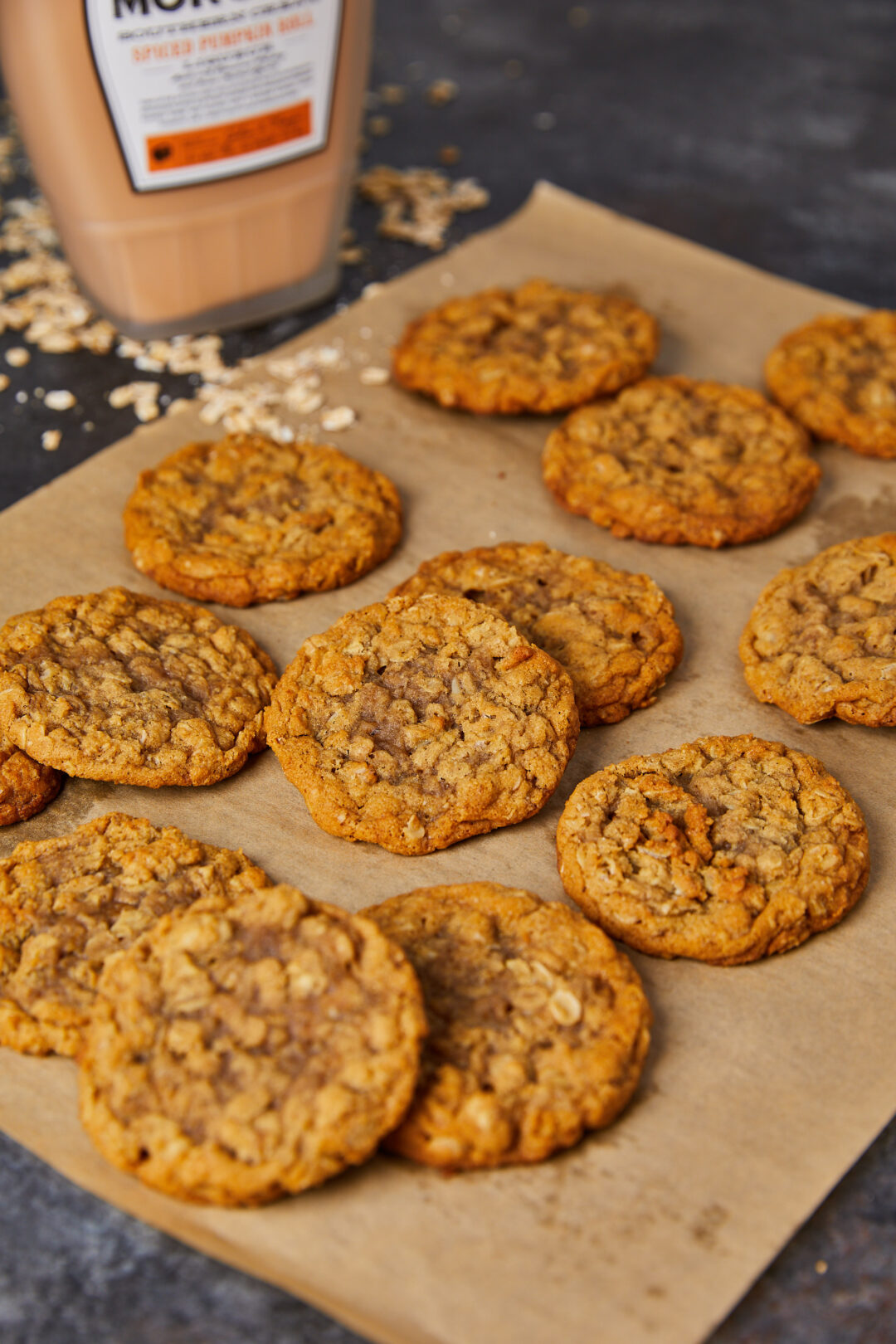 Oatmeal cookies are like the little black dresses of the fall dessert scene — versatile and always in style. They can be adorned with a myriad of mix-ins, from raisins and chocolate chips to nuts and dried fruit.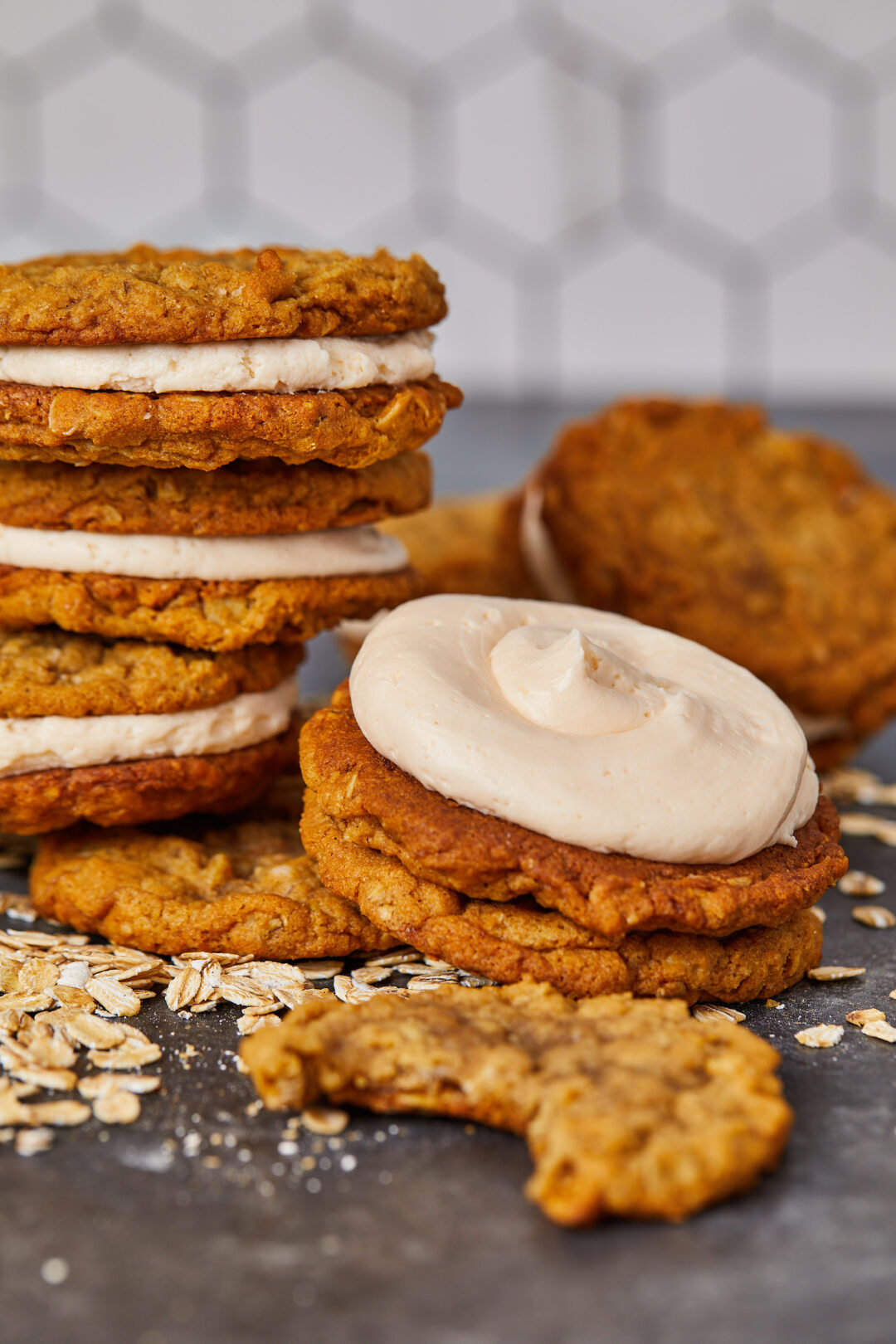 Oatmeal Cream + Pumpkin Buttercream: The Autumnal Overture
Now, imagine taking those delicious oatmeal cookies and sandwiching them together with a luscious, whipped, buttercream filling. That's where oatmeal cream cookies come into play. But don't be fooled. This isn't just the classic. Whiskey cream from my favs over at Jackson Morgan is one of my favorite boozy baking add-ins. I've made TONS of recipes using this Tennessee sip that you should def check out. Jackson Morgan launched a few new flavors lately. Spiced Pumpkin Roll was just made to be squished between two chewy oatmeal cookies. It went from 80 to 50 degrees here in Nashville in the past 24 hours, so it is officially the season for pumpkin.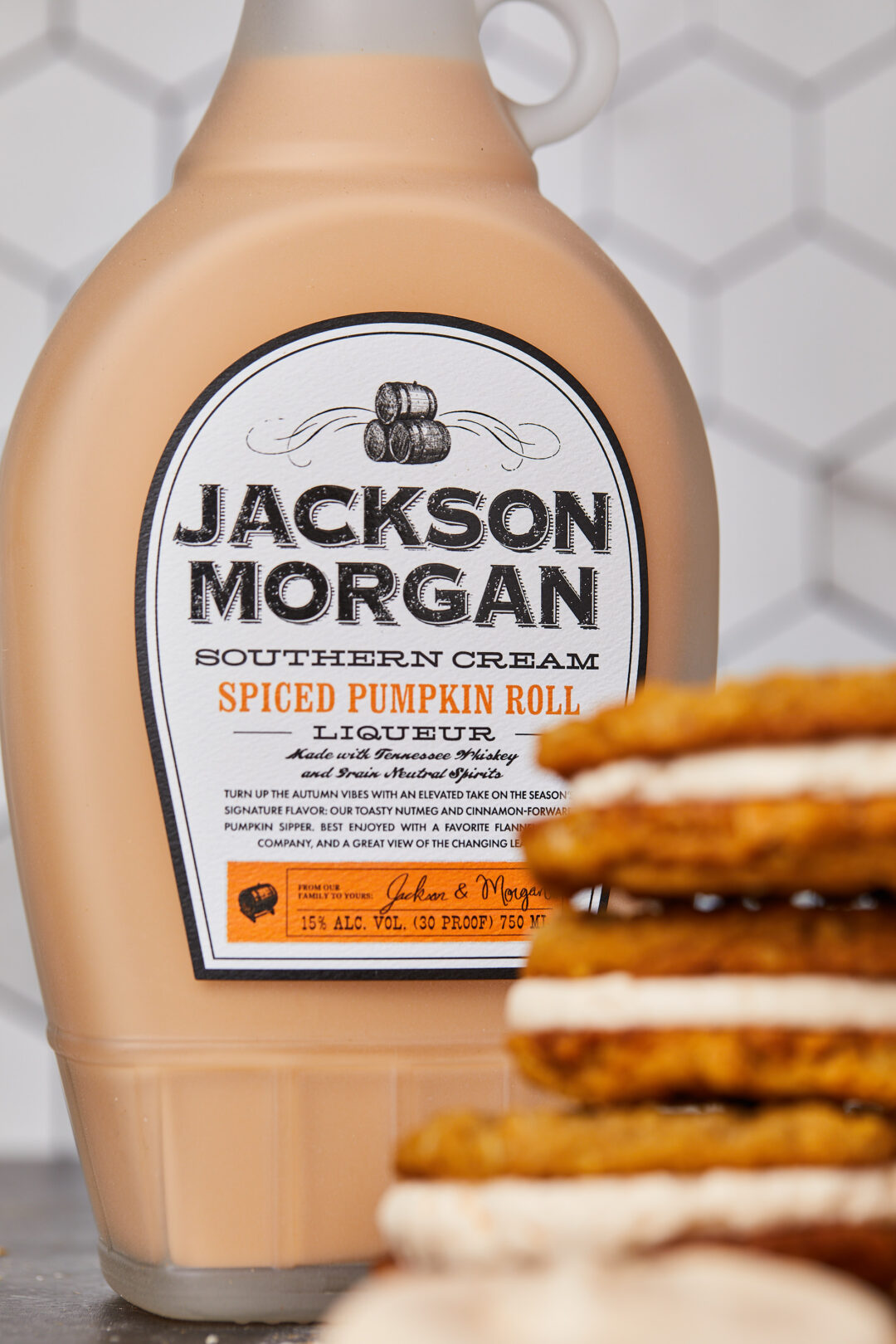 Why Go for Oatmeal Cream Sandwiches?
Why indeed? Well, there are plenty of reasons to choose oatmeal cream sandwiches as your dessert of choice…
Texture Tango: The contrast between the chewy oatmeal cookies and the smooth cream is like a dance party in your mouth. It's crunchy, it's creamy, and it's downright delightful.
Flavor Fusions: Oatmeal cream cookies provide the perfect canvas for experimenting with flavors. Pumpkin spice happens to be the best fall addition, so you are in the right place.
Portable Pleasure: Need a snack on the go? Oatmeal cream cookies are the ultimate portable indulgence. Pack 'em in your lunchbox, take them on a picnic, or enjoy them as a quick pick-me-up during your afternoon break.
Nostalgia Trip: There's something inherently comforting about oatmeal cookies. They transport you back to the sugary hug of the classics.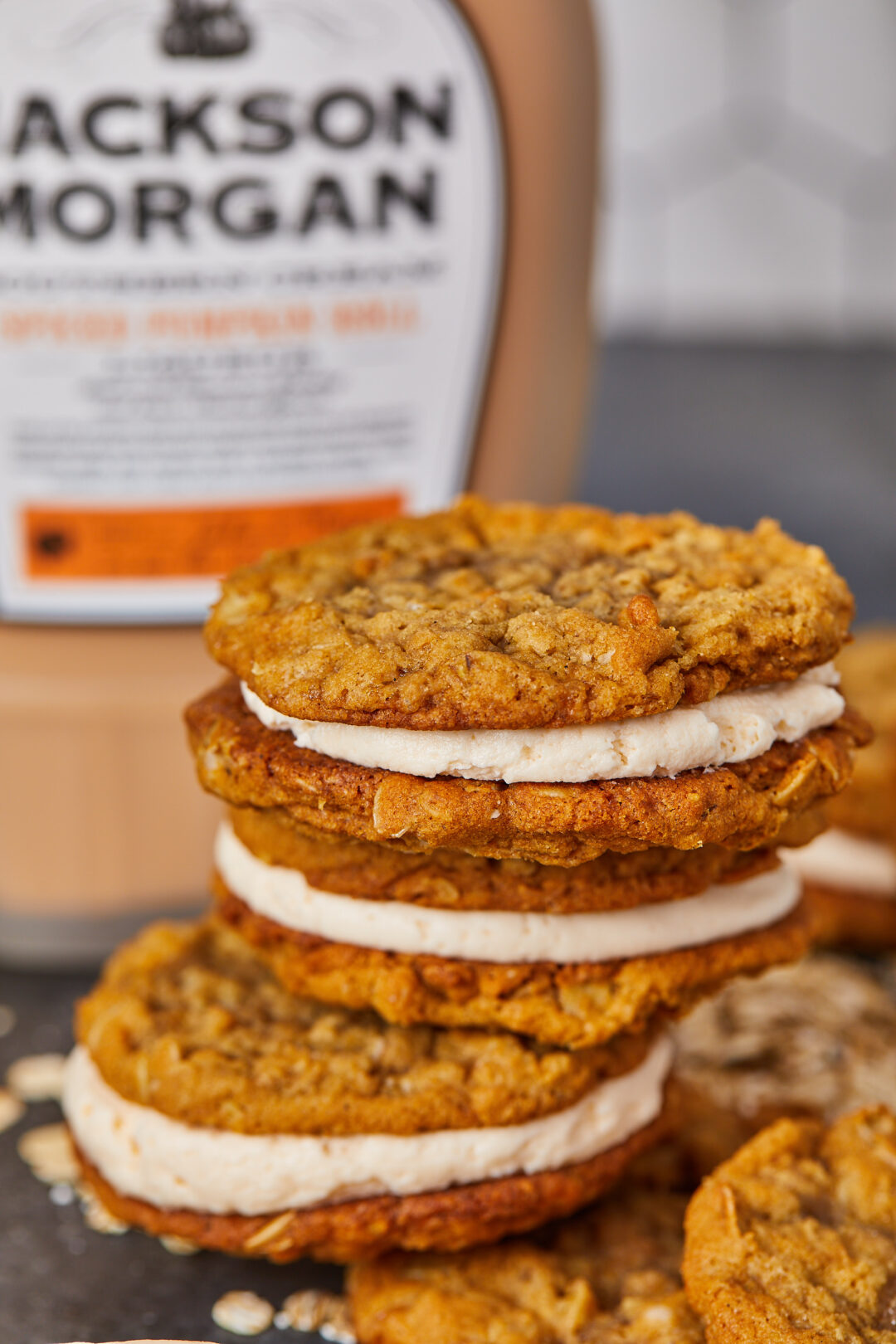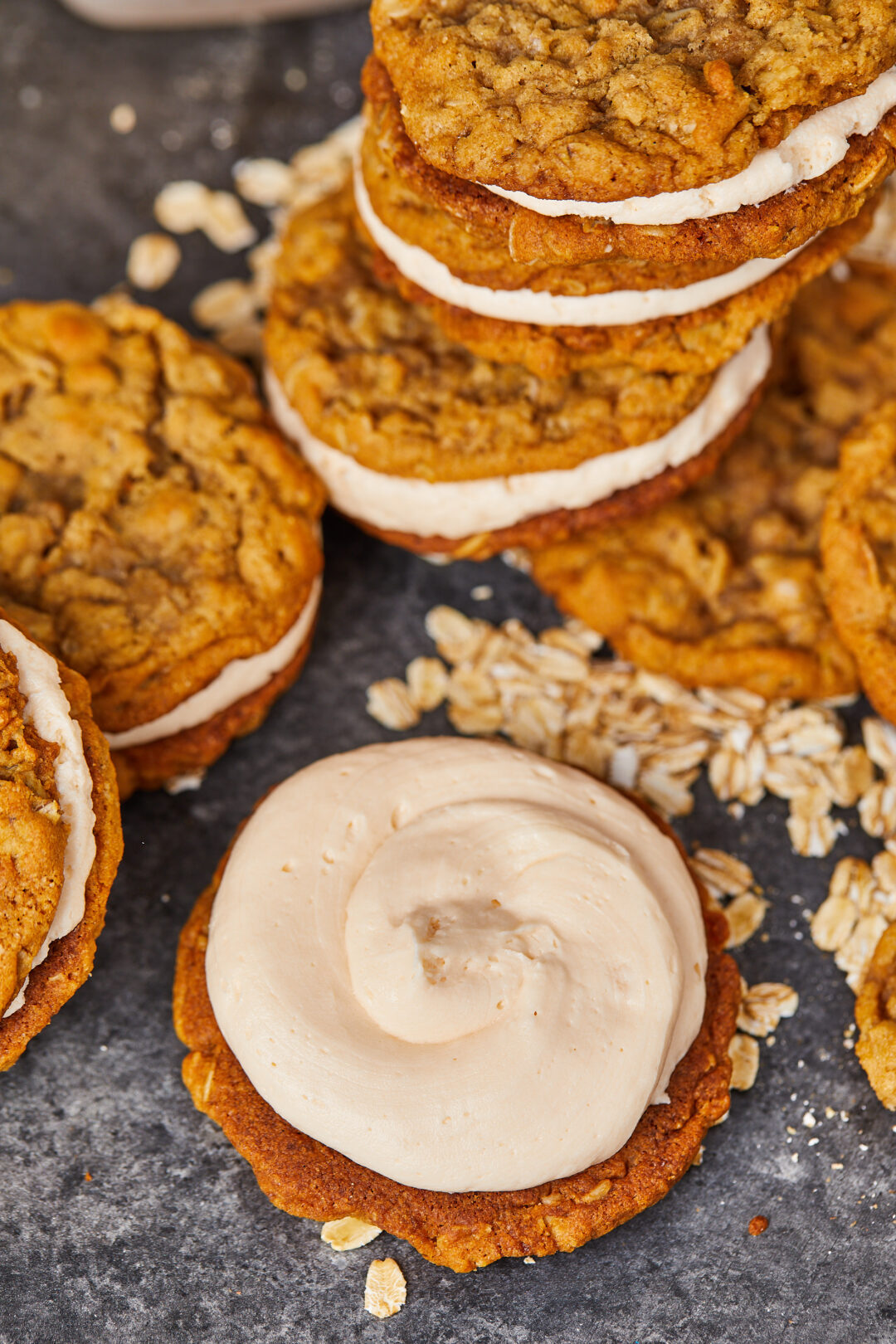 The Star of the Show: Jackson Morgan Spiced Pumpkin Roll Whiskey Cream
About the real game-changer here— Jackson Morgan Spiced Pumpkin Roll Whiskey Cream. Picture this: the rich, earthy flavors of pumpkin pie spice combined with the airy, velvety goodness of whipped buttercream. It's a match made in dessert heaven.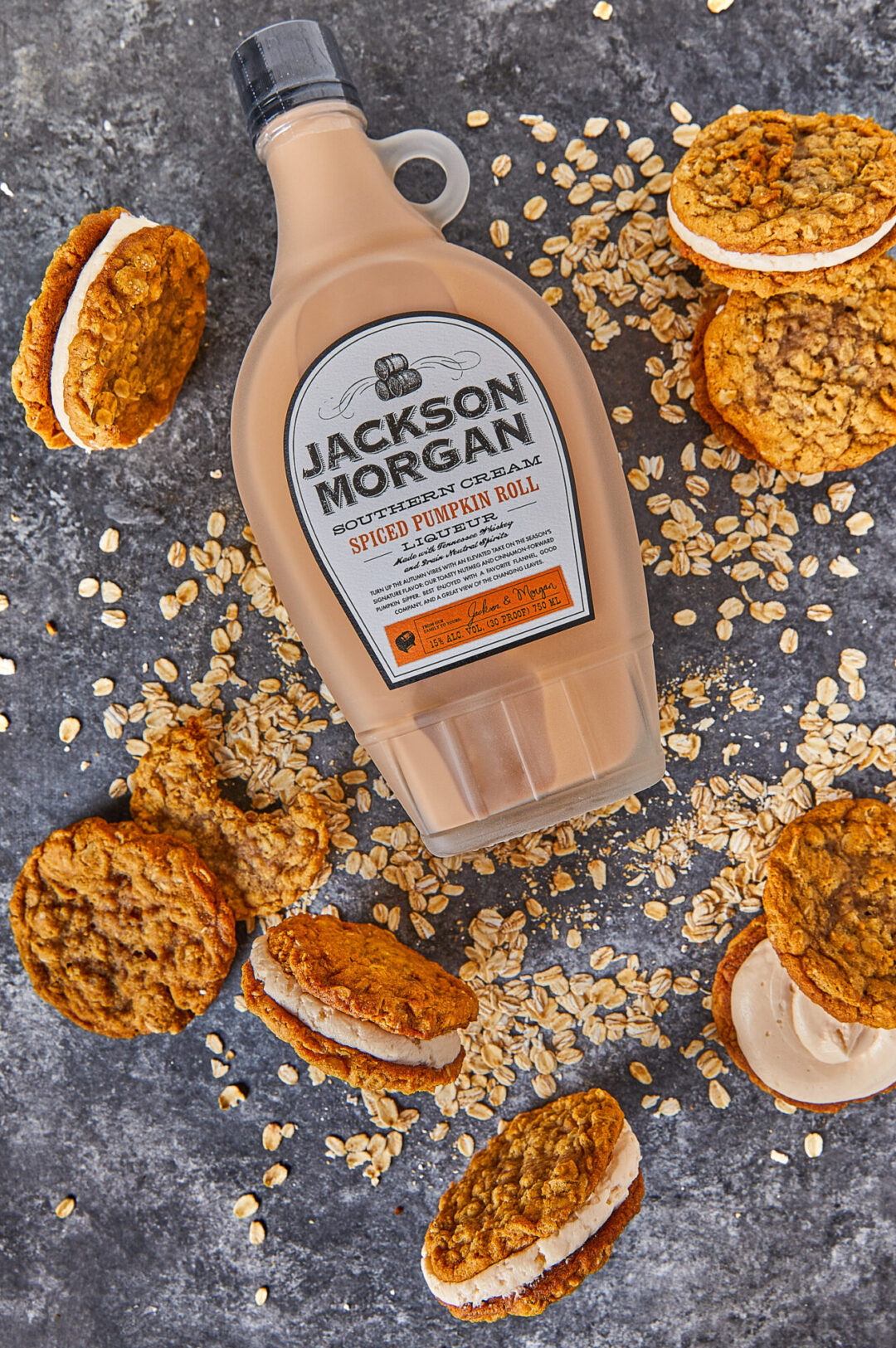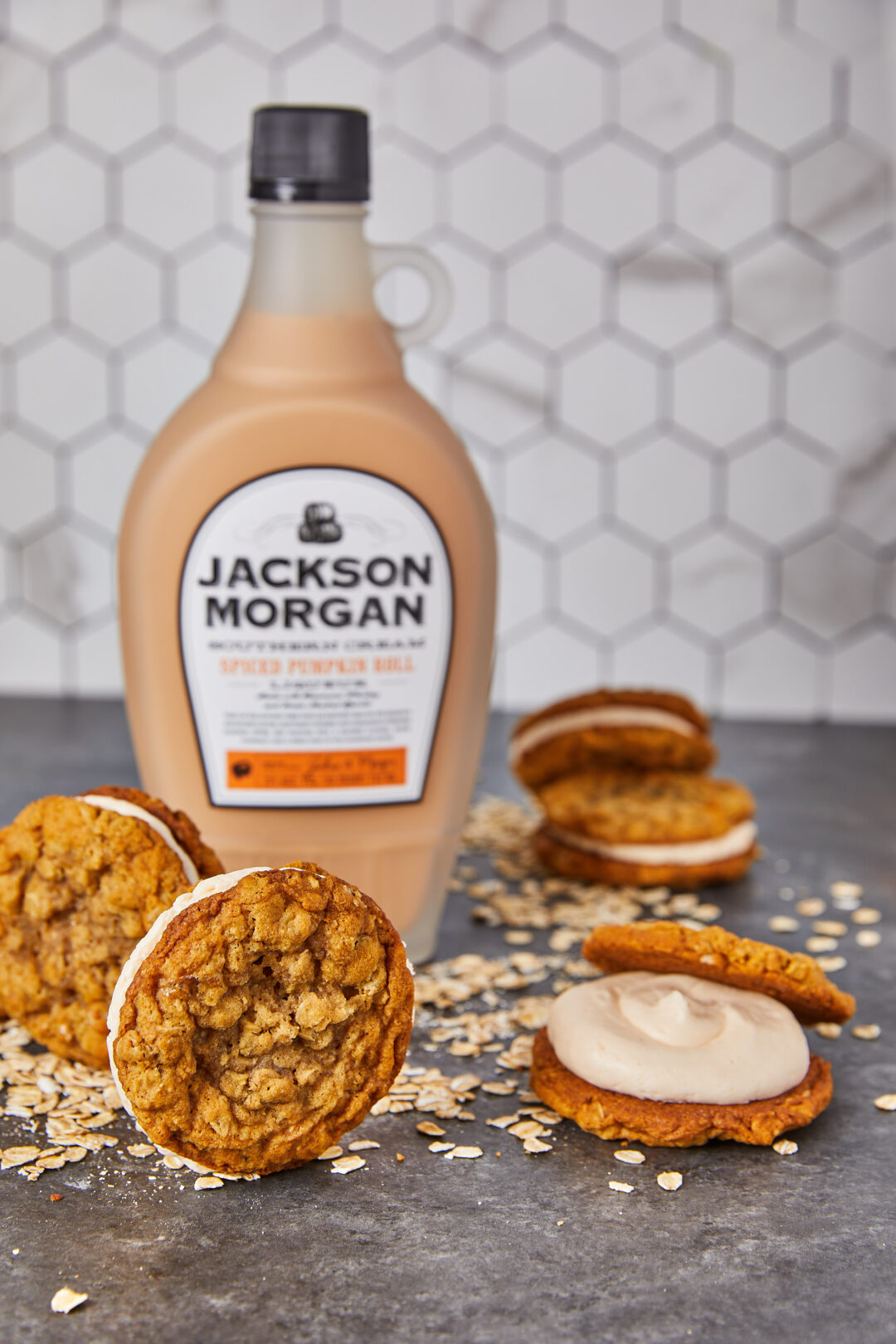 The seasonal twist to your oatmeal cream sandwiches. As soon as autumn arrives, we all start craving those cozy, spiced flavors. Jackson Morgan Spiced Pumpkin Roll Whiskey Cream brings that essence to your dessert table. While it's perfect for oatmeal cream sandwiches, this spiced pumpkin roll whiskey cream is also a star in its own right. Use it as a frosting for cakes, cupcakes, or even as a dip for apple slices. The possibilities are endless!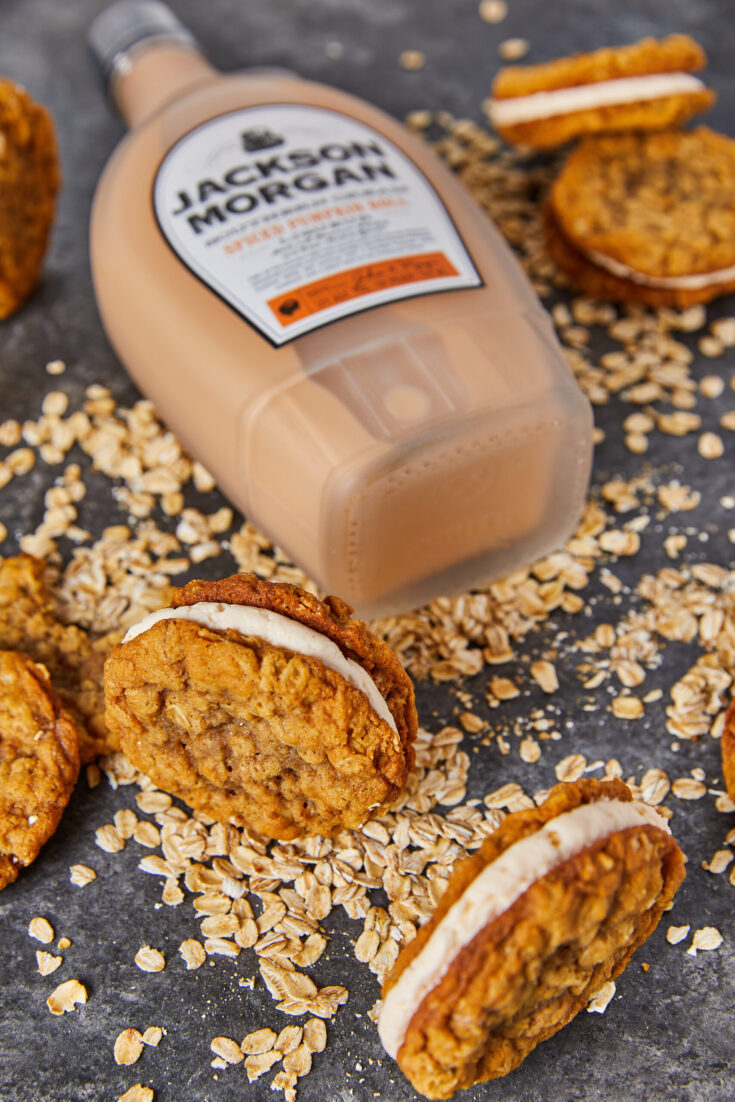 Yield:

12 cookie sandwiches
Pumpkin Spice Oatmeal Cream Pies
Dive into the delicious world of Jackson Morgan Spiced Pumpkin Roll Whiskey Cream and how it perfectly pairs with oatmeal cookies, creating a taste sensation that'll leave you wanting more. From SouthernFatty.com.
Ingredients
Cookies
1 ½ cups all-purpose flour (180g)
½ cup rolled oats (50g)
1 teaspoon baking soda
1 teaspoon ground cinnamon
½ cup unsalted butter, room temperature (115g)
½ cup packed light brown sugar (110g)
½ cup granulated sugar (100g)
1 tablespoons molasses
½ teaspoon salt
1 tablespoon vanilla extract
1 egg, large
Pumpkin Spice Buttercream
½ cup unsalted butter (113g)
1/4 teaspoon salt (3g)
2 cups confectioners sugar (240g)
4 tablespoons Jackson Morgan Spiced Pumpkin Roll Whiskey Cream (linked below)
Instructions
!Oatmeal Cookies
Preheat your oven to 350°F (175°C) and line baking sheets with parchment paper.
In a medium bowl, whisk together the all-purpose flour, rolled oats, baking soda, and ground cinnamon. Set aside.
In a large bowl, cream together the room temperature butter, light brown sugar, and granulated sugar until light and fluffy.
Mix in the molasses, salt, vanilla extract, and the egg until well combined.
Gradually add the dry ingredients into the wet mixture and stir until just combined. Be careful not to overmix.
Using a spoon or cookie scoop, drop rounded balls of dough onto the prepared baking sheets, spacing them about 2 inches apart. I use the scooper below for consistent sizes.
Bake for 10-12 minutes, or until the edges are lightly golden.
Remove from the oven and allow to cool on the baking sheet for a few minutes before transferring to a wire rack to cool completely.
!Pumpkin Spice Buttercream
In a large bowl, beat the softened unsalted butter with an electric mixer until creamy.
Add the salt and beat it into the butter.
Gradually add the confectioners' sugar, beating well after each addition.
Once all the sugar is incorporated, beat in the Jackson Morgan Spiced Pumpkin Roll Whiskey Cream, one tablespoon at a time, until the desired consistency and flavor are reached.
Beat the mixture until it becomes light and fluffy.
!Finishing
Pipe or scoop buttercream between two cookies.
Enjoy! Find more recipes on SouthernFatty.com.
Share your bakes on social by tagging @southernfatty.
Recommended Products
As an Amazon Associate and member of other affiliate programs, I earn from qualifying purchases.
Nutrition Information:
Yield:
12
Serving Size:
1
Amount Per Serving:
Calories:

383
Total Fat:

18g
Saturated Fat:

11g
Trans Fat:

0g
Unsaturated Fat:

6g
Cholesterol:

63mg
Sodium:

261mg
Carbohydrates:

52g
Fiber:

1g
Sugar:

37g
Protein:

3g