Blueberry Glazed Peppered Corn Doughnuts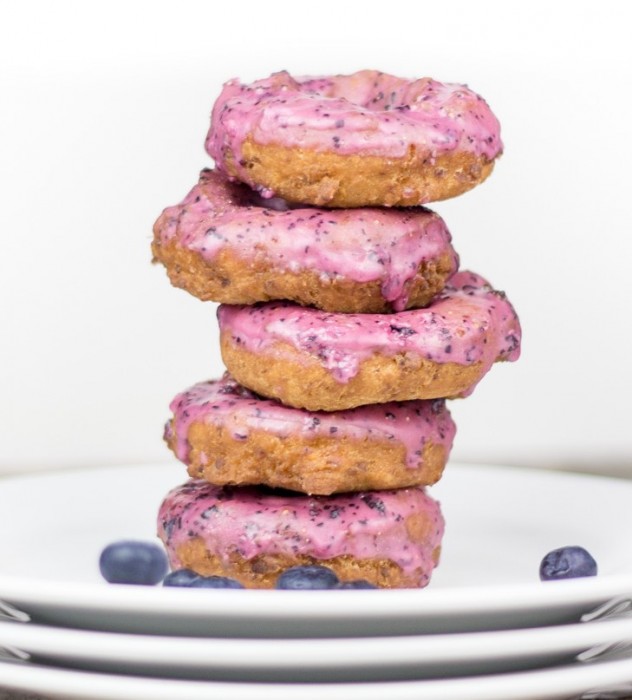 1 cup white/yellow sweet corn
2 cups flour, AP
½ cup cornmeal
½ cup sugar (I prefer turbinado/raw sugar, pulsed in processor until super-fine)
1 tablespoon baking powder
½-1 teaspoon black pepper, freshly ground (I like a lot.. some may not)
½ teaspoon salt
5 tablespoons butter, melted
½ cup buttermilk
2 teaspoons vanilla
1 egg, beaten
oil, for frying
Combine sifted dry doughnut ingredients in mixer bowl. Mix well.
In another bowl, combine wet doughnut ingredients (including the egg) and whisk well. Do NOT add the corn to his mixture yet.
Add the wet mixture to the dry flour mixing bowl on low speed. Mix until combined well.
Pulse the corn in a food processor a few times to break it up. Leave obvious corn kernels visible.
Fold in the corn to the batter/dough to combine.
Heat oil to 365 F.
While oil is heating, form a ball with the doughnut base.
On a lightly floured surface, press/roll out into ½" thick rectangle.
Using a floured biscuit cutter or doughnut cutter, punch out the doughnuts.
Be very careful to handle these at little as possible. You don't want them to lose their shape.
When oil is heated, carefully fry by sliding doughnuts into oil. Flip once when golden and finish the other side. Be sure to only fry a couple doughnuts at once, as more will cool and crowd the oil.
Remove carefully to cool on rack.
Combine glaze ingredients in blender/processor and mix until smooth. Pour into dish deep enough to dip doughnuts (see blog post picture).
Dip the doughnuts into the glaze. Allow to rest for glaze to harden.
Enjoy! -- [More at SouthernFATTY.com]
Recipe by
Southern FATTY
at https://www.southernfatty.com/peppered-corn-doughnuts/