Loaded Potato Soup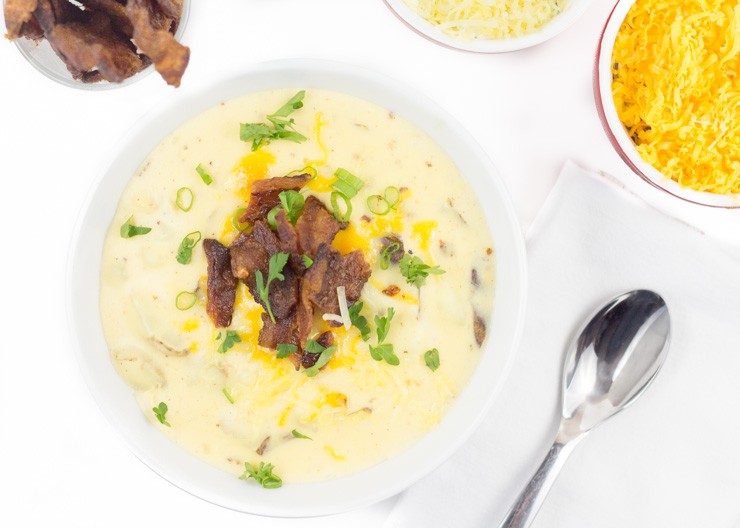 1 and ½ pounds potatoes (any variety works fine), cubed
3 tablespoons butter
3 tablespoons flour
½ cup shallots, diced
1-2 cloves garlic, minced finely (1-2 teaspoons)
4 cups half and half (whole milk works, but not as well)
½ teaspoon hot sauce (eg: Tobasco)
1 teaspoon jalapeño juice (juice from can of jalapeños)
8 oz Velveeta, softened/melted (microwave for 30 seconds and stir)
1 cup cheddar, shredded, divided into (2) ½ cup portions
½ cup Monterey jack, shredded
salt/pepper/white pepper, to taste
¼ teaspoon garlic powder
bacon, crispy (see blog post for baking details)
chives, to finish
Cook potato cubes until cooked through, but still somewhat firm. A knife should pass but not tear the potatoes apart. Boil and drain to cook, or microwave in plastic-wrapped container.
In a large pot (Dutch oven works perfectly), add butter over medium heat.
When melted, add shallots and cook for 3-4 minutes. Add garlic.
Add flour and whisk constantly until light brown, about 3-4 minutes.
Slowly add half and half, still stirring to smooth completely.
Cook for a few minutes to thicken this roux.
Add Velveeta cheese.
Add potatoes to base. Add ½ cup cheddar and Monterey jack.
Mix in hot sauce, jalapeño juice, a bit of salt and pepper (both black and white pepper is best) and garlic powder.
Decrease heat to low/medium-low and simmer until thickened, about 30 minutes.
Serve topped with remaining cheddar cheese, bacon, chives.
Enjoy! More on SouthernFATTY.com.