It's no secret that I'm a huge gin fan. With the muggy summer peeking it's head into the picture, gin is the perfect cocktail base. Fresh, floral, a bit of a bite. Mix that with some fresh cherries, and you're off to the races.
I'm sharing one of my favorite summer sips, a Loaded Cherry Gin Fizz. The first thing you should be making with those fresh cherries that are about to pop up here in Nashville.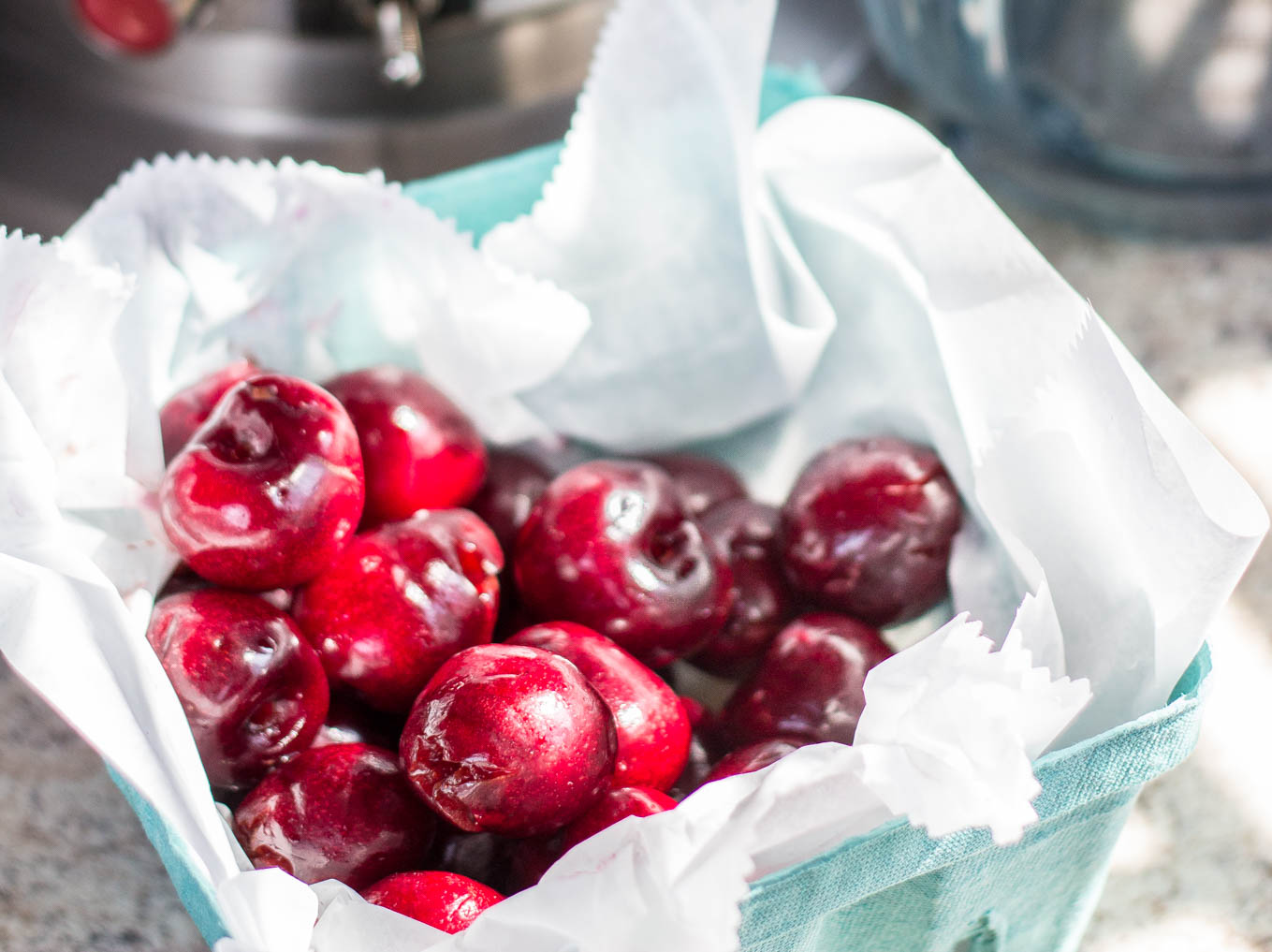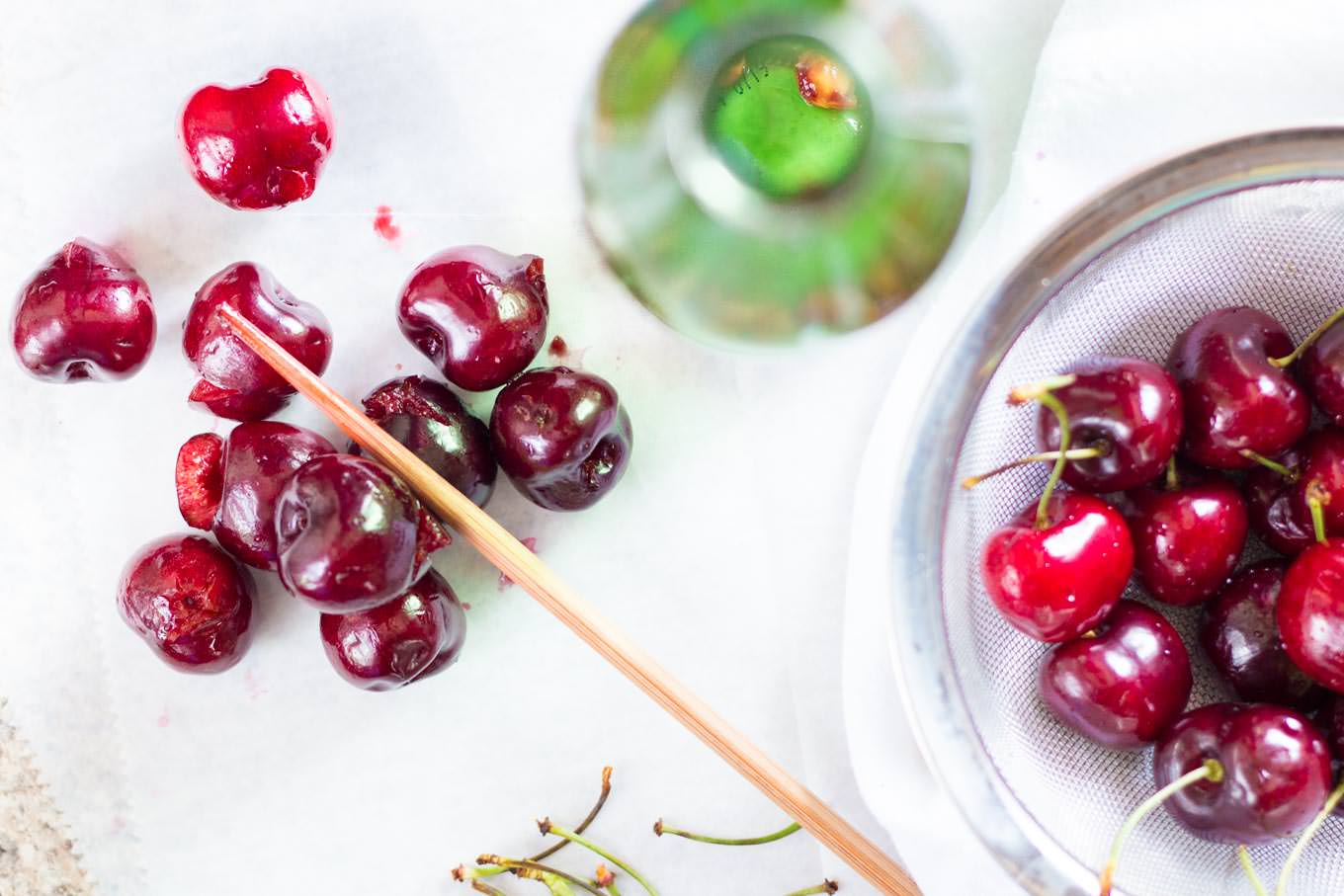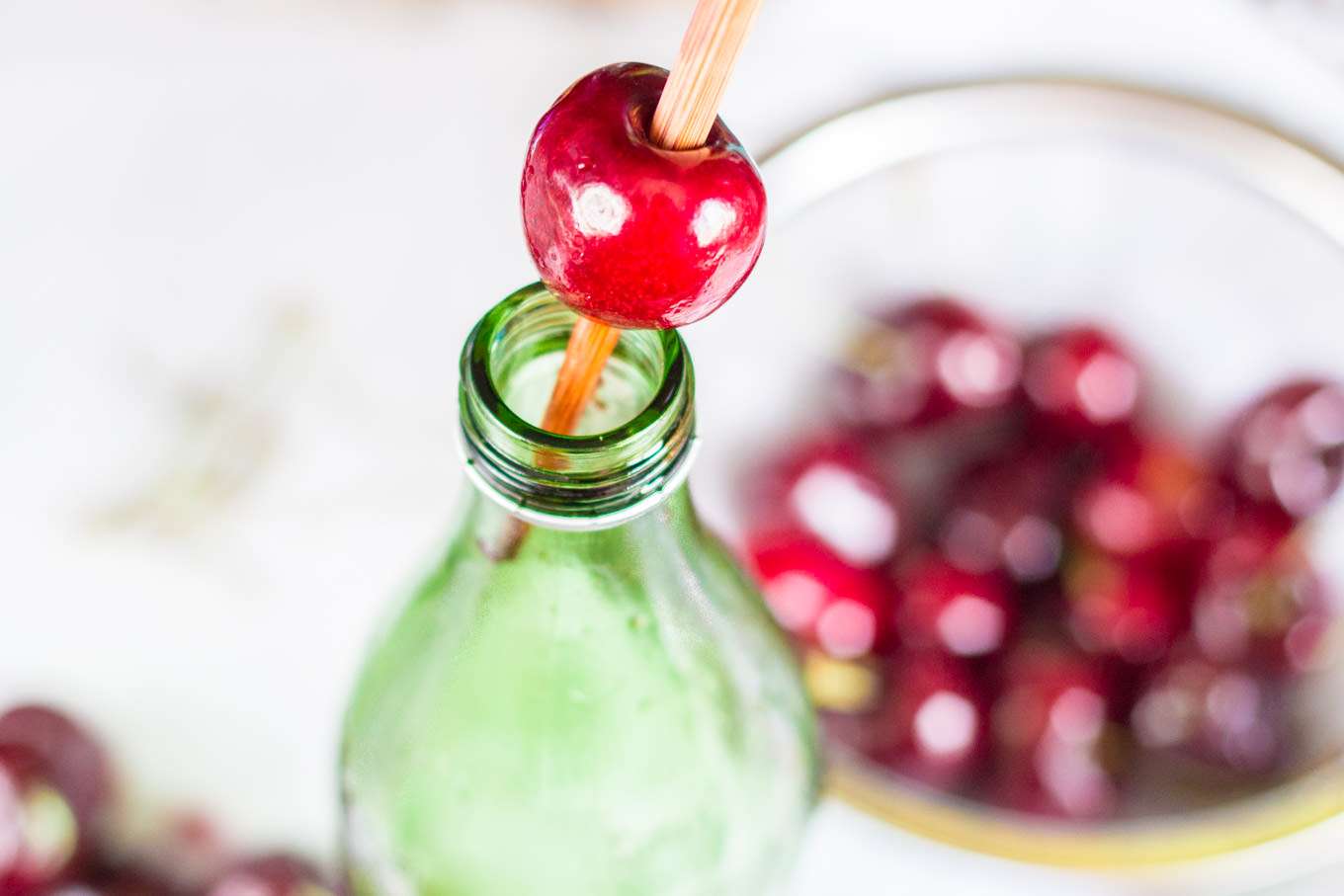 I've always been that kid that absolutely loves cherry-everything. Cherry hard candy is still a vice of mine. Y'all know what I'm talking about. That artificial, super-sweet flavoring. The stuff they pump onto SnoCones during the summer. The best Starburst in the bag. All of it. It's one of the few fruit flavors that I can't get enough of. That's all dandy and all, but when it comes to cocktails, I found that I couldn't really deal with the artificial stuff. I've tried pumping cherry syrup into drinks (And, yes. I do have a gallon of it with a pump top sitting in my kitchen right now. So what?), but it just doesn't do the trick.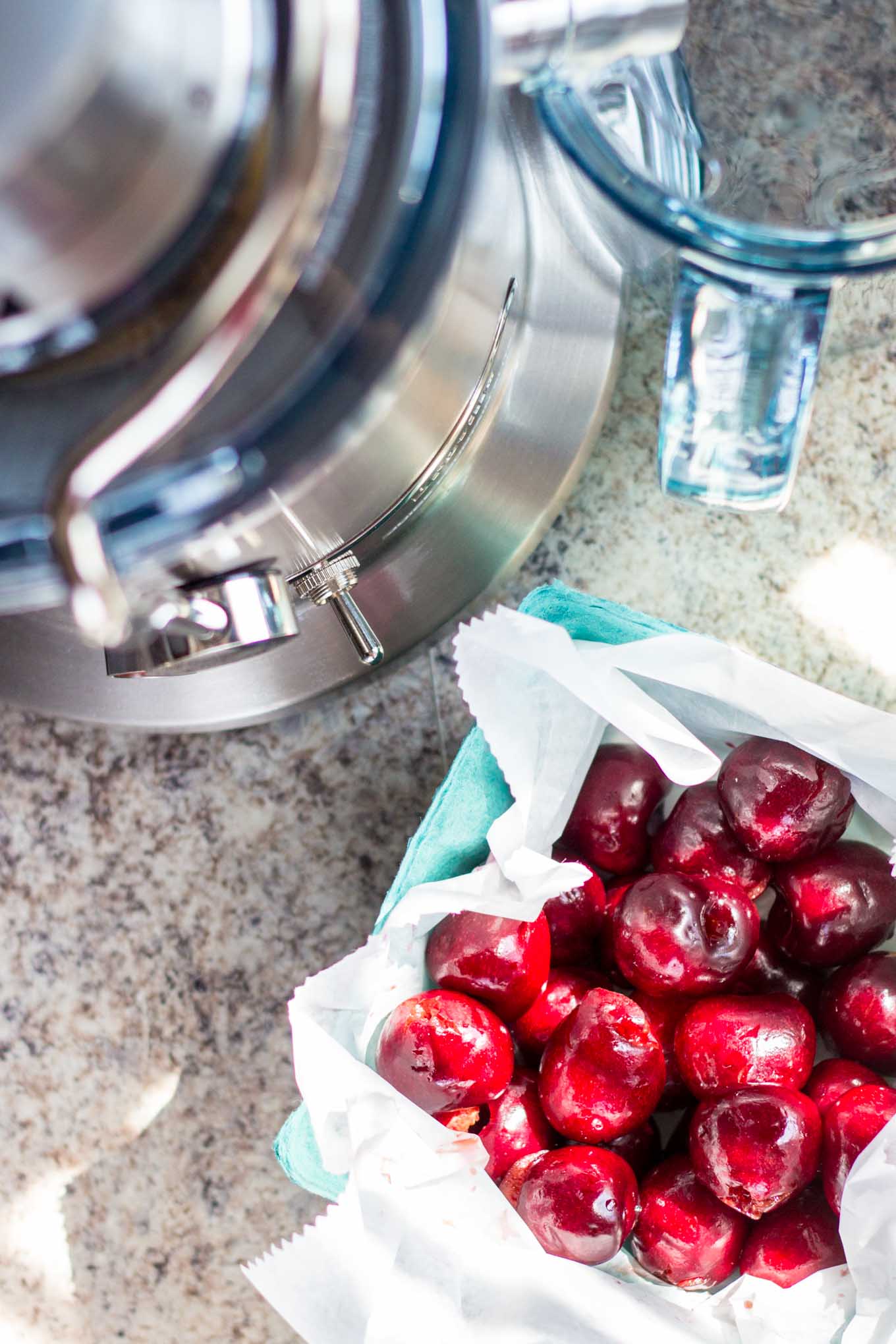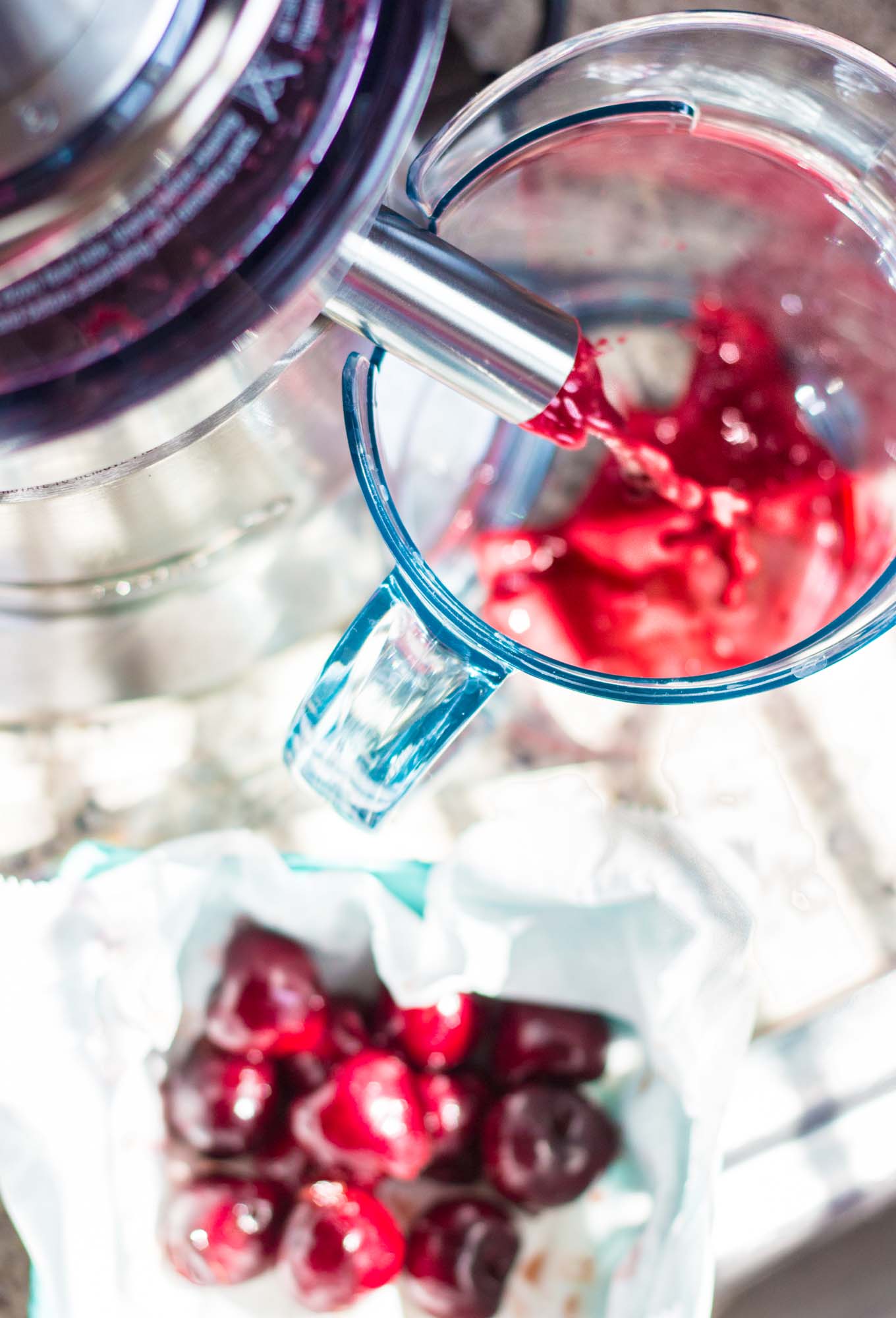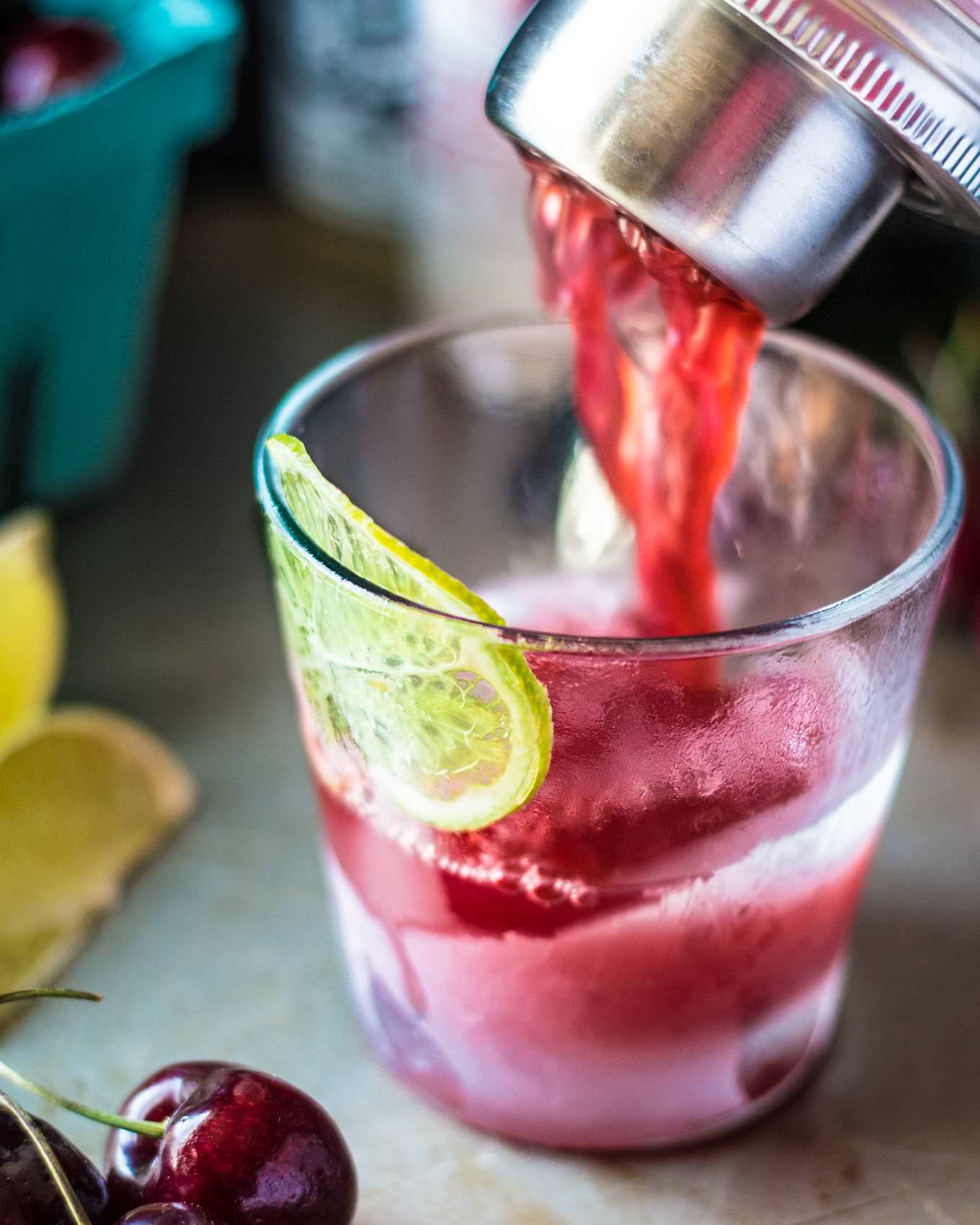 That brought me to my juicer. My go-to use for this thing is fresh orange juice. Because you cannot beat the real thing when it comes to OJ (fruit juice, not "Juice"/Simpson). I can honestly say that I haven't ever put a handful of kale through it, but I did try some cucumbers ones (to mix with gin, obviously). I started to wonder if I could actually juice a cherry. I'm all about efficiency.
The first step to juicing a cherry (juice it, juice it) is to get rid of that horrendous pit. Interesting note… Cherry pits are extremely toxic. They contain a compound called amygdalin, that turns into cyanide then you metabolize it. If you swallow a pit, you'll prob be fine. It you chew one up, more of the substance is released, and even just a couple pits can cause you to croak. Science, yo.
Since I don't want you all to accidentally put a bunch of cherry pits into a juicer and Romeo and Juliet yourself on accident, we need to toss those stones out. The absolute bestestest way to do this is with a little thing I call my bottle trick. No, not quite a fun tipsy bar game, but more a kitchen hack. Find a bottle, hold a cherry on top, push a chopstick through to pop the pit straight into the bottom. Voila! How badass is that? This makes the entire process so much easier. Give a pile to the kids and let them work on them for a while. Kids watch too much TV these days. Put 'em to work already.
Once you have a nice pile of fresh, cyanide-free cherries, you can just toss them in the juicer and watch the gorgeous red liquid gold come spraying out. The entire process is pretty cathartic, if I do say so myself. Sorta like kneading bread is. Put on some nice music, have yourself a glass/bottle/carafe of wine and pit away. It's worth every moment in the end.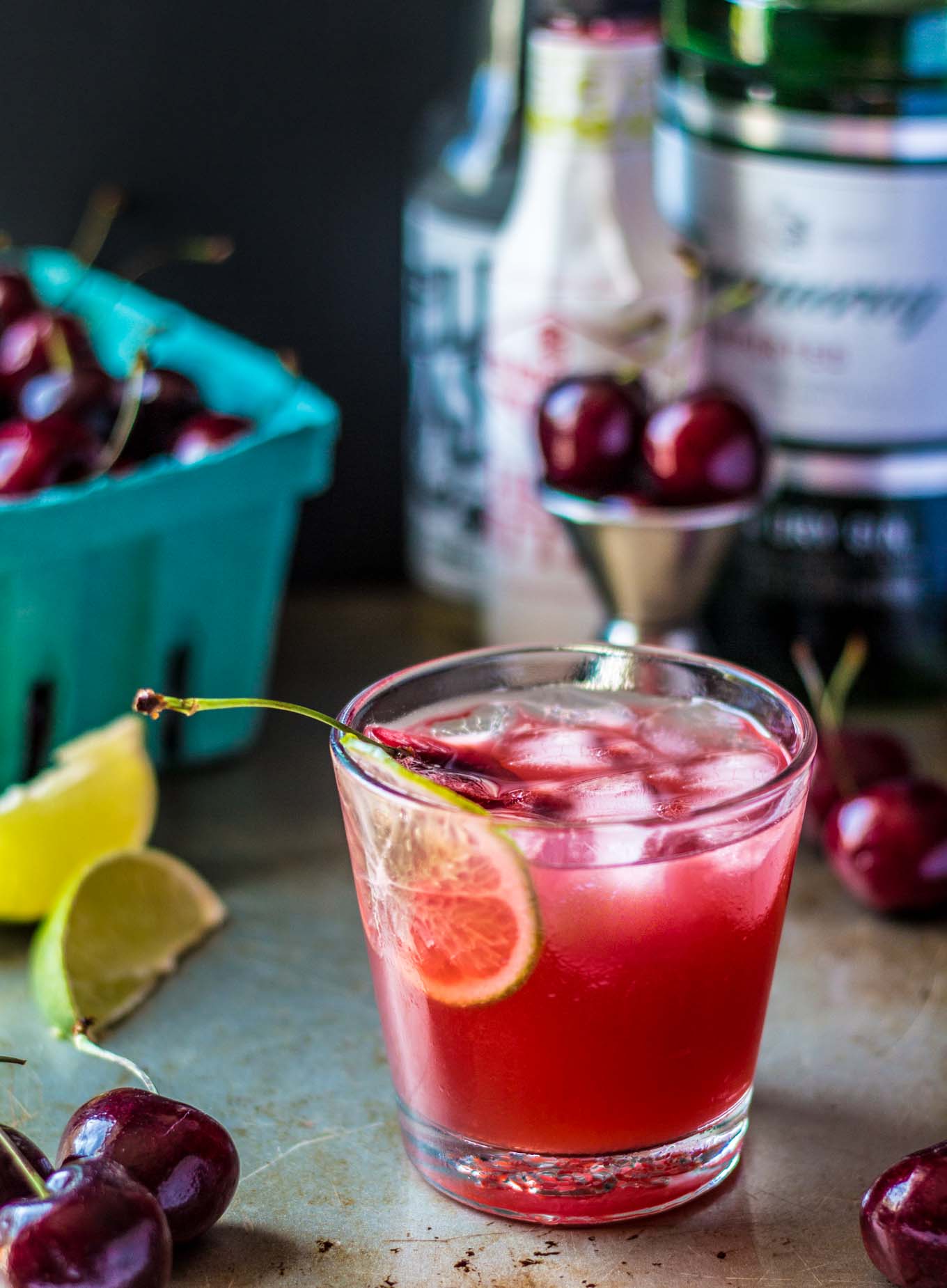 Summer is for fresh fruit, warm weekends, and patio cocktails with friends. OH… and gin. Lots of gin.
Enjoy, y'all!

Loaded Cherry Gin Fizz
Fresh cherry juice gin fizz by Southern Fatty.
Author:
Phillip Fryman | SouthernFATTY.com
Ingredients
1 cup dark red cherries, pitted (see blog for tricks on pitting) ; for 1 ounce cherry juice
1 ounce gin
½ ounce lime juice
½ ounce simple syrup
1 dash cherry bitters
club soda, to finish
ice
Instructions
Place fresh dark cherries (pitted) into juicer.
Place 1 ounce cherry juice, gin, lime juice, simple syrup in cocktail shaker with ice.
Shake well.
Add dash of cherry bitters to glass by spreading around glass inside.
Fill with ice.
Pour cocktail shaker mix into glass.
Top with club soda and enjoy.
More recipes on SouthernFATTY.com
Check out our other cocktail recipes HERE.