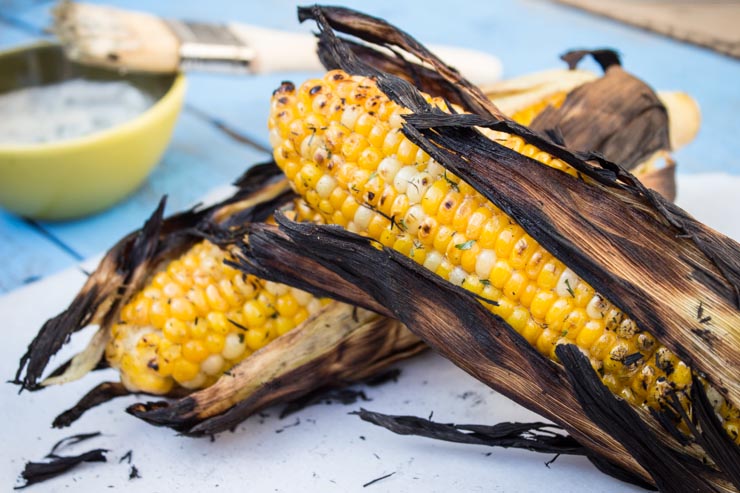 STOP. It's grillin' time! There really isn't anything better than going to your local Farmer's Market and stocking up on fresh veggies for the week. I am lucky enough to have the Farmer's Market here in Nashville show up right on campus every Thursday during peak season. I walk out at the end up the day and grab my goods for the week. There really isn't any excuse to not take advantage of that. Without a doubt, the best way to prepare almost all of these local goodies is on a grill. Yup. I'm one of those Southerners. I grill everything.
I planted some starters for herbs last month, and already have tons of beautiful accents to use on the veggies. Cilantro, basil, thyme, oregano… Super easy to grow in pots, and everyone knows that when you grow it yourself it makes your meals taste so much better! Here is a simple, but amazingly delicious grilled corn with fresh herb butter recipe.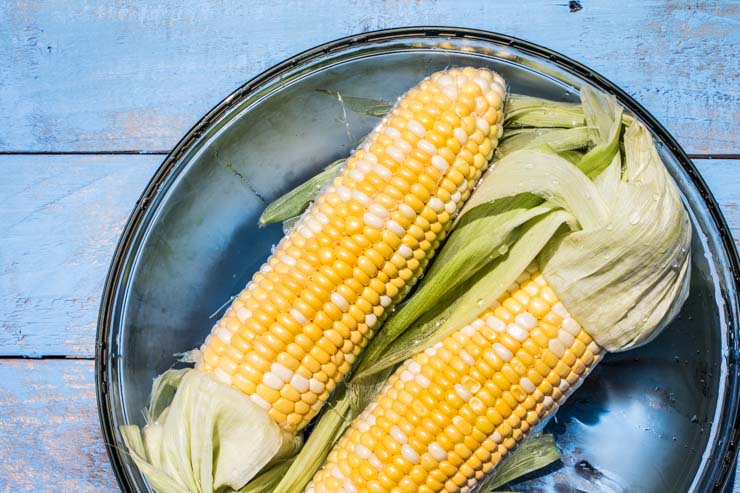 I am grilling the corn with the husks on. I've tried grilling it with and without the husks. Leaving the husks on while grilling allows the steam released during cooking to cook the kernels evenly and to a pristine texture. It's really the way to go.
Because you don't want to just burn the husks off the moment you throw these on the grill, you will need to soak them in water. I left these in after lunch to be well-soaked for dinner. If you are rushed for time, toss them in for 10 minutes. Whatever you can do will help.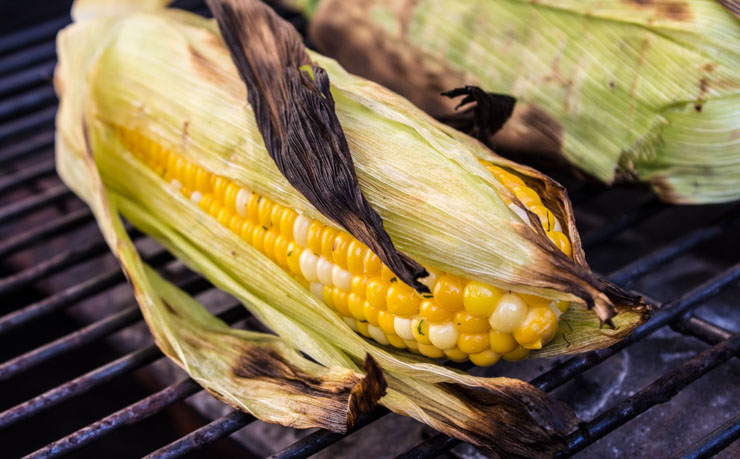 When you are ready to grill, wrap the husks back around the corn. I usually try to twirl the tops together to get the husks to not immediately split apart. If they do, it's fine. OH. Cover that thing in the herb butter before you re-husk it. Because, well, butter! Toss it on the heat and let 'er go.
I like my grilled corn to still have a bit of bite to it when it is finished, so I go for about 5 minutes on each of 4 sides of the cob. Cook it longer if you like very soft corn instead. Once those husks start to dry out a bit, you will notice that they burn. A lot. Let it go! (let it gooooo.. let it goooo…. wait.)
Just keep turning them as carefully as you can and it will be fine. The fire ball of corn even makes for a nice Instagram!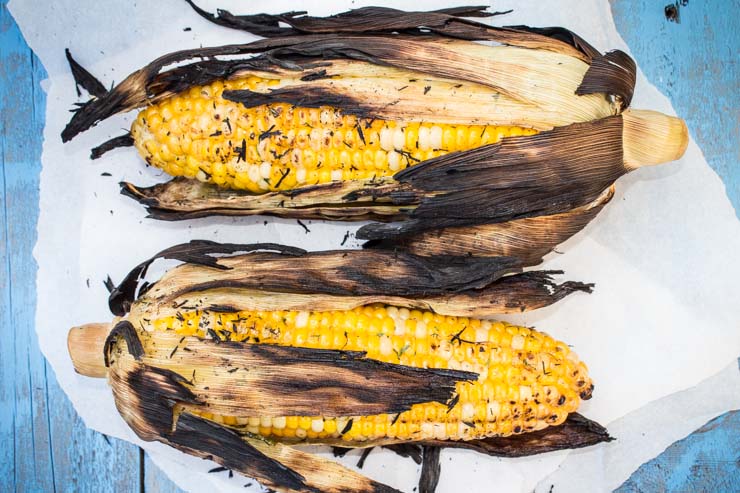 Once the corn is finished (check it with a knife to see how soft the kernels are), remove it to rest for a bit. Cut it off or eat it straight off of the cob, but you have to add a bit more of that butter before you do either! Play around with the blends of herbs that you have on hand and see what you like best. My end choice was a mix of basil and cilantro. Simple and delicious.
Grilled Herb Butter Corn
Fresh Grilled Herb Butter Corn
Ingredients
Corn
4 ears Fresh Corn
water, cold
1 tablespoon salt
Herb Butter
4 tablespoons unsalted butter, room temp/softened
1 tablespoon fresh basil
1 tablespoon fresh cilantro
½ - 1 teaspoon salt, by taste
½ teaspoon pepper
dash hot sauce
Instructions
Pull husks of corn down, clean out and rinse well.
Place in cool water bath with tablespoon salt and soak for at least 10 minutes (up to several hours, adding salt at last 10-15 minutes).
Mix all herbs, salt, pepper and hot sauce in softened butter.
Brush on butter mixture before returning husks to original covered position on corn.
Grill for ~5 minutes on each side on high heat grill. Turn carefully to prevent husks from tearing completely. Cook slightly longer for softer corn.
Remove and let cool.
Add more butter and enjoy!
Visit SouthernFATTY.com for more recipe and to comment.
Notes
2014 - SouthernFATTY.com
What's your favorite Summer-time grilled meal? Comment below and send us a picture on Instagram!