Cream Puffs / Pâte à Choux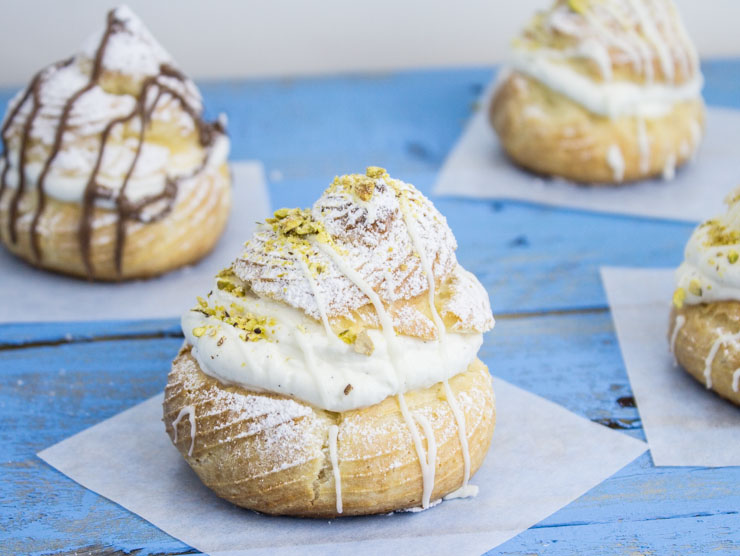 1 cup flour
1 cup water
1 stick (113 g ; 8 T) butter, unsalted
salt, pinch
1 cup eggs (about 4 large)
1 cup heavy cream
1 cup mascarpone cheese
½ cup powdered sugar
2 teaspoons vanilla extract or 1 vanilla bean pulp
1-2 tablespoons amaretto, optional
Preheat oven to 425 F.
Line baking sheet with silicone mat or parchment paper.
In a medium saucepan, combine butter and water. Bring to low boil over medium high heat.
Dump in all flour and salt at once.
Stir with wooden spoon until flour comes together in ball.
Transfer ball of dough to food processor or mixer with Beater Blade (really works best instead of traditional mixer wisk or paddle).
Let cool for 4-5 minutes. Mix in eggs one at a time.
Pulse/mix until combined. It will look like thick batter/paste.
Transfer mix to piping bag (or Ziplock with corner cut).
Pipe desired shape onto silicone mat or paper. If you don't want a point after baked, lightly press down top point of dough.
Bake until golden, about 20-25 minutes.
Let cool completely before filling.
Place cream in mixer with Beater Blade. Begin to beat at medium-high speed until soft peaks form.
Slowly add powdered sugar. Continue to mix at medium-high speed until stiff peaks form.
Mix in mascarpone and beat. Add vanilla and combine.
Pipe into puffs.
Top with powdered sugar and desired toppings.
Enjoy! Visit SouthernFATTY.com for more.
Recipe by
Southern FATTY
at https://www.southernfatty.com/cream-puffs/