Creamy butternut bacon cream soup recipe with roasted butternut squash, milk, cream, topped with crispy bacon and chives.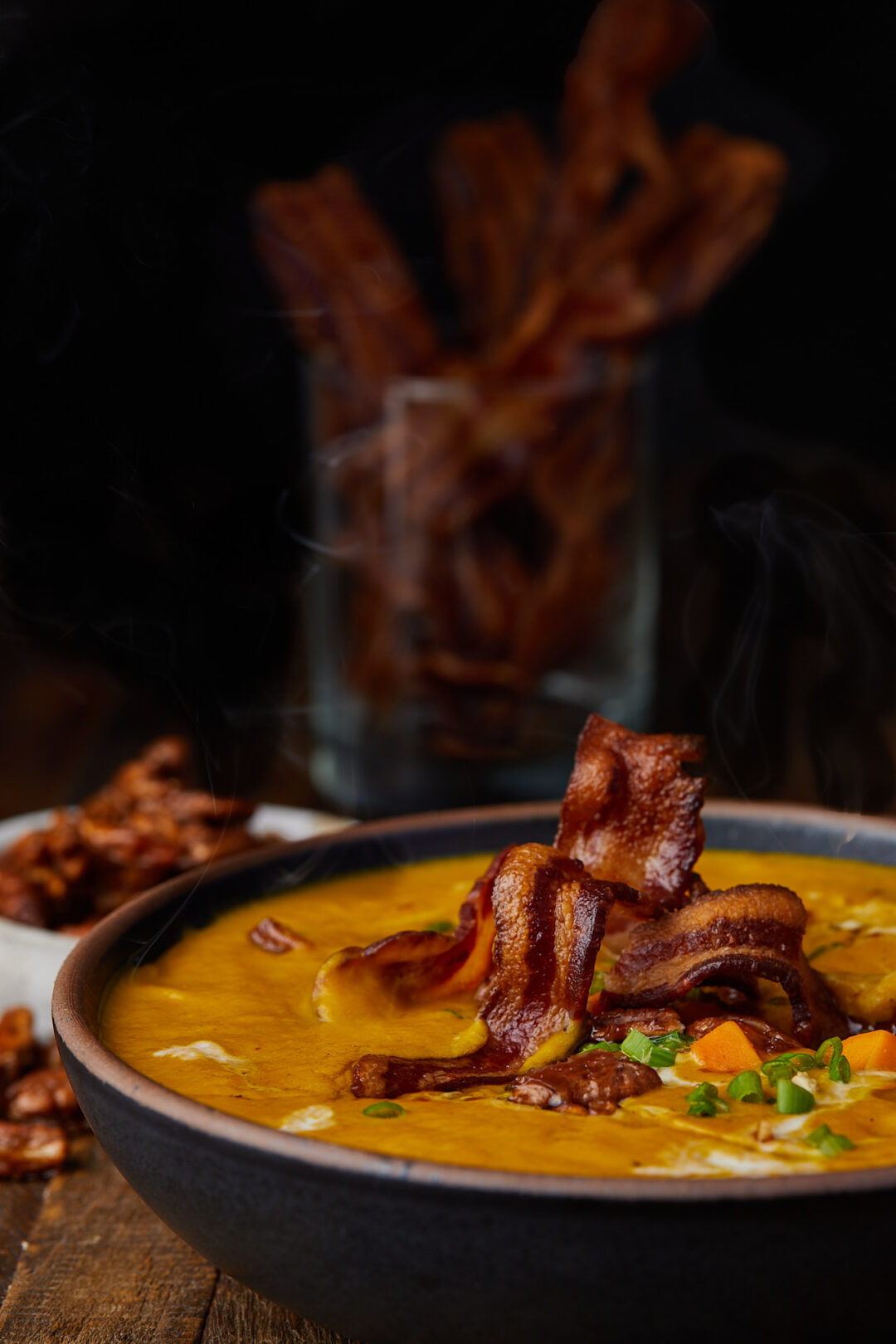 Soup season is in full swing! As I am writing this, there is snow on the ground and my fireplace is nice and toasty. Butternut squash, rich milk and cream makes the perfect warm-you-up bowl of soup with all of the best flavors of fall and winter.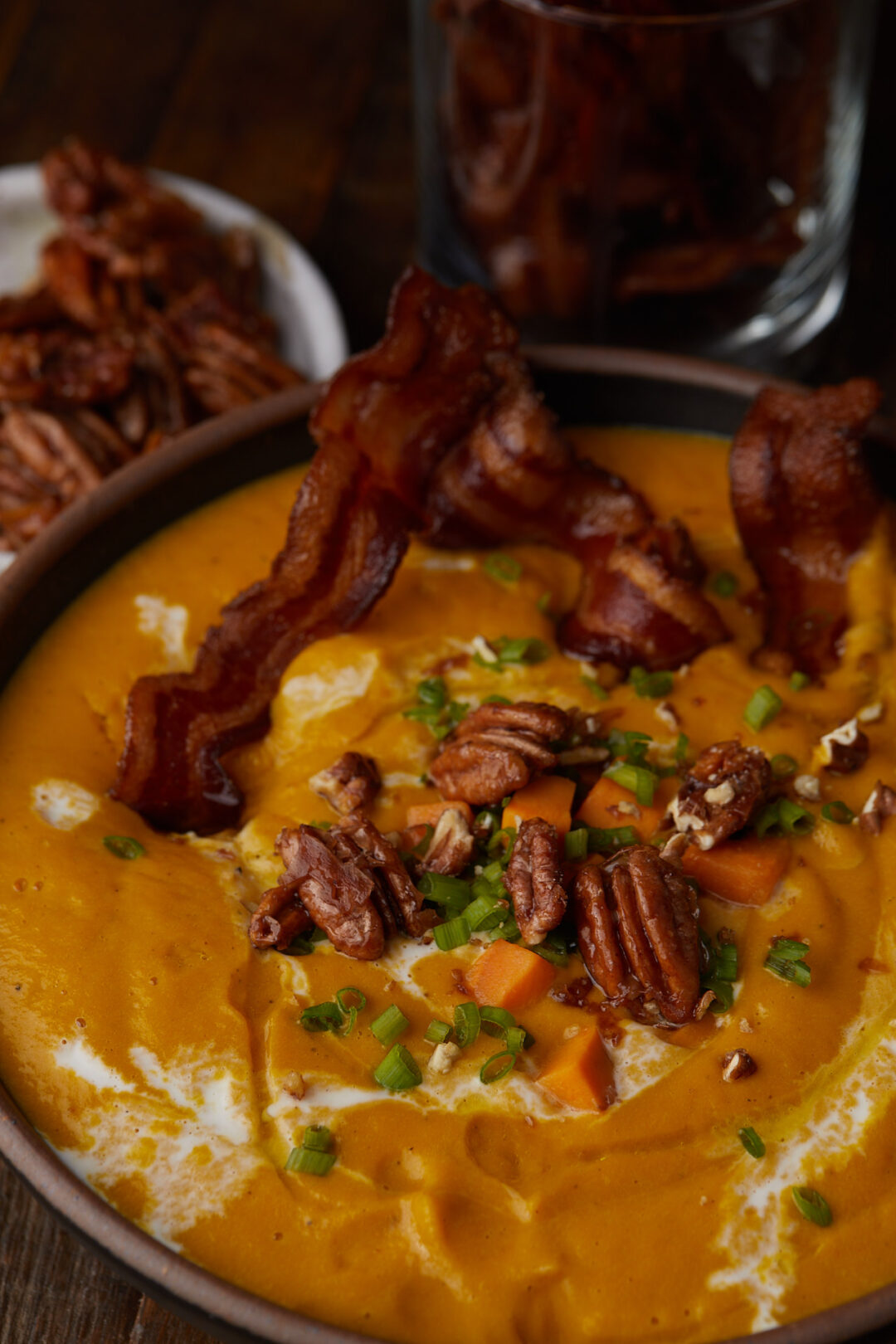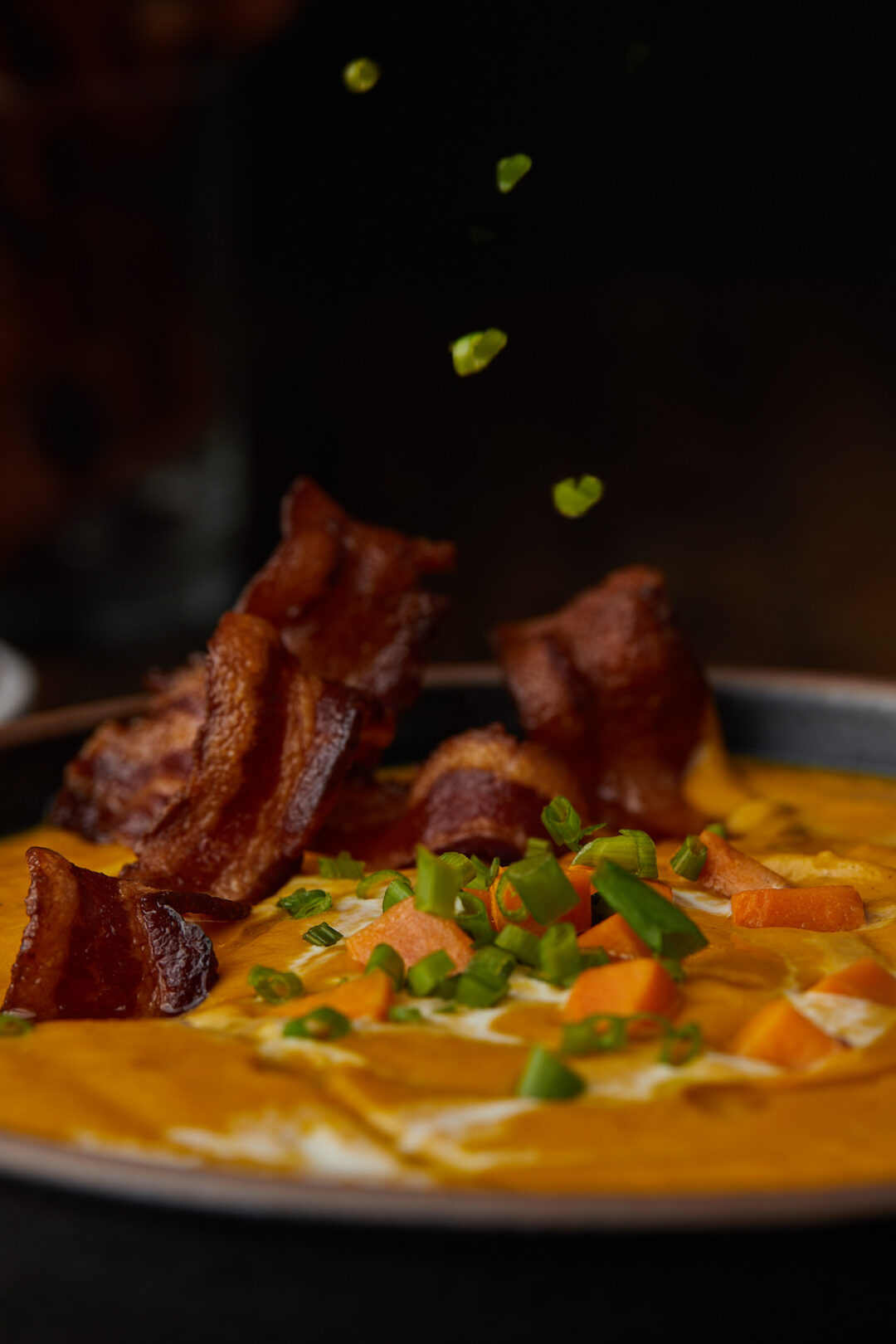 Cozy comfort of a good soup are what really create the best of the colder months. Butternut squash has the perfect flavors of the season and couldn't be more simple to stir up. One pot and a bit of simmer time and you are on your way to that cozy couch and movie night in or little effort family dinner.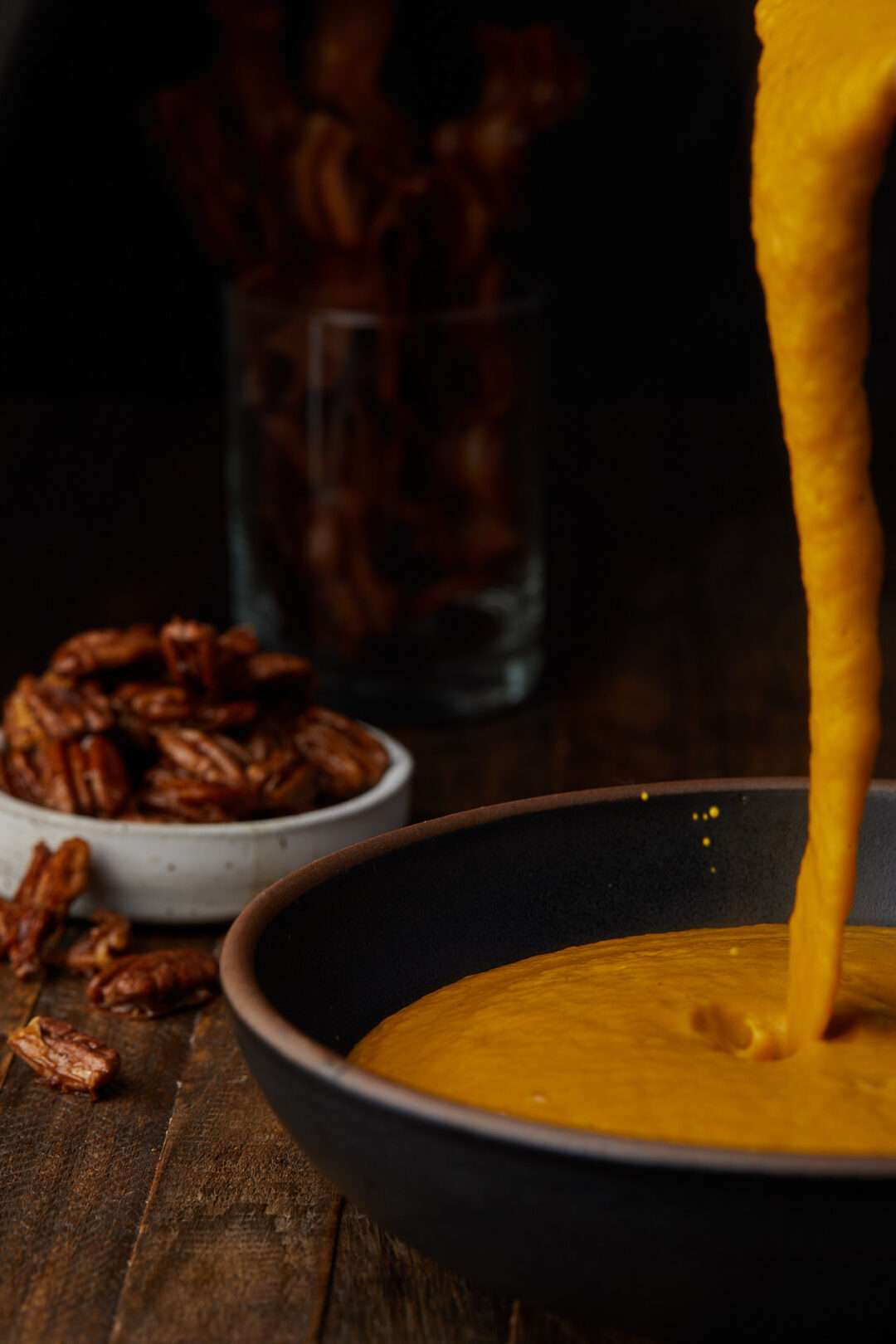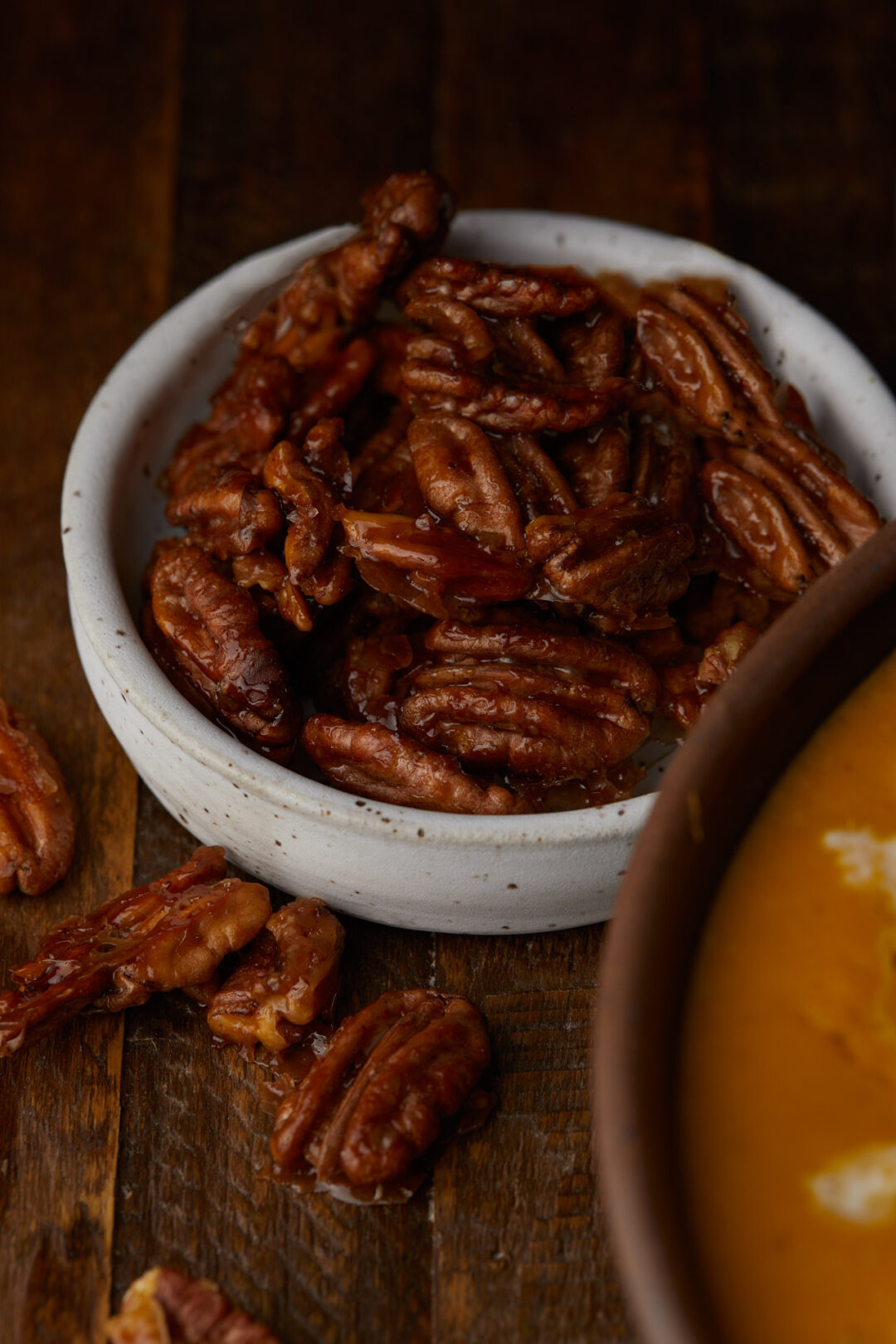 If y'all are anything like I am, fall and winter rolling in are nice for a few days and then the dreaded colds and sniffles and blah starts to creep in with the seasonal shadow. Soup has always been a mainstay for that. Not only does it just make you feel like a cozy blanket is wrapped around you, but it actually helps your immunity and nutrition. Dairy has 13 essential nutrients in a single serving. The nerd in me can't help but find information about what is actually in your food to be pretty astonishing. Having visited several local dairy farms personally, this added bonus is another reason to use good quality dairy in your recipes.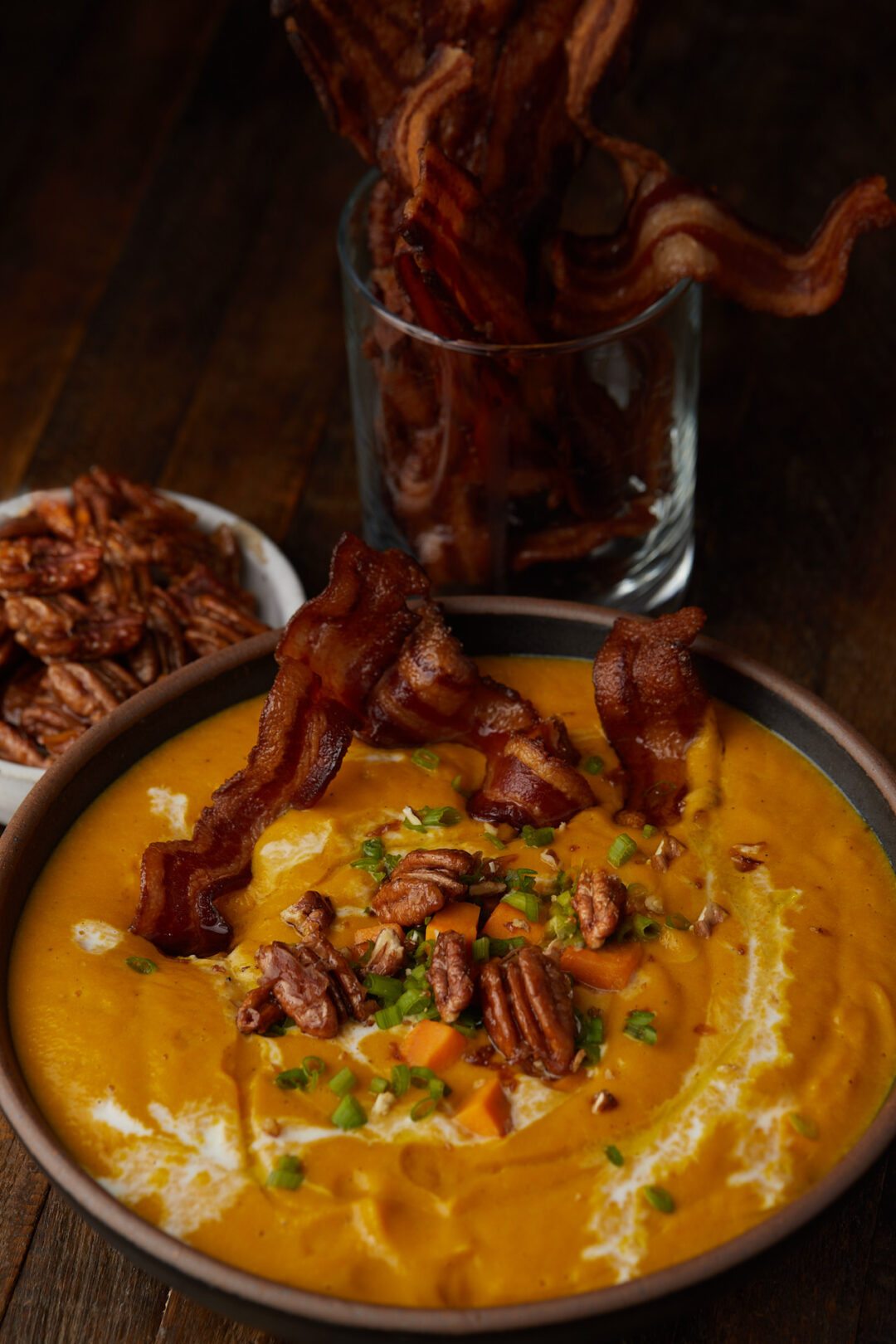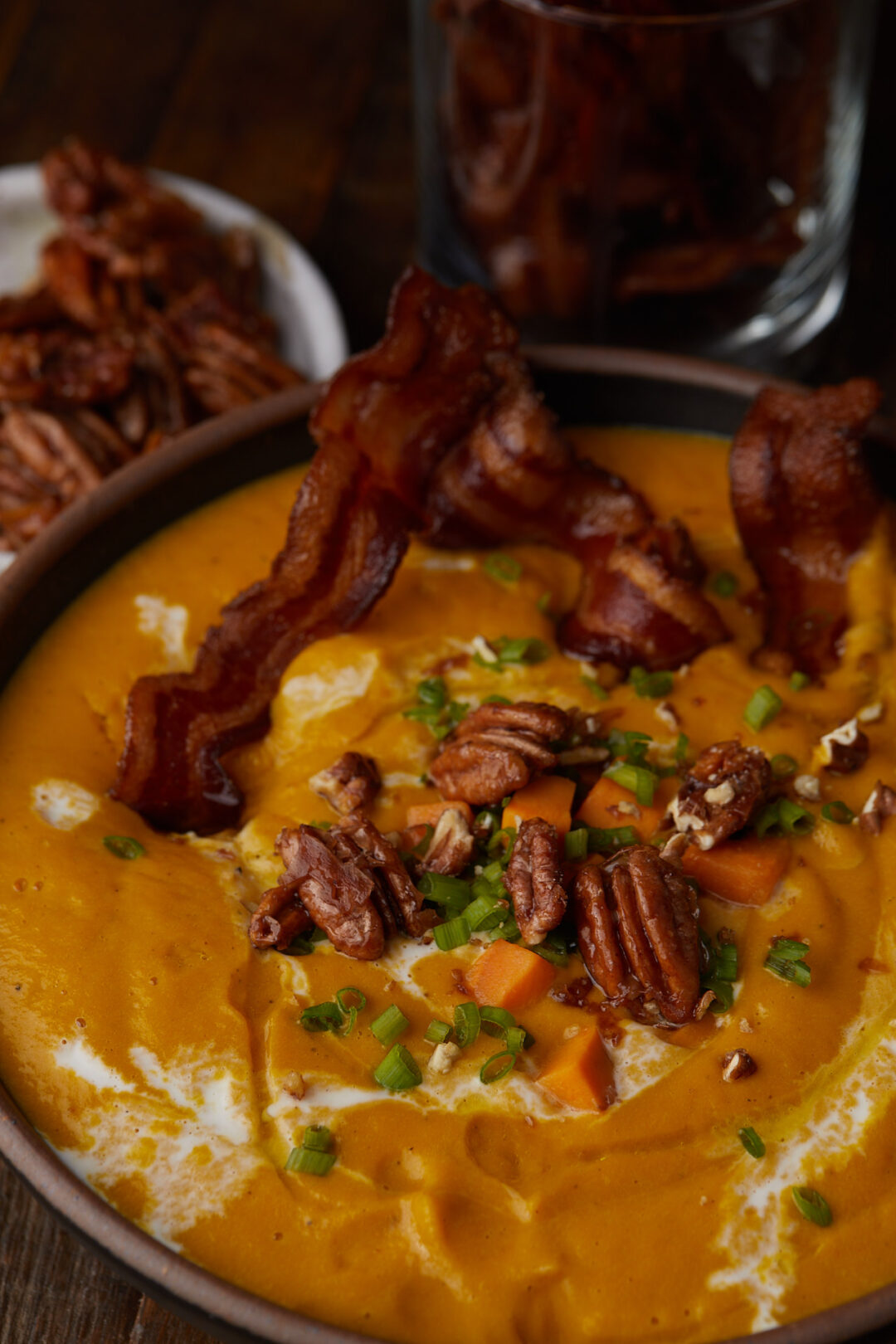 I know… Southern Fatty talking about something being healthy. I don't actually live off of donuts and waffles alone. What I will say is that I absolutely make sure when I am eating with a bit more of a wholesome mindset that it still tastes delicious.
The richness of the silky milk and cream combined with the sweetness of the butternut squash makes this soup recipe a simple choice for the season.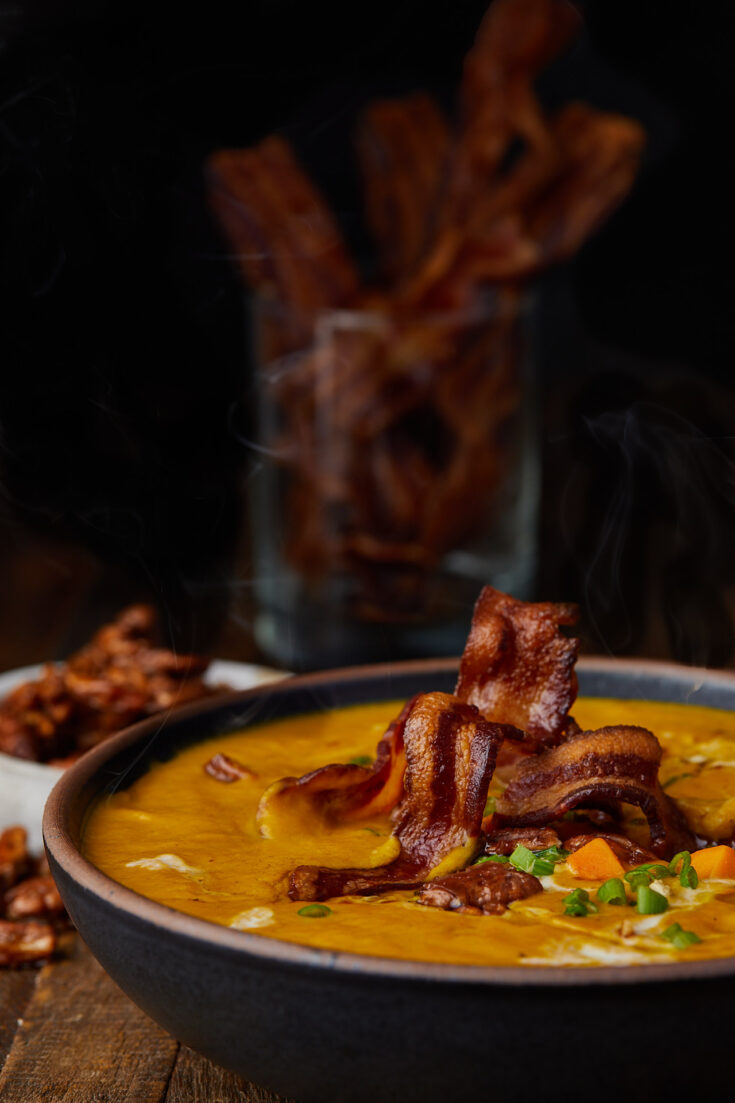 Yield:

8 servings
Butternut Bacon Cream Soup
Creamy butternut bacon cream soup recipe with roasted butternut squash, milk, cream, topped with crispy bacon and chives. From SouthernFatty.com with The Dairy Alliance.
Ingredients
2 tbsp olive oil
2 large onions, chopped
4 garlic cloves, minced
2 lbs (3 cups) butternut squash, cubed
1 large sweet potato, peeled and chopped
1 tsp smoked paprika
1 tsp salt
1 tablespoons apple cider vinegar
1 cup whole milk
2 cups stock (chicken or vegetable)
crispy bacon, to finish
chives, minced, to finish
heavy cream, to finish
salt and pepper, to taste
Instructions
In a large pot, heat over medium heat.
When hot, add oil and chopped onion.
Cook, stirring often, to soften onion for 10 minutes.
Add garlic, squash, potato, 1 tsp of salt, paprika.
Stir and cook for an additional 5 minutes.
Add vinegar. Stir well.
Add the stock and bring to a boil.
Reduce to a simmer and cover.
Cook for at least 30 minutes. The vegetables should be soft.
Add milk.
Use immersion blender to desired viscosity. I like this soup completely blended, but it is good if only part of blended as well.
If using regular blender, mix hot soup carefully by appliance recommendations.
Salt and pepper to taste.
Server with a drizzle of cream, topped with bacon and chives.
Find more recipes on SouthernFatty.com.
Recommended Products
As an Amazon Associate and member of other affiliate programs, I earn from qualifying purchases.
Nutrition Information:
Yield:
6
Serving Size:
1
Amount Per Serving:
Calories:

202
Total Fat:

11g
Saturated Fat:

4g
Trans Fat:

0g
Unsaturated Fat:

7g
Cholesterol:

18mg
Sodium:

680mg
Carbohydrates:

19g
Fiber:

2g
Sugar:

9g
Protein:

7g