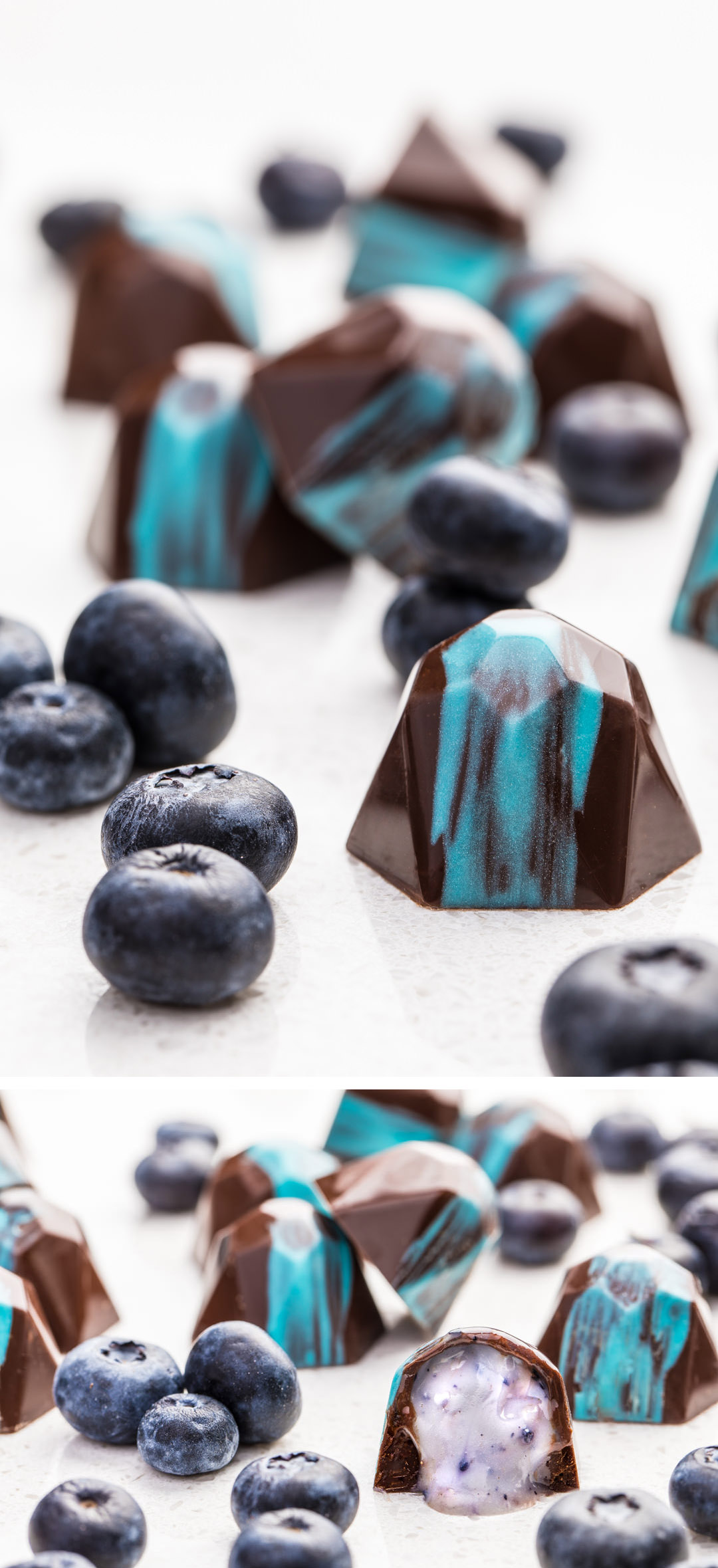 You've all glued yourself to those chocolate shop windows with the gorgeous filled truffles, right? You know what I'm talking about… When the shop owner bangs on the window because your face is pressed up against the glass and you're drooling all of the outside. One of those places.
Turns out, they aren't as hard to make as you may think. With a bit of patience and very simple ingredients, we are going to make some Blueberry White Chocolate Ganache filled Molded Chocolate Truffles.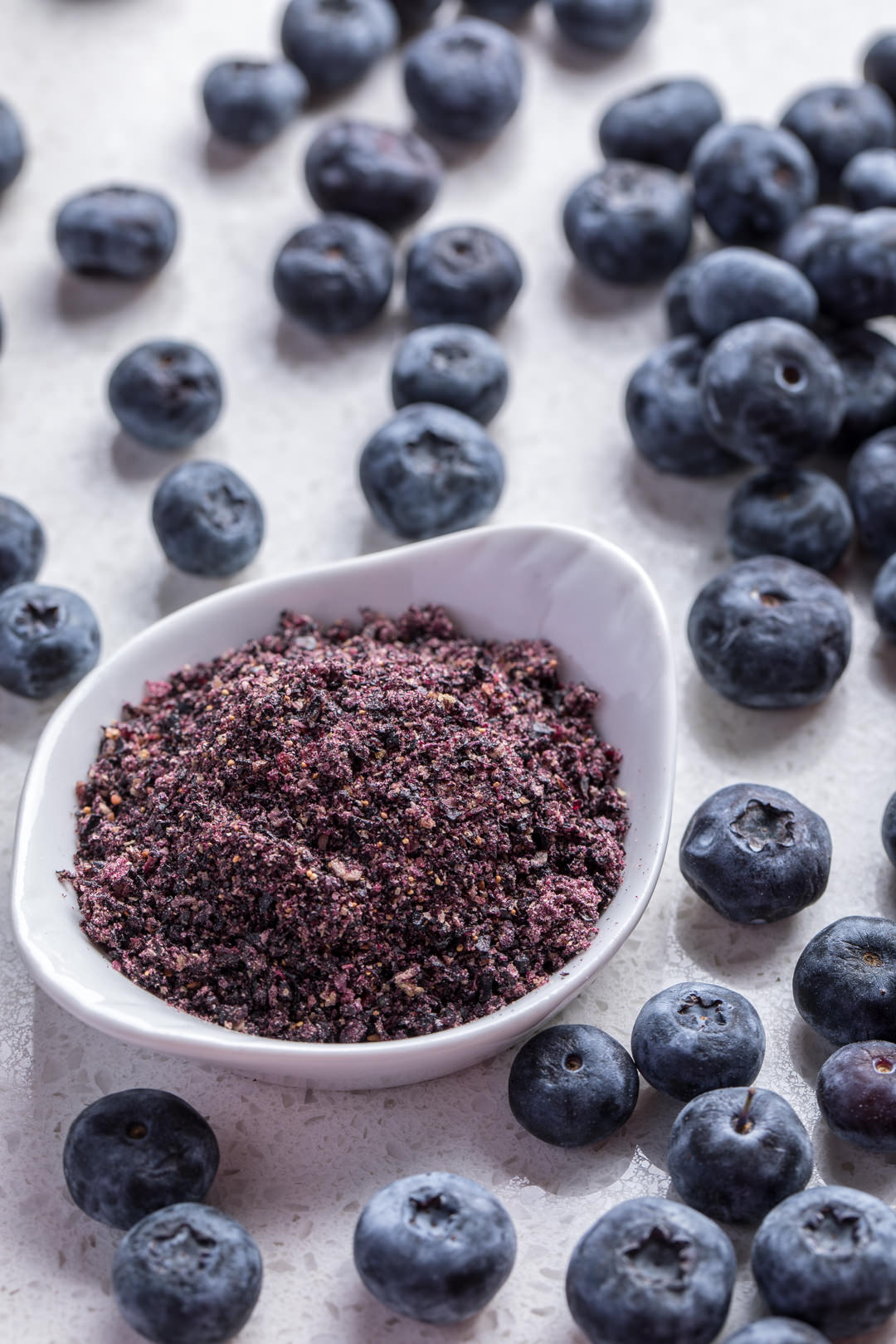 I have to admit something. Fatty to the confessional booth, please. I don't really love fresh blueberries. They just don't seem to have as much flavor as a perfectly ripe raspberry or blackberry.
Sure. I'd rather have a fresh blueberry than broccoli or something similar, but it's just a mostly overrated fruit in my book. UNTIL now. Who knew that blending it into a bowl full of white chocolate and heavy cream would make it SO delicious?! The blueberry in the filling of these is a bit subtle with the punch of the dark chocolate shell taking the spotlight, but it makes for a vibrant, slightly tart finish to something so rich. Honestly, I like this filling combo better than mixing my favorite fruits into it for that exact reason.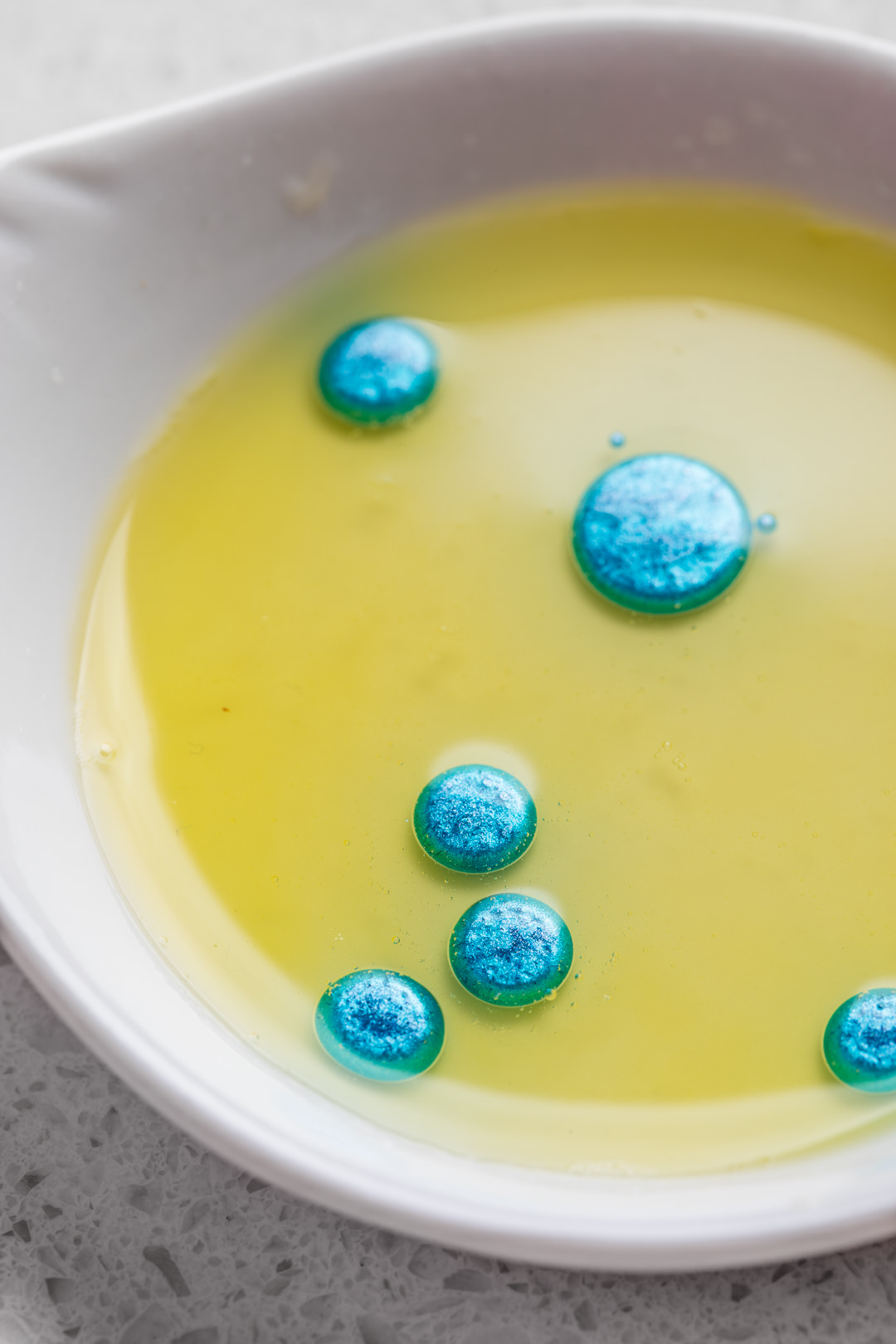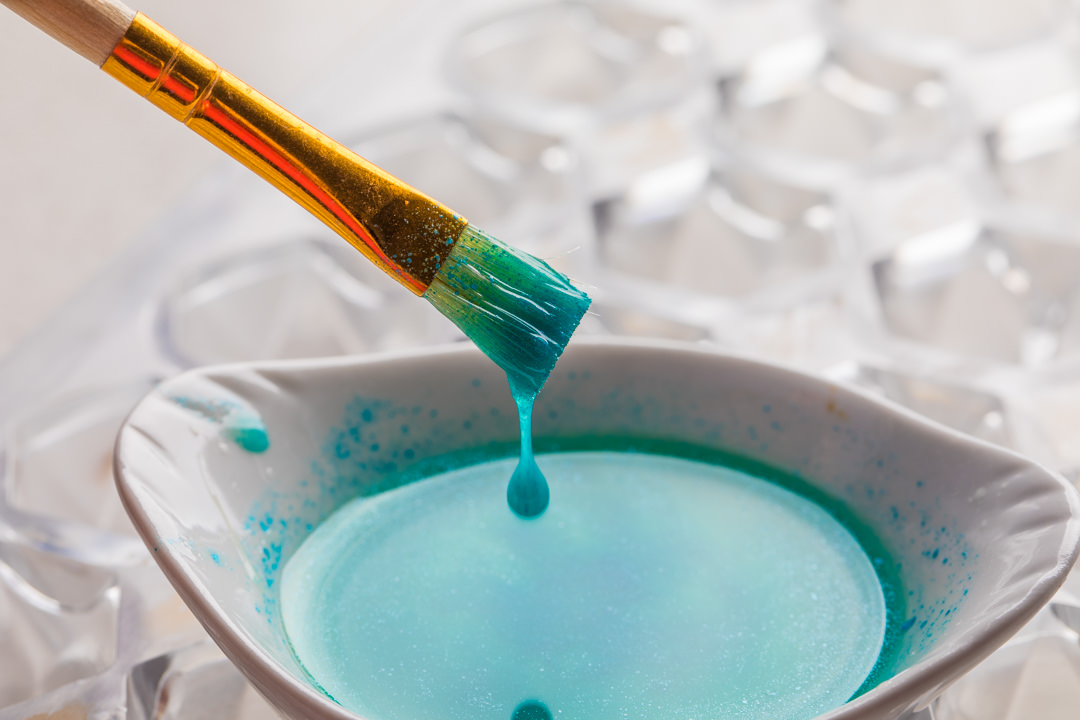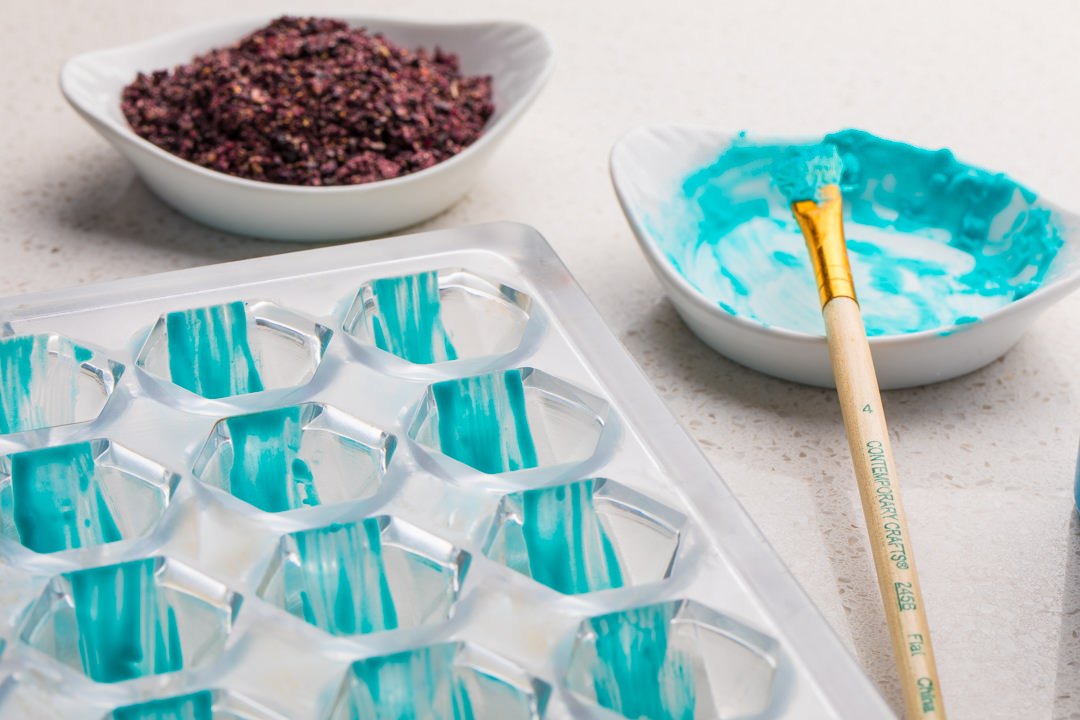 I've made quite a bit of molded truffles in the past. I go through these weird phases where I go 200% in on learning some technical skills involved in pastry, tempering chocolate being one that took me a bit longer to nail down that I care to admit. It's not awful, just very technical. You have to use a thermometer, and you have to pay attention (that's the hard part for me… I wonder off to watch an endless number of cute YouTube cat videos , to end up letting the chocolate go past the point. I get mad and end up throwing it across my kitchen before going to get a McDouble. Basically my home-baker life cycle in a summary.
I decided to play around a bit with the outer shell design on these truffles. I've done the plain Jane thing with these in the past, but who wants to see all of that boring when you can get your Picasso on and paint by numbers with pretty edible colors?
Cocoa butter is the key to this. You can't plop on some food coloring and expect it to work out. You need simple cocoa butter mixed with an oil-soluble coloring. Sorta. You can see in the photos above that my coloring just beaded up. I tried this with food airbrush coloring because I love, love, love the sheen options in those kits.
Turns out, I should have done a bit more research. While it wasn't the best option (you really want an oil or fat-soluble food coloring that will incorporate in the cocoa butter, which is oil/fat after all), it actually ended up working well for my use. My home kitchen isn't exactly the pastry cabinet of Ladurée.
We'll roll with it. I just made sure that the coloring was very well mixed between every few brushes into the molds. Turned out pretty well, I think. You are left with this super glossy brush stroke that looks like a million bucks. If that presentation isn't inviting to bite into it to find out what's inside, you have no soul.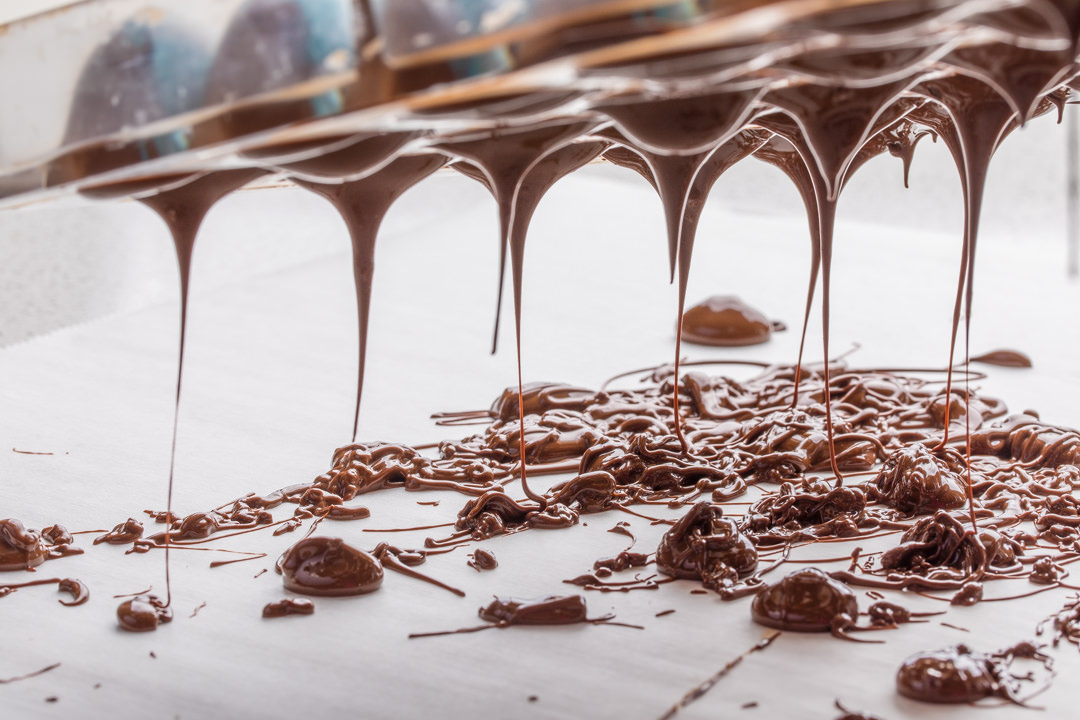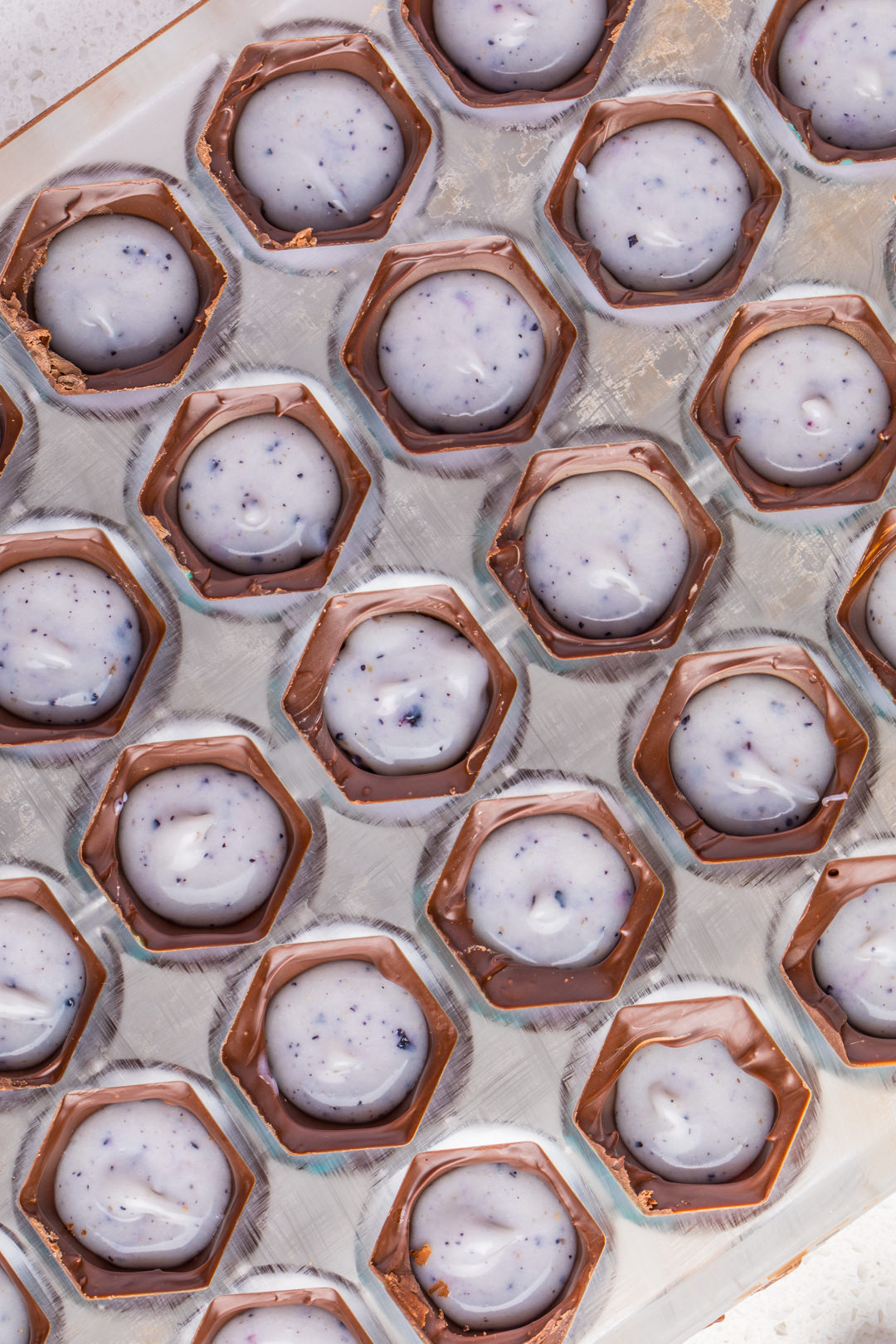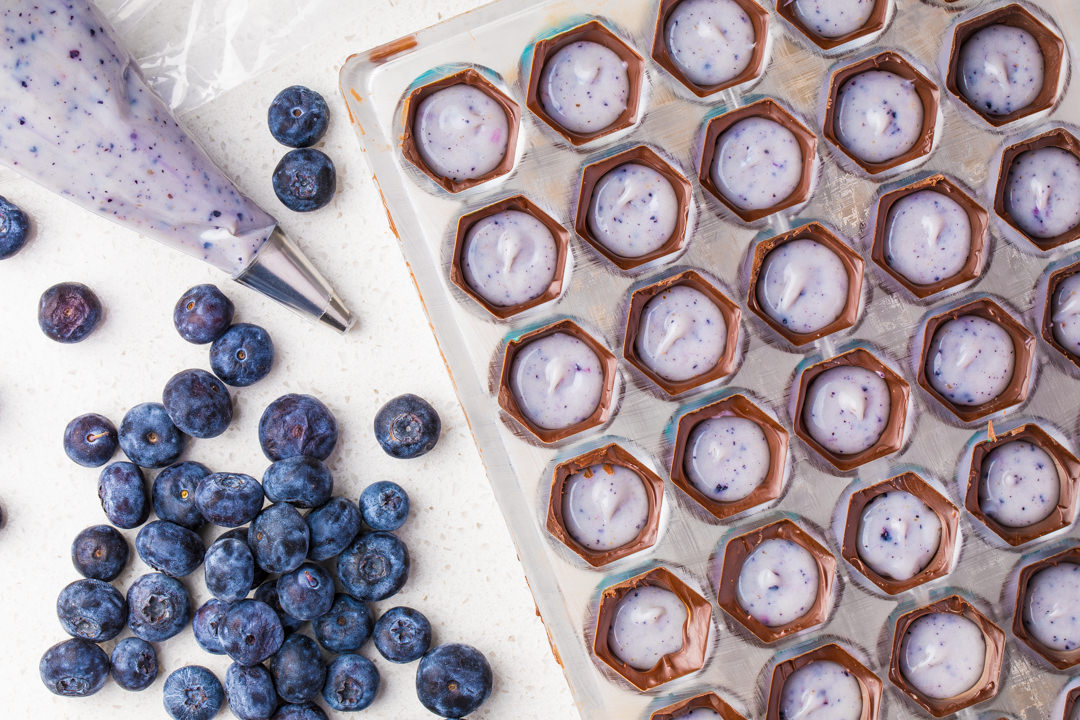 Speaking of the molds… I'm going to save you a shit load of work and tell you exactly what and why you need to get the right stuff in hand before starting this. Remember when I said this wasn't that difficult. The hardest part of making these is making sure you are equipped with the best tools. Once you've got that down, it's plug and play like Y2K (idk if that makes sense, but it rolled out of my mouth as I was typing and sounded too fun to not include it).
Having been in more kitchen and baking shops than sporting events during my lifetime, I know that you will almost always find those thin plastic chocolate molds as your only option for chocolate molding. Walk in the store, pick up one of those molds, find a lighter or burning candle, and burn it until it no longer exists. Those things are absolutely useless. I suppose you could get them to make simple decorating candies or something, but it's a disaster for finishing chocolate that you've spent all of this time tempering. You'll be left with a dull, boring, cloudy finish, much like when I've tried those painting while drinking cocktails classes. — Walk out and sit in your car to drink your pumpkin spice latte and get on Amazon to order the real deal.
It's going to cost you a penny or 2,000, but is absolutely worth it. You want a heavy duty, polycarbonate food-safe mold made (click for Amazon link to what I suggest – less than $20) for candy making. I would even recommend picking out just one shape that you like and making everything with it for a while before building up a bit of a stock for others. I promise that nobody will care if the chocolates you are generously giving them are the same shape as last time. They'll eat it and go home feeling like they haven't lived their life to the fullest because they don't know how to make these beautiful treats, but forever be your admirer.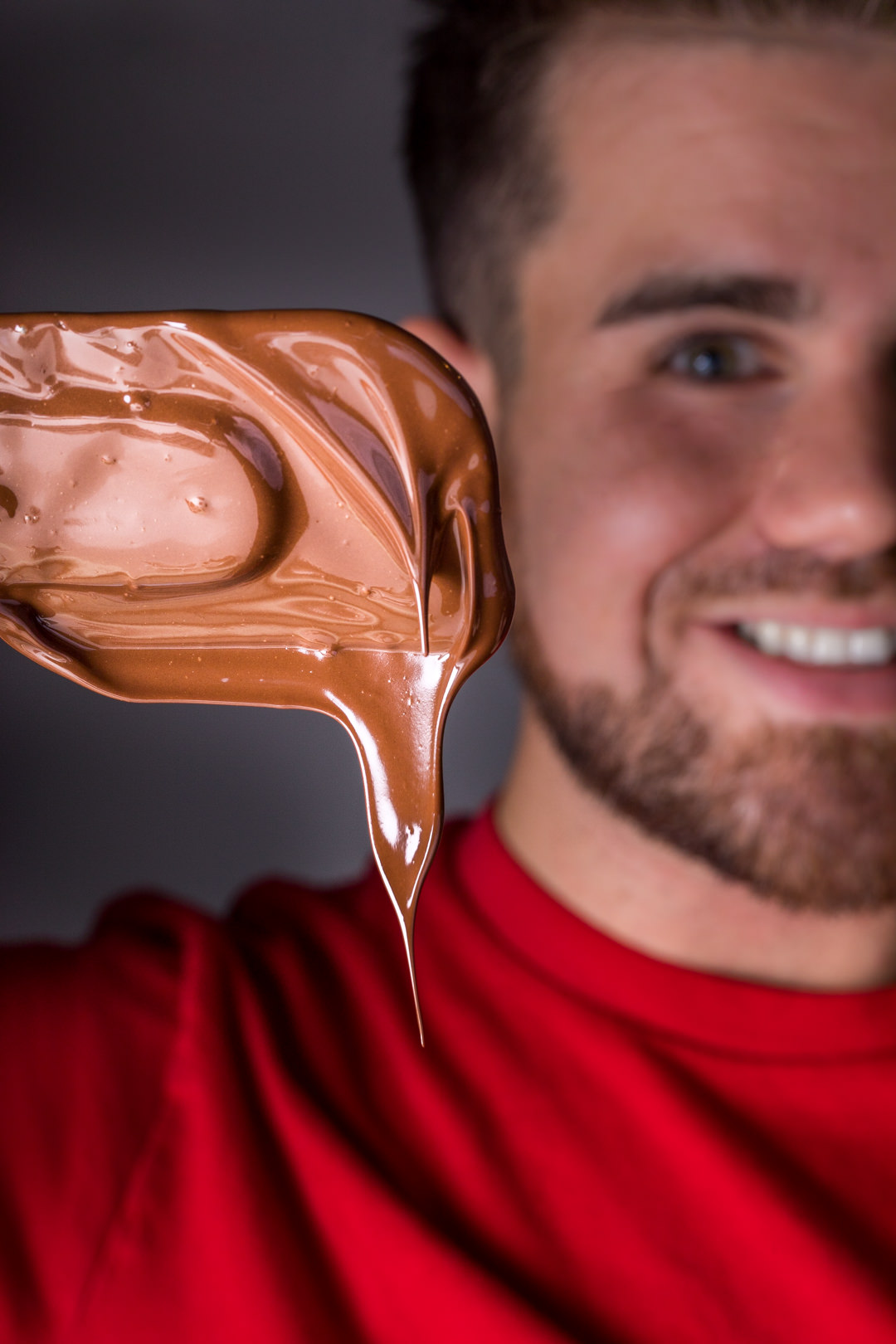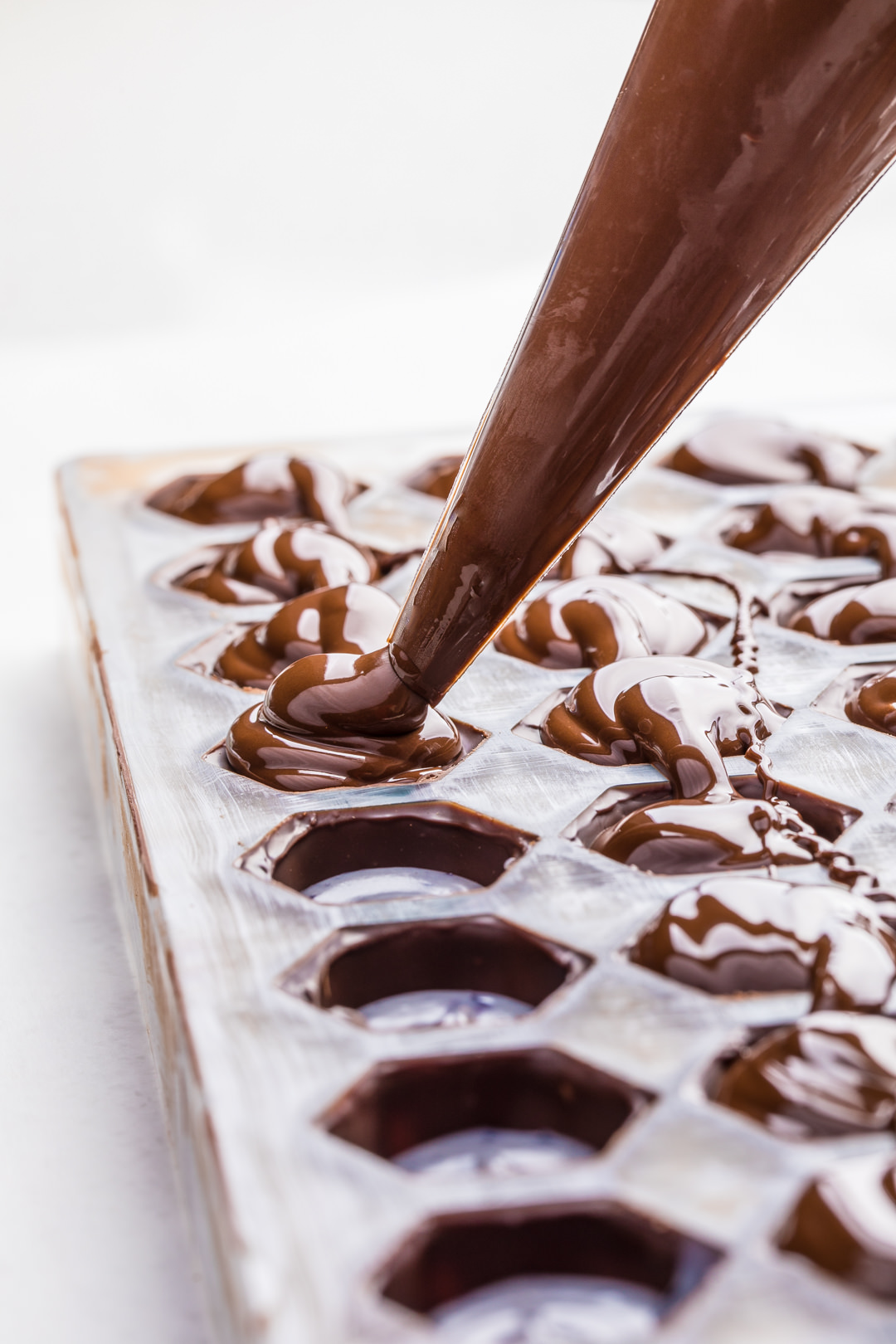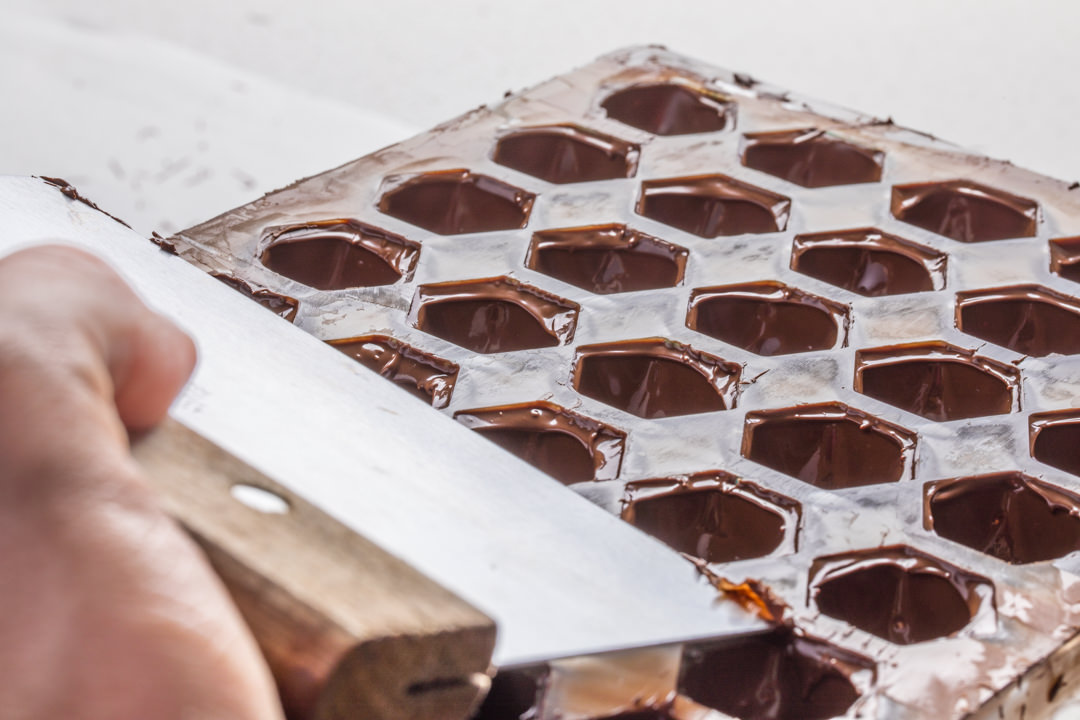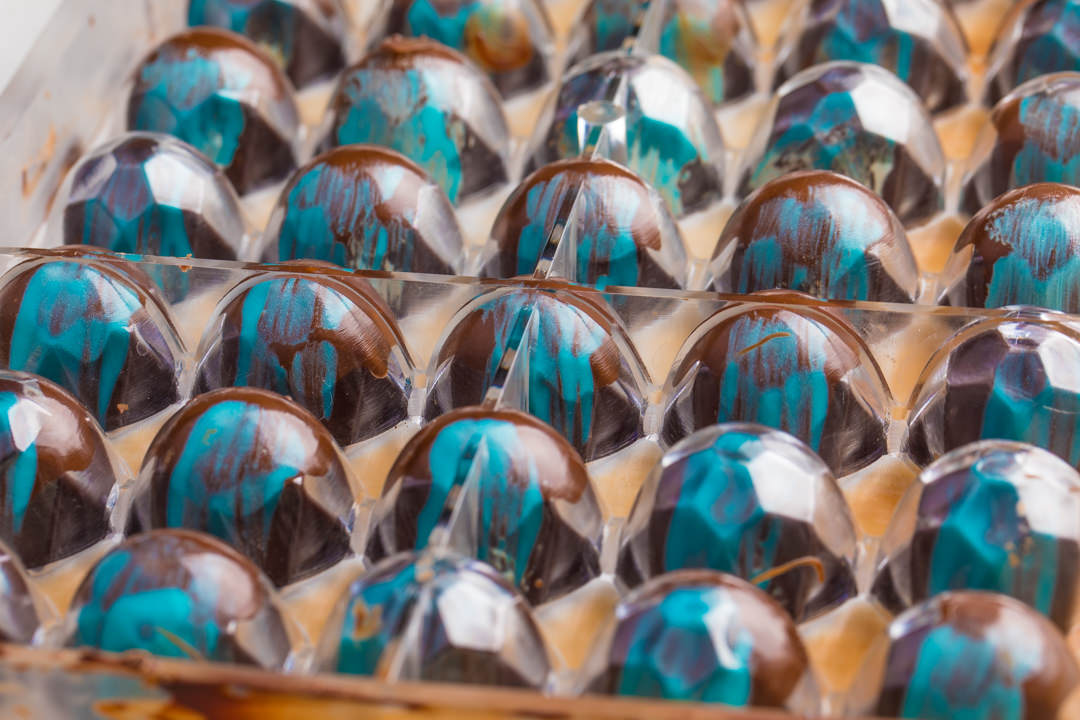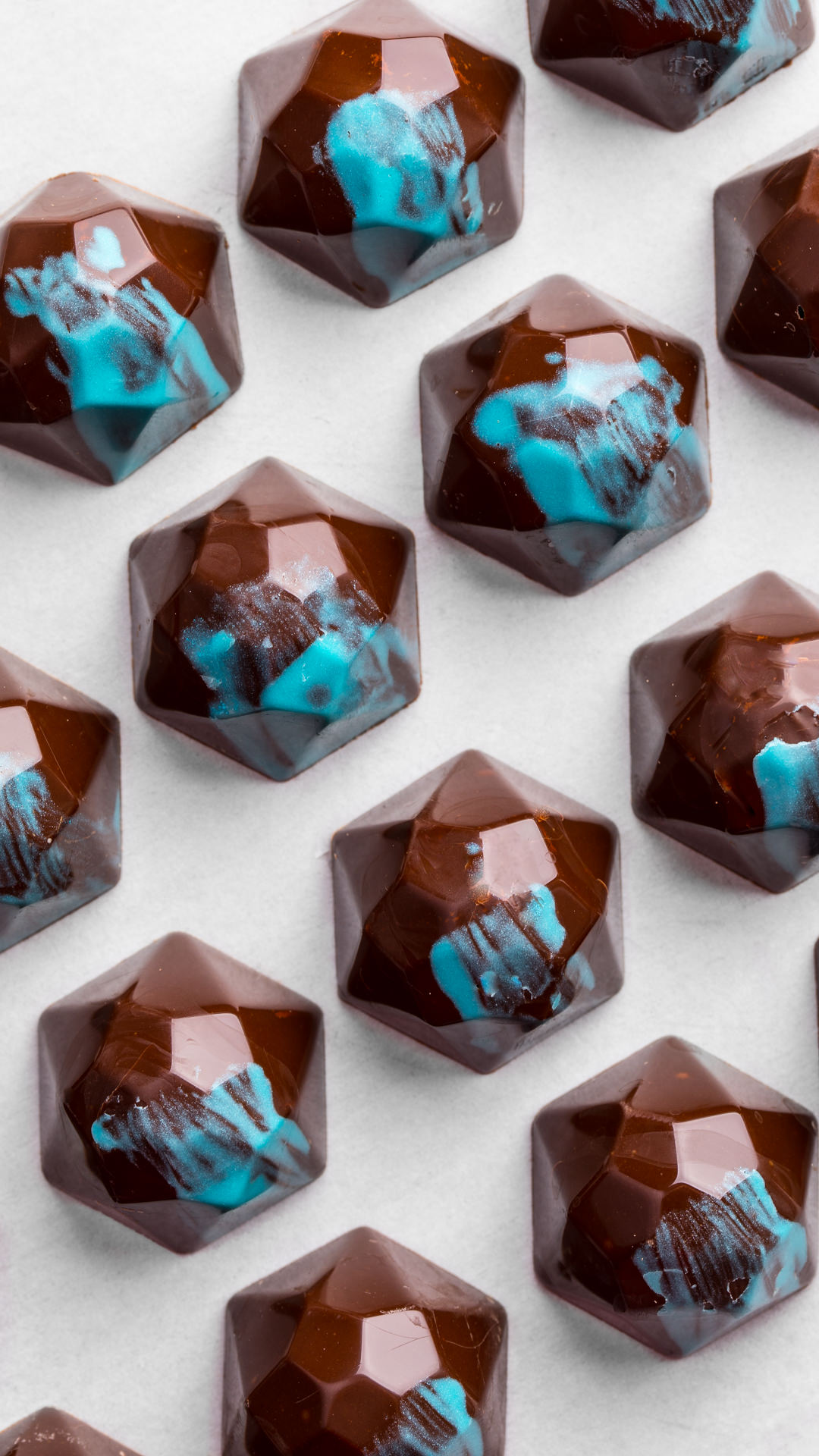 Eventually, I will finish my Tempering 101 Guide, but until then, I would highly recommend that you save yourself a lot of wasted time and anger by reading up a bit on tempering. Tempering is the process of heating and cooling chocolate to go from that matte finish chocolate (like in the photo of the chocolate above) to a glossy, crisp finish with the perfect bite that you expect from a class act candy. Ecole has a great resource to review. Start with the "seeding" method of tempering. Again… get. a. good. thermometer. The two that I often use are this handheld model (there is also a cheaper cousin of this model here), and this infrared thermometer for quick checks. The infrared model has a little laser that you can have the cats chase while you wait. If that isn't enough motivation to get you to grab one, I don't know what is.
If you're looking for a good weekend project, this is a great one for the books. Turn on some Adele, grab a bottle of wine, and take your time with it. I accept samples for product testing. For quality assurance, I mean. Cheers!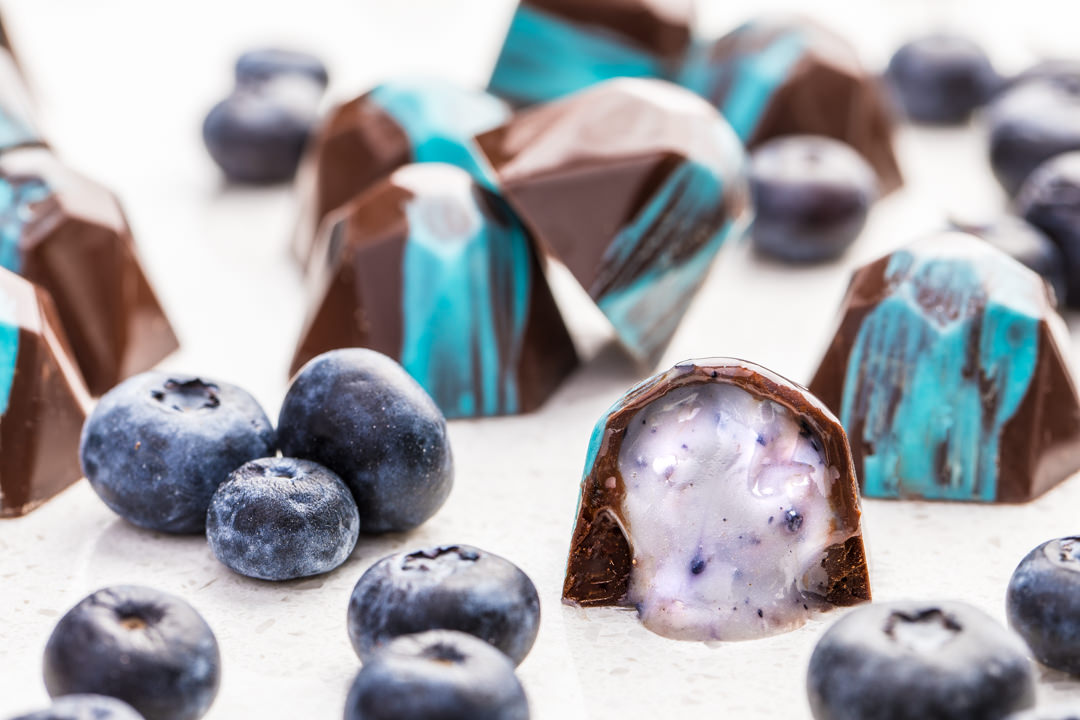 Blueberry White Chocolate Ganache Truffles
Dark chocolate molded truffles filled with homemade blueberry white chocolate ganache recipe from SouthernFatty.com.
Author:
Phillip Fryman | SouthernFATTY.com
Ingredients
Chocolate Shells
500 grams dark chocolate
125 grams dark chocolate
Decorating Outer Shells
2 tablespoons raw cocoa butter, I use THIS often
fool coloring, powder is fairly cheap and best for this application
Blueberry Ganache Filling
200 grams white chocolate
200 ml heavy cream
30 grams freeze dried blueberries
Other Items
polycarbonate chocolate candy mold, click here for options
cheesecloth, to buff mold
Instructions
Blueberry Ganache Filling
Process freeze dried blueberries into a fine powder.
Warm heavy cream over medium low heat in small saucepan.
Pour warm cream over white chocolate and allow to sit for about 3-4 minutes to soften.
Gently stir with a rubber spatula until chocolate is completely incorporated.
Mix in blueberry powder.
Transfer to a piping bag and chill while tempering the chocolate. This can be prepared quite far in advance, but will need to be kneaded in the bag to make it pip able if it cools too much.
Prepare the Molds
If the mold has never been used, you will want to rub a very small amount of the cheesecloth onto the raw cocoa butter before using it to buff the individual compartments.
Once the mold is used properly, you should be able to simply buff. Much like cast iron, the mold will become seasoned with each use. If you have to wash the mold (ideally, simply blow it out and buff to keep clean.
Buff each individual mold compartment, getting every corner, if your mold shape has them. Buff well. This is time-consuming but critical to a shiny finish and good release of the candy.
Once buffed, set aside.
Decorating Outer Shells
If you would like to brush a design on the mold, slightly warm the tablespoons of cocoa butter. I microwave mine for 15-30 seconds and stir. Do not overheat.
Add coloring and mix until completely incorporated. Warm as necessary if it solidifies.
Using a clean pastry brush, brush some of the colored cocoa butter onto the inside of the molds. It may be easier to allow the butter to slightly cool after warming to apply a better coat.
Decorate all of the molds and set aside.
Chocolate Shells
Chop all chocolate into very small pieces.
Before beginning, please take some time to familiarize yourself with the process of tempering chocolate. You can find links in the written content of this blog post for more information.
Begin by warming the 500 grams of chocolate over a double boiler very slowly to 46-48 degrees C / 118 F.
Remove from heat and cool chocolate to 27-28 C / 80 F by slowly incorporating the 150 grams of additional chocolate, stirring constantly. This may take a while to cool, as chocolate holds its heat for quite a while. Be patient and continue to stir.
Place back above a very low simmer and warm melted chocolate to a final temperature of 31-32 C / 88-90 F. Be VERY careful to not exceed this temperature, as you will have to start the process over if so.
Hold chocolate at this final temperature. I generally remove chocolate from the heat, as it holds for a while. Replace and stir, checking the temperature often as needed.
Filling Shells
Clean a large surface or complete over a baking sheet.
Fill the chocolate molds with the tempered warm chocolate (at its final temperature).
Tap molds to ensure there are no air bubbles.
Flip mold over and allow chocolate to exit, leaving a very thin coating inside the molds.
Tap the outside of the mold with a rolling pin or something similar. Get as much chocolate out as possible to ensure a thin, crisp shell.
While inverted, use a pastry or dough scraper to push away the chocolate, leaving you with only the inside of the shells being coated. Flip right side up and make sure excess chocolate is scraped off. It is important to remove all excess chocolate so that the candies all release individually.
Filling Molds
Pipe ganache into the hardened molds. Fill about ¾ of the mold. If you add too much, you will not be able to get a good seal and the candy will leak or crack.
Leftover chocolate (there will be a lot - you will have a hard time heating less quantity) can be kept and used for the same process again later. It may 'bloom', or form a cloudy exterior. This is normal and will disappear when re-tempered.
Capping the Candy
To seal the candies, I find it easier to place the chocolate (still help at its final temperature) into a piping bag.
Pipe into each mold and again scrape across the mold to clear excess chocolate.
Tap mold to release air bubbles and fill in any gaps with additional chocolate.
Scrape again and allow to rest to completely harden.
If rushed, can chill the candy for 15-20 minutes.
Releasing the Molds
To check and see if the candy is ready, you can look on the underside (which will be the top of the candy when released). You should see that the chocolate had released from the mold. If you see spots that have not, those were likely areas not buffed well or you have issues with your chocolate not being properly tempered.
If you see many or all of the shells are not hardened and released, you can try to chill for an additional 15-20 minutes.
To release candy, you will flip and bang the mold onto a clean surface very quickly. Don't be too gently, and try to hit it without it being at an angle. You want it to slap down with the entire bottom side of the candies hitting the surface at once.
The candies should release if everything was done properly.
That's all! Enjoy your chocolate. Best stored in airtight container chilled. The will fade slightly if kept for a long period.
Find more recipes on SouthernFatty.com.
What chocolate fillings would you like to see next?
Comment and let me know below!