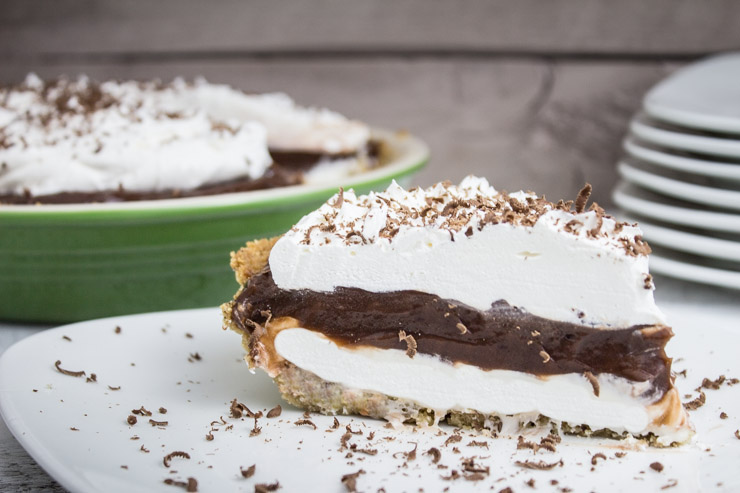 Once people find out that you bake, they always want you to bring a sweet treat to their house, party, bar mitzvah, work meeting, pet's vet appointment… anything really. This silky chocolate pie has become my go-to quick dessert. It can be made in 20 minutes, but tastes like something that took hours in the kitchen.
I almost always have boxes of JELL-O pudding in the cabinet and Cool Whip in the freezer. It's seriously that simple. A pecan cookie crust, sweetened cream cheese layer followed by the nostalgic chocolate pudding topped with whipped cream and chocolate shavings. Congratulations– You are now the first person on everyone's invite list.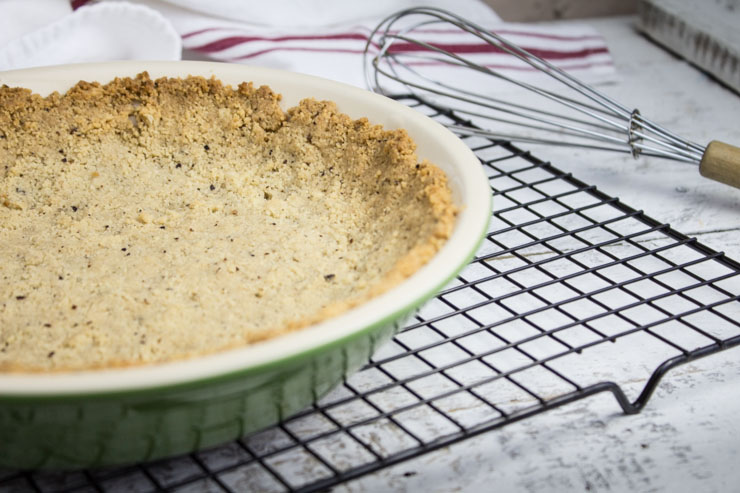 There are a few ways to go with regard to the crust for this pie. I started off making a simple sweet crust with pecans, flour, butter and sugar. While that is was my favorite way to go before, I have found a faster and equally delicious option. Cookie crust! You can make a pie crust out of just about any cookies that you want. Some work better than others, and it just takes some trial and error to figure out what works best for your dessert.
I tried a pecan shortbread cookie base for this and couldn't have been happier with the result. Sweet, just the perfect amount of form and crunch and the best part- it took 30 seconds to mix together. No cutting butter, etc.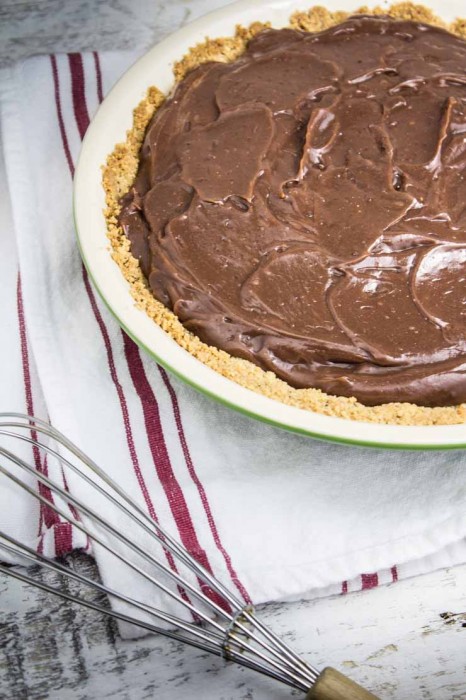 I threw about 14-15 cookies (Pecan Sandies were the weapon of choice) in my food processor until fairly fine, mixed in 3 tablespoons of butter and 2 tablespoons of flour. Pressed it into my pretty green pie pan and baked it at 350 for 15-20 minutes. Be sure and let it cool completely so it firms up before you fill it.
When cooled, just spoon in the cream cheese layer followed by the pudding mixture. Top it with the remaining whipped cream and you are done! I usually put some chopped pecans on top, but opted for chocolate shavings this time.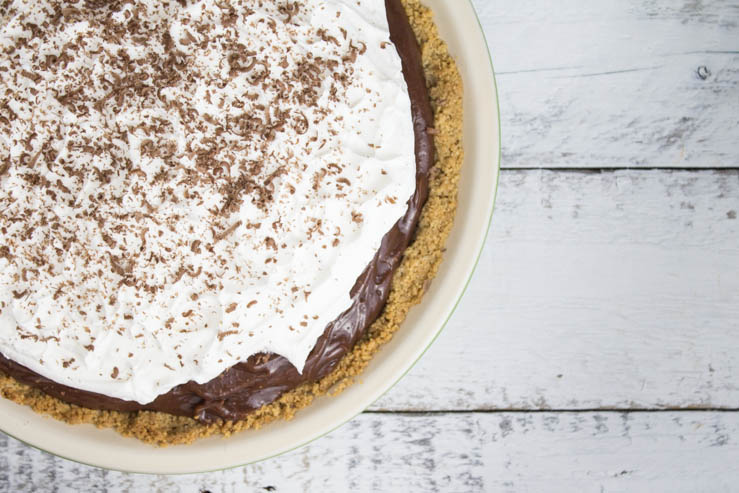 Pop this baby in the refrigerator, as it is better served when completely cool. If you are really pressed for time, use a pre-made pie crust. Even being one of those alien non-chocolate types, I love this pie. Enjoy!
Whipped Chocolate Cream Pie
Pecan cookie crust filled with sweetened cream cheese and chocolate layers topped with whipped cream.
Ingredients
Cookie Crust
1 package cookies, I prefer pecan shortbread type
3 tablespoons butter, melted
3 tablespoons flour, ap
Cream Cheese Layer
8 oz cream cheese
1 cup powdered sugar
1 cup whipped cream, (prefer Cool Whip Original - smaller size container)
Chocolate Layer
2 and ½ cup milk, cold
Chocolate Jell-o pudding, small box
Vanilla Jell-o pudding, small box
2 teaspoons vanilla
Cool Whip/whipped cream left in container to top
Chocolate shavings and/or pecan pieces to top
Instructions
Cookie Crust
Pre-heat oven to 350 F.
Place cookies in food processor and processes to fine texture.
Mix in melted butter and flour.
Press into pie pan (9") and bake until firm, about 15-20 minutes.
Cool completely before filling.
Filling(s)
Combine cream cheese and powdered sugar in mixer. Mix until combined and smooth.
Fold/stir in 1 cup whipped cream.
Set aside or place in cooled pie crust.
In mixer bowl, place cold milk, both pudding mixes and vanilla. Stir until combined.
Top cream cheese layer with pudding.
Finish pie with remaining whipped cream and pecans/chocolate shavings.
Served best chilled.
Enjoy! Visit SouthernFATTY.com for more delicious treats.
What is your favorite go-to dessert? Let us know below!