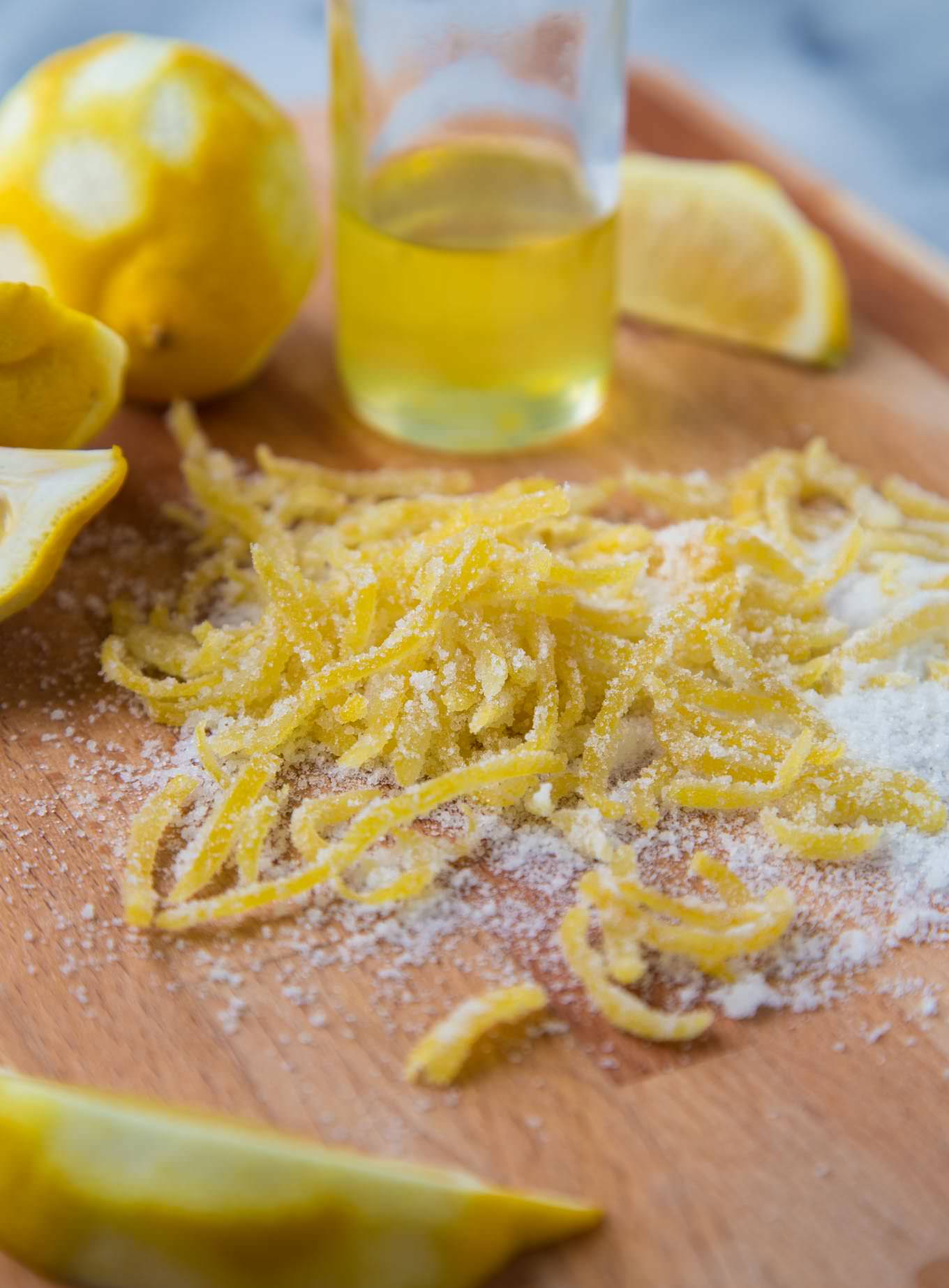 I'm a total citrus addict. I was (and still am) that kid that would pound Starburst like it was my job. I'd pick citrus sweets over chocolate any day (sorry 'bout it, choc-o-holics).Not much has changed since the days of obsessively eating Skittles and Fruit Stripe gum.
Moving forward a few years, I found myself sitting in front of a bottle of Limoncello. What to do?! Although this sounds like the start of an episode of Intervention, it's just a normal day in the SF test kitchen. I wanted to incorporate the 'cello into something simple first. I love to enjoy it in drinks, but haven't really jumped into baking or cooking with it much yet. That is surely about to change.
I had lemons that I had juiced for some cocktail 'testing', so why not try to use what's left? Frugal Fatty, you can call me. The result was a perky spiked candied lemon zest. Top the cocktail, cupcakes, or just do what I did and eat a handful of them like candy. It's all appropriate.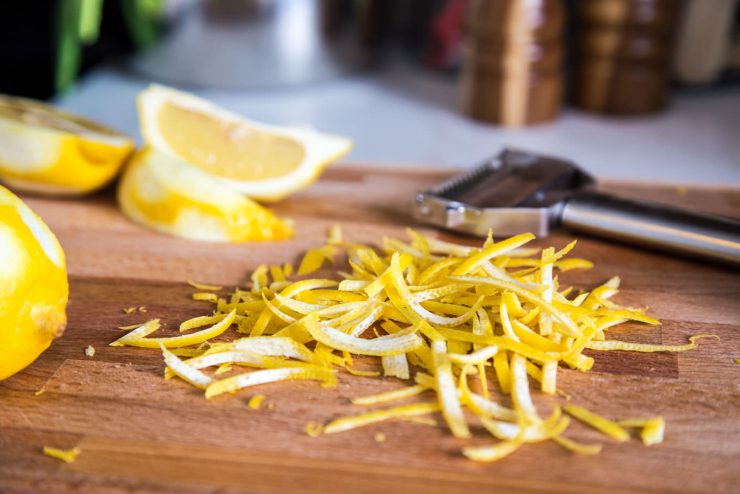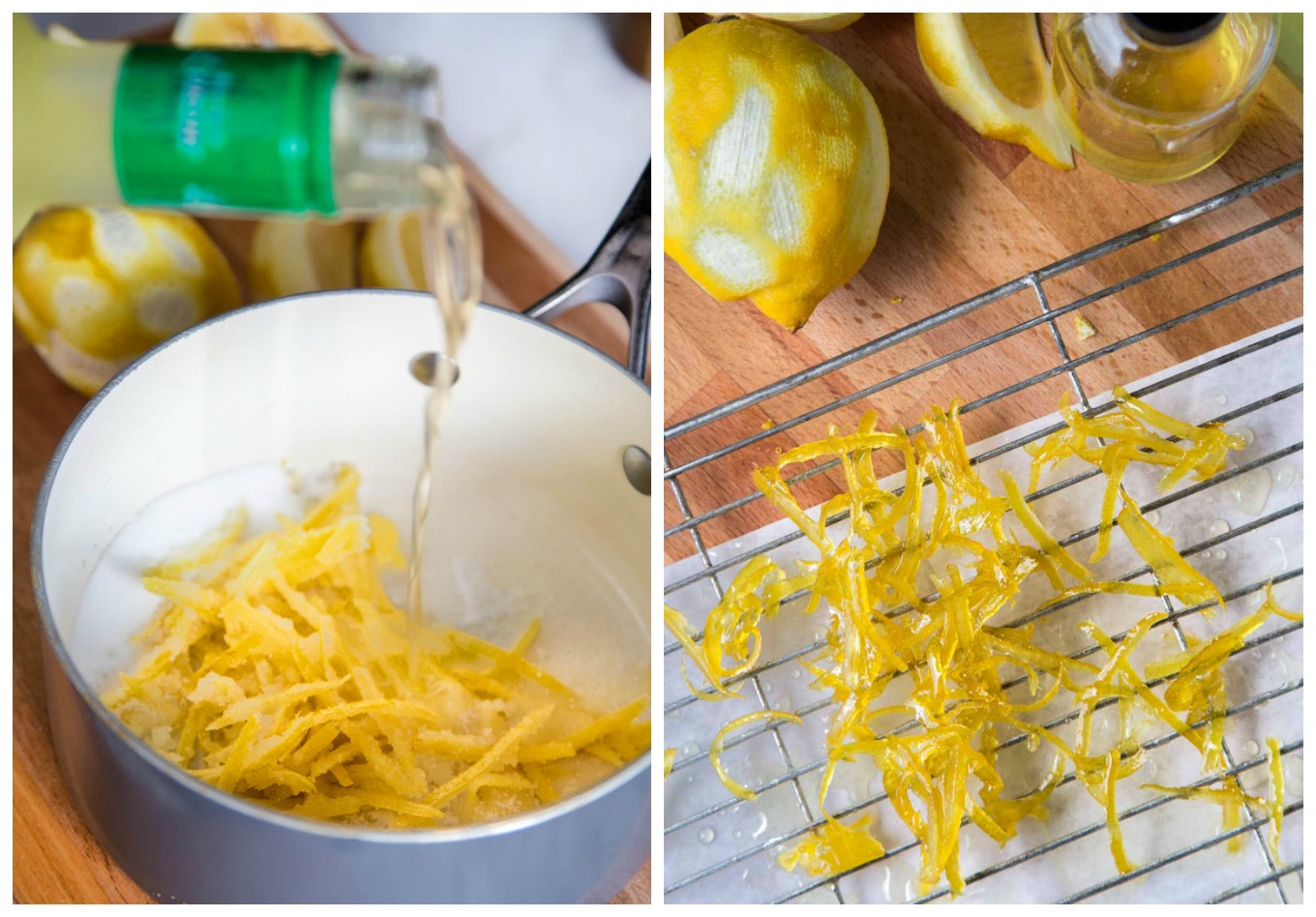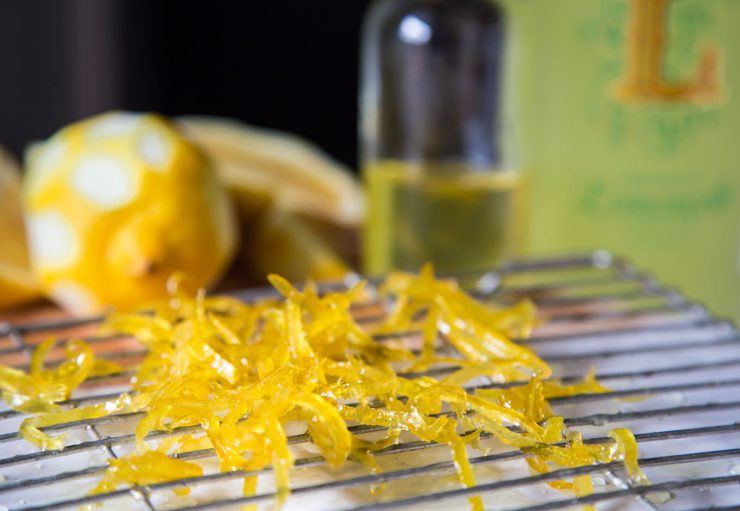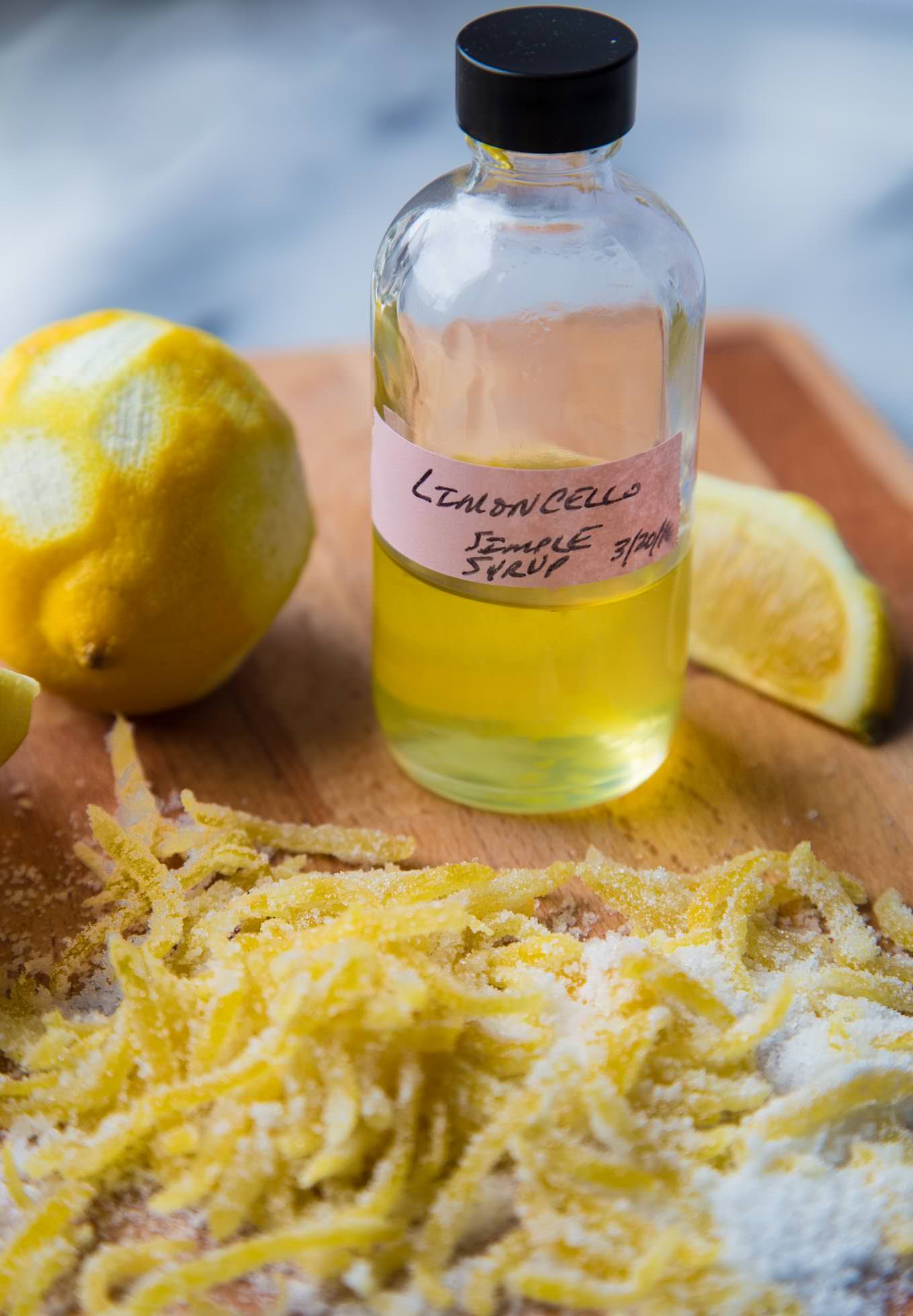 PS- I was left with a bunch of flavored sugar syrup when this was all finished. Don't toss that out! Bottle it and use it for drinks or baking.
Now… If you are super serious about this, you could even make your very own limoncello and even use the zest from the recipe to candy. One day, I'll try to do all of that. The downside is that making the stuff takes literally weeks. WEEKS, y'all. I can't even wait for minute rice to finish, so I just went with the bottled stuff. Head over to my favorite Love & Olive Oil's Homemade Limoncello post if you are feeling fancy. Be sure to send me a bottle or two.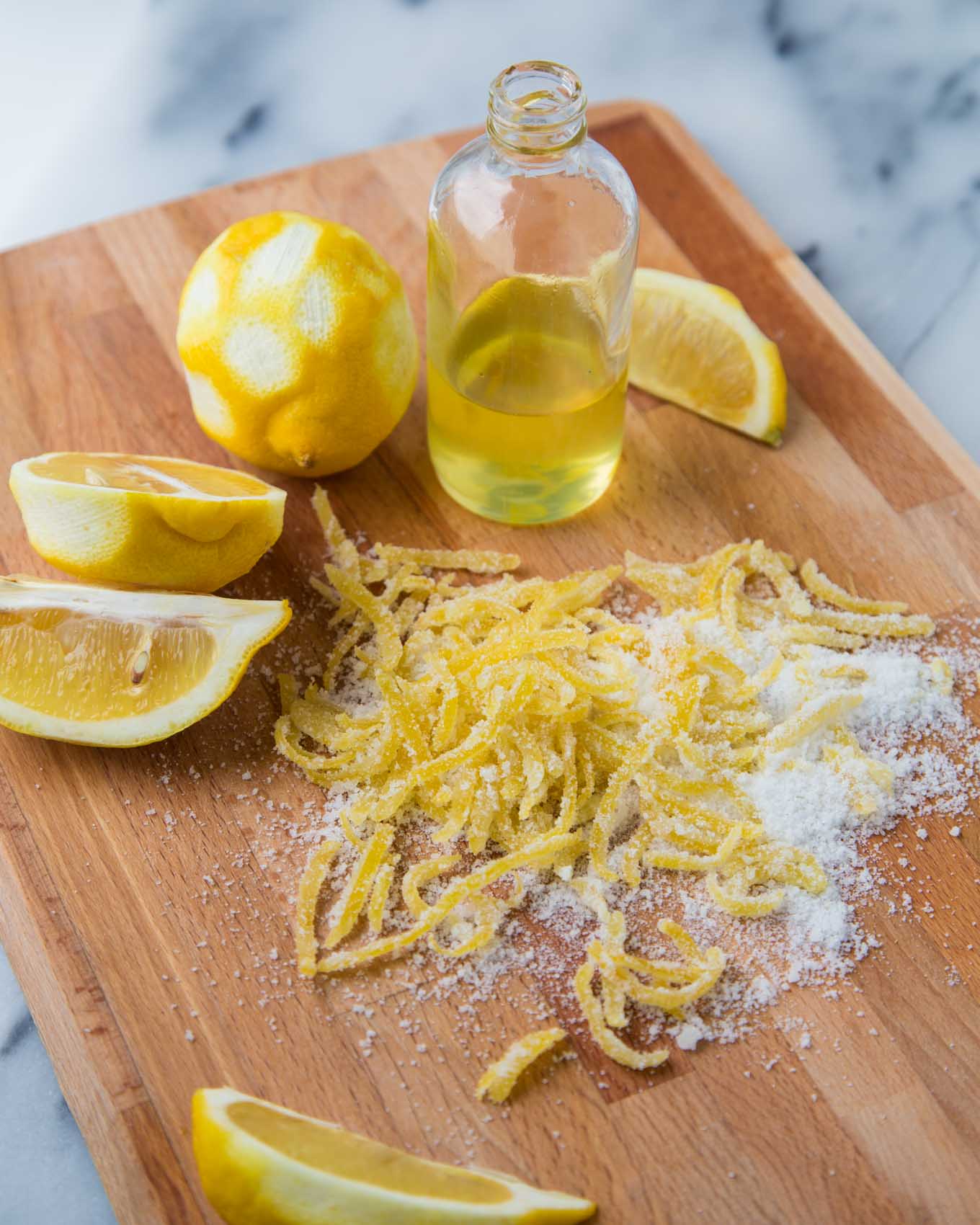 Regular old candied lemon is sooooo 2015, y'all. This is where it's at. More booze is a cocktail's greatest accessory, right? Although, I'm pretty sure all of the booze in this cooks out, it still adds a hell of a ZING! to things.
A bit of that unexpected bite to counter the ridiculous amount of sugar that you are going to coat the pieces in.
Spunky. and. sweet.
(you are welcome to describe me as that when you share this with all of your friends, kthanks)

Limoncello Candied Lemon Zest
Super-simple elevated candied lemon zest recipe using Limoncello and some sugar. Chewy, boozy-spiked, sugar-coated accessory for baking or cocktails. By Southern FATTY.
Author:
Phillip Fryman | SouthernFATTY.com
Recipe type:
Candy, Cocktails
Ingredients
4 lemons, zest only (I use THIS super-sharp peeler)
cold water, to boil
2 cups sugar
2 cups water
1 cup Limoncello
additional sugar, to finish
Instructions
Zest lemons. Leaving some of the white pith is perfectly fine. It actually adds some volume to the candy.
Slice into thin strips (I prefer about ⅛ inch or ~.5 cm or less).
In medium saucepan, combine zest strips with enough cold water to cover by several inches.
Bring to a boil. Drain. Repeat boiling process until the zest has been boiled 3 times. This removes some of the bitterness in the zest.
After last drain, combine zest with 2 cups water and 2 cups sugar. Bring to a boil and then reduce to a low simmer.
Once simmering, add Limoncello and continue to simmer, stirring as needed.
Simmer for 20-30 minutes. The peel is ready when it is tender to taste.
Drain and KEEP sugar syrup (bottle it up as Limoncello Simple Syrup for cocktails and drinks!).
Carefully place zest on cooling rack, separating pieces as well as possible.
Allow to rest. It will become tacky. I let mine sit for about 30 minutes.
Toss the sticky pieces in granulated sugar.
If you prefer the pieces to get somewhat crunchy on the outside, let them sit, uncovered overnight. Keep in an airtight container to less crisp pieces.
Best enjoyed after they rest for several hours.
More on SouthernFATTY.com!