Christmas Tree Snack Cakes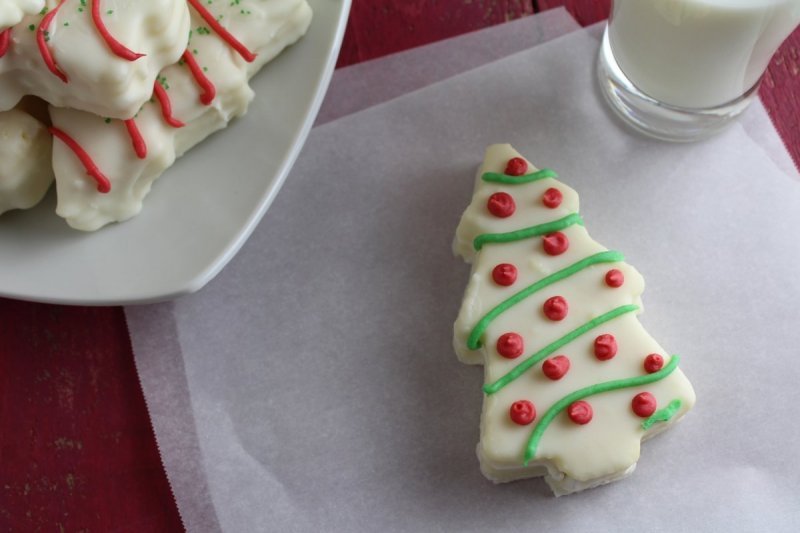 2 C all-purpose flour (sifted, of course)
1½ C white granulated sugar
1 tablespoon baking powder
1 teaspoon salt
½ cup butter, room temp
1 cup milk
2 tablespopons rum (eg: Captain Morgan®)
1 teaspoon vanilla
2 eggs
1 cup powdered sugar
¼ cup marshmallow cream (eg: Marshmallow Fluff®)
1-2 tablespoons heavy cream (may sub half/half)
1 teaspoon vanilla extract (Clear, if available. Not required, just makes it more white.)
½ cup vanilla candy coating (eg: CandyQuick®, found in baking/chocolate area)
½ cup shortening
food coloring (optional, for decorating)
Preheat oven to 350 F.
Combine dry ingredients and sift. This prevents lumps in the cake.
Add in mixer with butter, milk, vanilla. Mix until smooth.
Add one egg at a time and mix until combined.
Stir in the rum until combined. If using a box cake mix, still add this. It mimics the store-bought concoction taste of the cakes.
Line two sheet pans (with edges) with parchment paper. Split the batter into the pans and smooth out. It will be thin! Don't worry.
Give the pans a little bang on the counter-top to remove bubbles.
Bake at 350 for ~ 10 minutes. Halfway through, remove quickly and give a strong tap to remove bubbles. Rotate pan and finish baking.
Remove and cool completely.
Combine all ingredients in mixer until smooth, mixing for 3-5 minutes to incorporate air and make it fluffy.
Combine into non-reactive bowl (glass, etc. - non-metallic).
Place in microwave and heat in 30-second intervals. Stir well after each.
Do this until smooth. Mine took only 2 or 3 30-second cycles.
You can split this glaze into batches and color for decorating, etc. You may need to allow it to cool somewhat before food coloring will mix well (oil in the shortening makes this difficult when too warm).
Using a sheet pan on top of the cooled sheet cakes, position them so one is smooth (top) side down on a lined pan. Have the other smooth side up on another lined/slightly buttered pan.
Spread filling on cake with smooth side down. Do this carefully, as to not tear the cake.
Lightly slide the cake with smooth side up on top of this filling-topped cake. You should now have a cake-filling-cake combination.
Chill for ~ 30 minutes. (Optional, but recommended)
Use thick cookie-cutter to punch individual cakes out. Alternatively, cut out squares, etc.
Re-warm the glaze if needed by 15-30 second microwave cycles. It is most easily applied when slightly cooled, not hot.
Dip each individual snake cake into glaze with fork. Remove to cool to parchment-lined pan/rack.
Depending on how thick the coating is, you may choose to repeat this. I coat mine twice.
If placed on a cooling rack, be careful removing the cakes, as they may have stuck to the rack. Press slightly from the bottom.
Decorate the cakes! SPRINKLES! Extra colored glaze can be applied while the cake glaze outter layer is still warm. Otherwise, it will not stick and the decorative glaze will fall off.
Share with friends and enjoy.
Visit SouthernFATTY.com and tell us how it went, or how you created your own variety!
Recipe by
Southern FATTY
at https://www.southernfatty.com/christmas-tree-snack-cakes/