This is a sponsored post written by me on behalf of IZZE. All opinions are 100% mine.
I made a discovery this summer. It's pretty much one of the best discoveries that I've ever made. Since I'm an adult now, and adults have these things called jobs; Jobs can sometimes leave you a tiiiiny bit bitter at the end of a long summer day. The discovery that I made was that a slightly bitter cocktail is now my absolute favorite way to turn a bitterly long summer day upside down into a a totally sparkling one.
Using one of my fav sparkling juice brands, I've created a perfectly balanced, while still a itty bit bitter, cocktail with a splash of grenadine and another splash or three of your favorite vodka and apéritif.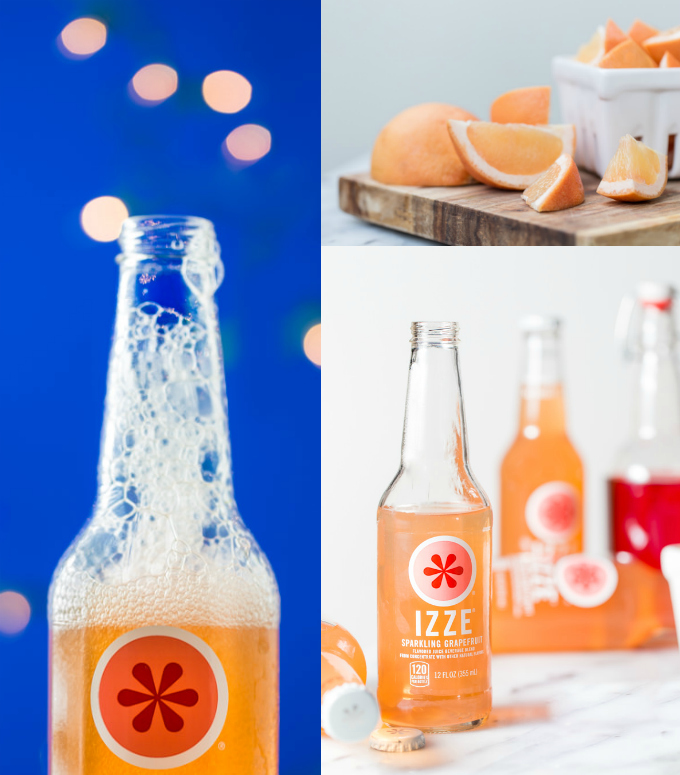 Summer is made for relaxing with on the back porch, sparkling cocktail in hand, friends to laugh with. A classic midsummer #FriendsdayNight eve, y'all. Growing up, I could only enjoy the grapefruit that was forced upon me as a 'snack' with a sprinkle of sugar on top.
Not much as changed since then. I'm still one of those people that enjoy grapefruit with a splash of sweetness in the mix. After trying all of the IZZE flavors, I was a bit surprised with myself when I decided to do a bit of cocktail recipe testing with the grapefruit variety. They offer everything from clementine, grapefruit, apple, pomegranate, blackberry, cherry lime, blueberry and peach. The grapefruit is refreshingly crisp, with a splash of the bitterness that you expect from a true fruit juice full of sparkles.
Simply made with 70% pure fruit juice, along with sparkling water,  IZZE Sparkling Juice has the best natural sweetness that you would expect from a great standalone juice or cocktail mixer. I love using these sparkling juices for mixers because it eliminates the need for adding a club soda or tonic water. Why dilute it, right?! Adding sparkling juice gives that perfect refreshing bubble to a cocktail. It's basically summer in a bottle.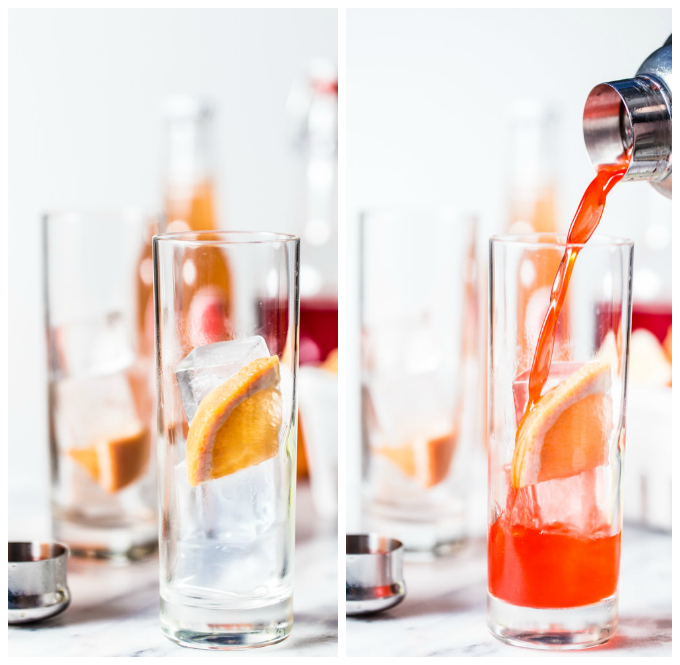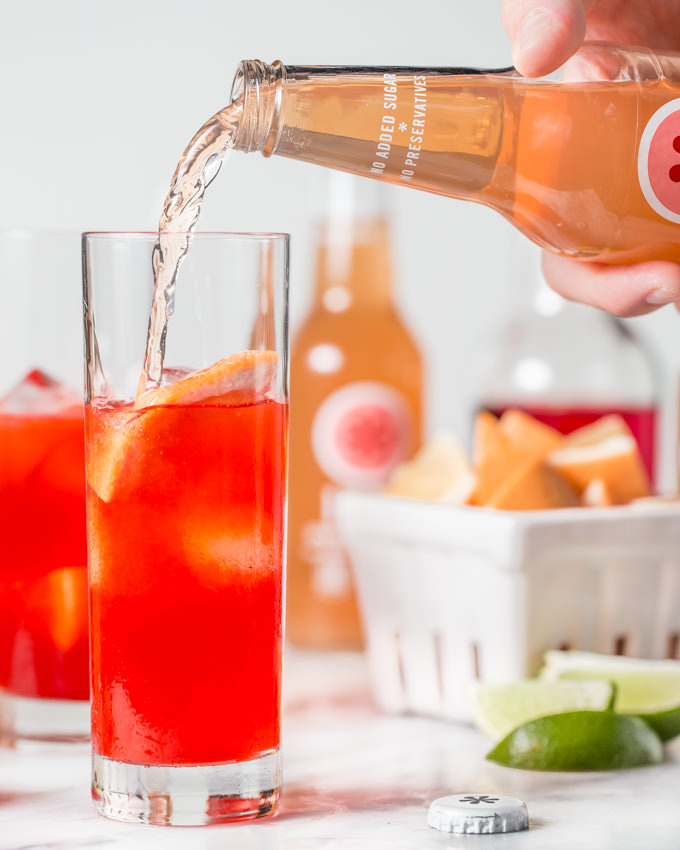 Alongside with my recent obsession with natural bitters like grapefruit comes a bit of a love for apéritifs. These are usually bitter blends of fruit and herbs infused into a bit o' booze that traditionally make for a perfect pre-dinner distillation. You'd think that adding two bitter blends into one glass would be too much. Surprise. It's perfect. Jump back to my sweet tooth, add a bit of grenadine, and you are in summer heaven. The vodka is basically a bonus.
Load up the patio or pool party, this cocktail may be slightly bitter, but your summer certainly wont be. It's the perfect balance of sweet, tart, and sparkling.
Cheers, y'all!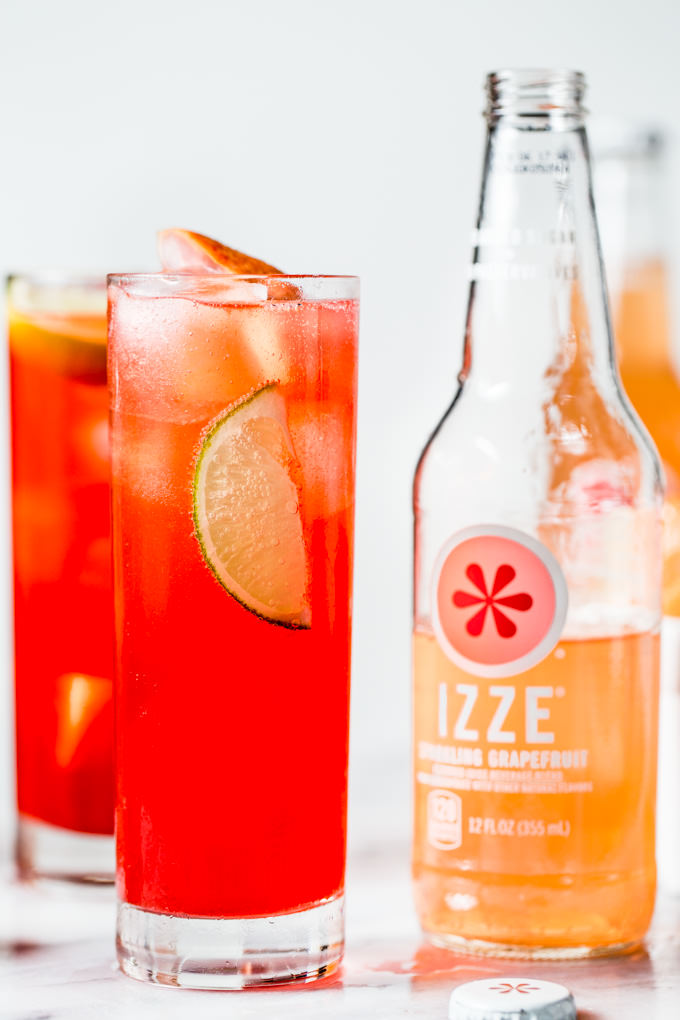 Grapefruit Bitter Bit Beautiful Cocktail
Sparkling grapefruit cocktail balanced with grenadine and a splash or three of Campari and vodka. Perfect summer sipper from SouthernFATTY.com.
Author:
Phillip Fryman | SouthernFATTY.com
Ingredients
4 ounces IZZE Sparkling Grapefruit Juice
2 ounces vodka
1 ounce grenadine
.5 ounces Campari apéritif
1 lime wedge
Instructions
Combine vodka, grenadine, Campari, juice from lime wedge in a cocktail shaker full of ice.
Shake, shake, shake!
Pour into ice highball glass and top with IZZE Sparkling Grapefruit Juice.
Enjoy with friends pool or porch-side.
Find more sips and snacks on SouthernFATTY.com.