Brioche Buns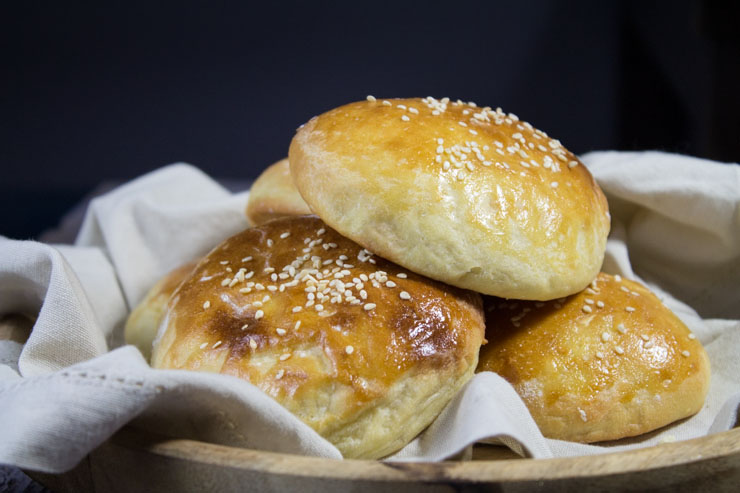 1 cup warm water
¼ cup warm milk
2 plus ½ teaspoons yeast, active dry (1 packet)
3 tablespoons sugar
1 egg
3 cups bread flour
½ cup all-purpose flour
1 plus ½ teaspoons salt
3 tablespoons butter, room temp/soft
1 egg, to wash
sesame seeds, optional to finish
In mixer bowl, combine water, milk, sugar and yeast. Let sit 5 minutes to rehydrate and activate.
In another bowl, work flours (both bread and AP), salt, butter together until combined well and resembles coarse cornmeal.
Slowly mix in flour to mixer bowl with yeast. Mix in 1 egg.
Combine well and mix on medium low with dough hook for about 8 minutes to smooth.
The dough may appear sticky. This is fine. Form into ball and leave in bowl. Cover with plastic or towel.
Let rise in warm area until doubled. This took 1 and ½ hours for me, but depending on your conditions could take an extra hour. This step is critical. Be patient and have a drink or three.
After risen properly, remove onto lightly floured surface and divide evenly into small balls. You should aim for about 8-9 balls.
Place a few inches apart on lined baking sheet.
Spray very lightly with non-stick/oil and cover with plastic again to rise for another 1-2 hours.
The balls should look puffy when ready.
Pre-heat oven to 400 F.
Carefully remove plastic wrap and wash tops with remaining egg.
Sprinkle with sesame seeds (optional).
Bake until golden, about 15 minutes.
Cool and enjoy!
Visit SouthernFATTY.com for more.