Halloween Croquembouche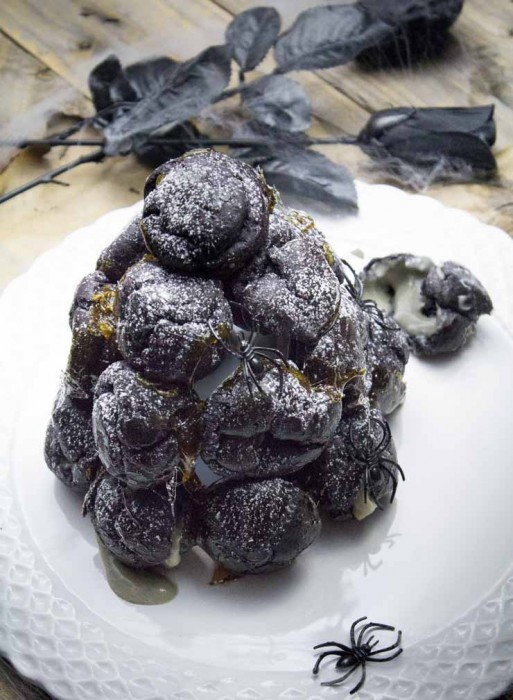 ½ cup water
4 tablespoons butter, unsalted
2 tablespoons sugar
¼ teaspoon salt
½ cup flour, all-purpose
2 eggs
jet black gel food coloring
1 and ½ cup milk (whole is best)
⅓ cup sugar, split in half
1 teaspoon vanilla bean paste
4 eggs, yolks only
3 tablespoon flour
3 tablespoons butter
¼ teaspoon salt
Use sugar recipe from HERE.
Preheat oven to 400 F.
In saucepan-- add water, butter, sugar, salt.
Cook over medium heat to boil.
Dump in flour all at once. Stir rapidly.
Keep stirring until together and incorporated well.
Remove pan and continue to stir for a couple minutes.
Mix in eggs, one at a time, stirring very well between each to fully incorporated and smooth.
Mix in black coloring until desired color is reached.
Place in pastry bag to pipe.
Pipe about 1 inch wide rounds onto paper-lined or mat topped baking sheet.
Combine egg wash ingredients. Brush on wash, press down the tips with an egg wash dipped finger.
Bake for 20 minutes. Remove and cool completely.
In saucepan, heat milk, one half of the sugar, vanilla over medium heat.
In a mixer bowl, combine the other half of the sugar with the egg yolks.
Mix medium speed until pale yellow and thickened.
Add salt and flour. Mix well.
Slowly pour half of barely boiling milk mixture into the egg mixture while mixing on low speed.
Add the egg mixture to the pan with the rest of the hot milk. Whisk constantly until thickened.
Bring to boil an whisk until thick. Add butter and combine well.
Remove from heat. Chill in refrigerator.
Fill puffs with cream using pastry bag with open tip (#4 Ateco works best).
Cook sugar per recipe instructions HERE.
Use a cone to build around, if desired. Halloween decorations can be messy!
Cook sugar to desired temp and remove from heat to cool slightly.
CAREFULLY dip the puff sides in sugar and build around silicone or non-stick lined cone.
When cooled, you can optionally remove cone carefully from interior.
Surround with Spun Sugar Spider Web for extra oooo and ahhhhs.
Decorate with spiders and powdered sugar.
Enjoy these deliciously devious sweets with friends!
Visit SouthernFATTY.com for more.