Cinnamon Sticky Buns with Caramel Dulce de Leche Sauce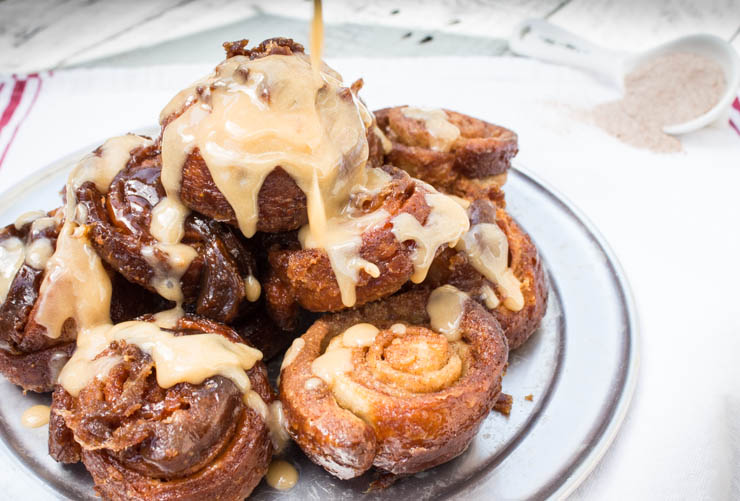 1 recipe puff pastry dough or 1 box frozen puff dough, thawed in refridgerator
1 and ½ cups brown sugar
2 sticks butter (16 tablespoons... sorry, not sorry!), divided & room temp.
1 tablespoon cinnamon
Baked Candied Pecans or pecans, optional
1 can evaporated milk (12 oz)
1 can condensed milk (14 oz)
1 tablespoon corn syrup
½ teaspoon baking soda
1 teaspoon vanilla extract
salt, pinch
Pre-heat oven to 400 F.
Take 13 tablespoons of the room temp. butter and mix with ½ cup brown sugar.
Spoon mixture into muffin pan molds, about a tablespoon in each, making 12 in total.
Melt and let cool the remaining 3 tablespoons of butter
If using homemade pastry dough, roll out on lightly floured surface to large rectangle, about 16x24" about ¼" thick. For frozen pre-rolled puff dough, split the recipe among two sheets.
Brush the dough with the cooled melted butter.
Combine the cinnamon and remaining 1 cup of brown sugar and sprinkle evenly on dough, leaving about ½" border of the dough.
Roll the dough to create a log shape. Trim the ends slightly.
Cut the log into 12 pieces (6 for each roll if using the smaller frozen puff dough).
Place the cut pieces cut side down into the muffin pan molds.
Bake at 400 until golden, about 15-20 minutes.
Let cool for no more than 5 minutes (the filling will harden to the pan if too cool!) and turn out.
Use a fork to help the filling out. You will flip the pastries from how they were baked, ending with the filled muffin pan bottoms as the pastry sticky tops.
Mix condensed milk, evaporated milk, corn syrup, baling soda and salt in saucepan.
Over medium-low heat, cook until thickened. Stir OFTEN. Stir continuously when mixture is near finished state.
This will take 30-35 minutes. It is finished when you can drag the wooden stir spoon across the pan and the line remains for an extended period.
If you have any burned material, simple strain it out.
Let cool and top buns and enjoy!
Place the remaining sauce in a jar to keep for ice cream, cake or coffee.
Visit SouthernFATTY.com for more and to let us know how you enjoyed these!
SouthernFATTY.com - Sharing encouraged with proper linked credit to Southern FATTY. Visit us on Twitter/Instagram/Facebook -
@SouthernFATTY
Recipe by
Southern FATTY
at https://www.southernfatty.com/sticky-buns/