If there is one thing that will get you through this winter blizzard, it's a good Mac and Cheese recipe. Creamy, packed full of melted cheese, a nice crispy top, baked to a golden perfection.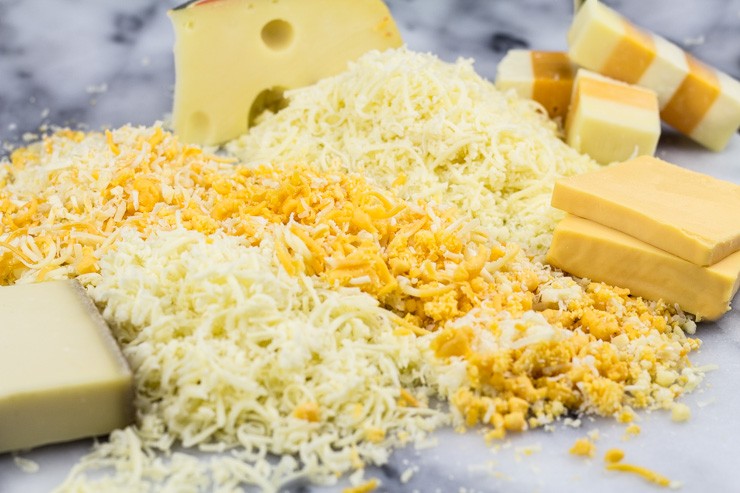 Let's just take a minute and talk about the most important part of this dish… the CHEESE! To (more) cheese or not to (more) cheese?– as Shakespeare petitioned. The answer is yes! Of course. I've made this dish with so many different kinds of cheeses now, that I won't even try to tell you what to use and not to use. It's all good! Balance is the key here. Some sharp. Some mild.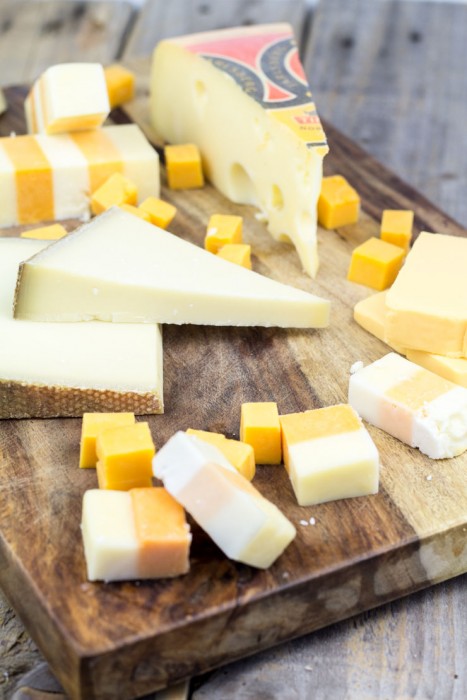 I tend to just find whatever is on sale at my local grocery and use that. I love to throw in some Jarlsberg, since it is so nutty and creamy. The only cheese I will say that you really just have to have… good ol' Velveeta. I know. I know. It probably isn't technically even cheese. BUT, it melts better than an evil witch in a Disney film. All of the other cheeses just seem to all come together so much better with this in the mix. Plus… you'd totally be lying if you tried to pull the whole "I don't like cheap, block cheese" thing with me. It's ok. Embrace it.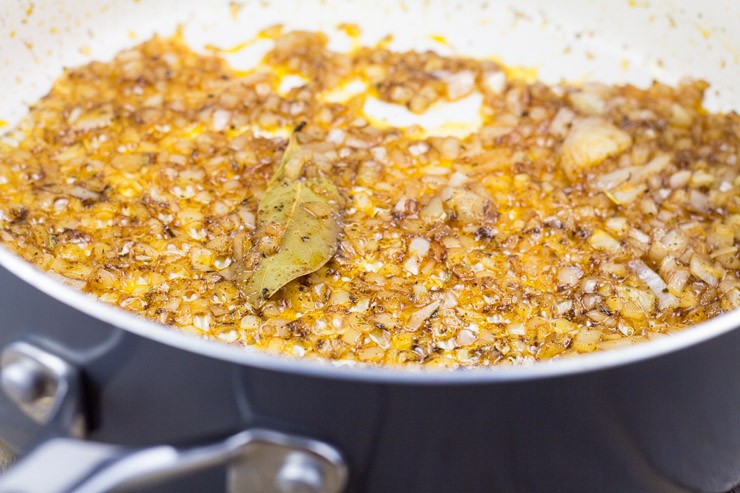 Another bit of a change I make with my mac 'n cheese that I haven't seen in others is the replacement of onions with shallots. I've started adding these sweeter, more mild bulbs in just about everything I cook. I find the flavor when combined with the aromatic herbs to come together in a more clean, crisp way than a traditional onion. Sauté the shallots with some herbs and, of course, buttaaaaaa.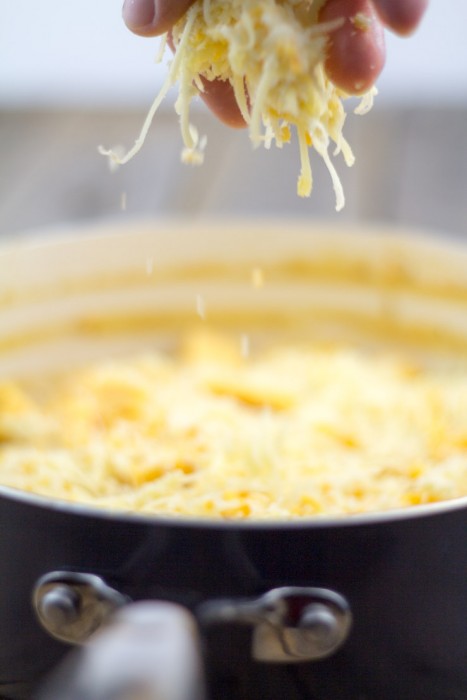 If you've managed to have enough cheese left after grating (tasting) it all, bravo. You've won an advance to the next round of actually baking the mac.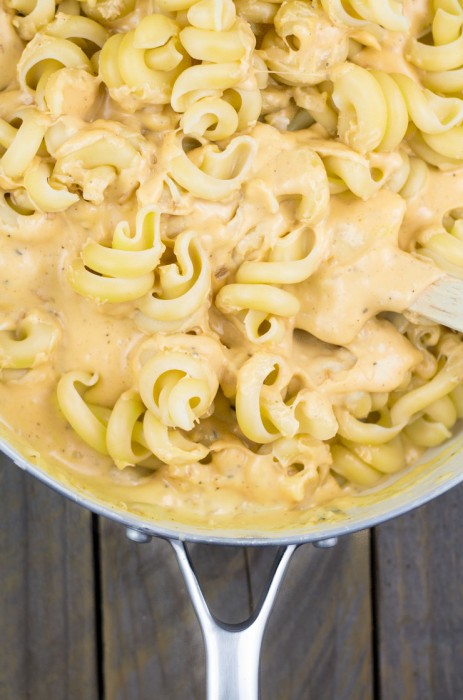 I think the traditional macaroni noodles are… ehhhhhhh… boring. I usually opt for whatever looks like it has the baddest shape. Don't worry about pronouncing the name of the pasta. Just grab it.
I would get evicted from the South if I didn't demand that you put crushed Ritz crackers and [more] butter on the top. I'm all about a simple mac and cheese, but if you are baking it, you just have to do this. The crunch and golden toasted crackers that top the creamy pasta. Nomnomnomnom. SO. GOOD!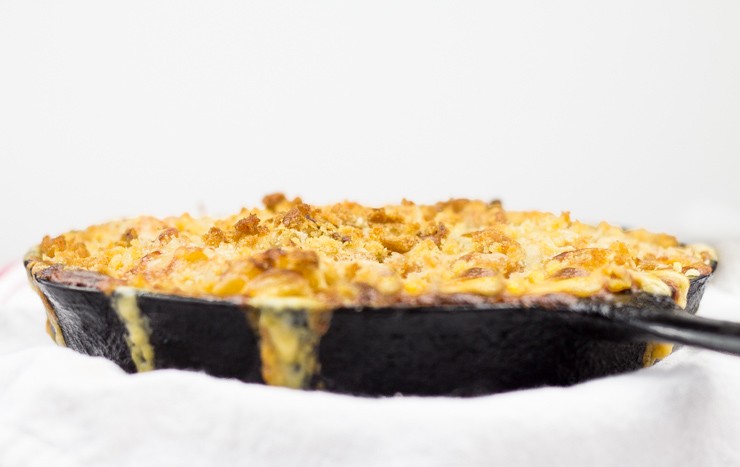 The skillet came out (again) for this recipe. Really, any oven-safe dish works just fine. The mac in the pan isn't going to crisp on the sides or anything (because you know we added way too much butter and cheese to allow that to happen), but it will let you leave it sitting when its finished baking for a long, long time and stay perfectly hot. This is beneficial to anyone that apparently hasn't learned how to manage cooking multiple dishes at once with appropriate timing. Not that I know anyyyything about that……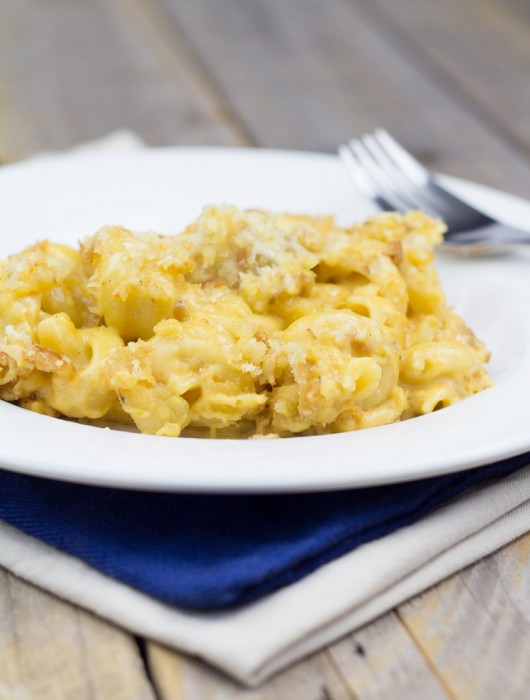 Truth be told… Even though I allowed myself the extra available time by cooking this in a skillet that would stay hot for the entire night, I still burned the rest of the planned dinner items. This ended up being a bit of a nice result. The mac n cheese happens to be good enough to enjoy by itself as the main dish. Or only dish… Either one. A perfect excuse to fill your plate with this creamy, warm in yo soul & belly comfort food.
Enjoy, y'all!
Baked Mac and Cheese
Creamy, warm homemade skillet-baked mac and cheese from SouthernFATTY.com
Ingredients
8 oz pasta, any variety
2 cups Ritz crackers, crushed
6 tablespoons butter, unsalted
½ teaspoon paprika
½ tablespoon Italian seasoning
½ cup shallots, diced
1 bay leaf
¼ cup flour, AP
2 cups milk, whole
1 cup half and half
pinch cayenne pepper
4 cups cheese, types by pref (I prefer a blend of cheddars, Jarlsberg), grated
1 and ½ cups Velveeta, cubed
salt and pepper, to taste
paprika, to top (optional)
Instructions
Boil water and cook pasta for about half as long as instructed. Remove and strain. Set aside.
Heat oven to 375 F.
In large pot, melt HALF of butter. Add shallots, bay leaf and cook until shallots are translucent and soft.
Add seasonings and cook for a 30 seconds more.
Add flour, whisk constantly until cooked in, about a minute. Add cayenne pinch.
Slowly add milk, still whisking in constantly to combine as you add more.
Add half and half the same way. Do not stop stirring.
Cook until thickened, stirring often. This will take about 10 minutes.
Turn off heat. Stir in cheeses.
Add drained pasta. Combine well.
Transfer all to skillet or oven-safe dish.
Top with crushed Ritz. Dice remaining butter and top Ritz.
Bake until golden, about 30 minutes.
Enjoy! -- SouthernFATTY.com for more.
Notes
2015 - SouthernFATTY.com
[Adapted from Saveur Magazine - Oct. 2014]
What's your favorite cheese? Pasta type?