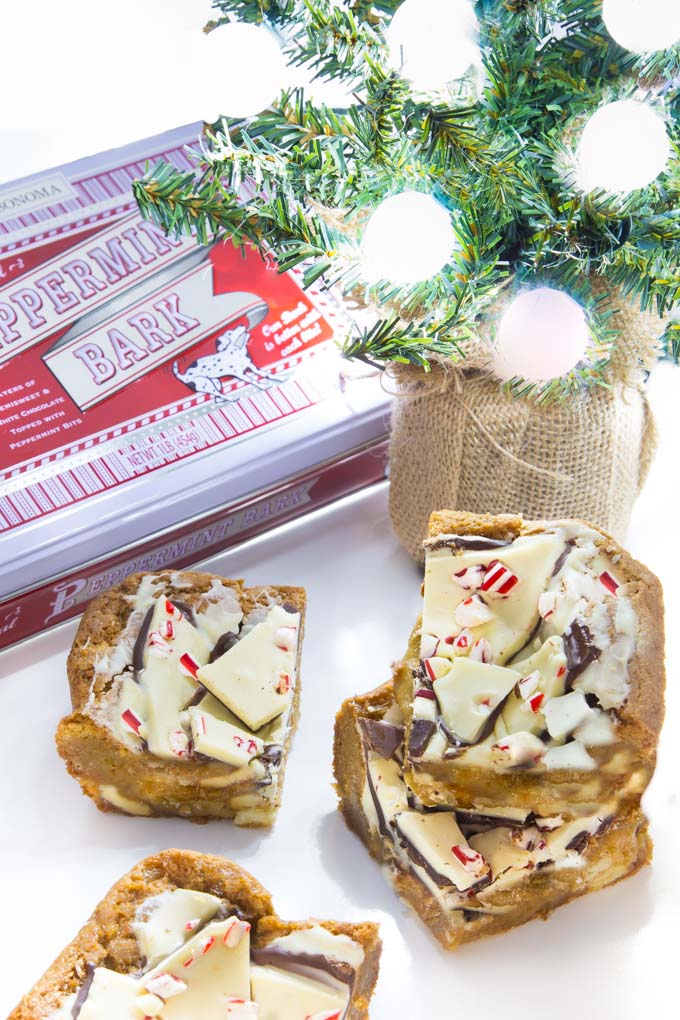 Everyone knows that blond(ies) have the most fun. Holiday baking is no exception. Before I collapse from the sugar overload during the festive season, I haaaaave to share this recipe with y'all.
Classic, buttery blondies packed full of white chocolate, vanilla, and brown sugary brownie-esque goodness. All topped with a double chocolate peppermint bark crown.
Blondies have to be one of the most versatile desserts to have in your back pocket (not literally. please don't put one of these in your pocket and then send me [more] angry e-mails about it..). You can mix just about anything into the blondie base and it will be exquisite. For me, these are a much needed break from the massive amount of chocolate floating around all of the holiday parties. Not that that's a bad thing, but it's just nice to have something a little bit different. We aren't going to totally abandon the chocolate party train completely. That would just be ridiculous.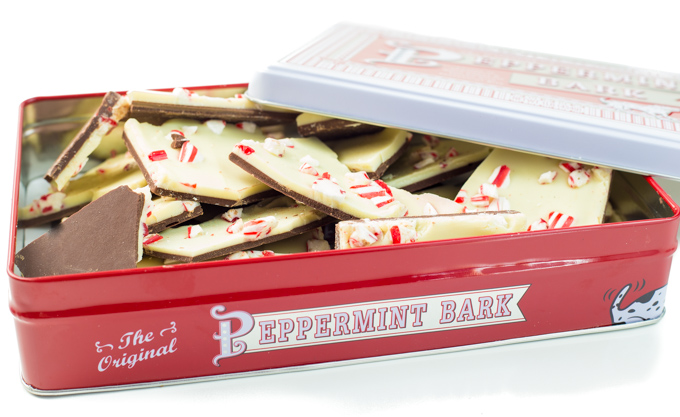 I think one of the reasons that I enjoy this dessert so much is because of the peppermint bark. Peppermint just sparks so many holiday memories for me. When I was a kid, before saying hello to anyone, I would run into my Grandmother's kitchen and open the freezer. I can't remember a single time when there wasn't my beloved peppermint ice cream waiting to be devoured. Not just any peppermint ice cream. This was the classic vanilla bean base with the actual hard candy peppermint pieces mixed throughout. None of that soft beady whatever stuff like some have now. I attribute my massive success in not becoming a thin male model to the presence of the gallons of peppermint stick ice cream during my childhood. For that, I am thankful.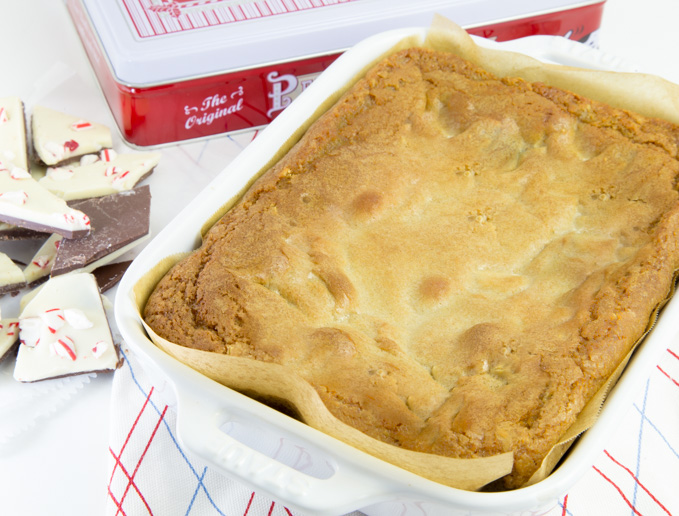 Peppermint candy is one of those things that you can really screw up easily. It has to be legit, authentic peppermint. If you are going to add chocolate to the main show stopper, it had better be good chocolate. That's exactly what I found when I found the Williams-Sonoma Peppermint Bark. They have been making this stuff forevvvvah. The chocolate layers (Yes. TWO.) are true chocolate layers, made with chocolate liquor and pure cocoa butter. Plain (peppermint) and simple. Classic, quality chocolate and iconic holiday peppermint pieces.
PS- This stuff is soo00 good in ice cream for a DIY twist on my childhood favorite.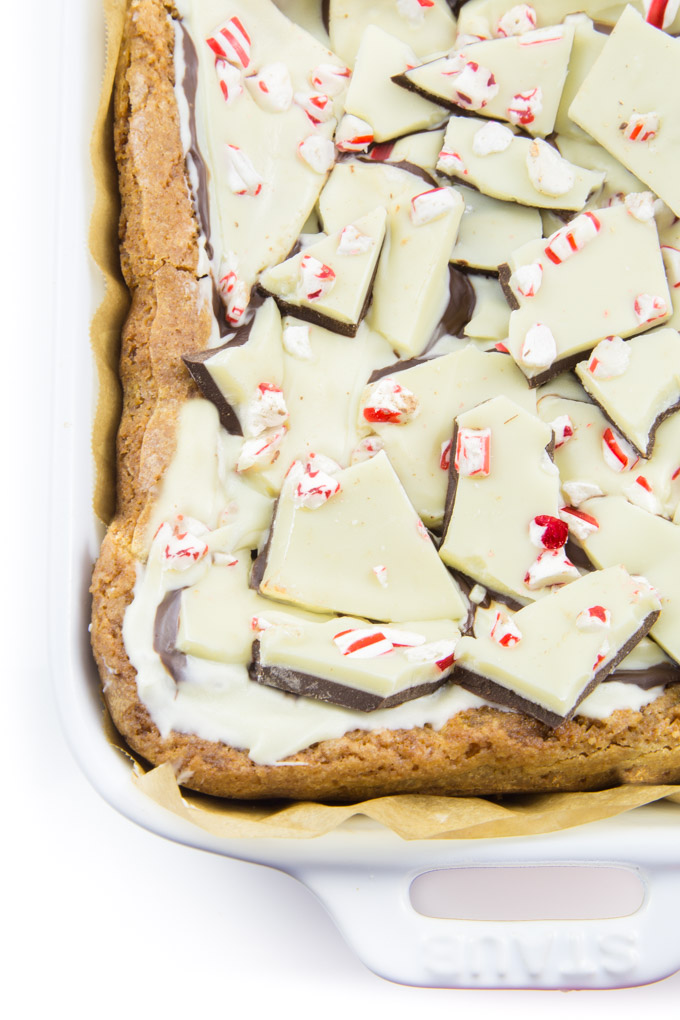 I tried a few ways of applying the bark to the blondies. I can tell you all from personal experience that you should wait until it is completely baked to toss it on top. Melted chocolate tastes fantastic (it will cool and solidify again), but looks a hot mess. Eat a few pieces and wait, for presentation sake.
Not much to share recipe wise here. Bake some blondies and throw some bark on top. I melted a bit of white chocolate over the top of the brownies (can I still call them that?) to be sure the bark stayed where I wanted it to. Not sure that you really even have to do that, but it's a good excuse for more chocolate, riiiight?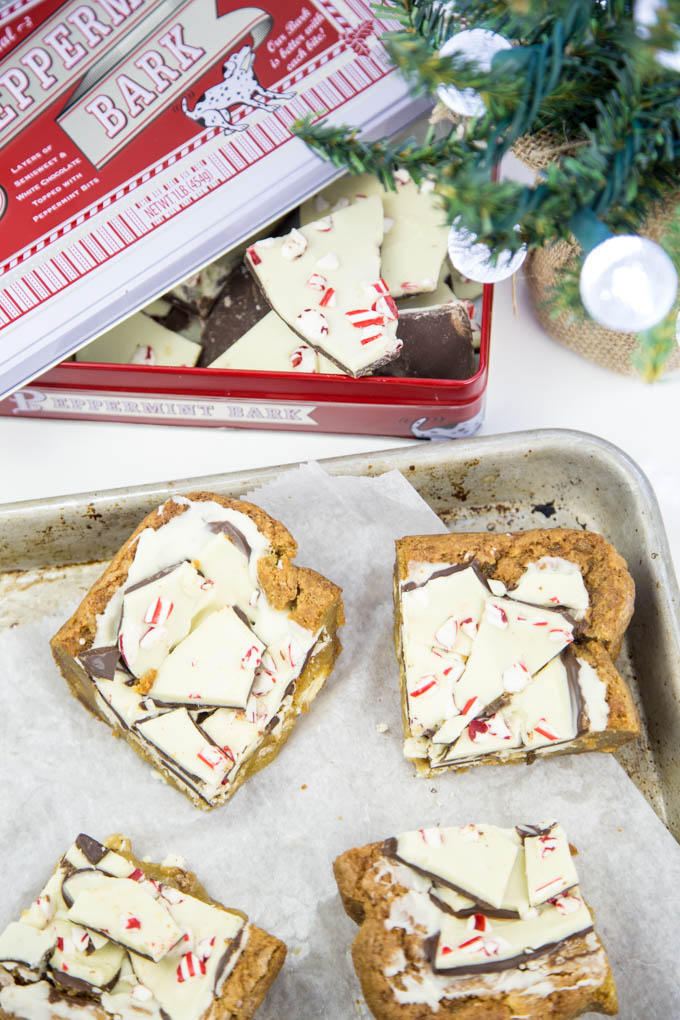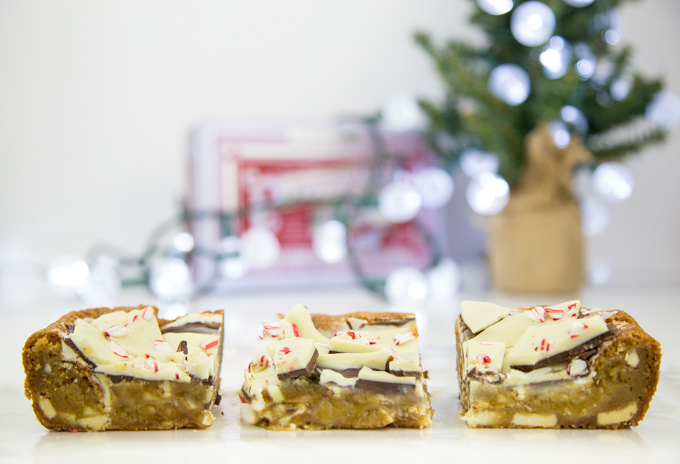 I just loooooove the texture of these sweets. They are dense and chewy and come out of the oven with that perfect crispy, flaky top layer (y'all know what I'm talking' bout) that you expect from a great brownie/blondie. The crunch of crisp chocolate layered with peppermint pieces just. works. with the brown sugar blondie base. I'm excited to try some mix and matching with the blondies themselves with the next few batches of these. Needless to say, that won't be long from now.
Happy holidays, y'all! Enjoy–
Peppermint Bark Blondies
White chocolate chunk brown sugar blondies topped with classic peppermint bark. -- SouthernFATTY.com
Ingredients
1 stick (113g) butter, room temperature
¾ cup brown sugar
¼ cup white sugar
1 egg
1 and ¼ cup flour, AP
¾ teaspoon baking powder
¼ teaspoon salt
1 teaspoon vanilla bean paste or extract
⅛ teaspoon nutmeg, freshly ground
pinch ginger, ground
pinch white pepper, ground
½ to 1 cup white chocolate, chopped
8 ounces peppermint bark (I used [Williams-Sonoma Peppermint Barkhttp://www.williams-sonoma.com/products/peppermint-bark/]
Instructions
Pre-heat oven to 350 F.
Prepare a baking dish (8x8 works well) by greasing lightly.
Cream butter, brown and white sugars in mixer until light and fluffy, about a minute or less.
Add egg and vanilla. Mix well.
Sift together dry ingredients.
Add flour to butter mix in small batches, ensuring everything is mixed well.
Fold in chocolate.
Transfer batter to prepared baking dish.
Bake until golden, about 25 minutes. A knife or toothpick should come out somewhat clean (chocolate will obviously be visible, but no batter). Check a few spots if unsure.
Cool slightly before applying peppermint bark to top.
Slice and enjoy!
More on SouthernFATTY.com
Notes
2015 - SouthernFATTY.com
I participated in this post as an Editor of FeedFeed.
Disclosure: The peppermint bark and baking dish shown in this post were given to me by Williams-Sonoma as part of a #BarkYeah collaboration with FeedFeed Editors (that's me!). No monetary compensation was provided. I just really do love the stuff! All opinions are my own.